Lawrence Taylor, Howard Cross, and others bring about laughs and smiles at the "Roast of O.J. Anderson" on Wednesday night.
New York Giants fans never thought times could get as bad as the dark ages of the 1960s and 70s. Such ineptness made the thought of matching the organization's low point seem impossible.
Well, here we are.
Other than Daniel Jones' development, there's very little to cheer for, making nostalgic memories extremely embraceable. And no man is more huggable than Lawrence Taylor, arguably the greatest defensive player in NFL history.
LT is even more embraceable after a night out in the city involving former teammate and friend, O.J. Anderson.
Paying customers and members of the media received the privilege of witnessing an outstanding evening shared by retired athletes, comedians and entertainment personalities. Sports Roasters held the Roast of O.J. Anderson at the Gotham Comedy Club in New York City Wednesday night.
With many in attendance, including former New York Giants receivers Plaxico Burress and Stephen Baker (the touchdown maker), as well as former New York Knicks center Charles Oakley, the dais was stacked.
Steve Loonan and ESNY's own Mike Vivalo ran the event and were part of the group of 10 individuals roasting Anderson. Additionally, the dais included heavyweight boxing champ Larry Holmes, comedians Kristen Carney, Jackie Martling, Geno Bisconte and the legendary Artie Lange, as well as Joe Ruback (the Giants' "License Plate Guy").
And of course, in attendance and on the dais, Giants legends Howard Cross and the aforementioned man who still appears in Joe Theismann's nightmares.
Part of the proceeds for the memorable event is in support of The O.J. Anderson Scholarship Fund. The charity intends to help those who are looking to achieve goals in school and on a personal level.
Loonan began the show with his introductions while providing a few videos for the audience to watch. One was a tribute to Anderson, playing highlights of his playing days with the Giants and St. Louis Cardinals. The other was a comical message from roastmaster Jeff Ross, who couldn't attend the event.
As "no-nonsense" a guy as they come, Anderson wanted to make things clear at the beginning of the show.
"Just remember one thing: whatever these fools say, I got the last word," Anderson said, which was met with much applause from the crowd.
The rest of the night was filled with laughs and smiles from those on stage and in the audience.
Ross may be a roastmaster, but if anyone is a master heckler, it's LT.
Prior to the event, Taylor hyped up his heckling prowess, telling ESNY, "I'm not here to make Jokes about O.J. I'm the heckler… that's just life. That just comes from knowing [Anderson]."
The legendary Giant was a riot the entire evening, messing with whoever held the mic. This included telling Holmes to end his sentimental speech about O.J. along with acting like he was going to fight those who made jokes at his expense.
All-in-all, it seemed LT had as much fun as everyone else and was ultimately a crowd favorite.
License Plate Guy then went up, in his jersey that was a Super Bowl 25 MVP-themed Anderson layout in the front and a Scott Norwood layout in the back. The "Norwood' jersey name was curved off to the right to mock the former Bills kicker's wide-right missed field goal, the legendary kick gave the Giants their second Super Bowl championship.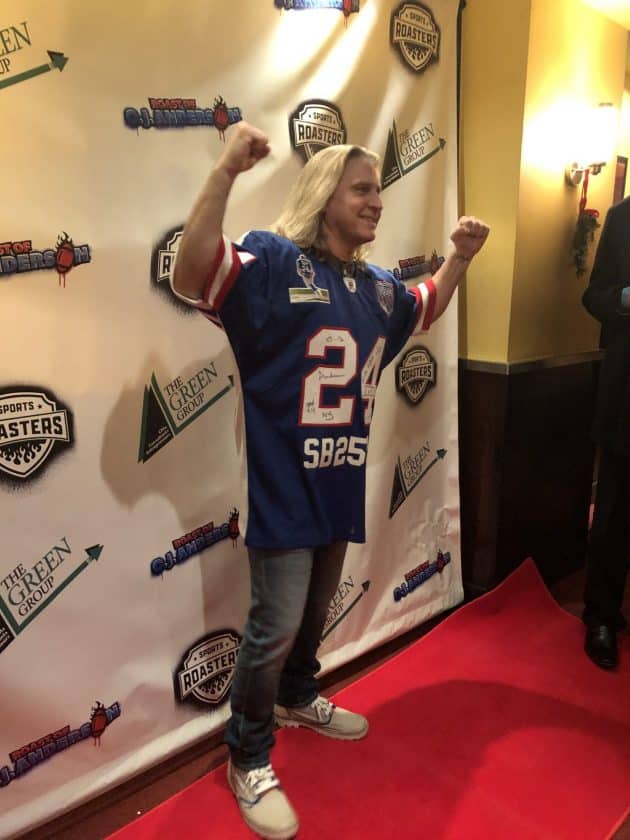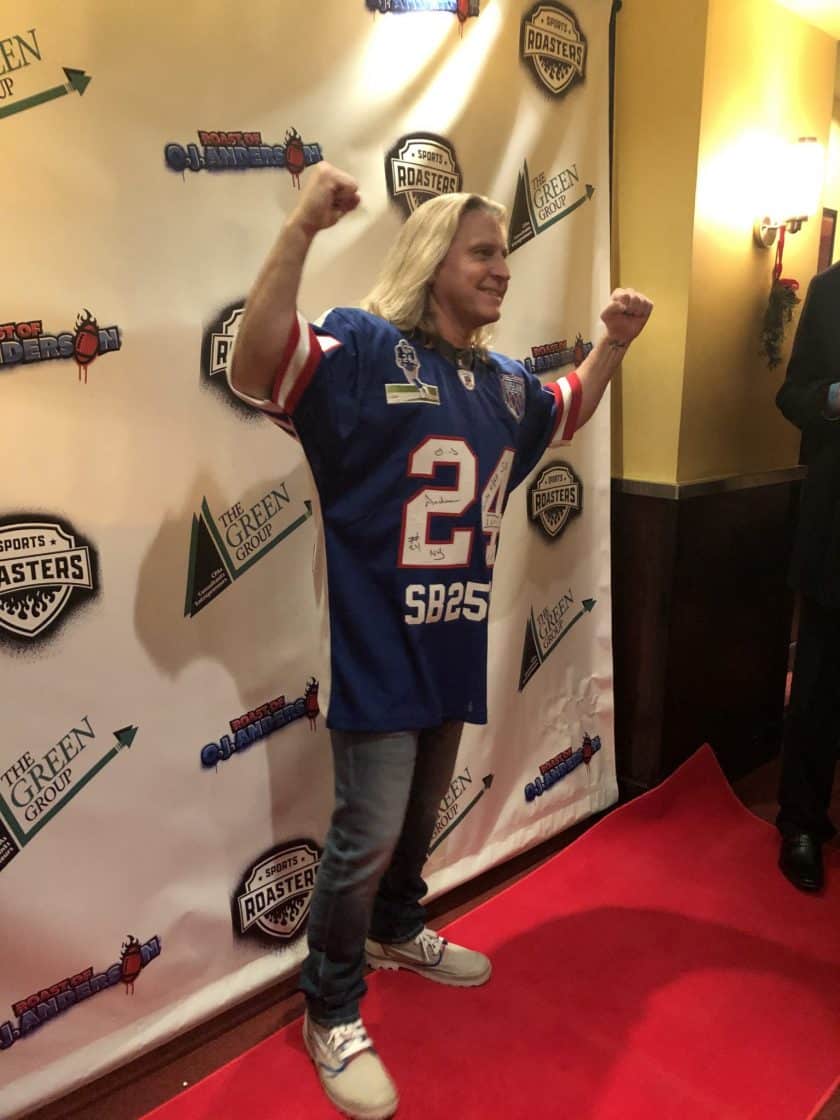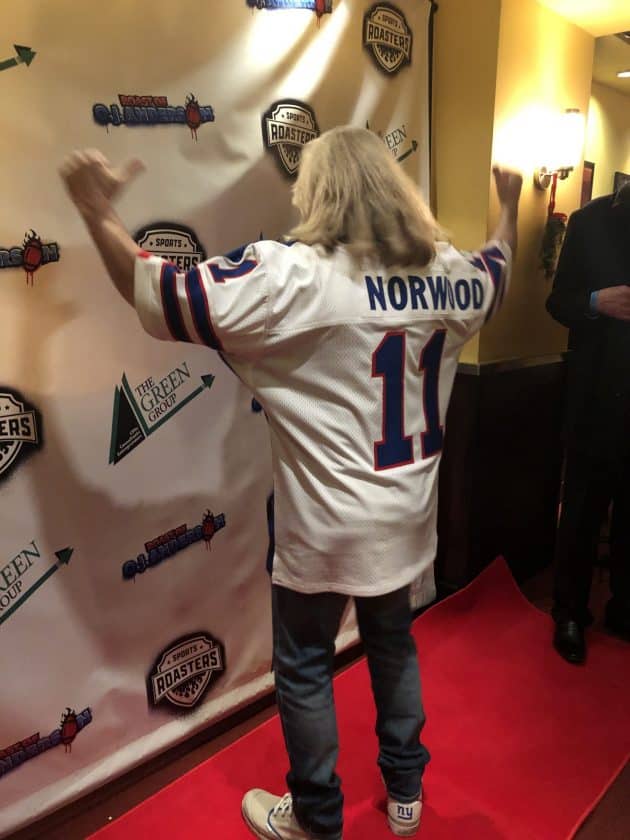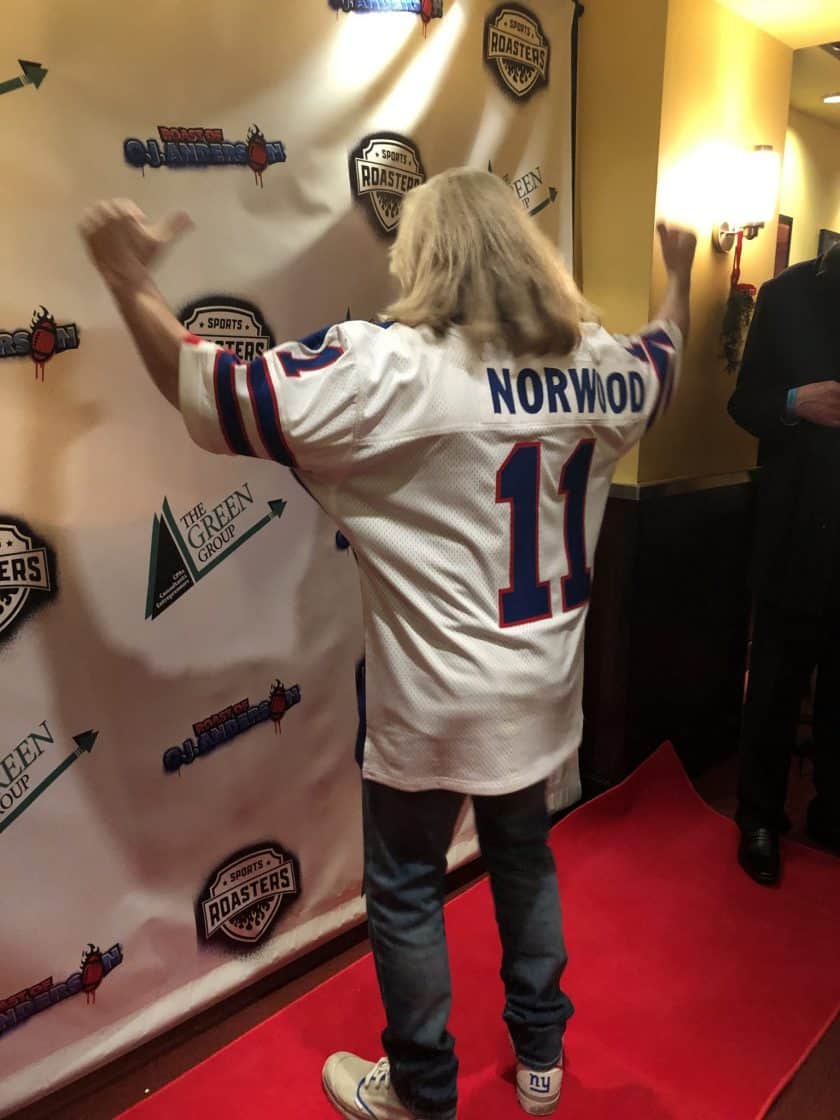 Before the event started, LPG responded to Taylor, claiming he was the heckler.
"[LT] better keep his mouth shut down there because we're going to absolutely attack LT, so he better not be heckling too," he said. "But you know what, he is the heckler because he knows what's coming, that's the point of it. I think it's going to be a freaking blast, I think O.J. is going to have a lot of fun."
LPG took shots at how Holmes didn't really roast O.J., but rather provided a speech about his endearing qualities. He additionally made fun of legendary Giants linebacker Carl Banks, who couldn't make the event.
Additional highlights included Cross claiming that any roaster reading jokes from a written script is not funny. He followed that up by making fun of anyone who had a piece of paper with their insults written down. Vivalo took the stage later on to commemorate but also poke fun at Lange's current 10-month state of sobriety.
Speaking of the famous comedian, Lange touched on how much he used to gamble on the Giants. He also spoke on how it would be cool to see deceased announcer Bob Sheppard narrate LT's everyday life.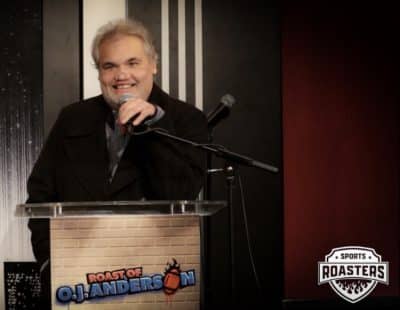 https://www.instagram.com/p/B5_Or1rgXfa/
A very sentimental moment, however, happened when LT took the stage not to only tell jokes, but to honor O.J. as well. He put aside football for a moment and mentioned that Anderson was, and still is, a "hell of a friend."
Stories pertaining to the special bond the two of them commenced in 1986 graced the usually comedic stage. When Anderson was traded from the Cardinals to New York that year (a deal LT was actually pulling for the Giants to make), the legendary running back told the Hall of Famer he wanted to talk to him about his life, to which LT responded: "Hey man, f–k you!"
Taylor pondered over how Anderson would attempt to provide advice for him, some of it in a joking but caring matter. This includes the time when Anderson confronted Taylor about his partying habits, suggesting he should stop staying out until 3:00 a.m., and go home at 2:00 a.m. instead.
Yes, it's true, Taylor can take a break from the jokes and heckling when he wants. And despite the stories showing a comedic side, they hold a much deeper value when it comes to the true meaning of them.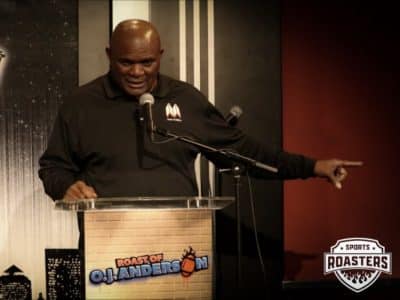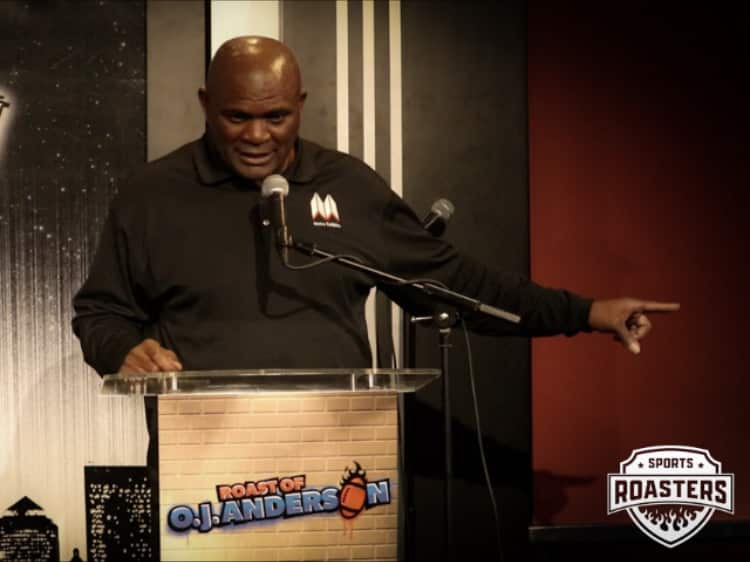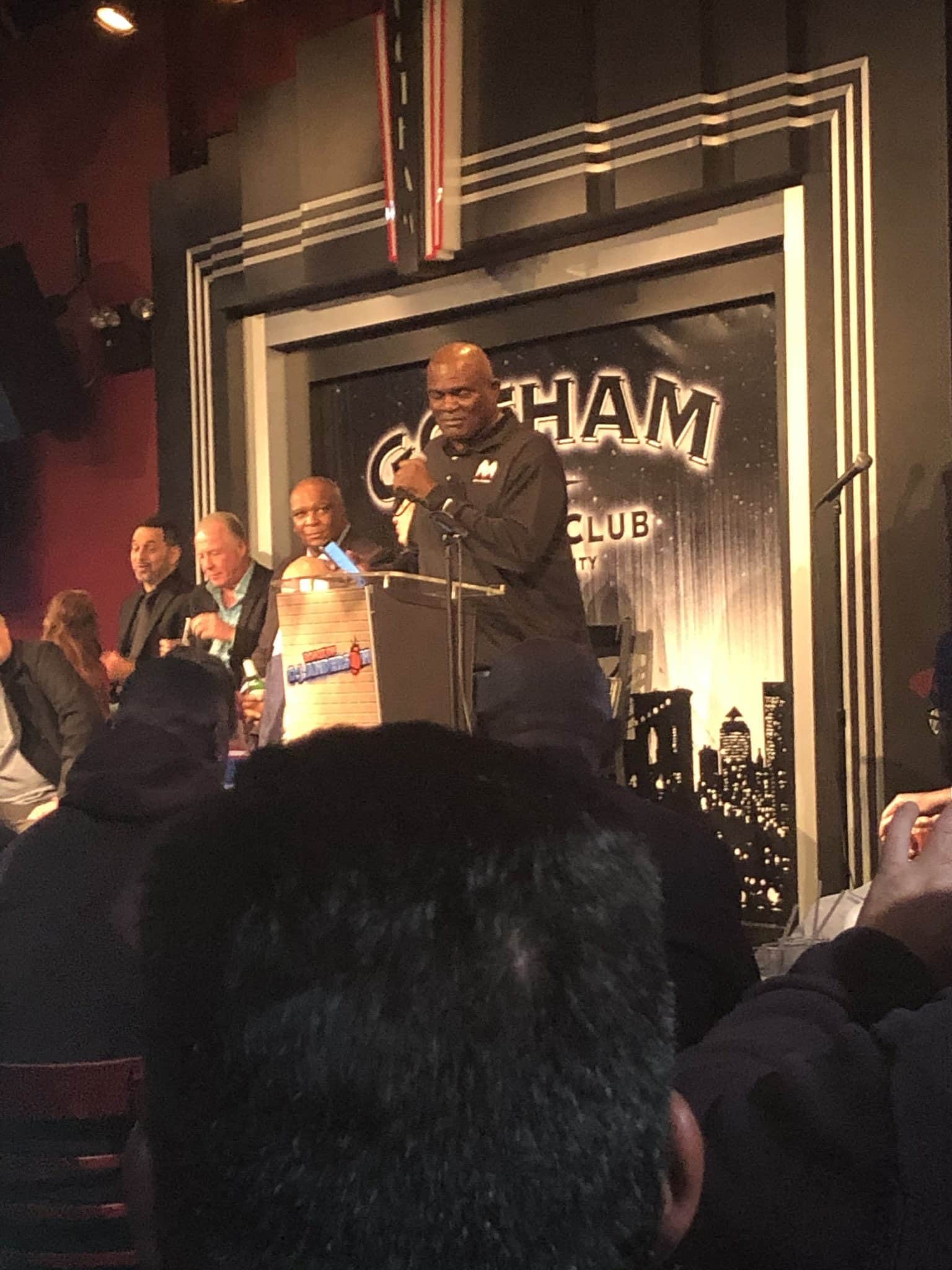 Anderson was last to take the stage, as he stood up from his throne-looking roast chair. He then went on to tell a memorable road trip-based story about LT, commemorating the close relationship they've shared for decades. He proved what he said at the beginning of the show was correct: LT and the rest of the dais could say whatever they want, because the man of the hour surely had the final say of the evening.
Overall, it was a fantastic night filled with great people sharing great stories and, all-in-all, an event that brought joy to the lives of everyone in attendance.