Sam Darnold remains the New York Jets' future, but his continuing journey could go a bit more smoothly with a guy like Fitzpatrick.

The theory that the Miami Dolphins would be engaging in the notorious art of tanking during the 2019 NFL season was debunked on March 18.
Sure, things haven't gone Miami's way. They're long eliminated from the AFC playoff picture and are currently engaged in a hotly contested race for the NFL's top draft pick. But Ryan Fitzpatrick has made an inexplicably lengthy NFL career making the most out of what he's been dealt in each of his stops. Miami has been no exception.
Teams have routinely called upon Fitzpatrick's services in eager searches for respectability. As his career has extended, he's been the Winston Wolf-like figure cleaning up the messes left behind by false prophets in the franchise quarterback spot. He's currently filling the void left behind by the ineffective Josh Rosen for the Dolphins.
Not so long ago, Fitzpatrick fulfilled that role for the New York Jets. By 2015, he had apparently entered the "veteran mentor" era of his career, called upon by the Jets to serve as the sage to Geno Smith. Fate had something different in mind, with Smith's days as the Jets' franchise man coming to a premature end thanks to an off-the-field incident that left him with a broken jaw. Fitzpatrick stepped in and etched himself into the green record books.
In addition to a star-crossed 10 wins (the Jets' highest tally since their pair of AFC title game visits in 2010-11), Fitzpatrick threw for a Jets-record 31 touchdown passes in 2015. His 3,905 yards in the same year are second only to Joe Namath's tally nearly five decades prior. That season is best remembered for its sour ending, a Week 17 no-show in Buffalo that cost the Jets a playoff spot. But with his performance, Fitzpatrick introduced New York to the feeling of hope, even if he was supposed to be nothing more than a placeholder until the true heir to Namath arrived.
His renewed enthusiasm, brought on by the historic season, was on display while the Jets worked out his uncertain contract situation, which eventually ended in a 2016 invitation via a new deal.
"I love playing the game of football," Fitzpatrick said to Brian Costello of the New York Post at the time. "I had a great time, probably my best season last year in terms of how much fun I had out there with the guys, you know, out there every Sunday. It's something I still really enjoy doing and something I want to continue to do."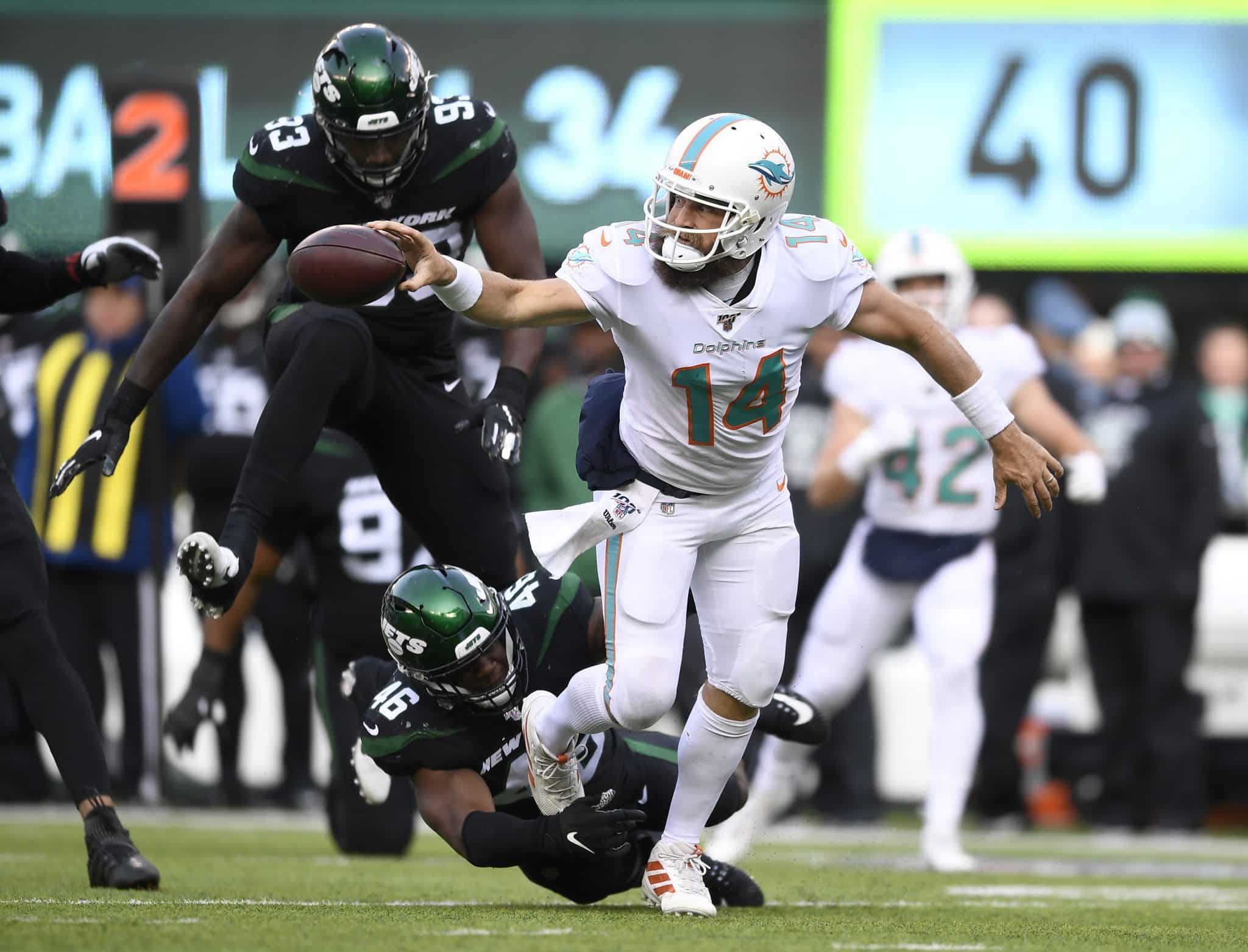 After New York "FitzMagic" fizzled out in 2016, he spent two years cleaning up Jameis Winston's messes in Tampa Bay, having previously done so for Trent Edwards and Jake Locker in Buffalo and Tennessee respectively. He spent the most recent summer outplaying Miami's would-be franchise quarterback acquisition Josh Rosen and, with the exception of two games earlier this fall, he has been the Dolphins' man every step of the way. He has since guided the Dolphins to a trio of unlikely wins. Among the trio are wins over playoff contenders from Indianapolis and Philadelphia, and a November triumph over his ex-New York employers.
A sweep was not to be on Sunday afternoon, Fitzpatrick's first time against a Jets crowd since his departure. Typical Fitzpatrick antics ensued: he managed the game relatively well, tallying 245 yards and 21 points (albeit all via Jason Sanders field goals), keeping his team in the game. It was a game of reckless abandon, even breaking out a Lamar Jackson-esque rush attack. His 65 rushing yards were the first time he broke 60 since 2010… ironically, also against the Jets.
Miami fell 22-21 to the Jets. Fitzpatrick wasn't one for nostalgics, regretting only a loss that he felt sullied a good team effort.
"I think more than anything right now, I'm proud of our guys," Fitzpatrick said. "I'm proud of our locker room. The amount of guys we had go down (to injury) and just trying to figure things out on the fly with some personnel issues in the second half. That was a really difficult game to call and get lined up."
If Fitzpatrick showed anything on Sunday, he exposed one of the Jets' biggest roles: that of a veteran mentor on this chaotic squad, one that could truly benefit the Jets' established new hope under center.
Sunday began the final quarter of Sam Darnold's sophomore season. This time last year, Darnold embarked on a tetralogy of hope for Jets fans, ending his rookie tour with a 931-yard, six-touchdown performance that fueled expectations. It also included a comeback win in Buffalo, Darnold's first of many expected victories against a divisional foe. Deja vu struck on Sunday, with Darnold leading a game-winning drive aided by the replay official's second look at defensive pass interference against Vyncint Smith.
But Darnold has mostly struggled in this new campaign, especially against heavy competition. Yes, he threw for 338 yards and two scores against Dallas (leaders of the pathetic NFC East), but efforts against other Super Bowl hopefuls have left much to be desired. For example, a new meme was born when Darnold was caught remarking that he was "seeing ghosts" in a brutal Monday night loss to New England.
Conversely, that aforementioned four-game stretch saw Darnold go blow-for-blow with accomplished names like Deshaun Watson and Aaron Rodgers. He worked through that effort with the help of backup quarterback Josh McCown, who turned retirement into a new stint as Carson Wentz's backup in Philadelphia.
Asked what his secret was after matching Watson in narrow to Watson and the future AFC South champions, Darnold attributed credit to his veteran backup.
"I really do just think it was just watching Josh," he remarked. "Just the way he went about studying the plays that are in the game plan, it's literally everything, walkthrough, practice, how he treated everything. I think it was just awesome to be able to learn and watch him. That's the reason for me playing a little bit better these last couple (of) games."
Fitzpatrick showed the Jets what they were missing. With his rushes setting up Miami scoring, he played the type of "nothing to lose" football necessary in a game featuring two teams with a combined seven wins. Throughout Sunday's game, Fitzpatrick dealt with an undrafted rookie starting at running back (Patrick Laird) and losing his top receiver (DeVante Parker) to a concussion. He went to almost dare the Jets to stop him, breaking loose for several big ground gains that would make UPS jealous.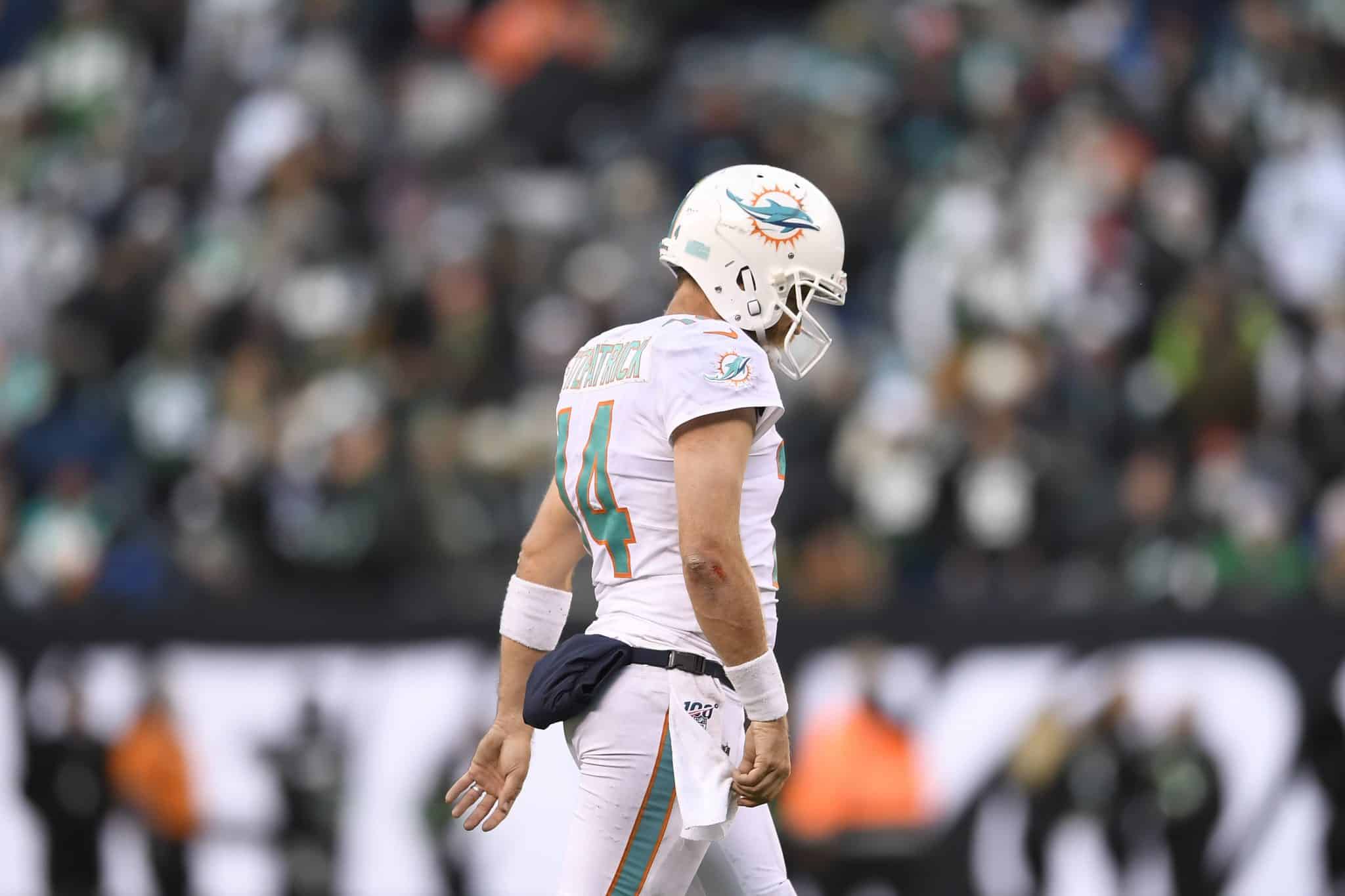 That's the type of name and hype that the Jets need behind Darnold.
The Jets' current backup is David Fales, a 29-year-old sixth-round pick that has previously backed up names like Jay Cutler and Ryan Tannehill. With respect to Fales, who is in the midst of building a long career as a backup, he's not the type of guy Darnold needs right now. Darnold worked at his best with a backup man that had the experience and may have been a bit unconventional and exciting when he does get on the field.
Darnold had that in McCown. Fitzpatrick is a greater, more prominent example, and, if he weren't tied up in Miami projects, talk about a return to the site of his glory day in New York might've been a conversation worth having.
There's time to rectify the mistake. Matt Moore will be among the available free agent quarterbacks this offseason. Fitzpatrick is perhaps in the final days of his NFL career. His impact is still felt, as his current comrades have stated. His impact may not be felt immediately, but they feel his contributions now could be part of the hopefully better days later on.
"He's done a really good job," Miami head coach Brian Flores told MiamiDolphins.com writer Alain Poupart in November. "The guys, they feed off his energy. He's been able to move the football. He's made me really tough plays for us…He's been productive."
The Jets, or any other NFL team for that matter, would perhaps never want to admit that they could take a less from the hapless Dolphins. This one, however, could help earn sustained production for their most prominent form of hope.
Follow Geoff Magliocchetti on TWITTER