New York Jets young quarterback Sam Darnold was solid, but incredibly inconsistent in the win over the Miami Dolphins.

Sam Darnold posted a very average stat line in the New York Jets' win over the Dolphins, completing 20 of 36 passes for 270 yards, two touchdowns and one interception. He averaged 7.5 yards per attempt and posted an 86.6 passer rating, both marks within close range of this season's league averages.
Oftentimes, the box score will lie, as it did in the Jets' loss to Cincinnati back in Week 13. Darnold averaged just 5.0 yards per attempt in that game, but he put forth a sharp performance for the most part. Darnold threw the ball with solid accuracy throughout the game, but was let down by numerous drops and failed 50-50 victories by the pass-catching core. Many dropbacks had zero chance of success due to horrid pass protection. The run game failed to provide the offense with favorable down and distance situations.
All of those factors made Darnold's box score line look awful, but in reality, he played some solid football. The rest of the team failed to do their part.
This time around, the box score is telling a fairly accurate story. Darnold was decent against Miami. There was plenty of good, and plenty of bad. He dropped some wonderful throws into tight windows, and consistently took advantage of mistakes by the defense. On the other hand, he misfired on some open downfield opportunities, failed to see (or overlooked) open receivers in the intermediate range, and threw one terrible interception.
Let's dig through some of the highlights and lowlights from Darnold's ordinary performance against a brutal defense.
THE GOOD
Darnold made a handful of "wow" throws against Miami ⁠— the type of special plays that brightly flash the franchise quarterback potential living inside of him.
This throw kicked off a crucial fourth-quarter drive that began with the Jets trailing by two points. Under pressure (allowed by Jonotthan Harrison), Darnold hangs tight and delivers a well-placed throw while taking a shot to the chest (and as his arm is cocked back over the head of the defender). Robby Anderson, who has been stacking up monstrous catches in the intermediate range, makes an incredible over-the-shoulder grab to complete the 18-yard play.
Throwing a route that is breaking both vertically and towards the sideline is tough enough in a T-shirt and shorts, let alone while taking a shot like this. Great ball and an even better grab by a receiver who deserves a contract that will keep him in New York for a long time.
The two throws in consideration for Darnold's best throw of the day are the one above and the following play, a beautiful strike down the sideline. The Jets are in a 3rd-and-11 hole. Miami brings five rushers, and the Jets handle the pressure beautifully (rare occurrence this season). Wide right, Anderson toasts Ken Webster and gains a comfortable amount of separation. Darnold sets and takes advantage of the cushy pocket to drop a near-perfect dime into Anderson's breadbasket.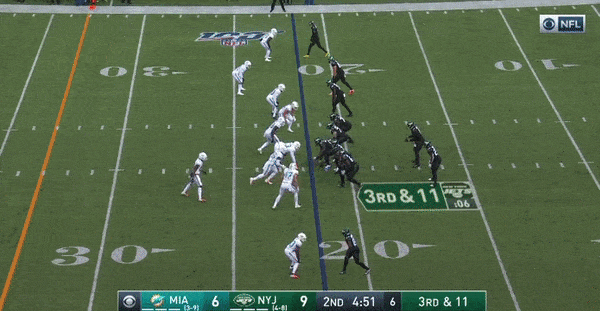 While the Jets do possess a below-average pass-catching group, drops were not been a major issue for most of the season. Over the past couple of games, however, they have started to become a nagging problem. On this first-quarter play, Darnold throws a nice ball on this 3rd-and-5 out-route. It slips right through the hands of Demaryius Thomas (best seen on the second angle shown in this clip).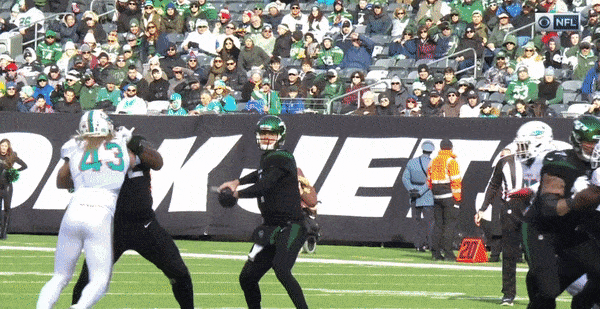 Luckily, Thomas would make up for that folly later in the first half. On this fade route, Darnold puts the ball right between the numbers, and Thomas is able to grasp it just tightly enough to get the play overturned from an incompletion to a touchdown.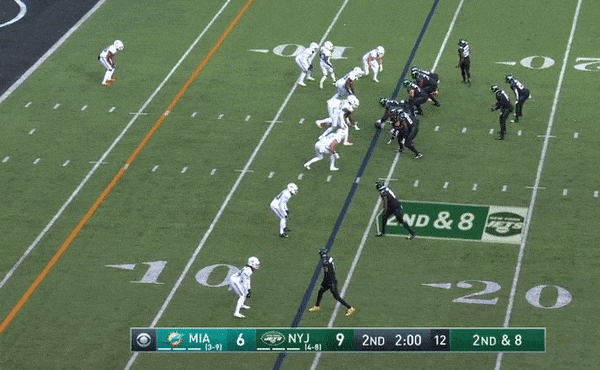 Here is another angle. Nice placement by Darnold into Thomas's chest, and a strong catch by the 6-foot-3, 225-pound veteran.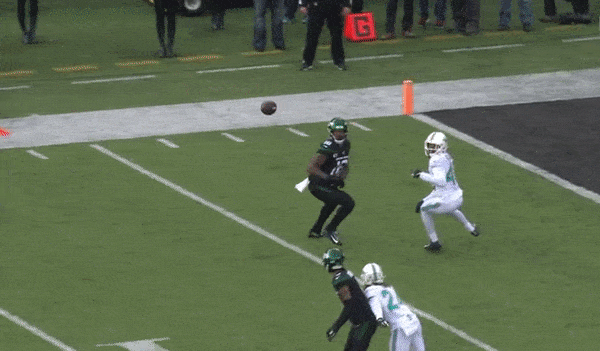 THE BAD
Darnold overthrew an open Anderson on a couple of out-breaking deep shots.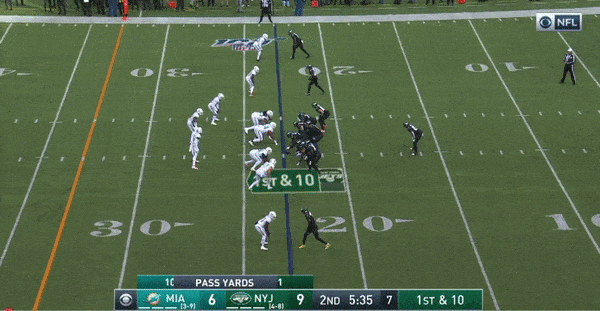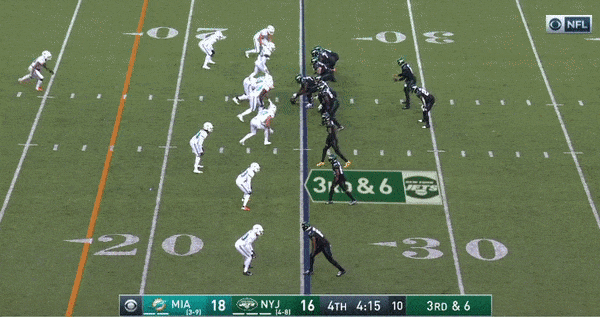 Anderson did well to buy himself a lot of separation on each of these plays, and you would like to see Darnold convert at least one of these. However, it needs to be kept in mind how difficult these throws are.
In 2019, the league-average completion percentage on throws 20-plus yards downfield is just 37 percent. When you consider that many of those are wide open throws up the middle (like Darnold's touchdown to Anderson in this game), it can be estimated that the throws above (out-breaking and vertical, while over the top of defenders) are generally completed around 20-25 percent of the time or less.
Those are tough throws. Nobody can expect Darnold (or any quarterback) to hit all of them. It is not even fair to expect someone to hit half of them. But if Darnold can hit throws of the above difficulty level somewhere from 35-40 percent of the time, that would take him to a whole new level.
Deep throws over the top have been a weakness throughout Darnold's short NFL career. We cannot expect him to complete them all, but he just needs to hit one or two more out of every 10 throws that are similarly difficult to the ones above.
Darnold has improved his ball security as of late, giving the football away just three times over his past six games. He has been doing a better job keeping it safe throughout most of the season, save for the Monday Night massacre against the New England Patriots. Outside of that game, Darnold has not lost a single fumble and owns an interception of 2.2 percent, which is slightly better than the 2019 league average of 2.3 percent.
However, many of Darnold's interceptions are extremely avoidable. The play below is Darnold's lone interception against Miami, and it was a terrible one. Vyncint Smith does break open late on this play, but Darnold tosses the ball without adequately setting himself, resulting in a wildly inaccurate ball that is easily intercepted.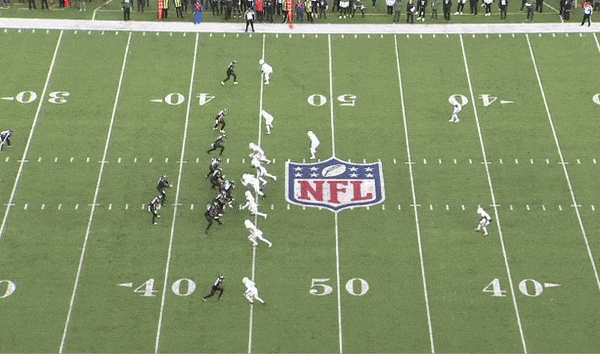 There are a few things Darnold could have done instead. He could have checked the ball down to Jamison Crowder, who was running a drag route and probably would have easily picked up a first down. If Darnold didn't like the angle on that throw, he could have simply admitted defeat and chucked the ball at Crowder's feet to bring the punt unit on. There was also ample space for Darnold to scramble right and either throw the ball away or allow the receivers more time to get open.
Throwing across the field without setting was the last thing Darnold should have done there. Had he identified Smith a beat earlier and gotten the chance to set himself, Darnold could have thrown a good ball for a huge first down pickup. Instead, he panicked under the pressure and threw up a prayer.
Darnold is improving his ability to keep the football safe, but he can be much better. Few of the interceptions he has thrown in his career have been the result of poor accuracy alone. Nearly all of them are the consequence of a refusal to admit a play is dead.
You do not want to see Darnold lose his knack for playmaking. He is a gunslinger. Shots will be taken. That is what he does best. The last thing he needs is to become a check-down artist.
But there is a time and place for everything. Striking a healthy balance between aggressiveness and a willingness to live for the next down is the key for Darnold as he aims to unlock his full potential.