If the New York Giants decide to part ways with head coach Pat Shurmur after this season, there are numerous candidates they could target.
Since Pat Shurmur received the job to lead the New York Giants coaching staff, he hasn't made much progress. He entered an organization coming off a 3-13 season, and since then, they've won just seven games total (five in 2018 and two in 2019).
Needless to say, Shurmur could be out of a job as early as Black Monday.
So if that does indeed happen and the Giants officially say goodbye to Shurmur, who replaces him? Well, there's a multitude of candidates who could receive the job. The list includes numerous coordinators (offensive and defensive), a college head coach and another current NFL coach.
The Giants could target all of them, but some have a better resume than others when it comes to the fight for the position.
San Francisco 49ers defensive coordinator Robert Saleh
Robert Saleh is coaching up arguably the best defense in the entire NFL. The 49ers defensive line, paired with this group as a whole, is a huge reason as to why they're 10-2 heading into Week 14.
At the moment, the Niners defense is No. 1 with 250.9 total yards allowed-per-game, No. 1 with 134.2 passing yards allowed-per-game, and No. 2 with 45 sacks on the year. They're additionally No. 2 with just 15.2 points allowed-per-game and have forced a total of 23 turnovers (11 picks, 13 fumble recoveries).
I understand we live in an era where NFL teams are more drawn to hiring an offensive mind to be their head coach. Just in this city alone, we've seen the Giants and New York Jets do it the last two years with Shurmur and Adam Gase, respectively.
But who's to say what works? Bill Belichick is a defensive mind and the New England Patriots seem to be doing just fine year-in and year-out. With the very problematic struggles within the Giants defense over the last three seasons, maybe a defensive-minded coach is what the organization needs.
The offensive success will come, but the defense has struggled so much in recent campaigns to the point where that needs to become the first priority.
Baltimore Ravens offensive coordinator Greg Roman
Has anyone witnessed a more high-powered offense than the Baltimore Ravens this year? Offensive coordinator Greg Roman has taken this group and propelled them to become a group that everyone has had trouble stopping. He's also helping Lamar Jackson, who many questioned heading into this season, turn into an MVP candidate.
The Ravens offense is currently No. 2 with 420.8 total yards-per-game, No. 1 with 207.8 rushing yards-per-game, and No. 1 with 33.8 points-per-game. The next-most amount of rushing yards-per-game is 148.0 from San Francisco. As far as points-per-game, the next-most is 29.1, also from the Niners.
The Ravens have one of the more dominant offenses in the league. If Roman became the new head coach for the Giants, he would add much creativity to their offense, something Shurmur isn't doing at all. Roman would also help in the development of rookie quarterback Daniel Jones, which is an enormous plus.
Dallas Cowboys offensive coordinator Kellen Moore
Kellen Moore, 31, is a younger coach that's more in-tune with the modern offensive styles and gameplans this league has to offer. He's proving that as the offensive coordinator for the Dallas Cowboys. They're ranked No. 1 in the league with 432.8 yards-per-game and No. 1 with 305.2 passing yards-per-game.
Dallas is also top-10 in rushing (127.6 yards-per-game) and in scoring (25.8 points-per-game). Both are ranked No. 8 in the league.
Moore has also contributed to the statistical success of quarterback Dak Prescott this year. At the moment, Prescott is atop the NFL with 3,788 passing yards and tied for No. 3 in touchdown passes with 23.
One of the only factors that's a downside here is his inexperience. The Giants would be reluctant to hire someone as a head coach that has just two years of NFL coaching under his belt. Moore spent 2018 as the Cowboys quarterbacks coach.
Oklahoma University head coach Lincoln Riley
Lincoln Riley has proved that he's ready to take on an NFL coaching job. So why would he be a great choice for the Giants? Well, for one, he could absolutely help in the development of Jones.
While at Oklahoma, Riley has coached three quarterbacks thus far, two of which won the Heisman Trophy and went on to be selected No. 1 overall in the NFL Draft. Baker Mayfield won the 2017 Heisman and was then selected by the Cleveland Browns. Kyler Murray, who won the Heisman in 2018, was selected before anyone else by the Arizona Cardinals this past April.
Riley is now helping Jalen Hurts, someone who was previously benched by the University of Alabama, become one of the best quarterbacks in the country. Heading into the Big 12 Championship Game, Hurts is still on the Heisman watch. He's currently top-10 in completion percentage (No. 4 with 71.9%), touchdown passes (No. 9 with 31) and in quarterback rating (No. 3 with 202.3).
Riley has also gone 35-5 in his time with Oklahoma, having lost in the College Football Playoff semifinal in each of his first two seasons. There are more than enough reasons Riley could become an NFL head coach and he's someone the Giants should seriously consider if Shurmur is gone.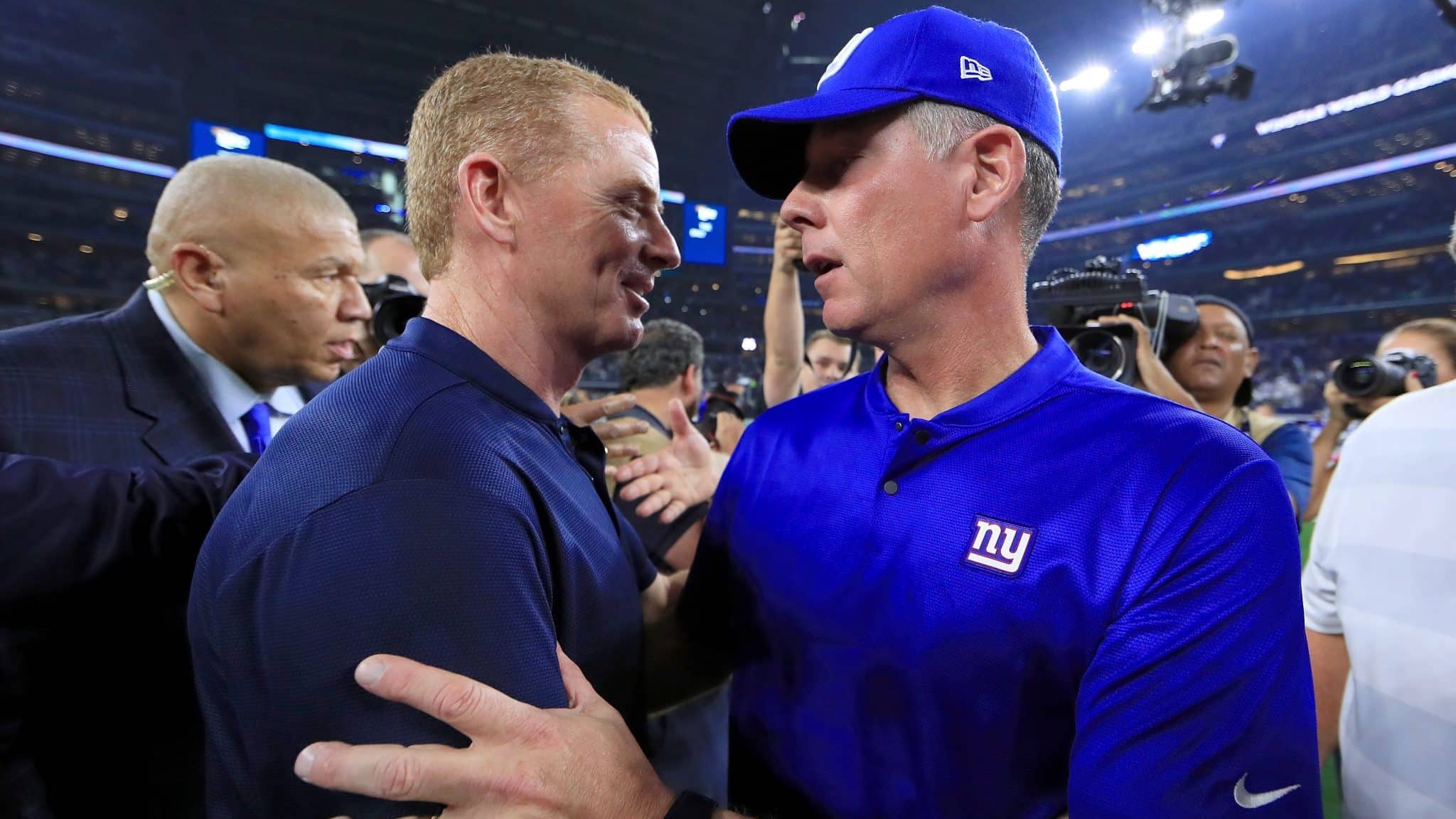 Dallas Cowboys head coach Jason Garrett
Personally, this is someone I don't want the Giants to hire at all. However, reports did make the claim the Giants would consider Jason Garrett if both he and Shurmur are fired, which could legitimately happen. Even if the Cowboys make the postseason, the organization could still move on from him, as they've remained stagnant much of this past decade.
The thing about Garrett is that we know what he'd bring to the table, and that's a monotone coaching style that doesn't seem to have any sort of urgency. Has that worked for him? Not really, as he's only led Dallas to the playoffs three times in his eight full seasons as head coach. Out of the trio of postseason trips, they haven't made it past the NFC Divisional round once.
This year, it doesn't seem like they can win any sort of big game. They've still yet to emerge victorious in a matchup in which their opponent entered with a winning record. The combined record of the teams they've beaten is currently 18-53-1.
Despite the Giants reportedly saying they'd consider him, he's not their best option at all. The team needs a coach who's going to step up on the biggest stage. Garrett has yet to prove that he can do that.
Kansas City Chiefs offensive coordinator Eric Bieniemy
Eric Bieniemy is in his second season as the Chiefs offensive coordinator. Since his tenure in that position began, they've emerged as one of the top offenses in the league. This season, they're ranked No. 4 with 384.7 total yards-per-game, No. 3 with 290.2 passing yards-per-game, and No. 3 with 29.0 points-per-game.
Bieniemy, just like Moore, Roman, and Riley, could help develop the rookie Jones more than Shurmur has. He's without a doubt contributed to the development of Patrick Mahomes, as the young quarterback emerged as an MVP quarterback in the 2018 season.
It's unclear if Bieniemy would leave his current situation to come all the way to New York. However, it's still an idea to ponder over. Not to mention, there are definitely great things he could bring to this offense, as he's done with Kansas City.