The New York Jets Friday injury report is in and, unfortunately, Le'Veon Bell's status is in question with an illness.

FLORHAM PARK, NJ—First, the fact Jamal Adams didn't practice all week means his status for Sunday's game is all-but-certain; the stud strong safety will not play. Rarely does a player show up on Sunday after missing every practice that specific week.
Now, New York Jets high-priced running back Le'Veon Bell is a mystery for the Dolphins contest.
Bell didn't practice on Friday due to an illness. Head coach Adam Gase didn't dive into details at Friday's presser.
"He is sick, probably the same thing that is going around a lot of these other teams," Gase said. "(The) biggest thing was getting him checked out and then get him out of the building so nobody else gets sick."
Whether he suits up for Sunday's home game against the rival Dolphins remains in question.
"I don't know," Gase admitted. "I think I will have more information probably by tomorrow, we'll just kind of see how he feels."
If Bell remains in question, Adams, for intents and purposes, is out. The Jets' best player is dealing with a sprained left ankle suffered in the 23-6 loss to the Cincinnati Bengals a week ago. Interestingly, Gase wouldn't rule Adams out.
When asked if Adams was out, Gase was quick and to the point.
"Not yet," the Jets' first-year head man answered.
Thinking nothing more than a bit of gamesmanship from the former Dolphins sideline boss. No. 33 is, by far, the most valuable member of this football team. The entire complexion of the defensive unit changes if he's off the field. Offensive gameplans are built with the LSU product firmly in mind all week.
Full Friday Injury Report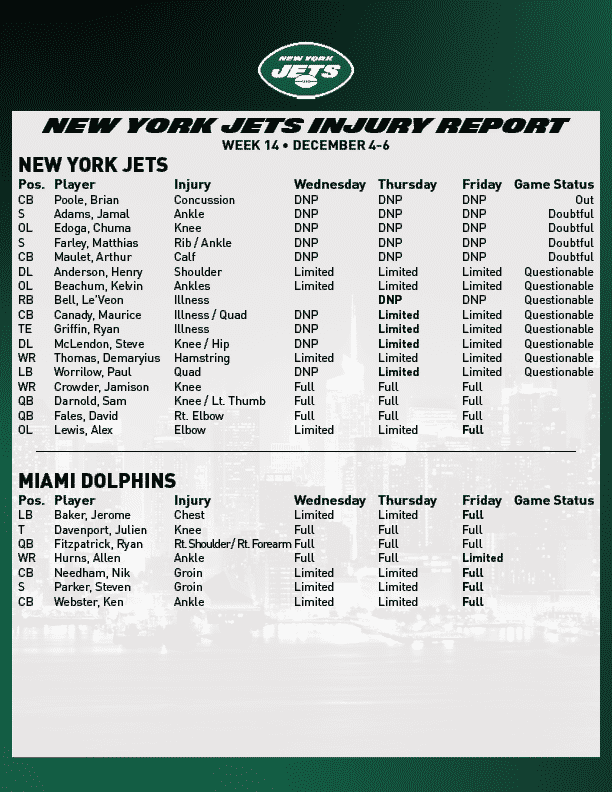 Joining Adams and Bell in the DNP column are Brian Poole, Chuma Edoga, Matthias Farley and Arthur Maulet.
Miami comes into the game relatively healthy. Only wide receiver Allen Hurns was limited on Friday.
The 4-8 Jets will look to avoid the season sweep at the hands of the 3-7 Dolphins this Sunday at MetLife. Kickoff is slated for 1 p.m. ET.