Sam Darnold and the New York Jets added yet another embarrassing offensive performance to their growing collection. The team failed to score a touchdown or run a play in the red zone against the 0-11 Bengals' 30th-ranked DVOA defense.

Sam Darnold had been red-hot over the New York Jets' three-game win streak. He was responsible for nine touchdowns (seven passing, two rushing) and only one turnover. The USC product also posted incredible numbers with a 117.2 passer rating and 9.4 yards per attempt.
However, Darnold's hot streak came to an end in Cincinnati. The kid completed 28 of 48 passes for 239 yards (a measly 5.0 per attempt) and no touchdowns.
However, as has often been the case when Darnold has struggled (particularly on the road), the offensive line simply gave him no chance. Darnold was knocked down nine times and sacked four times by a Bengals defense that was ranked 27th in quarterback hits per game (4.4) and 28th in sack rate (5.2 percent).
Darnold now owns a record of 0-10 when sacked three times or more, compared to 8-4 when sacked two times or fewer.
Overall, Darnold took pressure on 46.3 percent of his dropbacks against the Bengals. That rate is a notch higher than Darnold's season average of 42.4 percent, which ranks second-highest in the NFL behind only Daniel Jones. Cincinnati entered the game ranked 29th in pressure-rate.
The offensive line could not set Darnold up with a quality run game, either. Jets running backs gained just 53 yards and two first downs on 15 carries. That's just 3.5 yards per attempt, which is well below league average. They also had a horrible first down rate of 13.3 percent (worse than the Jets' 32nd-ranked season average of 15.7 percent).
Before contact, Jets runnings backs combined to gain just 10 yards, a measly average of 0.7 per attempt. You don't need to be a football savant to know that if a back is only advancing two feet on average before he is met by a defender, then the offensive line is doing a terrible job.
All five members of the line played a part in the brutal performance. Let's take a look at some of the problems caused by each.
Kelvin Beachum had become the lone bright spot on the offensive line. Over his past four starts, Beachum gave up just four pressures, including zero sacks.
The Jets went 4-0 in those games and averaged 28.0 points on offense. Over the three-game stretch Beachum missed from Weeks 7-9, the Jets went 0-3 and averaged 11.0 points on offense.
All of that success flew out the window in Cincy. Beachum was credited with allowing a whopping six pressures. That includes one play where Beachum stepped on Darnold's leg after he was driven into the pocket. Darnold seemed to have an awkward twist of his lower leg on that play, but, fortunately, it was nothing serious.
Beachum also had three penalties, two of which were extremely detrimental. In the third quarter, Beachum held Andrew Brown in the end zone, resulting in a Bengals safety. In the second quarter, Beachum was called for an illegal block above the waist that turned out costly.
Oftentimes, big plays wiped out by penalties wouldn't have occurred if not for the unfair advantage created by the penalty. That was not the case with this Beachum penalty. Beachum had already won the rep, beating Carl Lawson to the spot and creating a lane for Powell. The shove was unnecessary, and it cost the Jets a big play.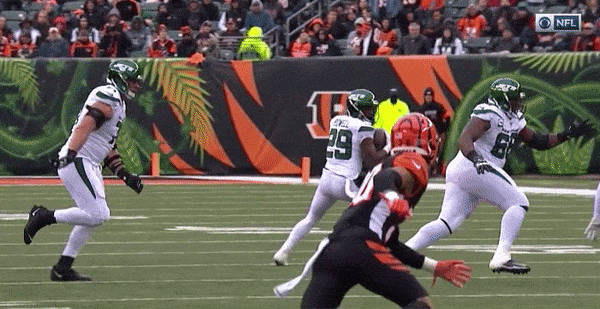 The penalty wiped out a 23-yard Bilal Powell gain that would have put the Jets in the red zone while still trailing just 10-3. Instead, the Jets punted the ball away. Andy Dalton then drove the Bengals down for a touchdown. The Jets wouldn't come within one score or reach the red zone for the rest of the game.
Alex Lewis allowed three pressures and was given a season-low 33.6 run-blocking grade by Pro Football Focus, one of the worst marks among guards in Week 13. On this play, Lewis (left guard, No. 71) is pushed into the backfield by Andrew Billings, forcing Bell to redirect and run into a wall for a one-yard loss.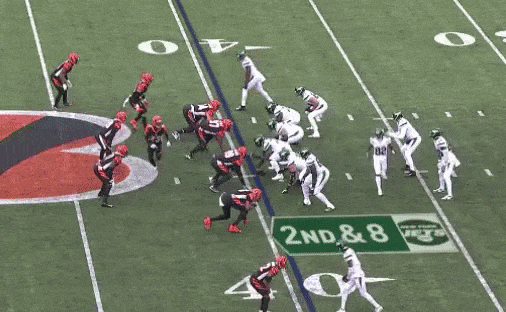 Centers are typically credited with the fewest pressures allowed among the five offensive line positions, but Jonotthan Harrison has been a magnet for havoc. He allowed four pressures against the Bengals, two of those being knockdowns on Darnold. On the season, Harrison ranks 33rd out of 35 qualified centers in pass-blocking efficiency (pre-snap pressures allowed with a greater weight to sacks).
An allowed sack was negated by a holding penalty on Harrison. A linebacker blitzes from off the ball, and Alex Lewis picks him up. Harrison is late switching onto Andrew Brown and he needs to take a hold to prevent the sack. However, the pressure allowed by Harrison leads to Darnold getting sacked anyway. Cincinnati took the holding yardage, sparing Harrison the allowed sack.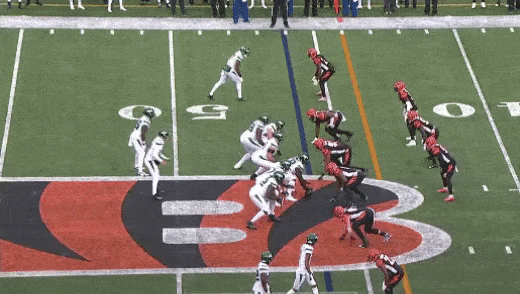 Tom Compton allowed four pressures, two of those sacks, and also took two penalties (both occurring on the same drive, leading to a three and out).
Pass protection at right guard has always been an issue with Brian Winters in the lineup, but it has been even more of a problem with Compton in that spot. Since taking over as a starter in Week 11, Compton ranks 163rd out of 177 qualified offensive linemen in pass-blocking efficiency.
Compton was cleanly beaten on both of his allowed sacks. On the first, Sam Hubbard bull rushes Compton and then throws a nasty rip to get to Darnold. Carl Lawson also blasted Beachum into Darnold's lap, closing the escape lane and allowing Hubbard to finish low.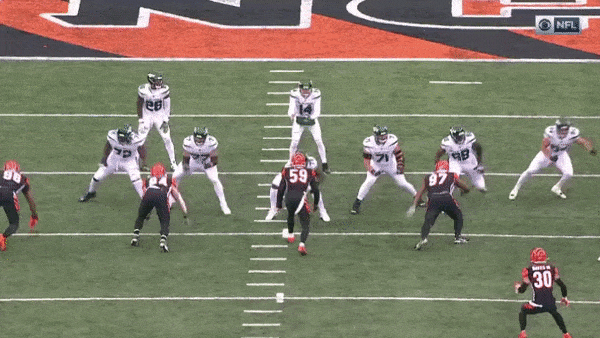 Brandon Shell, Right Tackle
Carlos Dunlap entered Week 13 with 2.5 sacks over eight games, but he picked up three against the Jets' front. Two of those sacks were clean wins against Brandon Shell, who was tagged with a team-high seven pressures allowed.
Here, Dunlap drives Shell into the pocket, tripping Darnold and forcing him to eat the ball for a sack.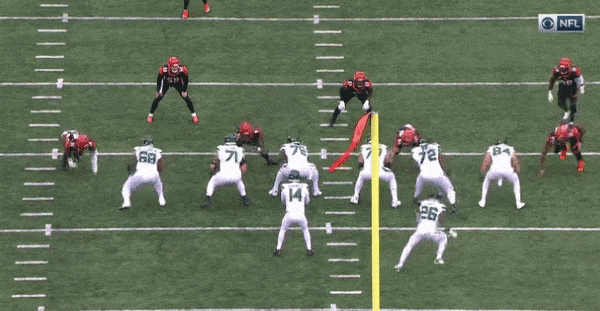 The Bengals defensive front, which has been among the worst in football, abused the Jets offensive front. Yet, it is not even the least bit shocking. This was just another day at the office for perhaps the worst offensive line in New York Jets history.
Joe Douglas, can we get a fresh batch of five offensive line draft picks in April?