The New York Giants' Sunday mistakes were not limited to the field, as Darius Slayton and Golden Tate had some questionable social media activity.
The New York Giants' dreadful Sunday afternoon was bookended by a pair of social media silliness that's sure to raise some eyebrows.
Hours after the Giants' latest defeat, a 31-13 snowy shellacking at the hands of the Green Bay Packers, wide receiver Darius Slayton was shown to have "liked" a post on Twitter from SportsCenter, announcing that the team had been eliminated from playoff contention.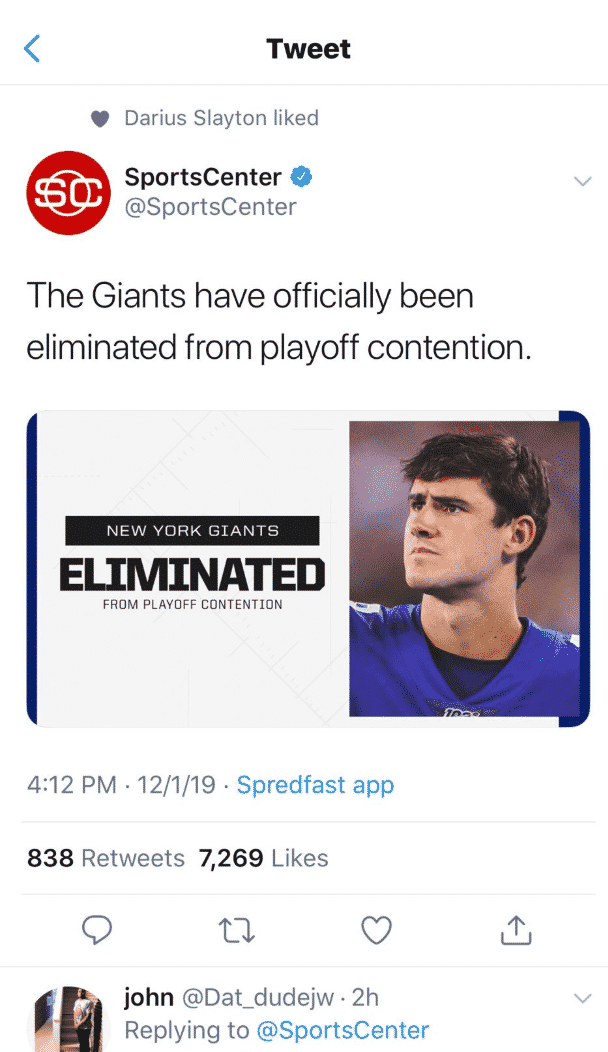 The post from ESPN's flagship program features a stoic photo of quarterback Daniel Jones.
The Giants have officially been eliminated from playoff contention. pic.twitter.com/YU4dqSccLK

— SportsCenter (@SportsCenter) December 1, 2019
The rookie Slayton had 44 yards on a team-high six receptions on Sunday.
Prior to Sunday's kickoff, another Giants receiver, veteran Golden Tate likewise promoted material critical of the Giants. Tate, who did not play on Sunday due to a concussion, retweeted a post from The Giants Wire.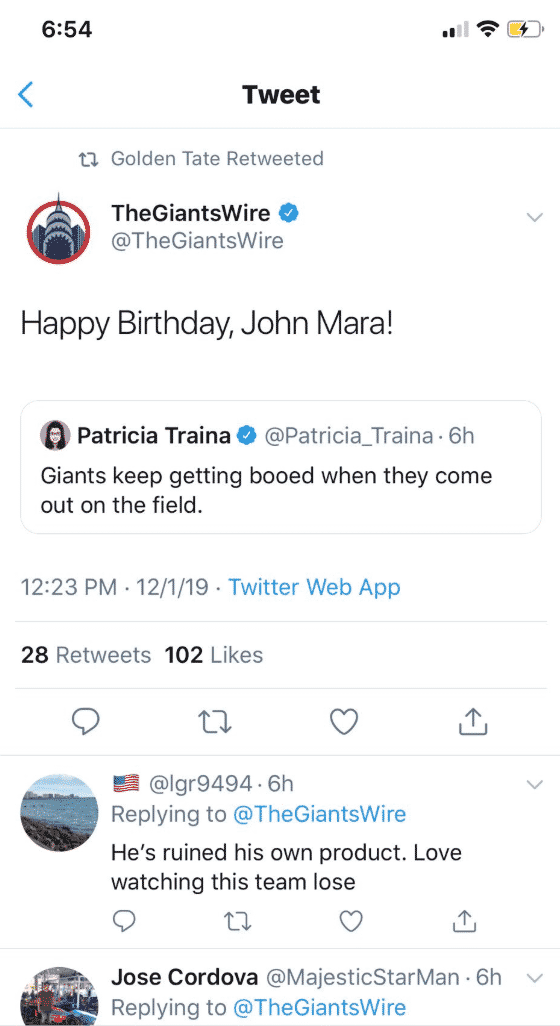 The USA Today affiliate was sarcastically bidding team owner John Mara a happy birthday after The Athletic's Patricia Traina reported that the Giants were getting booed as they entered the MetLife Stadium field.
Happy Birthday, John Mara!https://t.co/Rw4nLuoXB7

— TheGiantsWire (@TheGiantsWire) December 1, 2019
Frustration appears to be boiling over for the 2-10 Giants. The team has fallen in each of its past eight games, with four of the defeats coming by a margin of at least two possessions.
This latest loss against the Packers clinched the Giants' third consecutive season of at least 10 losses, a dubious distinction not reached since 1978-80.
The Giants return to action next Monday night in a nationally televised showdown against the Philadelphia Eagles (8:15 p.m. ET, ESPN).
Follow Geoff Magliocchetti on TWITTER