The New York Jets news and notes from Florham Park this week include a few more injuries and Sam Darnold's self-improvement goals.

FLORHAM PARK, NJ—Sam Darnold isn't just painting the town red after victories (see Page Six and the kid's wild night out), he's thinking about self-improvement.
On Wednesday, after New York Jets practice (in preparation of the winless Cincinnati Bengals), the laid-back California kid wasn't shy when asked what he could improve.
"I think I can always get better in preparation," Darnold said. "I think understanding what a defense is doing, I can always learn and grow that way. My feet in the pocket, I think, can always get better. I feel like sometimes I'm still a little spastic, but that can definitely settle down a little bit. I feel like I've been doing a better job (over) the last couple (of) weeks. So, there are definitely a lot of things that I need to keep working on and I will."
What Sam Darnold thinks he needs to improve upon:
1. Preparation
2. Understanding a defense's plan
3. Footwork #TakeFlight pic.twitter.com/xjz6lW9isA

— Robby Sabo (@RobbySabo) November 27, 2019
Darnold is coming off another brilliant game that saw him put up 315 yards and two scores on 20-of-29 passing in his team's dominant 34-3 victory over the Oakland Raiders.
The moment Bill Belichick and the New England Patriots invaded MetLife Stadium this season was the exact moment Darnold's mechanics turned into a complete mess. He was seeing things that weren't there, displaying jittery feet and rarely planting and throwing without a wide-open stance.
Over the last few weeks, the kid has improved greatly in that area. He still loves to throw with moving feet, but has focused on the matter.
Injury Report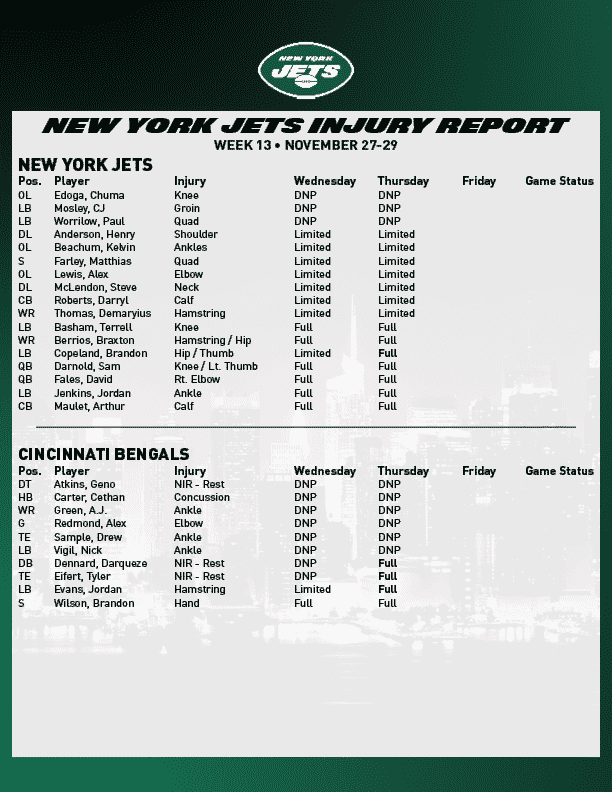 Chuma Edoga, Paul Worrilow and, of course, C.J. Mosley all missed practice on Thursday.
Players who were limited on Thursday include Henry Anderson, Kelvin Beachum, Matthias Farley, Alex Lewis, Steve McLendon, Darryl Roberts and Demaryius Thomas.
The Cincinnati Bengals come into the contest relatively healthy. Wide receiver A.J. Green was among the DNPs on Thursday.
Jets-Bengals All-Time History
The Jets own a 15-9 edge over the Bengals all-time. Twice, the Jets have met Cincy in the playoffs and have won (17-9 all-time record including playoff results).
The most recent playoff matchup featured a young Mark Sanchez with Rex Ryan on the sideline. After beating the Bengals in Week 17 of the 2009 NFL season, the Jets handled the Bengals, 24-14, at Paul Brown Stadium.
The latest meeting came in 2016 when the Bengals edged the Jets, 23-22 at MetLife Stadium. Andy Dalton, the very same man who's been reinserted into the lineup, led the way in the opening week matchup with 366 yards and a touchdown through the air.
Jets Links