Sam Darnold's recent hot streak has allowed him to rewrite the history books (while also helping the New York Jets to three-straight wins). 

Three weeks ago, the New York Jets were 1-7, having just given the tanking Miami Dolphins their first victory.
For the team, it was rock bottom. But most importantly, it was rock bottom for one man in particular whose success will dictate the livelihood of the franchise ⁠— Sam Darnold.
From Weeks 7-9, Darnold tossed a whopping eight interceptions while only recording three touchdowns and a measly average of 5.6 yards per pass attempt. Over that stretch, he recorded the worst passer rating in football (50.9).
Given that Darnold had just enjoyed perhaps the best game of his career in his first game upon returning, that stretch of ineptitude was shocking. Darnold looked nothing like the man who shredded the Dallas Cowboys, nor the one who owned the NFL's best QBR over the final four weeks of 2018.
Doubt arose … is this the real Sam Darnold? This scared, weak-under-pressure, turnover machine ⁠is our quarterback?
Fast forward three weeks and Darnold is well on his way to squashing any doubts that some may have had earlier in the year.
Darnold has taken advantage of three matchups against bottom-10 DVOA defenses to catapult himself back onto the franchise quarterback track. This is nothing to sneeze at. Part of being a franchise quarterback or a consistently competitive organization is beating up on bad teams. This is something the Jets have struggled with. Since the start of 2016, they are an incredibly bad 12-16 against teams that finished without a winning record, better than only the Browns.
Of course, the 6-5 Raiders are not a losing team at the moment, but their 29th-ranked DVOA defense presented Darnold with another golden opportunity to dominate, and he delivered. Darnold completed 20 of 29 passes for 315 yards, two touchdowns, and no interceptions. He registered a career-best 10.9 yards per attempt, while his 127.8 passer rating was the second-best mark of his career.
Keep in mind that, although crushing a bad defense may be less impressive than crushing a good one, there is still a bar to clear. That bar is simply higher against a bad team or a bad defense. And Darnold has cleared it with ease for three consecutive weeks.
Darnold threw for 10.9 yards per attempt against the Raiders. That's more than Patrick Mahomes, Matthew Stafford, Kirk Cousins, Deshaun Watson and Philip Rivers were able to muster up against them this season. Only Aaron Rodgers (13.8) has outperformed Darnold in that category against Oakland this season.
Against the Redskins, Darnold threw for 9.8 yards per attempt, better than Dak Prescott, Tom Brady, and Carson Wentz. Only Kirk Cousins (11.0) put up a better mark.
When Darnold took on the Giants in Week 9, his box score line (7.7 yards per attempt, 97.9 passer rating) was solid, but it undersold his actual performance. Luckily, QBR evaluated him more properly. Darnold posted a 74.0 QBR against the Giants, the third-highest mark that Big Blue's 29th-ranked scoring defense has yielded. Only Dak Prescott (at home vs. NYG) and Matthew Stafford had outperformed Darnold, who put up a better mark than Brady, Cousins, and Prescott (at MetLife).
What Darnold is doing is remarkable, even when you consider the competition. The schedule has presented him with favorable matchups, and he has dominated them, which he must prove capable of doing if he is going to be the answer.
Since 2015, the 10 teams to reach the Super Bowl went 77-12 (.865) against teams without a winning record. With these past three victories, Darnold is inching his way closer to that championship-caliber number. Beating one bad team is not impressive, but defeating them with great consistency absolutely is.
Darnold has been one of the most productive quarterbacks in football recently. His performance against the Raiders landed him the fourth-best total QBR of Week 12 (prior to Monday Night Football), earning him his third consecutive top-10 appearance.
Only Baker Mayfield (three games) and Lamar Jackson (five games) are on similarly lengthy streaks of top-10 QBR performances.
Over his past three games, Darnold has mustered up a 117.2 passer rating. That ranks second-best among all quarterbacks over their past three games, behind only Jackson (145.1).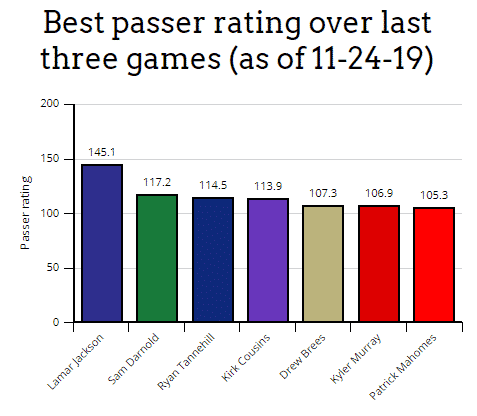 Now, 21 starts into his NFL career and still only 22 years old, Darnold is racking up signature performances at a staggering rate that few players have ever been able to come close to at this age.
Let's just run through a few of his under-23 records, shall we?
Darnold's performance in Week 12 was his sixth with over 250+ passing yards and a 100.0+ passer rating, giving him the most such performances before turning 23 years old.
At 22 years and 172 days old, Darnold became the youngest player in history to eclipse 290 passing yards and a 120.0 passer rating in back-to-back games. His recent two outings of this caliber are the second and third of his career, as Darnold had a similar game against the Packers in 2018. He is the first quarterback to record three of those performances before turning 23.
Darnold has now recorded four performances with over 300+ passing yards on 8.0+ yards per attempt. That ties him with Peyton Manning for the most such performances before turning 23.
Perhaps most impressively, Darnold's performance against the Raiders was the fifth of his career with 280+ passing yards and a 110+ passer rating. He reached that total in just his 21st career start, joining some a somewhat okay group of quarterbacks to accomplish that: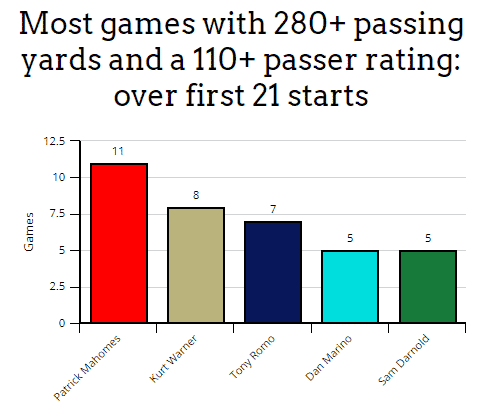 Sam Darnold is on fire. Ultimately, that's all that really matters for the Jets as they close out the 2019 season.
The opponents may be weak, but that does not mean what Darnold is doing has no value. It still has plenty. Each week, he is getting closer to proving that he can beat who he needs to beat with elite consistency, an extremely important skill a star quarterback needs to have.
Back in Weeks 8-9, Darnold had two lackluster performances in losses to bad teams. Fortunately, the schedule has given him a chance to wash those away. He's taken advantage so far.
If he can keep that going and stay perfect against lackluster competition in the second half, it would be a tremendously positive sign going into 2020.