There are upsides as well as downsides to giving New York Giants quarterback Eli Manning one final farewell start.
New York Giants quarterback Eli Manning hasn't started a game (or played in a game, for that matter) since Week 2. In that Sept. 15 matchup, the Giants fell to the Buffalo Bills 28-14. A few short days later, the coaching staff made the ultimate decision to hand the starting duties over to rookie quarterback Daniel Jones.
To be realistic, it wasn't because Manning was statistically bad. In his two starts this year, he completed 62.9% of his throws for 556 yards, two touchdowns and two picks. Over 16 starts in 2018, he achieved a 66% completion percentage (career-high) with 4,299 yards, 21 touchdowns and 11 picks. And in 2017 (15 starts), he completed 61.6% of his throws for 3,468 yards, 19 touchdowns and 13 picks.
Overall, over his last 33 starts, he's averaged a 63.8% completion rate with 252.2 yards, 1.27 touchdowns, and .79 picks-per-game.
But the ultimate statistic for quarterbacks is the number of wins they achieve. It's something Manning struggled with in recent years up until his benching. From the beginning of the 2017 season until the days leading up to Week 3, Manning's combined record as a starter was 8-25, a .242 winning percentage.
So is Manning's Giants career, and maybe his NFL career, over? Possibly not, and here's why …
At 2-8, the Giants are all but mathematically eliminated from playoff contention. Their remaining schedule includes games against the Chicago Bears, Green Bay Packers, and Philadelphia Eagles (twice). Needless to say, it doesn't seem like they have a great chance to make the postseason at all.
Thus, the Giants could start their backup, Super Bowl-winning quarterback one last time, and it wouldn't make a huge difference in the standings. It would most likely be a home game, being that it could be a nice send-off in front of the MetLife Stadium fans.
Big Blue has three home games left: Week 13 against the Packers, Week 15 against the Dolphins, and Week 17 against the Eagles. If anything, it's safe to assume that it'd be Week 17, as that would most likely be Manning's last-ever game in blue.
So if it's not going to make a playoff-related difference, starting him is something that should absolutely be done, right? Well, despite the potential of it being a memorable moment, it may not be the greatest idea. As many would agree, there are both upsides and downsides to every coaching decision. Starting Eli one last time is no exception.
That being said, let's make like Ted Mosby from "How I Met Your Mother," break out the yellow legal pad and start looking at the pros and cons to starting Eli one last time.
The Pros
The Sentimentality
Well for one, it would make for a great moment. The franchise's longtime quarterback, running out onto the MetLife Stadium field for one last time. With all he's done for this organization, it would truly be a tear-jerking, special moment for the fans, even the ones who agreed with his benching.
And, to be honest, it's admirable what Manning's done for this ballclub. He's thrown for 56,537 yards and 362 touchdowns up to this point. Manning's also led this team to the postseason six times, winning eight playoff games and two Super Bowls over the New England Patriots in the process. There's no chance a standing ovation wouldn't occur in East Rutherford that afternoon.
The Closure Aspect
Him starting one last time would also give fans some closure. It was tough, in a way, to see it all potentially end with the organization benching him for a rookie quarterback. Especially, one that some fans didn't want to be drafted in the first place.
The organization and Manning would be better off ending it with one final, in-place start with one final kneel down at the end. This, paired with one final completion and one final touchdown pass. It's another moment that would be truly amazing to witness.
Making a Meaningless Game, Meaningful
One final go-around would bring light to what will most likely be a meaningless matchup for the Giants. Let's be real, at 2-8, it seems like the 2019 campaign is going to be another lost season for this organization. The rest of these games, at least when it comes to postseason chances, won't mean much at all. Therefore, the final start would give people a true reason to tune in and watch.
Hall of Fame Assistance?
And finally, it could actually help Manning's Hall of Fame chances. Right now, he has a career record of 116-116 as a starter. One last win to put him above .500 for his career would be a huge narrative shifter when discussing his eventual Hall of Fame chances. Right now, he's not exactly a surefire candidate to make a trip to Canton. This last potential victory could help him out a ton.
The Cons
The 'Mr. Jones' Aspect
The Giants need to be developing Daniel Jones first and foremost. This is a fact, regardless if it's against a lousy, under-achieving Miami team, or a potential playoff team in Philadelphia.
If it's against the Eagles, it could be more important than the Giants start Jones instead of benching him. He'll need as much experience as possible against that organization, being that he'll be facing off against them at least twice every season for years to come.
The Risk of Humiliation
Along with the possibility of going out with a bang and pushing Manning's career record above .500, there's also the possibility that the exact opposite occurs. What if Manning goes out one last time, say, against the Eagles in that final game and succumbs to obliteration? What if he throws three picks, the Giants lose 31-10 and he finishes with a 116-117 career record as a starter?
Needless to say, a humiliation wouldn't look great for his legacy. The losing career record would also be a downside if you're arguing for him to be inducted into the Hall of Fame.
What About What Eli Wants?
Lastly, it's apparently something he doesn't even want to do. According to Paul Schwartz of the New York Post, a source close to Manning says that the longtime quarterback wouldn't be a fan of the team giving him one final farewell start.
"Eli's not into playing that game," the source says. "He's into playing the game the way it's supposed to be played."
The guy gave you two Super Bowl titles and was the best quarterback this organization has employed. The least the team could do is respect his wishes and not start him when you have the future of the position on the roster.
If the Giants decide to start Manning against his supposed wishes, who knows how the longtime quarterback will feel. We know what he'd say … and that's probably nothing. But how he feels inside could very much be different.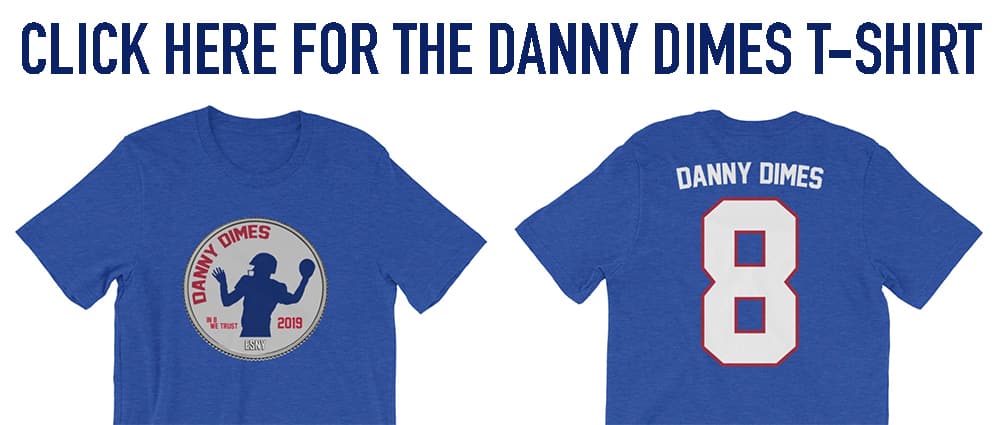 Follow Ryan on TWITTER