ESNY's Rich Mancuso was on hand for a Fordham basketball homecoming and double-dip split at Rose Hill.
Jeff Neubauer, the men's basketball coach at Fordham University, looks at homecoming on a college campus as a special thing in America. The Rose Hill campus had Saturday on the schedule with a double-dip of football in the afternoon and basketball in the evening.
At Jack Coffey Field, Holy Cross and Fordham resumed a rivalry that started in 1902. The Crusaders spoiled the first half of the day when they scored five touchdowns in the fourth quarter and came away with a 49-27 win.
"Football didn't win today but the environment on campus, it's a special thing here in America that we take for granted about how cool campuses are," said Neubauer after his team came away with a 58-41 win over Marist College.
His team won the so-called nightcap to complete the homecoming day at the Rose Hill Gym, the oldest college field house in the nation. The Rams have opened their season at 3-0 against Division 1 opponents for the first time since 1972.
This is special at Fordham. Its alumni base is strong and represents major supporters of their athletic programs that compete on the Division 1 level. They have an annual homecoming for football, as most collegiate campuses do, but this is not an Ohio State, USC or Notre Dame that can draw an excess of 70,000 or more with their huge Division 1 programs.
The budget is smaller at Fordham in the Bronx with a football program in the Patriot League. Men's basketball, in comparison, competes in the Atlantic-10 Conference that has the national television contracts and that huge revenue.
The support staff at Fordham is not as huge as other Division 1 schools in the nation. Regardless, the schedule called for a busy day and they were ready at Rose Hill.
"They came to me and said to me, you want to do this, we can do it," said longtime Fordham Sports Information Director Joe DiBari. It's not going to be easy and we do it."
And they did it. There were no glitches, except football let out before 5 p.m. ET and basketball tipped off at 7 p.m. ET, which prevented a spillover crowd taking a brief walk from Jack Coffey Field to the Rose Hill Gym.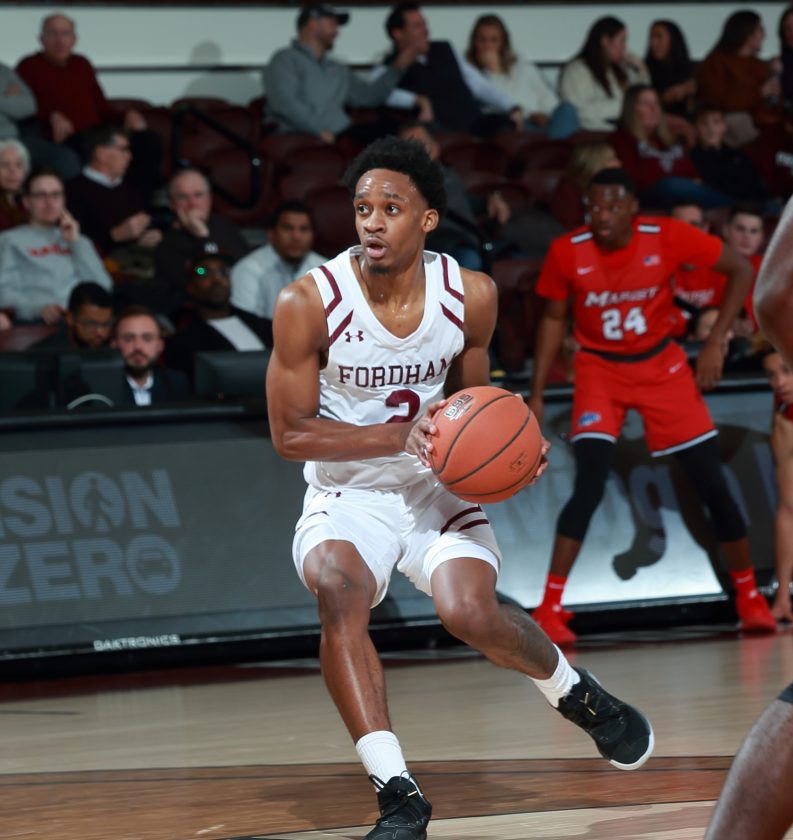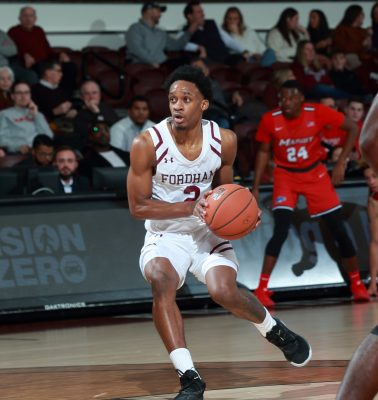 DiBari had his staff prepare the press box for football and media row for basketball. The pep band, cheerleaders, dance team and security personnel worked the double-dip. The Rams' mascot also worked a double shift.
A combined and estimated 3.500 alumni and friends were the projected count.
"Arthur Avenue," said DiBari.
Yes, in proximity are the finest Italian restaurants in New York and many chose that option and skipped the Men's win over Marist College.
Chuba Ohams scored 13 points and nailed nine rebounds for Fordham to complete the double-dip. Four players scored in double figures. Antwon Portley added 12 points, and Jalen Cobb, 10 points, came off the bench and continued to make an impression.
It is early in the season for the Rams on the court and one more football game remains on the schedule, next Saturday at Rose Hill, that will conclude another disappointing season.
But this was a great way to end the double-dip up at Rose Hill, even though very few remained to see the split.
"A great weekend for Fordham," Neubauer said. "Also happy we were able to get this done tonight. We have this really cool thing, homecoming happens like all these people come back to their university. It's just  a fun weekend."