In the toughest stretch of his infantile NFL career, New York Jets QB Sam Darnold could use a prescience like the departed Josh McCown.

Over the past calendar year, the nameplates in the Atlantic Health Jets Training Center locker room have been updated more often than the Big Board at Grand Central Station.
Twenty-nineteen has been a year of transition for the New York Jets. The early portions of the year saw them bid farewell to several franchise staples and roster safety has only loosened since the transition of general manager power to Joe Douglas, who has begun a purge of those his predecessor Mike Maccagnan added to the roster.
So many notable names have shed their shades of green in these trying times. Gone, for example, are two-thirds of their most recent Pro Bowlers (Jason Myers and Andre Roberts). Recent premiere picks (Darron Lee and Leonard Williams) have likewise been rendered expendable. The plug was also pulled on free agent projects that didn't have a place in the team's latest rebuild (Isaiah Crowell and Spencer Long). Memories good and bad have absconded with the departees.
Debate will reign over who the Jets will miss, or are missing, most. Four names have filled in the slot Myers left behind. Kickoff returns have averaged under 10 yards since Roberts left. There's a chance Williams can cause havoc when the Jets face off against his new blue employers this Sunday afternoon.
But, right now, the departure affecting the Jets the most is that of quarterback Josh McCown.
From an on-field perspective, the quarterback wouldn't be able to deter the Jets from the current 1-7 path they find themselves on. After all, the journeyman quarterback was never anyone's top fantasy pick during a 16-year career that saw 111 total touchdowns. But the Jets, more specifically current starting quarterback Sam Darnold, could use McCown to mentally assist what's become one of the most brutal turns a second-year NFL quarterback has faced.
Sophomore slumps aren't unheard of, especially in the social-media dominated NFL where every big play has a victim, whether it's a defender who blew the coverage or a quarterback who threw the interception. But Darnold is trapped in a season so scary that even the football version of John Carpenter would find hard to put to film. No longer can Darnold's mononucleosis illness from earlier this fall be the scapegoat for the Jets' season. Right now, Darnold is actively part of the Jets' mounting problems, evidenced by Sunday's humiliating defeat in Miami.
Against a Dolphins squad that is clearly tanking for draft picks, Darnold's most notable contribution to the 26-18 loss was a baffling interception at the cusp of the Miami end zone. Later on, as the Jets tried to chip away at a rare second-half Miami lead, an errant snap went into the back of the New York end zone to give the Dolphins two points and the ball. Darnold was seen in a heated discussion with his offensive linemen shortly after the play.
Long forgotten is Darnold's first December, where a three-game stretch saw him produce 764 yards, a come-from-behind win in Buffalo, and a 106.2 rating. He is currently on pace to regress in almost every major passing statistic.
This would be where McCown would be at his most valuable.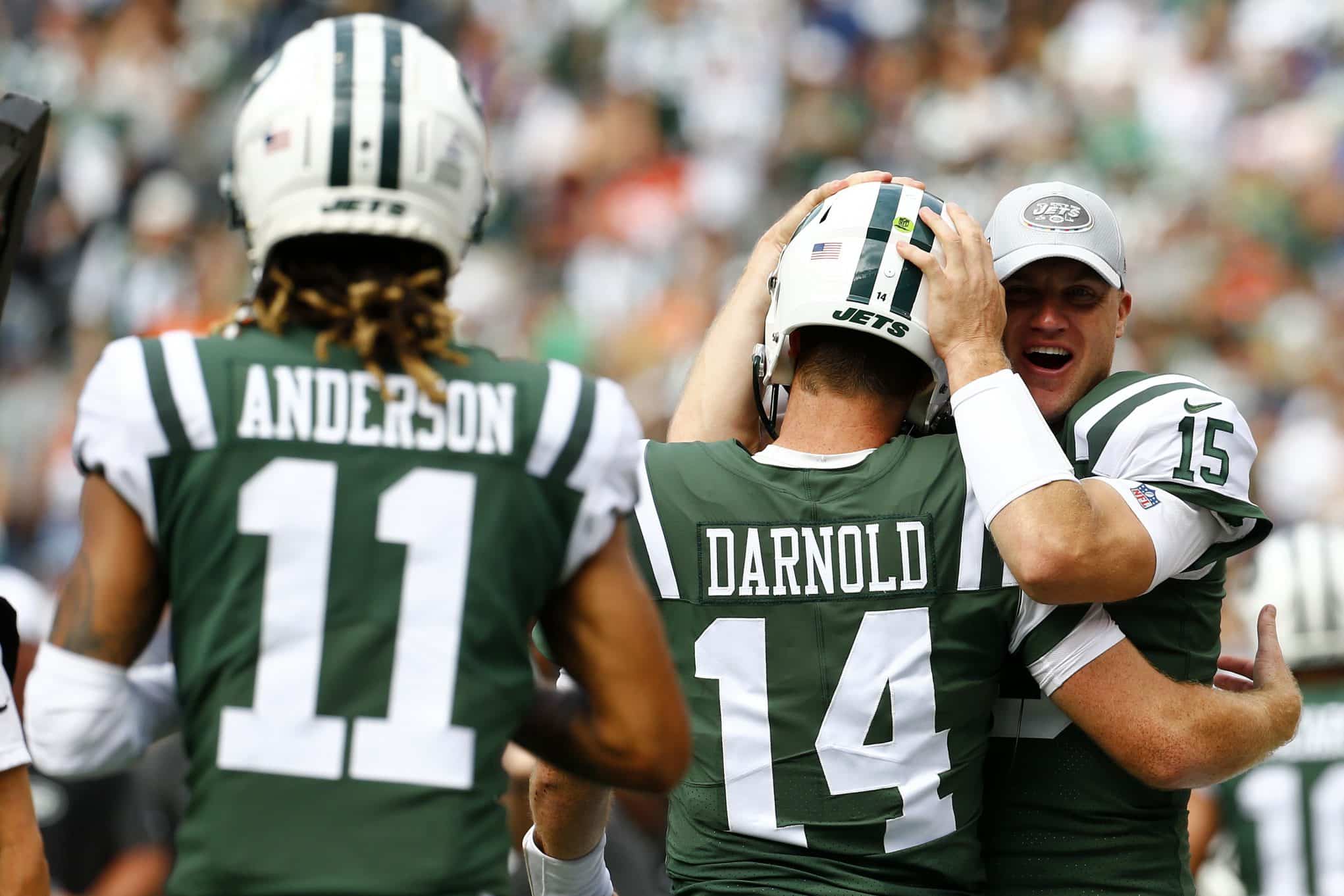 McCown can't be blamed for his decision to leave the metropolitan area. A 17-year professional football career afforded him little opportunities to see his North Carolina-based family. With his New York contract up, McCown chose a brief retirement after a few months of deliberation. His NFL return, necessitated by summer injuries to Carson Wentz's understudies, happened partly in thanks to the Philadelphia Eagles' Friday allowances to let McCown return to Myers Park High School in Charlotte, where he serves an assistant coach on his sons' football team.
Despite his journeyman status … the Eagles are his 12th professional team … McCown was allowed to build to the closest thing he had to a football home in New York. He was first a beacon of hope in the dire situation of 2017, a year where some forecasts afforded the Jets no wins. Everyone in the area knew McCown probably wouldn't retain the starting job once the Jets moved up to third in the 2018 NFL Draft, but he nonetheless stayed on and became Darnold's first NFL mentor.
Hardly a day went by when Darnold wasn't praising McCown for some sort of new habit or lesson. Watching McCown in both practice and game situations, Darnold declared, helped him get through a tough rookie injury and allowed him to flash new potential once he returned. Humorous summer synchronicity in the preseason turned into a special relationship on the New York Jets timeline.
When McCown announced what became a short retirement, Darnold expressed a commitment to further developing his relationship with McCown.
"Me and Josh, for the most part, we talk about football still. He's such a good football mind," Darnold said during July camp proceedings. "Obviously, he's been around the game for a long time so any question that pops into my head, I'm always asking him. He misses it every single day and he's always asking me questions, 'How are the guys? What's the system like? What are you guys running?' Josh is just such a good dude. I've been in contact with him and we just talk about that kind of stuff, but we're also talking about family and other things."
"I was a rookie last year and he's obviously an older vet. He was very critical of me but he was very good about making sure I was staying positive, but when he needed to correct me and be critical of me, he was."
There's no doubt Darnold still has the potential to end the long drought of Jets franchise quarterbacks. No one can argue against the idea that Darnold needs help and that he can't drag the Jets out of this mire alone. But at this moment, he is indeed part of the reason the Jets are reeling headed into a Sunday matchup with the equally woebegone Giants (1:00 p.m. ET, FOX).
Darnold has maintained his professionalism, a trait undoubtedly enhanced by McCown, during this stretch, heartily accepting blame for the Jets' current fortunes. He has also repeatedly come to the defense of embattled head coach Adam Gase, calling him "one of the best coaches I've ever been around" after the Dolphin defeat.
Nevertheless, it'd be very interesting to see what sort of calming effect McCown would be able to have on his protege from a quarterback room perspective. A second opinion is always welcome, and McCown was the type of prescience that was so valuable when working with a defensive-minded head coach.
Darnold's debut season benefitted from having not just the experience of McCown at his side, but that of Teddy Bridgewater during his first training camp. Such calming effects allowed Darnold to ease into the role of franchise face, as several false prophets before him faltered when immediately thrust into a starting role. The Jets themselves had seen the veteran mentor backup work successfully earlier in the decade. Mark Sanchez posted the best numbers of his Jets career with Mark Brunell helping him out for two seasons. Rich Cimini documented that bond in a 2011 feature for ESPN.
"He stays so level-headed during games," Sanchez says. "He has a calming presence when everything is spinning out of control. When you're not having a good game or practice is going too fast and you're just not right, he's got this way about him."
Sanchez would pay it forward in 2016 when he took unplanned rookie starter Dak Prescott under his wing as a member of the Dallas Cowboys.
When McCown felt his time had come, the Jets had the right idea when it came to his replacement. Free-agent arrival Trevor Siemian had the right amount of skill and experience to mentor Darnold and fill in during an emergency, but an injury sustained in Darnold's first mono-induced absence. His subsequent injury in the Week 2 loss to Cleveland knocked him out for the year, situating Darnold as the most seasoned name in the Jets' current quarterback room. Current backup David Fales may have the advantage years, but has thrown only 48 passes since entering the league as a sixth-round pick of Chicago. While Fales, he of five different squads thus far, has been in the league, it's not like he has the experience and knowledge that McCown had to offer.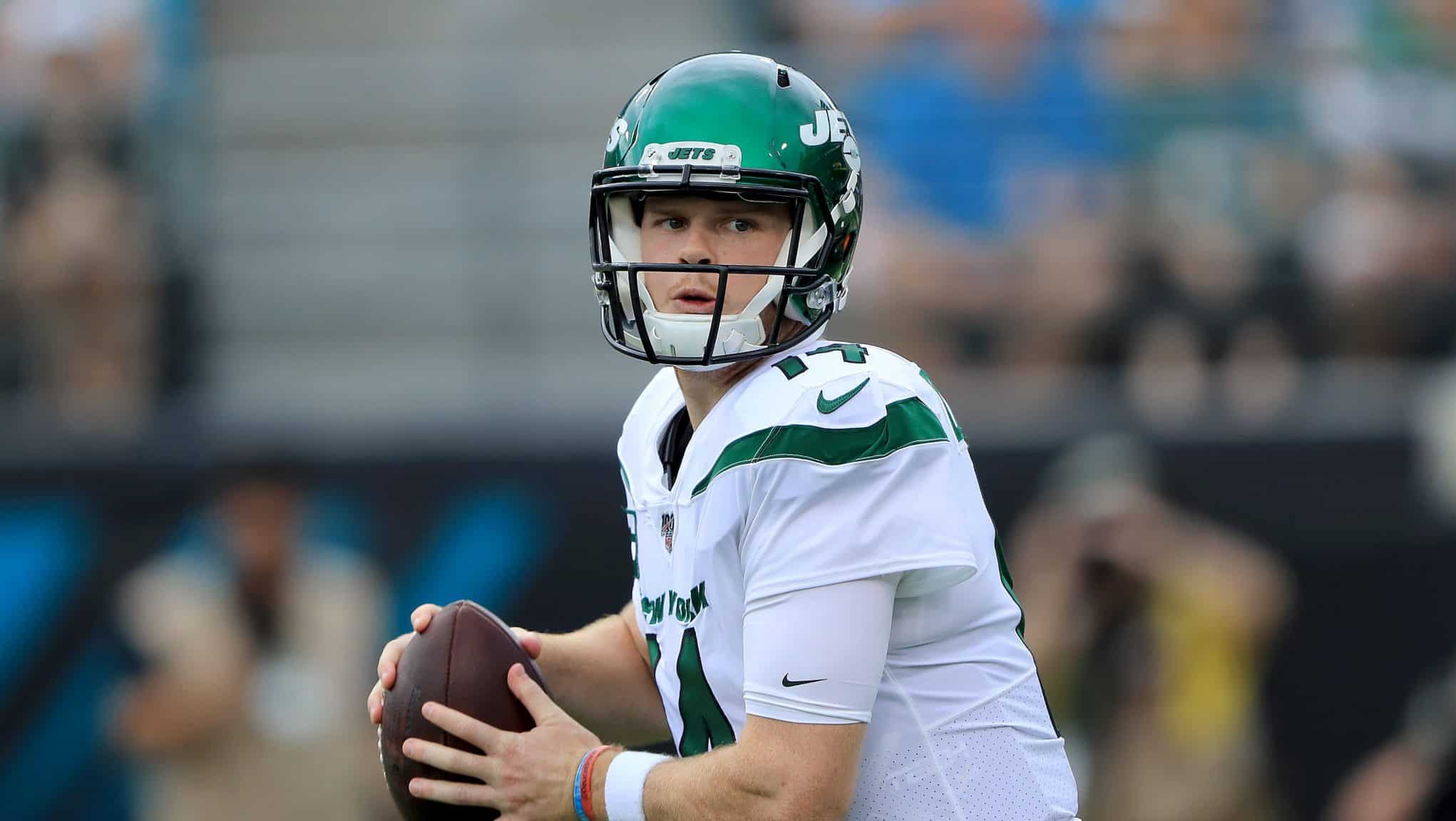 Simply put, Darnold is better off, at least for now, when he doesn't have the on-field seniority.
Few know what the rest of this season will bring. Things are even more uncertain after the unthinkable loss in Miami, but Darnold and the Jets do have several new opportunities in an attempt to make things right. The Jets finish off their interconference slate against the Giants and Washington Redskins. A trip to winless Cincinnati opens December, followed by a rematch with the Dolphins in the confines of MetLife Stadium. So there are chances to salvage something, anything from a season where almost every 2018 returnee on the Jets' roster has
There isn't much of an immediate solution. But once the offseason hits, a veteran mentor that doubles as a contingency plan must be on the New York to-do list. Chase Daniel, Case Keenum, and Colt McCoy are among those who can fill in a similar role. Heck, if McCown still wants to stick around if the Eagles don't invite him back, the Jets would be silly not to at least entertain the notion of asking McCown to take on a coaching or advisory role.
It would be rare to see anyone campaign for McCown to be in the MVP discussion. Sure, it speaks volumes about the state of the franchise. But the modern Jets have provided an exception that's welcome in finally acknowledging the true, underrated value McCown had on this crucial period on the franchise ledger.
Imitation can be the very thing that turns Darnold's career around and at least starts to get the good times rolling again.
Follow Geoff Magliocchetti on TWITTER