The New York Jets have no mulligans, no excuses left after an inexplicable loss to Miami. Something must change now, not later.

The virtue of patience is a must for several vital groups: customers at the DMV, Jedi padawans and football fans watching their team rebuild. After all, it's hard to dedicate literally half of your weekend to watch a team that has no shot of playing playoff football.
In sports, however, there's a major difference between having patience in rebuilding and patience in a losing culture. The New York Jets and their fans are currently mired in the latter.
Rebuilds are made all the more difficult because they never have a set diagram or schedule. Even successful endeavors aren't exempt from this. The modern San Francisco 49ers, for example, are currently reaping the benefits of a four-year project that began with Jim Harbaugh's departure in 2014. Plenty of mistakes were made in the interim (i.e. Jim Tomsula and Chip Kelly lasting just a single season each in Harbaugh's wake), but the team is back on top of the NFC and seems to poised for long-term success.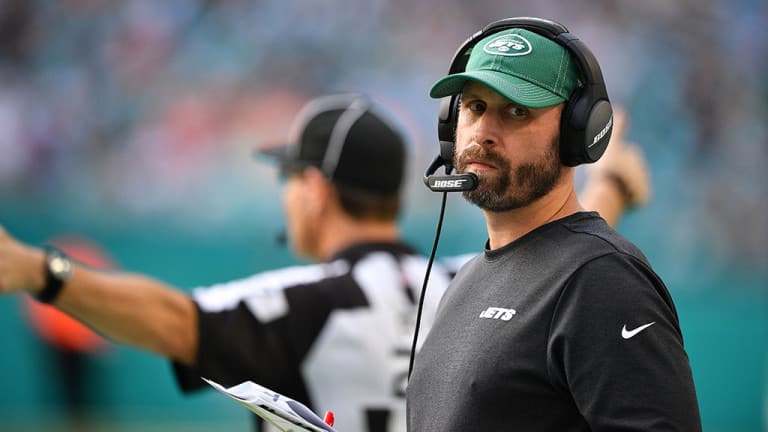 To put things in San Francisco terms, the Jets' 2019 campaign was supposed to resemble the Niners' endeavors in 2017-18. Making the playoffs was going to be a challenge, but there were reasons to be excited over the course of familiar losing. For example, San Francisco filled these quotas with moments like a 6-1 stretch to end 2017 and winning what's likely the final Bay Area showdown with the Raiders last season.
Along the way, the team found rocks that would lead the way in the future, a group that would usher in the rearrival of the good times. Kyle Shanahan was named the head coach and successfully groomed trade arrival Jimmy Garoppolo as a franchise quarterback. Other emerging names included Matt Breida and George Kittle, homegrown projects that have become valuable contributors to their active perfection.
Thus, San Francisco's story preaches patience and building. But the Jets can't afford either right now if they don't want to sink further into an abyss of football ignominy.
The Jets have guys that they expect to be here for the long haul, particularly on offense. Sam Darnold is prophesized to end the team's perpetual search for a franchise quarterback. Receivers like Robby Anderson were given top priority on the offseason to-do list. The team added Le'Veon Bell when the running back was perhaps at his most vulnerable.
Brought in to oversee the whole operation was Adam Gase, who oversaw Peyton Manning's finest years in Denver. The Gase decision was a departure from the defensive-minded Todd Bowles regime. Surrounding Gase was veteran offensive talents like Dowell Loggains and Frank Pollack, seen as essential additions in today's NFL that worships offense.
Now, the Jets' rebuild foundation has collapsed once again. This time, they might be worse off than when they removed Bowles as foreman of the project.
The Jets' rebuild has come crashing down once again after one of the most dreadful Sundays in franchise history. A 26-18 loss to the Miami Dolphins was downright shocking and bizarre in its ineptitude, a loss that's going to stick with the team for quite a while. The defeat to the Dolphins, a team many have accused of actively throwing the 2019 season, is, the Jets certainly hope, rock bottom for a season that has gone completely off the rails.
One can argue that patience should be practiced when it comes to Gase and his group, as it was in Shanahan's first couple of years in the Bay. But Shanahan and his group (10-22 over their first two seasons) never had to deal with the aftermath of this. Shanahan also had the relative luxury of being a rookie head coach.
He still knew well enough to take advantage of opportunities presented to him, like the aforementioned win over Oakland. That 34-3 laugher came with both teams reeling with one win apiece, and Shanahan's own squad working with an undrafted starting quarterback (Nick Mullens). San Francisco took care of business, unlike the modern Jets.
Gase trended on Twitter after the game, mostly thanks to tweets where the word "fire" preceded his name. The monikers of coordinators Loggains and Gregg Williams were similarly branded.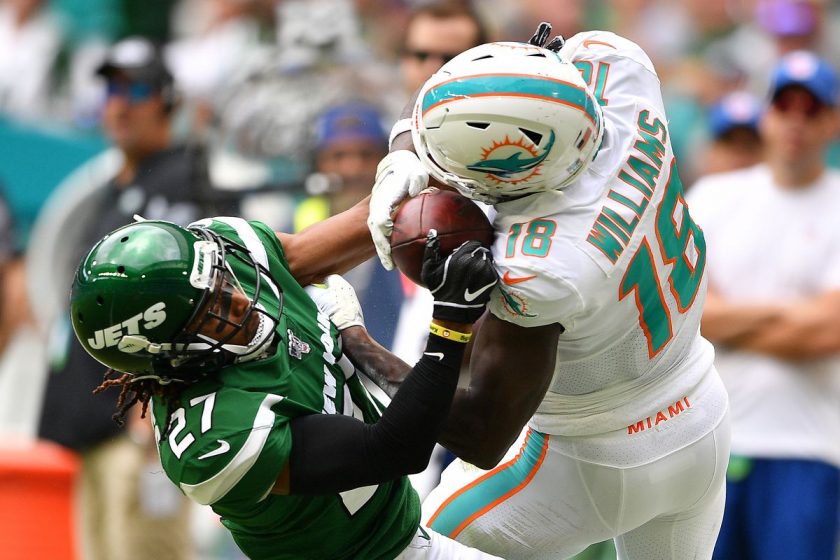 Thus, we've already reached the point of the coach's tenure where players are routinely asked if they still "believe" in the coaching staff, a period that usually only comes when the grouping has overseen the team for three years, not three months.
"Right now, Adam is our coach and I'm pretty sure he's going to continue to be the coach, so we have faith in him," safety Jamal Adams said, per Colin Martin of SNY. "That's not going to change. Whoever is in the building, that's who we're riding with. So I got his back, and that's just what it is."
Losses on Sundays are expected. Only a single team, after all, has emerged from an NFL season completely unscathed. Those expectations multiply fortyfold when dealing with such a star-crossed franchise as the Jets. Sunday was supposed to be a moment of levity in a season with no shot of extending to January, a chance to restore a relative sense of normalcy after a brutal week that deeply upset the face of the franchise, who previously insisted that he wants to be here to watch the team rise from their green ashes.
It's one thing to lose the New England Patriots, especially as a team on the mend; that would be like expecting a single X-Wing fighter to destroy the Death Star. Gase and company weren't going to lose their jobs because they couldn't end the Patriots empire in 2019. To lose to a Miami squad that would've had trouble with squads from the AAF sets things back to the point of oblivion.
Simply put, this can't continue. Changes must be made.
The vault of excuses is officially empty. Yes, Darnold lost three games with an illness. Yes, injuries have taken their toll. But if you desperately need, say, C.J. Mosley to avoid disaster in Miami, you've already lost.
The sight of Adams expressing regret over another loss, admitting his own role in the losing in the process, has become an unfortunate Sunday tradition in New Jersey. Piling losses are becoming a trademark of quarterback Sam Darnold's career. Losing to such a woebegone squad should bear the message: why wait?
A supposedly "easy" portion of the Jets schedule has become a nightmare. At the same time, such a stretch (featuring tilts against the Giants, Redskins, Bengals, and Dolphins again) may wind up being their salvation, as management could still see this as an ill-fated attempt to build up good vibes before the year lets out.
Don't buy it.
Maybe some of the more notable names, like Gase, will survive through the season. After all, the Jets are historically a team that avoids disrupting a season with a midseason coaching change (last pulling the tactic with Lou Holtz in 1976). But change must come, even if the playoffs are completely out the question. Why delay what's inevitable? Why subject potential staples of what's to come, like Darnold and Adams, to more malarkey that will do them more harm than good?
Patience may be a virtue. But right now, it's anything but.
Follow Geoff Magliocchetti on TWITTER