A third-period rally against the defending champions sparked the New York Islanders' second-longest winning streak in franchise history.

With their backs to the wall, in a 2-0 hole against the defending Stanley Cup champions, the New York Islanders came to life.
Heading into the season, the biggest concern surrounding the 2019-20 Islanders was their ability to generate enough offense to win games.
For three of the first four games of the season, that narrative came to life.
The Isles had managed one goal against the Capitals, two against both the Oilers and Hurricanes, and even in their shootout win over the Florida Panthers, the Isles managed just two goals through regulation.
Just under six minutes were left in the third period when the Isles were faced with dropping four of their first six games.
Then, Brock Nelson scored.
The #Isles have life!

Nelson't 26th Brocktober goal is his 66th Brocktober game #Isles pic.twitter.com/jmnjBRPmYY

— IslesBlog (@IslesBlog) October 14, 2019
This goal was the jolt that kickstarted the Islanders season.
Eight games and just under a month later, the Islanders have not lost since their reunion with the Carolina Hurricanes.
What hockey fans and maybe even Islanders fans are asking themselves is, "How?"
Barry Trotz believes, per Sasha Kandrach of the Islanders' official website, it's a total commitment to the team mentality and to each other.
"Everybody's playing for each other," Trotz said. "We make it hard on whoever we play. We play the way we need to play against the team that we're playing because everybody's a little bit different, [they] understand the situation and are fully committed to doing their job well. They know that they have to rely on each other, and they do."
The Islanders team that started the season looked like the one that was swept against the Hurricanes this past June.
This Islanders team found their rhythm from their Pittsburgh sweep to start the 2019 Stanley Cup Playoffs. Though it stands as the Isles' third-longest winning streak of all-time, it deserves even more credit.
Since Oct. 11, Casey Cizikas and Nick Leddy have jumped in and out of the lineup at varying times. Jordan Eberle hasn't been in action since a lower-body injury on Oct. 12, with more depth injuries to Leo Komarov, Tom Kuhnhackl and Matt Martin happening the following week.
Through the Islanders' nine-game winning streak, Cole Bardreau and Oliver Wahlstrom both made their NHL debuts. The Islanders have embodied the "next man up" mentality.
Bardreau became a bottom-six mainstay and while both him and Wahlstrom haven't impacted the scoresheet (save for Bardreau's assist), both have been more than noticeable on the ice
Noah Dobson drew into a couple more games as Lou Lamoriello decides how to handle the young defenseman. If Leddy's injury persists, he's a shoo-in for a spot.
One of the most notable moves in this time is Derick Brassard's shift from center to wing, which prompted his five-game goal streak.
Through Brass's first eight games (at center), he had just a single assist with a minus-five rating. In his last five games (on the wing) he has five goals and six points for a plus-six. It certainly isn't how Trotz likely thought it would work out, since Brassard was essentially a one-for-one replacement for Valtteri Filppula, but there's no arguing the results.
From Brassard to Bardreau, it's all a testament to what Trotz and the Islanders have preached in commitment.
A thing I'm thinking about tonight is how after the Isles 5-2 loss in Carolina, basically the entire team and coach talked about how they turned a corner over the course of the game. It was not reflected in the metrics, so it was hard to picture.

They haven't lost since.

— Carey Haber (@habermetrics) November 3, 2019
It's a cliche on the surface, but it's the foundation of what Trotz and Lamoriello built in just one year. Commitment to playing for each other, for winning the neutral zone puck battles, to clogging the shooting lanes, to winning the race to loose pucks.
Most importantly, it's knowing what to do when they don't possess the puck.
More stingy, aggressive and physical play is part of the Islanders' identity, of course, but the offense coming to life is a compilation of small changes.
Firstly, Mathew Barzal is shooting more. It's been said a lot through the Isles' hot start to the season but to quantify it, Barzal has put 32 shots on goal through this season's first 13 games compared to 15 through 2018-19's first 13 games.
Now that teams have to respect Barzal's shot and his goal-scoring prowess, it makes him a far more dynamic and unpredictable player. This small change is a big part of his transition into an even more elite NHL talent.
Anthony Beauvillier is also turning a corner, more closely resembling the type of scorer seen in the tail-end of 2017-18. The growing chemistry between him and Brassard is something that is undoubtedly fueling both players, but with Beau, it's more of the emergence of a much more complete two-way player.
From the start of the season through the game against St. Louis, the Isles ranked 25th in the NHL in PK efficiency at 75 percent. In their games since their 3-1 road win against Winnipeg, the Islanders showcase a PK at 90.5 percent efficiency, second behind only the New Jersey Devils in that span.
Though Nelson has yet to score a point in November 2019's "Brocktober" was one for the books. In 11 October games, Nelson went 4-6-10 which was his best October since 2014-15 when he went 6-6-12 in a 10-game span. Nelson has evolved into a consistent, shutdown center under Trotz who usually gets minutes against the NHL's best.
On top of all of this, both goaltenders have been performing at levels no less-than-elite.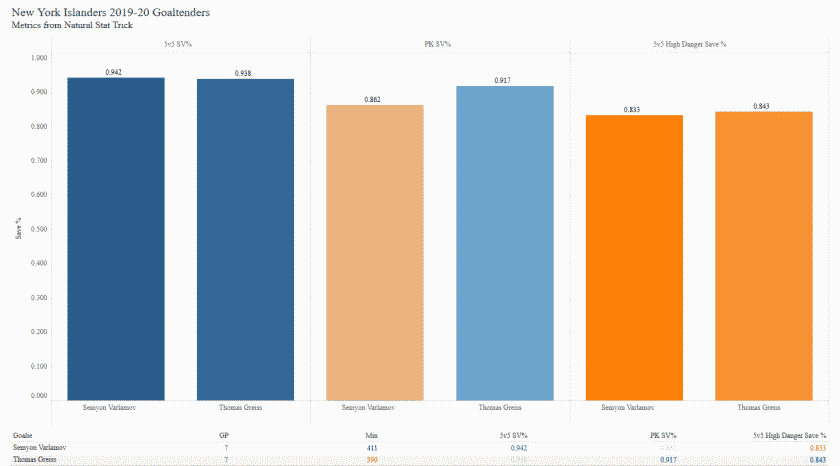 Thomas Greiss continues to be criminally underrated and has a 5-1-0 with a 2.15 GAA and .933 save percentage through seven games. Semyon Varlamov hasn't been far off himself, putting any doubts on his play to rest.
Varly posted his first shutout of the season in the Islanders' 1-0 win over the Buffalo Sabres, combining for a 5-2-0 record with a 2.14 GAA and .929 save percentage.
The Islanders' winning streak will eventually come to an end. It's a truth that will hurt once it comes, but it will come. What they have to continue to do is stay as consistent as possible in their approach game-by-game.
How the rest of this season pans out remains to be seen, but the Islanders aren't going away, and they haven't even played to their full capability, either.
This team is for real — again.