Don't be confused; New York Jets head coach Adam Gase is facing two critical weeks. The Miami Dolphins and New York Giants games mean the world.

One-and-six is bad. One-and-seven is worse. One-and-eight with the co-tenants delivering the most recent blow is a downright nightmare.
Nobody's about to confuse the 2019 New York Jets as tournament participants. Stuck with a miserable 1-6 mark, the NFL Playoffs are the last thing on the organization's wishlist.
Therefore, for some, once playoffs are out of reach, the need to win becomes a ridiculous thought. Why win ball games when draft talent is ripe for the picking? This is the world of NBA tanking and mock drafts galore. (Incredibly, and in torturous fashion, many media platforms exist purely due to the mock draft business, year-round.)
Fortunately for the franchise, many of its fans understand how silly the notion of tanking is in this league. This is the damn NFL, the area of this Earth Jerry Glanville tagged as the "Not For Long" league, and head coach Adam Gase surely understands the heat coming up from his seat.
The man who takes on his former team for the first time faces an incredibly important two weeks. He cannot lose these games. More importantly, Gase needs to demonstrate he can properly steer a conflicted ship. And, interestingly, there's very little emotion to go around, which could be deemed a positive.
"The fact I was there last year (Miami) is irrelevant," Gase revealed on a conference call.
"The fact I was there last year (Miami) is irrelevant," Adam Gase on returning to Miami this week. #TakeFlight

— RobbySabo (@RobbySabo) October 28, 2019
The focus remains on the internal areas. With five players already ruled out for the contest, Gase's attention is surely skewed towards the in-house stuff needing attention.
"I think with where we're at right now, I'm focused on us," Gase said. "To be honest with you, this Sunday, I don't know how that's going to feel for me just because when you walk through the other tunnel, it's probably going to be weird. But, I know that we have enough to work on that I have to worry about us."
Other than today's media climate constantly pushing the tanking narrative, the Week 9 opponent actually represents a rare genuine case. Miami has traded a stud left tackle in Laremy Tunsil and solid defensive back in Minkah Fitzpatrick before the season could even gain serious momentum. With no long-term solution at the most important position in sports, the Fins represent one of the rare "tanking" cases.
For those inside the league, even the most obvious tanking cases aren't taken seriously on a week-to-week basis.
"To be honest with you, I don't think our guys care about anything except trying to get ready for the game and just try to go win on the road," Gase said in response to what he thinks about Miami's perceived "tanking" strategy. "What I saw at practice yesterday, I saw a group of guys that came out there with great energy and practiced extremely hard and executed what we had in the gameplan well. That was a very positive sign for me on Wednesday coming off of Jacksonville."
To even imagine losing to a winless team of this ilk is something extremely tough to overcome, despite future contract years at play and money owed.
The importance of each NFL week is massive. One NFL game essentially equals 10 in Major League Baseball. Player development, livelihoods, culture and momentum are always up for grabs every week.
When losing builds, word about further issues within the organization travels quickly. Never can a singular week be taken for granted in this league.
The thought of the Jets handing the Fins their first victory on Sunday would have been an unfathomable one prior to the season. To follow it up with a loss to the Giants, while falling to 1-8 on the season, is a horror story.
Jets fans should already be mentally ready for the fact Gase will receive a second year. While he was present during the offseason (and, most importantly, the draft), Mike Maccagnan's exit muddied the waters. Considering Gase and general manager Joe Douglas's tied-to-the-hop narrative, firing a first-year head coach after a quarterback case of mono coupled with a plethora of injuries is an unrealistic one. Plus, there's no chance in the world the organization would want to pay three head coaches in 2020 (Todd Bowles, Gase and his hypothetical successor).
Perhaps the only shot Gase is one-and-done or doesn't make it out of 2019 alive is if the record sports a 1-8 mark after nine games. Losing to the tanking Dolphins and the rebuilding Giants would completely melt the head coach's seat. Christopher Johnson, who rarely makes a reactionary move, might be forced into an unwanted corner at such a desperate point. A 1-8 record may be the only path to an early Gase exit.
Obviously, many in Jets fandom wouldn't mind seeing it. But that route could create a ridiculous number of problems that completely overwhelm the franchise.
For one, the Jamal Adams situation, while he's seemingly moved on, rages forward. The team must win games. It's the only chance the Jets have of keeping this guy long-term (if they'd like to opt for the strategy).
Secondly, free agents choose winners. Sure, this isn't the NBA. A Kevin Durant or Kyrie Irving-type won't be choosing the Giants over the Jets due to their "improved ways," but the perception of tanking doesn't tickle any talented athlete's fancy.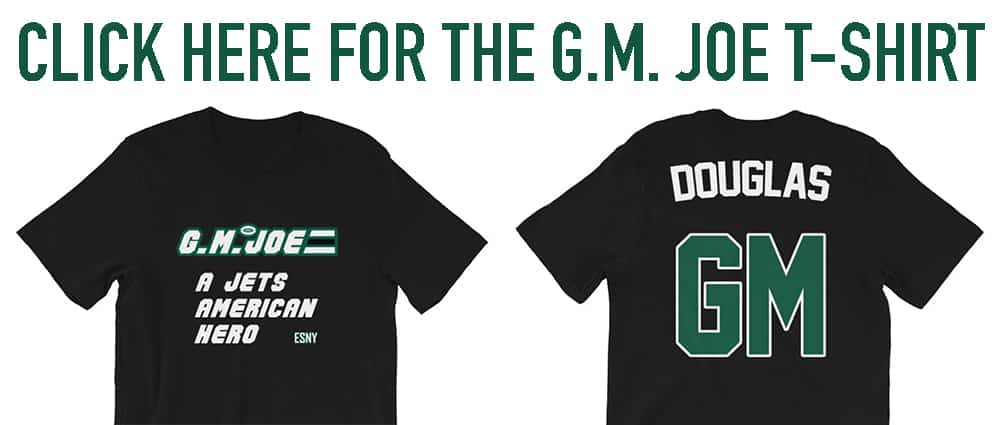 Lastly, player development and culture is king. This is a league that thrives on young drafted talented and development. It's the path to dominating the hard-salary cap that controls everything.
One-and-six doesn't have anybody's eyes twinkling at the moment. But yeah, it can get worse. This is nowhere near rock bottom, and if you believe it is, you haven't lived in the NFL for that long.
Three-and-six with a soft schedule ahead, a rapidly-improving young quarterback and a stud strong safety flying around like a madman while smiling the entire way is something to build upon. Luckily, the team's head coach realizes this and continues to block out the outside noise.
"It's not," Gase said in response to how difficult it is to block out the exterior noise. "I feel like the majority of guys do this and the guys that are teetering on that fence, that's why we've got guys that pull them back in and get them to focus on this week. That's a great escape for us is, we go to the next game. We're focused on the next game. If we're worried about anything else outside of that, it's going to magnify. It's going to keep stacking. So, that's why our focus just needs to be on this week.
Hopefully, for Adam Gase's sake, his team executes over the next two weeks. Losses to the Dolphins and the Giants would be Armageddon. Wins in each of the two weeks means much more than anybody thinks.
This is the NFL. Of course it means the world, no matter the opponent's record and no matter how bleak it appears.