Some of the key numbers from the New York Jets disheartening 29-15 loss to the Jacksonville Jaguars may surprise you.

13.7% – Sack rate allowed by the Jets offensive line this season
The New York Jets offensive front continues to rewrite the history books with new levels of ineptitude. Each week, they find a different way to blow up the game and be even worse than anybody has ever been before.
Before looking at their historical records, let's look at how bad the Jets offensive line has been compared to the rest of the league in 2019.
With a league-high 34 sacks allowed against 214 pass attempts, the Jets have allowed a 13.7 percent sack rate, worst in the league.
On the ground, the Jets have run for 3.22 yards-per-carry, better than only the terrible Cincinnati Bengals (who entered Week 8 with the worst rush yardage differential through seven games in league history). The Jets' 63.9 rushing yards per game is also better than only the Bengals.
New York has run for just 20 first downs, a league-worst average of 2.9 per game that is less than half of the league average (5.9). They have picked up a first down on 15.1 percent of rushing attempts, also worst in the league.
Le'Veon Bell can hardly be blamed for those rushing struggles. Coming into Week 8, he had created a higher portion of his yardage after contact than any of the league's other top-20 backs in carries. In addition, none of the other backs had gained fewer yards before contact than Bell (0.23).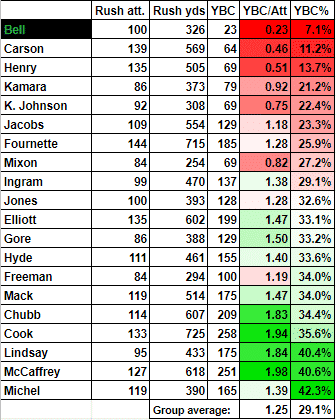 By now it's clear: the Jets offensive line is probably the NFL's worst in 2019.
But are they perhaps on track to become the worst ever?
The Jets have rushed for 447 yards and allowed 34 sacks. They are the first team in NFL history (since 1940, as far back as data is available) to rush for fewer than 500 yards and allow more than 30 sacks over their first seven games.
One of the ugliest numbers this unit boasts is their league-worst average of 30.9 yards per game lost from sacks. In total, they have given up 216 yards through sacks. The 2019 Jets are the second team in the Super Bowl era to run for fewer than 450 yards and allow more than 200 sack yards through its first seven games. The other is the 1991 Colts, who finished 1-15.
Keep in mind just how historically bad of an offensive line he is playing behind before criticizing Sam Darnold too harshly.
0.6 – Leonard Fournette's yards-per-carry average outside of the longest run
Leonard Fournette quickly set the stage for what would be a great offensive performance by Jacksonville, picking up a 66-yard run on the Jaguars' second snap. However, it was far from a sign of things to come in the run game.
The Jets completely shut down Jacksonville's rushing attack after that run. As a team, the Jaguars picked up just 49 yards on their next 29 rushing attempts (excluding kneels), a measly average of 1.7 yards per attempt. Fournette would run for only 10 yards on his next 18 attempts, just 0.6 yards-per-carry
Plenty of Jets led the run-stuffing charge. Folorunso Fatukasi led the way with four run stops for two yards or less and no first down. That tied him for the most among defensive linemen in Week 8. Leonard Williams, Brandon Copeland, James Burgess and Kyle Phillips chipped in three of those tackles apiece.
It seems like a yearly ritual that run defense is the only thing the Jets are good at. Yet again, that is the case. The Jets have allowed the second-fewest yards per rush attempt (3.3) and are ranked third in rush defense EPA (estimated points added).
Now, if only the Jets can figure out how to be just as good at a few other things.
4 – 20+ yard plays picked up by the Jaguars
The Jets defense has to do a much better job of preventing big plays. They allowed four to Jacksonville, and are now allowing the 11th-most 20+ yard plays per game (4.4).
Against the Jaguars, the problem was that two of Jacksonville's big plays went way too far. As previously mentioned, Leonard Fournette ran for 66 yards on the second snap of the game. That set up a touchdown. Later in the first quarter, Gardner Minshew scrambled and hit Chris Conley for a 70-yard score. On each play, things broke down to an unacceptable level, and no defender was there to stop the bleeding.
Blake Cashman and James Burgess seemed to be the main culprits in the bust that allowed Conley to shake free. That play displayed one of the biggest negative effects of playing without C.J. Mosley. Mosley is an elite field general, doing a consistently great job of getting the defense set. This has helped to prevent a lot of big plays over the course of his career.
From 2017-18, Mosley's Ravens only allowed 23 gains of 20+ yards on short-range passes (as categorized by the play-by-play), fewest in the NFL over that span. The Jets allowed 52 of those plays, tied for the most.
Mosley makes a superstar impact, but it doesn't come in the typical superstar way. He is not a highlight machine. He is not a box score stuffer. He just does what needs to be done to win football games. His effect on the game is often subtle and hard to notice without looking for it, but has a huge impact on the outcome. That has been clear as day since the moment Mosley left the lineup in Week 1, and it became most obviously apparent on Conley's 70-yard touchdown.
If Mosley were on the field, that touchdown most likely does not happen. Pre-snap, Mosley would make sure that the linebacker alongside him knew their assignment and stayed disciplined to it. He would then hold up his own end of the stick, sticking to his role and not biting on a scramble or getting his eyes on stuck in the backfield. A 70-yard touchdown would be saved thanks to Mosley's efforts, and nobody would notice it.
Now, because that touchdown did happen, we are here talking about how things would be different if Mosley were in that position. This conversation is the perfect example of what makes him such a special player ⁠— you don't realize how good he is until he's gone.