Will the New York Giants be able to end their three-game skid this Sunday when they travel to Detroit to take on the Lions at Ford Field?

EAST RUTHERFORD, NJ—The (2-5) New York Giants and (2-3-1) Detroit Lions are in desperate need of a win. Both teams are currently riding a three-game losing streak while heading into their matchup Sunday at Ford Field.
Both teams come into this game at less than full strength. The Giants will be without Sterling Shepard and Corey Ballentine while the Lions will be without cornerback Darius Slay and defensive tackle Mike Daniels. Earlier this week, they also put their leading rusher, Kerryon Johnson, on IR.
If the Giants are going to play meaningful games in the second half of the season, they must find a way to leave Detroit with a victory. If not, this season will be over by Halloween, similarly to the two previous seasons.
Here's what Big Blue must do to win on Sunday.
1. Ball security
In their three-game losing streak, the Giants have turned the ball over eight times, and for the season, Daniel Jones has turned the ball over 12 times. Their inability to hold onto the ball is a recipe for disaster.
The Giants have turned the ball over at least once in all of their seven games this season. If they can hold onto the ball on Sunday, they stand a great chance of ending their losing streak.
2. Win the battle line of scrimmage
Last week against the Cardinals, the Giants were embarrassed on both sides of the line of scrimmage. The offense allowed Daniel Jones to be sacked eight times and the defense allowed running back Chase Edmonds to put forth a career day, gaining 126 yards on 27 carries with three touchdowns to boot.
The Lions defense, which includes former Giants Damon Harrison and Devon Kennard, has only 10 sacks on the season, and the Lions offense is averaging just 3.8 yards-per-carry.
It's pride-check time for the offensive line and defensive front seven. They must win the battle in the trenches on both sides of the ball in order to win.
3. Get the ball to Saquon Barkley
Saquon Barkley made his return last week after missing the previous three games due to a high ankle sprain. He touched the ball only 21 times for 80 yards. Barkley was clearly not 100 percent last week, but his ankle should feel better this week.
The Lions defense is giving up 139.2 yards per game on the ground, which should equate to a heavy dose of Barkley on Sunday.
4. Put Pressure Matthew Stafford
With their leading rusher out, the Lions offense will rely even more heavily on the right arm of quarterback Matthew Stafford. Stafford is off to a hot start this season, completing 62.4% of his passes for 1,751 yards and 13 touchdowns to just three interceptions.
One area the Giants have improved upon this season is their pass rush. Thus far, they have 18 sacks on the season and five of those are by Markus Golden. The Giants must pressure and harass Stafford and not allow him time to find the Lions talented receiver duo in Kenny Golladay and Marvin Jones Jr.
If the front seven can't get to Stafford, the secondary will have a tough time containing Golladay and Jones Jr.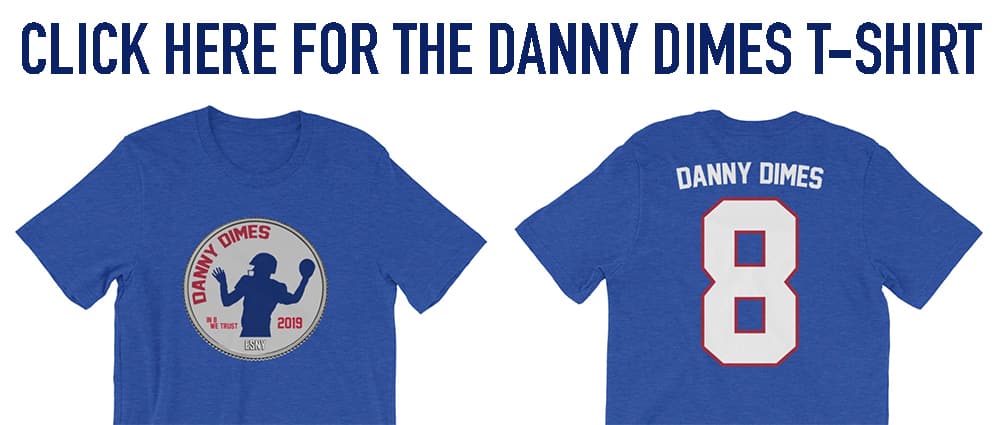 5. Take your chances deep with Darius Slayton
The Giants offense has had difficulties sustaining long drives over the past few weeks, so they need to try to get a large chunk of yardage at a time. They can do that by throwing the ball deep to their speedy rookie receiver Darius Slayton.
With cornerback Darius Slay out, the Lions secondary could be vulnerable to big plays and Slayton is the guy who can take advantage.
On Friday, wide receivers coach Tyke Tolbert talked about how Slayton has come back from dealing with his hamstring injury as well as his ability to create separation.
"I think since he's been back from his hamstring injury, every time he gets on the field, his reps continue to get more and more and more, and he's getting more confident," Tolbert said. "He was extremely confident at the end of last spring when we ended for the summer and when we came back he pulled his hamstring so early and it was tough to get back. But since he's been back, his confidence has continued to grow. So, as his confidence continues to grow, he's making more plays, and when you make more plays you have a tendency to feel—well, I like having playmakers on the field, so it's hard to get him off the field when he's making plays and getting separation."
Prediction
These are two evenly matched teams who are in dire need of a win. The game will be a close one throughout but the Giants losing streak will continue in the Motor City.
Lions 27, Giants 24