If things break right, the Brooklyn Nets could easily compete for a top-end playoff spot. Otherwise, they'll settle-in nicely for a lower seed.

A year ago, the Brooklyn Nets were looked at as a near-lock lottery-dweller by yours truly. To other, smarter members of Elite Sports NY's Nets crew with first names that start with the letter "D," the up-and-coming Brooklynites were a possible playoff sleeper.
Well, gone are those frivolous playoff aspirations; they've since been replaced by real, concrete NBA title goals from a suddenly star-spruced roster.
In landing Kevin Durant and Kyrie Irving, Sean Marks has a good chance at earning high marks for the greatest offseason in franchise history. Even while adding $68 million worth of superstar talent, Marks miraculously found a way to maintain his endless source of young talent; Spencer Dinwiddie, Joe Harris, Caris LeVert and Jarrett Allen are all still around, and the only notable omission from the roster was first-time All-Star D'Angelo Russell.
Last season, the Nets overachieved to a magnanimous degree and finished sixth in the top-heavy Eastern Conference before ultimately bowing out to the Philadelphia 76ers in five reasonably competitive games. Several players and personnel earned big love at the NBA Awards; Kenny Atkinson finished fifth in Coach of the Year voting, Spencer Dinwiddie finished second as Sixth Man of the Year and D'Angelo Russell was rewarded handsomely for his spectacular season as the runner-up Most Improved Player. Hell of a come-up, I tell ya.
Stylistically speaking, not much should change in Brooklyn. The Nets will continue to run a pick-and-roll heavy system that produces gobs and gobs of threes, with the added caveat of a better star point guard (Kyrie Irving) and, in totality, improved three-point shooting across the board… thanks to Garrett Temple, Taurean Prince, ESNY favorite Joe Harris and second-year-pro Dzanan Musa. If the offense breaks down, expect Irving, Caris LeVert and Spencer Dinwiddie to feast off the dribble against hapless defenders.
After improving upon their 2017-2018 28-54 finish by 14 total wins (42-40 last season), it's doubtful the Nets see such a ludicrous leap this upcoming year. Instead, a slight boost of 3-to-4 wins is a bit more within the realm of possibility with Kevin Durant sidelined for most, if not all, of the season.
Brooklyn's schedule is fairly easy (27th according to Tankathon.com), which bodes well for the team's early-season key question: Can Kyrie Irving immediately build chemistry with his new Brooklyn teammates?
If that answer can quickly match the Nets' television network (YES), then Brooklyn will gain notoriety as the 'tough out' on opposing teams' schedules. Kyrie Irving has a huge opportunity to change his surrounding narrative after, in his words, "failing" as the leader in Boston. What better place to do just that as the hometown hero in Brooklyn.
Roster additions:
Kevin Durant, F
Kyrie Irving, G
Garrett Temple, G
David Nwaba, G
A year ago, the Brooklyn Nets didn't even possess a Big-1. Now, at least from a marketing perspective, Brooklyn boasts a Team USA approved Big-3 with Kyrie Irving, Kevin Durant and DeAndre Jordan. You know the story: During a 4:16 AM facetime, the three best buds decided to team up in New York's other basketball borough and the rest will hopefully become history. ESPN's Adrian Wojnarowski said it best on Jun. 30: Sean Marks made it a 'Clean Sweep.'
Outside of the obvious All-Star additives to an already talented roster, Marks finessed a multitude of other impressive under-the-radar moves. Taurean Prince and Garrett Temple project as ideal 3-and-D specimens with a couple of small tinkerings. For Temple, this may mean a career-year from deep (he's a solid career 35.3% three-point shooter); for Prince, this will most certainly entail heightened attention to detail on defense.
David Nwaba will happily oblige at doing the dirty work for this Brooklyn Nets team, skying for offensive boards, diving for 50/50 balls, and gripping to opposing off-ball shooters like an impervious barnacle. (Seriously, good luck shaking that dude when he's locked-in defensively.)
Once his 25-game suspension comes to an end, Wilson Chandler should supplant himself as the team's best-suited power forward. He's big, strong and can shoot the three-ball at a satisfactory mark for coach Kenny Atkinson. Down the line, there's a real chance Nic Claxton weasels his way into the rotation as 4/5 combo big. Unlike some of Brooklyn's other incumbent large humans, Claxton has shown a theoretical three-point stroke and can actually defend out to arc like a 6-foot-11 shooting guard. He's like no one else on this roster.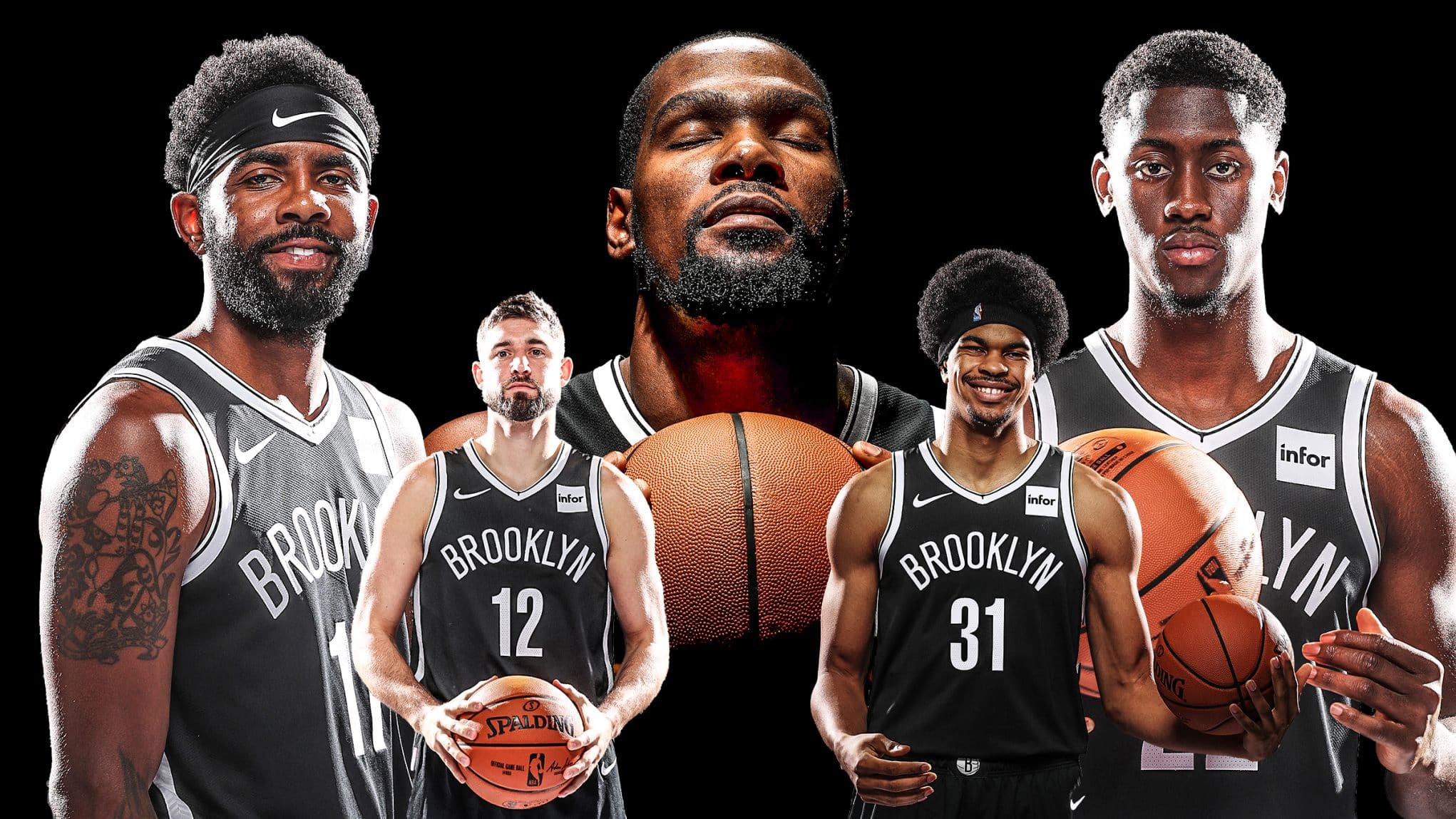 Roster subtractions:
We've already mentioned D'Angelo Russell, who will continue his pursuit of becoming one of the league's top guards as a member of the Golden State Warriors. He'll be missed. As will Ed Davis, the Nets' emphatic hustler at the backup center position. The perpetually underrated Davis birthed countless second chance opportunities last season, and his versatility on defense continues to be grossly overlooked. I mean, shoot, the dude gave Joel freaking Embiid a tough go at it during the playoffs, and is a full 2-to-3 inches shorter than the Cameroonian superstar.
Jared Dudley, a fan favorite in Brooklyn, will also be missed as the outspoken leader within the Nets' locker room. Oddly enough, the team might really feel the loss of Shabazz Napier as Brooklyn's third-string PG, depending upon the continued growth of Theo Pinson.
Rondae Hollis-Jefferson and DeMarre Carroll — bless their souls — will not be missed as dearly (at least, on the floor).
Key Questions:
Is Kyrie Irving a stealth MVP candidate? 
I hate to speak in cliches, but the sky is truly the limit for Brooklyn's new point guard. After seeing career-highs in rebounds (5) and assists (6.9) last season, there's a chance he merges that all-around feel with his opulent 25.2-point average from three seasons ago. Rather than being slotted next to young stars miscast as role players (the, uhhh, fiscally satisfied Jaylen Brown and Jayson Tatum), Irving will eagerly toss dime to all-world shooting talents, Taurean Prince and Joe Harris.
Ultimately, his status as an MVP outsider will be determined by a full season of health and team success. One of those things he can certainly control for. And no, I'm not talking about the stability of his body.
Will Brooklyn's power forward rotation be problematic?
As it stands, it's more than likely that Brooklyn's starting four come opening night is Taurean Prince, who recently measured in at 6-foot-6 without shoes. He's actually a pretty solid post defender (87th percentile, per Synergy). But still, guarding guys like Blake Griffin, Aaron Gordon, Giannis Antetokounmpo, John Collins, Pascal Siakam, Kevin Love and Julius Randle could take an insurmountable toll on Prince's body. And that's just looking at the Eastern Conference.
Rodions Kurucs might be even less suited to matching up with the East's thunderous forces at the 4. Sure, his lateral speed could assist in keeping up with someone like Pascal Siakam or *shivers* last season's MVP. But most recently, Rodi was seen getting bodied by Toronto's Serge Ibaka on the defensive glass. (It's just preseason, I know…). Something's gotta give.
Eventually, Wilson Chandler will return and sheer things up. But with 19,553 total minutes under his belt, we'll see if he can handle his big minute responsibilities. Even Kevin Durant, Brooklyn's long-term solution at power forward, comes with his fair share of reservations; namely, a surgically repaired Achilles tendon.
If things start off slow and that fateful position drags this team down, expect Sean Marks to be active at the trade deadline — a tactic not normally flaunted by the Kiwi GM. Orlando's Al-Farouq Aminu, Memphis' Jae Crowder, Charlotte's Marvin Williams and Cleveland's Larry Nance Jr. could all become possible deadline targets and/or buyout options.
Can Brooklyn secure homecourt advantage?
I'll lay forth my actual win prediction in just a couple of minutes — or seconds if you're skimming. (Which, if you are, stop it. You're hurting my feelings.)
The top two slots of the East are practically locked-in: Milwaukee and Philadelphia would need to thoroughly eff-up the season to fall anywhere further than the three-spot. After that, a myriad of one-piece-away ballclubs will contend for the 3-through-8 spots: Miami, Boston, Indiana, Toronto, Orlando and of course, Brooklyn.
In order to earn homecourt, a couple of things must break right in Brooklyn: Kyrie Irving must be an MVP candidate, Caris LeVert has to continue his ascension and possibly land on the All-Star team, and the bench must appear as deep as it has during the preseason. Only then will we see the Nets compete for spots three and four in the East, and quite possibly the 2-seed.
Predictions:
Matt Brooks — Senior Writer
Final Record: 46-36
Eastern Conference Finish: 4
Team MVP: Kyrie Irving
NBA Awards, (if any): None
Let me just say: I hate making predictions and deliberated over my win-loss projection an almost ungodly amount of time. With that said, given the endless depth of this team plus improved top-end talent, it feels prudent to place Brooklyn anywhere close to where they finished last season. Every young player on this roster comes with an additional year of experience and seasoning, and Brooklyn's offense appears to be vaunted across the board. Plus, I love the near-excess of one-on-one defenders — at least, in comparison to last season's team.
As it stands, I have Brooklyn falling below Milwaukee and Philadelphia (duh), as well as Miami (hi, big Jimmy Butler believer here). Boston has a case for finishing ahead of Brooklyn, but for now, I'm siding with the guys in black-and-white. Or ugly grey, if we're talking the… storied… statement unis.
Ultimately, I see the ceiling of this team becoming a pretty brutal second-round loss to Milwaukee; Brooklyn has no one to guard Giannis Antetokounmpo if Kevin Durant is sidelined. As for NBA awards, I am suuuuuper tempted to pick Spencer Dinwiddie as Sixth Man of the Year. However, I worry he may start one too many games due to the impending load management program for Kyrie Irving.
Justin Thomas — Contributor
Final Record: 48-34
Eastern Conference Finish: 5th
Team MVP: Kyrie Irving
NBA Awards: None
The Nets enter this season with a lot of excitement surrounding them. With Brooklyn making it known they don't expect KD back this year, it almost seems as if this year is similar to playing with house money. The expectations aren't "championship or bust" but the goal is to compete to that point where you can say 'Durant coming back is all the Nets need to win a title.' The big question this season will center around Kyrie Irving. After an unceremonious tenure in Boston, Irving comes to Brooklyn looking for a clean slate. For this season, Brooklyn will go as far as Kyrie leads them. This is also a big year for Caris LeVert who just signed a lucrative extension this summer. All eyes will be on him to make that All-Star-capable jump he briefly displayed early last season and throughout the playoffs. Jarrett Allen is another player to keep an eye on: Can he make improvements to his game especially on the defensive side of the ball? We all know he is an excellent shot-blocker, but can he bang down low with the Joel Embiid's and Nikola Jokic's of the league?
Gone are D'Angelo Russell, Jared Dudley, Shabazz Napier, Rondae Hollis-Jefferson, Ed Davis and Treveon Graham. However, the Nets signed some quality replacements in the likes of DeAndre Jordan, David Nwaba, Wilson Chandler and Garrett Temple. They also traded for Taurean Prince, who has really shined for them throughout the preseason and fills the much-needed stretch-four role. There's no question the Nets roster has improved talent-wise from top to bottom but the big question is chemistry. Can Kenny Atkinson get the same type of production and hard work out of more established and talented players? It'll be a season of ebbs and flows, and ups and downs, but should be an exciting one nonetheless. It's fun to be a Nets fan again.
Zach Cronin — Contributor
Final Record: 45-37
Eastern Conference Finish: 4th
Team MVP: Kyrie Irving
NBA Awards: Spencer Dinwiddie for 6MOY
What a fantastic offseason it was. The Brooklyn Nets altered the NBA landscape by bringing in the frightening duo of Kyrie Irving and Kevin Durant. DeAndre Jordan was a necessary signing as well, considering his addition solidified the acquisition of the other two. Unfortunately, the quest for a championship won't begin right away. Durant's Achilles injury is likely to keep him out for the entire season; there's the chance he'll come back this year, but it's unclear how likely that is. Regardless, the Nets are among the Eastern Conference's better teams.
The franchise is poised to improve on their previous campaign. Kyrie Irving, should he stay healthy, will add an exhilarating dynamic to a core that includes Caris LeVert, Joe Harris and Spencer Dinwiddie, a trio of young studs who have proven themselves as capable leaders. There's also Jarrett Allen, who stands to learn a lot from Jordan. Rounding out the rotation is Taurean Prince, the sharpshooter whom Brooklyn acquired in the Allen Crabbe deal. David Nwaba, Rodions Kurucs and Dzanan Musa have the chance to see considerable minutes as well, depending on the lineup.
Brooklyn isn't the strongest team in the East, but they're far from the weakest. They have the talent to finish in the top-four, and possibly eclipse 50 wins if they fall into a rhythm.
Danny Small — Editor-in-Chief
Final Record: 46-36
Eastern Conference Finish: 5th
Team MVP: Kyrie Irving
NBA Awards: Spencer Dinwiddie (Sixth Man of the Year)