A performance that left him "seeing ghosts" thrust New York Jets QB Sam Darnold into a potential turning point of his NFL journey.

EAST RUTHERFORD, NJ—The New York Jets' offensive performance on Monday night could best be summarized by the fact that "Luke Falk" was trending on Twitter.
A listless performance against the mighty New England Patriots saw the Jets tally 154 yards en route to their first shutout at MetLife Stadium since September 2012. But the released Falk was nowhere to be found on the field.
Eight days later, Sam Darnold's MVP performance against the Dallas Cowboys is already forgotten. In its place is a game that well could go down as his "Butt Fumble" evening. The mighty New England Patriots steamrolled the hapless Jets by forcing Darnold into six turnovers in his second game back from illness. Four interceptions, three in New England territory, sealed the Jets' scoreless fate. Darnold's final line (11-of-32, 86 yards, four interceptions) was good for a 3.7 passer rating by the end of the night.
Darnold's night from the football underworld was perhaps best defined by audio picked up by ESPN's microphones. Already the target of tired memes lampooning his mononucleosis situation, Darnold inadvertently provided the internet with more material when, upon viewing the replay of his second interception on a tablet, he remarked, "I'm seeing ghosts".
His subsequent postgame explanation more or less summarized his whole evening.
"When I talk to the coach I just got to be straight up. For me, I just got to see the field a lot better. That's kind of what that means," he said in the locker room. "It was a rough night out there." Before departing, Darnold promised: "We will get better."
It should be abundantly clear that Darnold is not the Jets' sole issue. His blocking, sterling last week in the win over the Cowboys, reverted back to its flimsy status. Patriot pressure forced Darnold into poor decisions all night, as general manager Joe Douglas was reminded that his purge of the Mike Maccaggnan leftovers must continue. Even Douglas' own solutions to the line weren't immune. A skyborne shotgun snap from Ryan Kalil forced Darnold to bat the loose ball in the back of his own end zone…the resulting penalty and two-point safety was the best possible outcome.
Defensively, the Jets gave up three scores from Sony Michel, alone. A raucous MetLife Stadium crowd, fueled by the idea of competitive football against the Patriots, was instantly pacified as Tom Brady and company converted four third-down tries en route to a three-yard Sony Michel touchdown…the first of three on the evening.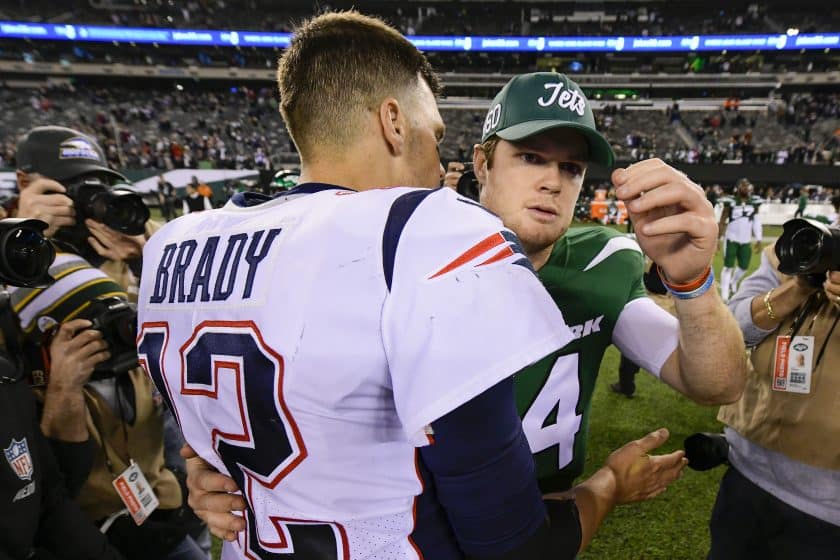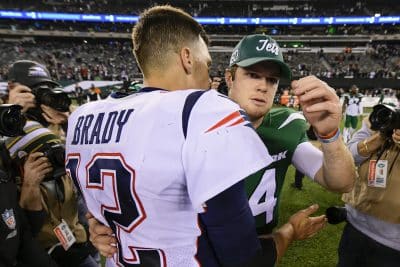 So Darnold isn't chief among the Jets' problems. It'd be foolhardy to say that after last Sunday. But Monday was an indicator, maybe even a reminder, that's he is certainly among them.
The already cutthroat world of the National Football League has become more impatient with the advent of social media. Those whose fingers type the instant reaction in 280 characters or less demand instant success, especially for a franchise eager for any semblance of positivity. Patience was often the name of the game when it comes to grooming a new franchise face and thrower. But it's obvious that cases like that of Patrick Mahomes, who sat a year in Kansas City before being unleashed on unsuspecting defenses, are now the minority rather than the norm.
Darnold's case is made all the more tenuous by his membership in the 2018 quarterback class. Each of these polarizing prospects has had their share of glorious moments and even threats of a breakout game. But such a performance means nothing if one doesn't capitalize on it.
Lamar Jackson, the final first-rounder of 2018, knows that feeling. The Baltimore beacon had several breakthrough opportunities in his rookie debut. A gutsy 26-24 win over Cleveland in Week 17, for example, could've been it, but he followed it up with a horrid playoff showing that had fans begging for Joe Flacco. Jackson got it right in his sophomore year. Many were, driven by false prophecies the year before and a downtrodden opponent from Miami, ready to write off Jackson's five-touchdown game in Week 1. Instead, he has followed it up with his multiple talents, guiding the Ravens to a 5-2 mark.
Darnold is more in a Baker Mayfield-like situation. Opportunities for a breakout have been there … Mayfield's might've come in that Week 3 thriller against the Jets last season … but each has failed to follow up on it. Darnold has had several such games. His debut, a 48-17 win in Detroit, came before a dud in the 2018 home opener against Miami. Later that rookie season, he followed up 280 yards and two touchdowns against the Colts with a 17-completion, three-interception showing in Minnesota.
To be fully transparent, the Jets are by no means indicating they're ready to give up on Darnold. Head coach Adam Gase even said he kept Darnold in the game until the very end in an attempt to force a positive drive out of him before all was said and done.
"I kept debating. I just kept thinking we would get a drive going and build off of that. It just never happened," Gase said. He further stressed "It was a collective effort. I'm sure when we go revisit this, we're to going to have to take a deep dive in game planning."
But the possibility of franchise trust being placed in Darnold is at least there. Darnold's fellow Californian 2018 draftee, Josh Rosen, was already cast aside by his original employers, the Arizona Cardinals. But, a perfect opportunity awaits Darnold, and maybe even Gase, to solidify their positions as franchise staples.
Over the next seven weeks, the Jets face seven squads. With the exception of fringe wild-card contenders from Jacksonville and Oakland, none of their opponents are in remote playoff consideration. Two such opponents, Miami and Cincinnati, have no wins at all.
Putting aside the "any given Sunday" mantra that has defined NFL parity, some games can ruin a quarterback's mind entirely, the single contest that causes them to never see the field the same way again.
Darnold is confident this New England disaster won't be a problem in the long run.
"I'm going to put this behind me after tomorrow and I'll watch the tape," Darnold said. "The outside noise doesn't bother me at all. People are going to say what they want, but for us as a team, we've got to continue to work hard. Us as an offense, we've got to execute a lot better, and we will."
A proverbial ghosting against the mediocre Jaguars next Sunday would be the perfect first step for both Darnold's long and short-term New York prospects.
Follow Geoff Magliocchetti on TWITTER