In an exclusive interview with ESNY, Cathy Engelbert, the WNBA's first commissioner, spoke about her local connections and her new position.
A league full of trendsetters and record-breakers, it's only appropriate that the new leader of the WNBA leads them into its most hopeful generation yet brandishing these matching qualities.
The league is now under the watchful eye of newly minted commissioner Cathy Engelbert. The Collingswood, NJ native got her start in the area, starring as a multi-sport athlete at Collingswood High School. She would go on to hit the hardwood at Lehigh University, playing under current Notre Dame head coach Muffet McGraw.
Engelbert returned to the metropolitan area and became one of the most, if not the most, prominent name behind the professional service and accounting firm Deloitte. She was named CEO of the company in 2015, becoming the first female CEO of a Big Four firm. In a year under her watch, Deloitte revenue grew six percent to reach $18.6 billion, per Fortune Magazine.
On June 17, Engelbert took office as the first commissioner of the WNBA. Prior leaders of the league bore the title of "president". As Engelbert oversees her new basketball empire in New York City, she continues to live in Berkeley Heights, NJ with her husband, a West Point graduate and Army veteran, and two children.
With the WNBA in the midst of their 2019 postseason, Engelbert made a groundbreaking move in one of her first public displays. Earlier this month, she announced that the league would cover costs for visiting teams from Las Vegas and Los Angeles to travel to semifinal matchups in Washington DC and Uncasville, Connecticut.
The league has had several issues with travel in recent years, but Engelbert's announcement negated these concerns. In a league statement, Engelbert said: "We believe it is in the best interest of the players to provide them with an opportunity to arrive expeditiously in the city of the first game of the WNBA semifinals and have a full day on-site to practice, rest and prepare."
Engelbert recently spoke with ESNY in an exclusive interview detailing her local journey from Collingswood to commissioner.
Q: What was it like to grow up and play sports in an era that preceded the WNBA? 
A: There's no doubt that, from what I recall, (the peak) was the Olympics, one every four years. You didn't have people playing professionally every year. Having said that, I'm a huge beneficiary of Title IX in the late 70s into the 80s. I think that's an interesting kind of thing to look back in history and say what Title IX did for us, people like me who were able to play three sports in high school and two in college.
Yeah, there was no WNBA, nor do I think, quite frankly, maybe I was good enough, based on what I see from that elite level of play today. But we all stand on the shoulders of giants that came before us. I think the current WNBA players stand on giants shoulders like those of Teresa Weatherspoon and many others like Lisa Leslie, Sheryl Swoopes, etc. I was so thrilled to see Teresa get inducted into the Naismith Hall of Fame last weekend.
Q: How exciting and unique was it to be a multi-sport athlete in the pre-WNBA era? 
A: I was actually recruited for lacrosse at Lehigh, while I was a walk-on for basketball. It's ironic that I went on to play for Muffet McGraw who's now a Naismith Hall of Famer. Lacrosse actually was my main sport but basketball quickly became my top option.
I think it was because, in basketball, there's only five players on the court. The camaraderie it builds, the leadership it builds, the leaderships skills. I love lacrosse as a sport but I credit basketball more with preparing me for leadership and life.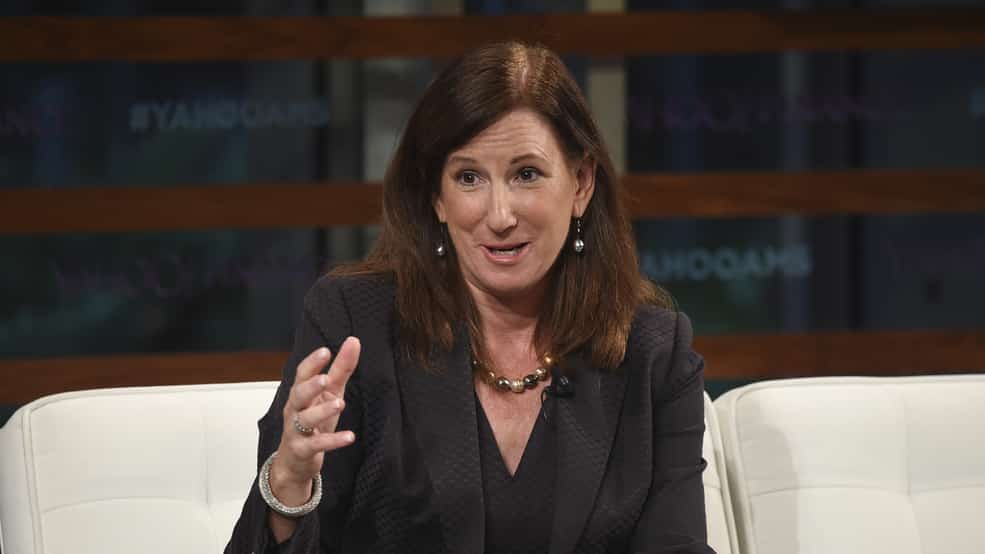 Q: In addition to the camaraderie and leadership, what was the deciding factor that made you choose basketball?
A: For me personally, it was clearly the DNA/pedigree from my father, I would say. Unfortunately, my father died in 1987 but he left such a legacy on all of us when it came to basketball. We're all crazy basketball fans (in my family).
I know that now I can't root for a team in my new role, at least professionally, I can still root for college teams. But we always get together when Villanova basketball is in the NCAA Tournament, having four brothers and a sister graduate from there. We just grew up a basketball family.
One of the most important things from growing up was we had a basketball court, a half-court with a backboard, rim, and net over our garage. It was very rickety! But all I remember is, every spring, my brothers would be out spray painting a foul line, like a little, maybe two-foot foul line. We'd often complain it was too close or too far! We didn't have all the measurement capabilities we have today. I just remember having so much fun playing two-on-two with three older brothers in the backyard.
Q: Did you win?
A: Well, it certainly prepared me, ultimately, to play at a high level in college. I think my brothers never let me win, they beat up on me pretty bad (laughs). They were very good players in their own right, especially my oldest brother Kurt in high school.
Q: You live in North Jersey, Berkeley Heights to be exact, with your husband and children now. How great is it to have them by your side in this new endeavor?
A: Obviously my husband's a big New York fan…Giants and Yankees in case you were wondering, even though he's from Long Island! I'm obviously from the Philly area, so we have a big natural rivalry going on in our house during football season. Hockey too, my Flyers are on the upswing. I love talking to people around here about my sports passions! But it's all a fun rivalry.
Obviously, family's the most important thing to me. My son's a big sports fan, and I've turned him into a big WNBA fan, by the way. I took my daughter to Liberty game at Barclays Center and she loved it. My sister came too, she lives down in Philly. Everyone's so impressed with the level of play on our courts, everyone I took had never been to a WNBA game before. We just have to get fans in the seats because I know we're providing them a great product on the court. I think (the WNBA) is a great opportunity for families to attend and for corporate groups to attend for team building and camaraderie.
Q: How much has the game of basketball changed since your playing days?
A: Growing up in New Jersey, I grew up near Philadelphia. That was and is a huge basketball city with the Big 5. My father played for St. Joseph's and was coached by Jack Ramsey, Dr. Jack, and was drafted by the Pistons in 1957. You might say I had no choice but to play basketball with kind of DNA or pedigree! My father was a 6'5 center, today that would be a point guard, so how times have changed.
Myself, I was a 5'9 point guard, one of the tallest point guards in what's now the Patriot League, it was the East Coast Conference back when I was at Lehigh. Now, that would be a short point guard, so it's interesting to see how the game has evolved and how agile and elite these women are. I'm so proud of my Jersey roots for sure.
Q: What's it like to be not only a great role model for your family, but for the women's game as a whole, being the first to hold the commissioner label?
A: It's similar to my career at Deloitte. You don't really know you're a role model until you're the leader. Then, you figure out that you are a role model and you become very cognizant. It actually comes with great responsibility, to be a role model. I was blessed and fortunate to learn that over a 33-year career at Deloitte so that when I came into the W, I was already cognizant.
But I never thought I was a role model for women's sports. Hopefully, I'm more of a role model for women in business and women in leadership. That's one of the reasons I think I was hired, to come in with the business acumen and look at what I've been calling my three pillars: the economics, growing the revenue base, and fan and player experience.
One thing I'm probably most thrilled with is, with my 18-year-old son, I went up in the "coolness" factor with him! (laughs) Not because he thinks I'm cool, he just thinks I'm mom. His friends think I'm cool now.
Q: Deloitte has been based in the New York City area. What was it like to make an impact in the "Capital of the World"? 
A: It was great. I joined the Partnership for New York City as part of being a leader in the city and helping build great relationships in the community here, ones really focused on how we could help make an impact here through our non-profit efforts. Our tagline at Deloitte was "make an impact that matters". That impact, whether it's the traditional financial impact or more of a round community impact, a role model impact, a learning and development impact, was so important to us.
We opened up a Deloitte University in Texas, but obviously we've got such a huge workforce here in New York that we train and develop through an apprenticeship model that we believe will build the next generation of leaders. We've joined the Partnership, where Kathy Wylde has done some amazing work. We've joined the American Heart Association roundtable with Nancy Brown, which is based in New York. There's so many. We've worked with the Rockefeller fellowship program, we've had people come through that, really build their leadership skills.
New York has so much to offer from that perspective. It has such a dynamic business environment. I just love getting to know the whole ecosystem here and building relationships, whether it was a big law firms, real estate firms, private equities, financial services that are affected more broadly. Now there's a big startup community in both Brooklyn and here in Manhattan.
By the way, I moved one-and-a-half from my old job! I was at 30 Rock (30 Rockefeller Plaza) and now we're 51st and 5th. So it's very familiar territory. Same breakfast place, lunch place, coffee place!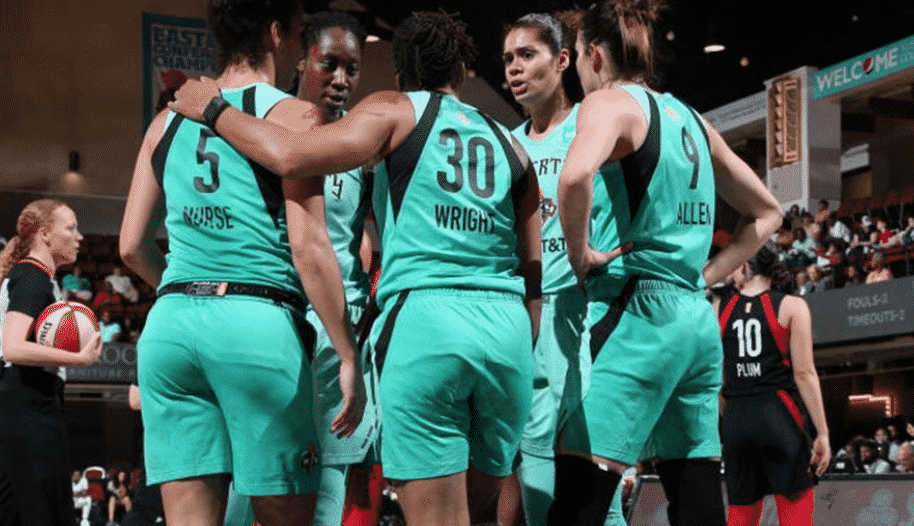 Q: On a New York-related note, what does the future hold for the New York Liberty?
A: I'm very optimistic about (Liberty/Nets owner) Joe Tsai purchasing the team, investing in the team. He's got a big passion, I think, for the women's game, so we're very excited to see what's in store for the Liberty.
If we look back to my three pillars, certainly fan experience and growing our fanbase will come up huge. If we can grow our fanbase in the city, that would be great. I recall, back in the day, the Teresa Weatherspoon era, you think of the strong fanbase here in New York.
It's all very consistent with what we want to do nationally with all 12 of our teams: get the most fans in our seats, bring in a more digital, millennial population, create a tech-savvy, digital experience in the arena. All of those things are on the docket, and I think we're all excited that Joe Tsai is there and invested in the Liberty.
Q: What can you say to the Liberty's city fanbase that has expressed displeasure about having their team somewhat displaced in Westchester?
A: I think obviously Liberty management is taking a look at what the best platforms are for the team. We're obviously getting information as they're making their evaluations as to where the Liberty will play. I know it's been widely recorded in the media. If you want to grow the game, grow the league, grow the fan experience, and grow to more digital millenials, New York is one of the biggest cities in the country. We look forward to seeing a platform that accomplishes growing our game and getting our fans in our seats.
We appreciate any support, for sure. I throw these statistics out all the time: four percent of all corporate sponsorships go to women's sports and five percent of all media coverage goes to women's sports. That is not enough. The more we can do, the better.
2019 WNBA Finals Schedule
Date
Game/Result
September 29
Washington 95, Connecticut 86
October 1
Connecticut 99, Washington 87
October 6
Washington @ Connecticut 3:30 p.m. ET, ABC
October 8
Washington @ Connecticut 8:00 p.m. ET, ESPN2
October 10

*Connecticut @ Washington 8:00 p.m. ET, ESPN2

*-if necessary
Follow Geoff Magliocchetti on TWITTER