Based on current personnel, Kenny Atkinson and the Brooklyn Nets need to move to a revamped, balanced offensive attack.
The 2018 Brooklyn Nets relied heavily on the three-ball, but with the talented new players acquired this offseason and a healthy Caris LeVert, the 2019 offense could be highly effective without relying so much on generating points from beyond the arc.
Here's what an optimal revamped balanced offense could look like for the Nets this season.
Half-court Offensive Sets:
Last season, the Nets ranked in the tops of the league in using the pick and roll, typically using Jarrett Allen as a screen-setter for D'Angelo Russell. Allen, not known for his catch and shoot abilities, almost always rolled to the rim for alley-oops. When they were not available, Russell regularly took long threes, pull-up jumpers from the elbows or used floaters in the paint.
Now, with Kyrie Irving replacing Russell as point guard, the biggest difference is he will be more efficient in getting to the rim, drawing fouls and finishing strong. However, it would behoove the Nets to ensure Allen develops his catch and shoot abilities so they can run a pick and pop (or pick and fade) from mid-range and high post as a variance to the predictable pick and roll which opposing teams will likely be expecting.
Opponents won't be ready for the pick-and-pop variance. Allen has a smooth stroke from 15 feet as evidenced by his 73.2 percent free-throw shooting. It will require a lot of preseason repetition to perfect but it would pay major dividends for the Nets in the long run.
Atkinson would be wise to develop Allen in this way as opposed to converting Allen into a stretch-4 right now. While Allen could eventually develop into a stretch-4, it seems like that's more than a season away. Developing his catch and shoot from mid-range would be a natural progression into transforming him into a stretch-4 instead of rushing the process.
The Nets will also run many screens off of the bulkier DeAndre Jordan; however, his likelihood of developing catch and shoot abilities from mid-range is substantially lower than that of Allen's who has a natural smoother shooting stroke. If Jordan couldn't develop this skill after years of playing alongside prolific point guard Chris Paul, it's doubtful he will develop such a skill this late in his career.
Last season, the Nets frequently ran isolation plays for several key players. Perhaps too much so. Opponents this season will be ready for that so the Nets must rely on more ball movement, especially if they are going to persist in launching so many threes per game. Joe Harris will be the biggest beneficiary of ball movement as he struggles to create his own shots.
This is a big adjustment that needs to be made for overall fluidity and efficiency on offense. They should still run isolation plays but they should be situational and reserved for the likes of Irving, LeVert and Spencer Dinwiddie when circumstances dictate its application.
Another adjustment Atkinson can make that will likely confuse opponents is to utilize LeVert at point guard in spurts to allow Irving to play off-ball. This will likely cause more mismatches and open opportunities for Irving to showcase his superior catch and shoot abilities. It will also allow LeVert to potentially get into the paint, collapse the defense and finish with a smaller player defending him.
This can lead to easy scoring opportunities as LeVert is adept at driving and drawing fouls. LeVert is an excellent ball-handler and team player, so he can be trusted to make the right decisions be it pass, shoot or drive. This wrinkle will also lower Irving's workload while he's on the court which is a subtle benefit to this variance.
Something the Nets need to run more of is off-ball screen-setting in their motion offense. This will create a lot of space and different options as screeners decide whether to roll, fade, or pop for quick shots. A player like Taurean Prince would benefit greatly from this due to his size and shooting.
Harris has already tinkered with this last season and it led to easy lay-ups for him. Getting Prince and Harris going early and often will be important. This also creates mismatches which the Nets should exploit every time with their craftier ball handlers like Irving, LeVert and Dinwiddie.
Flex Offense:
Atkinson should consider running a modified flex variance motion offense. This entails a lot of down screens and cross screens along the baselines and elbows. With so many athletic shooters, the constant motion will give Dinwiddie and Irving so many good reads on who becomes available for open shots.
While the flex offense is rarely used anymore since Jerry Sloan popularized it in the NBA decades ago, it can be a useful offense for this 2019 Nets team given their personnel. Since it is considered obsolete it will definitely catch defenses completely by surprise due to its rarity.
Some innovative wrinkles the Nets could throw into the flex is to set perimeter screens at the corner-three areas to open up driving lanes on the baseline. The Nets would be wise to drive the baseline frequently as these plays typically result in strong finishes at the rim and tend to draw fouls as well. Driving baseline can also collapse defenses which opens up the middle for cutters for very easy baskets if the drivers are willing passers and reading the defenses properly.
While the flex offense traditionally isn't meant to generate open three-point opportunities with some creativity and tweaking it certainly could if expanded with close attention to detail. It leaves defenses scrambling and that leaves perimeter players wide open for a multitude of shot opportunities.
With constant screens being set there will be mismatches everywhere for the Nets to exploit and that also could generate easy second-chance opportunities for players like Allen and Jordan. Another benefit of this offense is it tires out defenses quickly. By attrition, the Nets could dominate late in games by utilizing it.
The Villanova Option:
Another offensive set the Nets can use is the Villanova Offense. The staple of this offense relies on perimeter players constantly handing the ball off to one another above the top of the key. While most opponents will be gearing up to stop Irving's dribble drives they will be caught off guard with this style of offense. It's a partial motion offense for the perimeter players but when running properly it eventually creates a mismatch for one of the players to exploit.
It's a grinding offense that tires out perimeter defenders as well. The Nets big men can position themselves favorably once the ball handler decides to drive which can end in easy dump-offs for dunks and layups. It's also beneficial to offensive rebounding opportunities.
The Nets figure to have three or four-ball handlers on the court at all times in their rotations so one of them can also relocate to an open spot on the floor for a drive and kick open three-point opportunity.
Integration of both systems: By using motion, ball movement, flex variances, and the Villanova perimeter plays, the possibilities are endless for Nets scoring opportunities. It would certainly make the Nets extremely hard to guard as a team. The question is will Atkinson have the ingenuity to implement these kinds of sets into a new revamped Nets offense?
He will have the chess pieces on the board to do it but it's up to him and his offensive assistants to put them in the right positions for constant check-mating. This type of offense would be an extremely well-oiled machine that Durant would fit perfectly into once he returns as well. That's just an added bonus.
The reason both of these offenses could be a perfect fit for the Nets is that they already align with Atkinson's player-friendly coaching style. Players will still enjoy the freedom to make decisions within both systems and they strongly correlate to the skill-sets of the Nets players' abilities. Even if defenses know it's coming, both systems demand opponents to expend a lot of mental and physical energy. Even if the sets break down the Nets have players who can make plays as a fallback option.
Clutch Offense: In late-game situations, the Nets should always have Dinwiddie, LeVert and Irving on the court together. By virtue of probability, opposing defenses will have to choose which player to hone in on which would leave the others open. Dinwiddie and Irving are highly effective closers and LeVert in that mix will just confound defenses and help the Nets win close games decided by two or fewer possessions, of which there may be a lot of until Durant returns.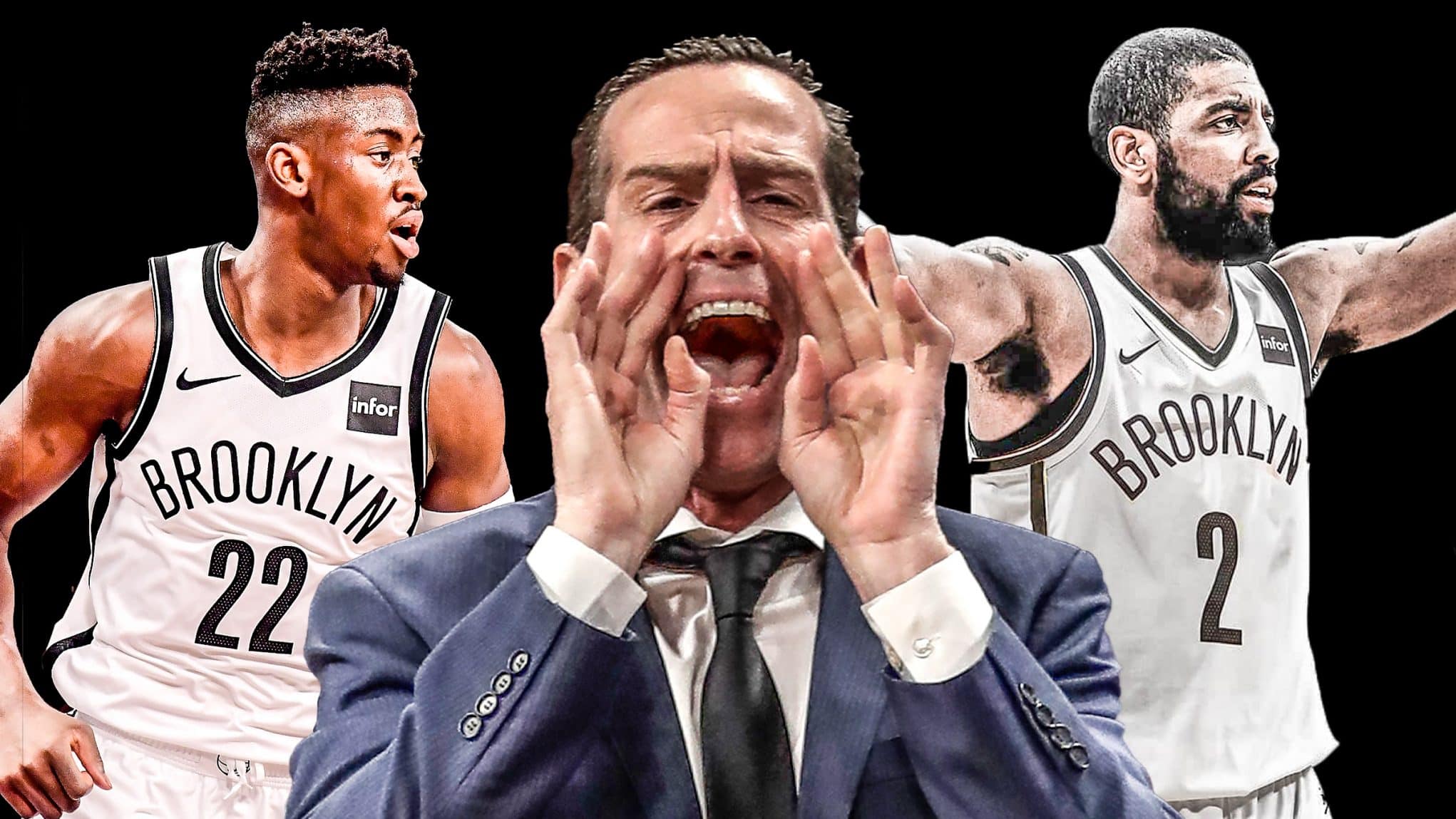 Offensive Transition:
This is another area that can decide the outcome of many games for the Nets but there are serious concerns here. Atkinson is not known for his defensive ingenuity. For the Nets to have any semblance of a fast break, they will have to be more active with their hands in passing lanes.
Creating turnovers this way can spark fast breaks but it remains to be seen if this will become a team-wide practice. They certainly have the personnel and length to implement this, but ultimately, this falls on Atkinson's defensive game planning.
Securing rebounds is another concern. Prince, Harris and LeVert must become better rebounders. With most NBA teams taking so many threes now, the Nets should be focusing on boxing out perimeter players and spying long rebounds. They can't rely on Allen and Jordan to be the only glass cleaners. For the Nets to be a fast break team they will need a five man effort on the boards and learn how to leak out and fill lanes properly.
Irving is a good rebounder for a guard, but while he is quick, he is not as fast end-to-end as most point guards in the league. This could put a damper on the Nets fast-break opportunities this season. Harris isn't that fast coast-to-coast either; however, he can be relied upon for spotting up on secondary break opportunities. Prince, LeVert, Allen and even Irving will have to secure rebounds and leak out with haste or else the Nets might find their offense frequently bogged down in half-court sets.
Even if the Nets can't generate many fast break opportunities they have so many options for their potential half-court sets they should still be a highly efficient offensive team this season. Adding a fast-break into the fold will just make them an even more potent offensive team.
Potential X-factor: Last but not certainly not least is the potential of Nicolas Claxton. Don't be surprised if he plays his way into the lineup eventually and contributes in a major way. He is basically a 7-foot, ambidextrous lefty with great footwork, ball-handling skills, and a high IQ. He can defend 4 positions and is extremely athletic. While slender of frame he can certainly rebound, run, finish and pass. Keep an eye on his learning curve and progression this season. His shot is still a work in progress but his mechanics are workable and fluid. It shouldn't be long before he is a competent shooter from range.
It will be exciting to see just what kind of offense the Nets will run this season but optimally the ideas mentioned above could be what a revamped balanced offense might look like for the Nets this season. Get hyped.