New York Red Bulls recently made the playoffs and here are the five players who helped them reach their goal the most.

There's an "x" now behind New York Red Bulls' name on Twitter. The fans won't get so irritated now if the team picks up an L in their last two games of the season. (Well, let's hope not.)
The players won't play with the weight of two bulls on their shoulders in those last two matches.
Head coach Chris Armas's hair might start growing again. Bosses, get ready for the Red Bull fans who work for you to request more days off.
Why all these?
The Red Bulls made the playoffs. There was a bit of doubt after the team lost three straight games and was sitting in the last playoff spot in mid-September.
But they're on a two-game winning run now and are in fifth place, two spots above the playoff line.
The Red Bulls' ticket to the playoffs was by far a team effort. 18 players scored, 20 players gave assists. Out of this impressive collective effort, some players did standout.
Let's take a look at the five bulls who pushed the most weight in The Metros' tenth consecutive post-season appearance.
5. Aaron Long
The California native did miss nine straight outings between May and July due to international duty and a muscle injury and hasn't quite been the MLS Defender of the Year he was last season yet still played a major role in New York's upcoming playoff appearance.
Long was on the field four out of the seven times RBNY held a clean sheet before they made the playoffs on Sept. 21.
The center-back is the top-scoring Red Bull defender with two goals and second top assist man with one goal-pass.
Long, as he did last season, is leading New York's defense not only with words but also by example. He anticipates the game well, has pace and plays physical.
4. Brian White
The Duke product has been a revelation this season. Not many would've predicted his name to be in the top contributors in New York making the playoffs but here he is.
White's name could've been higher on the list if he didn't miss the team's last six matches with an ankle injury. But he's still RBNY's second top scorer with nine goals in 18 games.
He's not just scoring to score, by the way; the 23-year-old notched three go-ahead goals in draws and one winner. To add to that, he also had a game-winning assist against F.C. Cincinnati.
Those contribution listed amounts up to nine points. Without those nine points, New York would've been in eighth place, which is below the playoff line.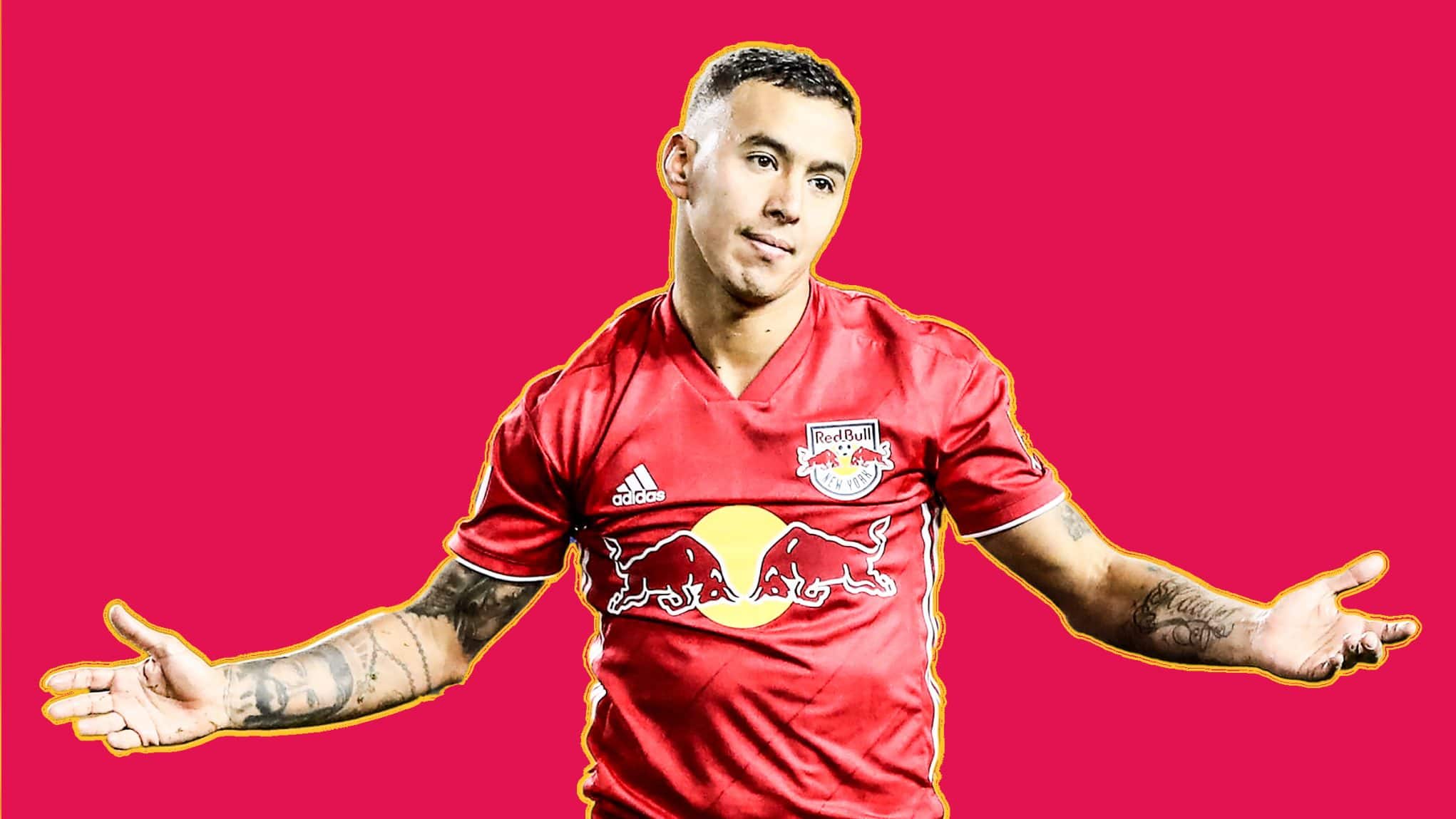 3. Kaku
Alejandro Romero Gamarra AKA Kaku. Beautiful name, ain't it? Kaku surely plays like the sound of his name.
But he hasn't just been an entertaining player for New York this year, he's been valuable as well.
The Red Bulls were on a two-match losing streak before their game versus D.C. United on Aug. 21. Kaku came through, he netted the opener of a 2-1 win.
He also scored the opener against Chicago Fire on June 28 in a 3-1 victory and against FCC on May 25.
As for his passing game, the South American racked one game-winning assist and one game-tying assist.
Kaku is the team's third top scorer with five goals and third top provider with six assists.
2. Luis Robles
New York conceded the eighth-most goals in the Eastern Conference hence it's a bit odd for their keeper to be the second-best contributor in their playoff spot.
Robles has legitimately been RBNY's second most valuable player.
Just picture him carrying a bucket full of Red Bull through Times Square's traffic and not trying to spill it.
That's exactly what he's been doing on the pitch for New York. The defenders were far from their best quite often.
Robles had to carry that bucket through their flaws. Did he spill any Red Bull? He definitely did but he kept the Red Bull in that bucket above the playoff line.
New York's defenders allowed eight shots on goal in their game against Chicago on June 28. The Arizona native notched seven saves to lead his side to a 3-1 win.
Again against Vancouver Whitecaps on May 22, the team let the Canadian side hit seven shots on frame. Robles tallied five saves to help RBNY draw the match, 2-2.
The Portland Pilots product is surely a keeper and captain who's had his teammates' back this season.
1. Daniel Royer
The Austrian leads the team in goals, scoring 11, and in assists, providing eight.
Royer netted two winners and three winning assists, which is equivalent to 25 points.
The Metros would've been second to last in the East it wasn't for the 29-year-old's match-winning performances.
Royer's most memorable game is of course when he scored a brace versus New York City F.C. to usher RBNY to a 2-1 victory.
He also converted a winning penalty kick against DC United, another one of New York's rivals.
DCU and NYCFC weren't the club's only rivals Royer struck against, he tallied a goal and an assist against Atlanta United as well in a 3-3 tie.
His name doesn't appear often in the headlines but there's no argument about it, Royer did the most on the pitch to help New York make the playoffs.