New York Giants rookie quarterback Daniel Jones is accepting of the 'Danny Dimes' nickname he's garnered since the preseason.
"Danny Dimes" has been a nickname this New York Giants fanbase has used for over a month now. Ever since rookie quarterback Daniel Jones showcased his talents in the preseason back in August, many were drawn to the accuracy and timing of his throws.
But now, the nickname is getting used even more. After his first start included four total touchdowns and a victory for Big Blue, the "Danny Dimes" monicker has gotten more of a use. It seems it's here to stay too, and Jones himself is accepting of that…sort of.
"Yeah, I've heard it a little bit more recently," said Jones when asked of the nickname, per Jordan Raanan of ESPN. "I don't know. It's all right, I guess. There could be worse nicknames."
He's right about that. It could definitely be worse. Nonetheless, it's not a horrible nickname and is certainly a nod towards his on-field play.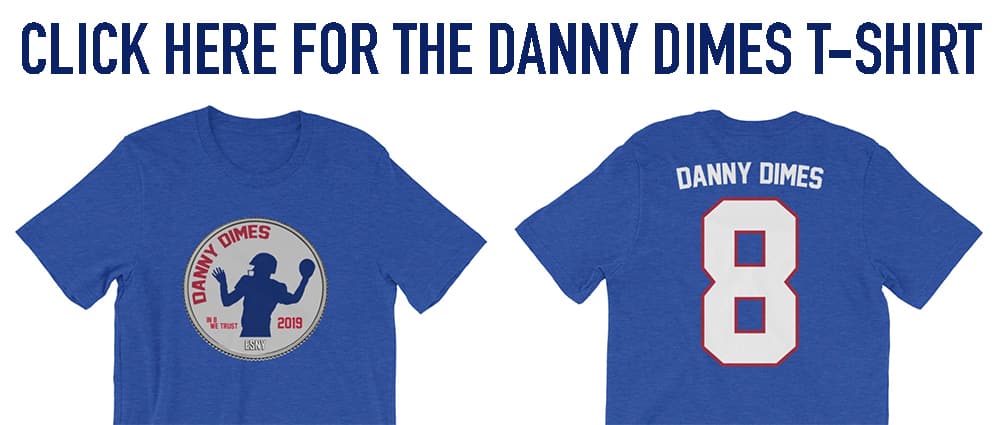 Rookie wide receiver Darius Slayton would agree with the latter of those statements.
"I've used it a couple (of) times myself," Slayton said. "It's an accurate description of him."
Jones went 23-for-36 for 336 yards and two touchdowns in New York's 32-31 win in Tampa Bay this past Sunday. He also carried the ball four times for 28 yards and two scores, including the go-ahead score in the final two minutes of the contest.
Is the nickname here to stay? Well, if he keeps at it like he has, it'll surely last.
Follow Ryan on TWITTER