The modern New York Jets need some help and guidance. They can find it from one of the most underrated groups in team history.

FOXBORO, MA—The walls of One Jets Drive are adorned with the images and likenesses of the ghosts of New York Jets past. There are plenty of names a team desperate for chemistry can look to. Obviously, instinct diverts hearts and minds to the famous 1969 squad, they of the impossible Super Bowl victory. But there are other teams sprinkled through the checkered, often star-crossed, history of Gang Green that players young and old can draw inspiration from.
Rookies and youngsters in need of a boost can look to the early antics of Ken O'Brien and Mark Sanchez. Rushers can go one more under the eternal watchful gaze of Curtis Martin, Freeman McNeil, and Matt Snell. Defenses have multiple sources, ranging from the blitzes of the New York Sack Exchange to the far reaches of Revis Island.
Then, there's the 1999 New York Jets.
That squad would be celebrating its 20th anniversary this season if ceremonies were held for teams that went 8-8. They're a team often seen as a disappointing follow-up to the AFC finalist squad from the year before, a team that ended Bill Parcells' Jets stanzas on a sour coda.
Yet, they're just the inspiration the modern Jets need right now.
That final mark of .500 would've been a respectable goal for this 2019 Jets team at full strength. Even if they had the services of the ill Sam Darnold, the suspended Chris Herndon or the injured Avery Williamson, C.J. Mosley, and Quinnen Williams, this Jets team was perhaps limited to an 8-8/9-7 destiny. There wouldn't be a thing wrong with that. 2019 was never meant to be a year of Super Bowl contention. Rather, it could serve as a time for the Jets to clear their throats, get a few gusts of wind in before the storm fully hit.
Instead, anything that's could've gone wrong for the 2019 Jets has more or less come to pass. Sam Darnold was lost, not to an on-field injury, but to mononucleosis. Mosley took over the team's Week 1 tilt against Buffalo, but things have completely fallen apart, including that Bills game, since Mosley had to leave with an injury. First-round pick Quinnen Williams is likewise medically sidelined, while Chris Herndon and Brandon Copeland were suspended for the year's first quarter.
This is where the 1999 squad comes in so handy to the team's aspiring historians.
Funnily enough, the goal of the older squad couldn't be more different. The concept seems almost ludicrous when one recalls the cynicism of the modern Jet fans, but that year began with Super Bowl expectations after falling one game of a visit in 1998.
Two different goals have taken far too similar, far too ugly paths. In a sign of things to come in the new century, the 1999 Jets opened with a literally painful loss to the New England Patriots at home. The franchise quarterback was indeed lost in the early stages, with Vinny Testaverde falling victim to a ruptured Achilles tendon. Promising young rusher Leon Johnson was lost in the same game.
With a pair of key pieces gone and others going missing throughout the year, Super Bowl dreams turned into new millennium nightmares. The team began the year 1-6, with the second defeat being a prime time Sunday loss in Buffalo that saw the Jets gain a mere 190 yards.
That team had every right to give up, to call off the dogs, to cringe and make excuses. Instead, they went on to pull off one of the more memorable stretches in recent Jets history. There are lessons abound this team can take.
The 1999 Jets finished the year on an astonishing 7-2 mark. A majority of the wins coincided with the departure of quarterback Rick Mirer, giving way to the inexperienced third man Ray Lucas.
Lucas was a local legend, making his mark on New Jersey's amateur football levels. His name didn't appear on the 1996 NFL Draft board after starring at Harrison High School and Rutgers.
Upon his NFL entry, Lucas accomplished perhaps an NFL improbability: he gained the respect and favor of the notorious perfectionist Bill Parcells. Lucas joined the NFL in 1996 by Parcells's Patriots and followed him to New York when Parcells took the reins the ensuing year. After Testaverde's injury and Mirer's inefficiency, Parcells turned to Lucas full time to wrap up the season.
Lucas would do anything but play out the stretch. During the Jets' 6-2 trek in the second half, Lucas threw for 1,541 yards and 13 touchdowns. He saved his best for last in the form of three fourth-quarter comebacks against playoff teams from Miami (twice) and Dallas.
The late surge was a shock to many in the New York area, but least of all Parcells.
"There was a time with Parcells when we were 1-6 and he said, 'I'm putting this kid in. I don't care if we lose every game.' And we found a way to win some games," Lucas, now an SNY Jets analyst, said in a 2017 interview with WFAN. Further commenting on the attitude his Jets squad had, he remarked in the discussion something that any football player, New Yorker or elsewhere, can undoubtedly get on board with.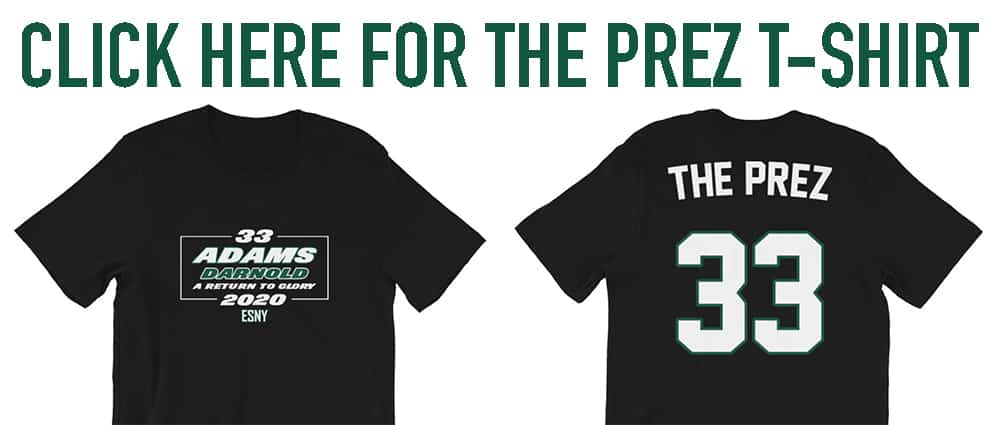 "Football players are a little crazy anyway to start out with. But when we get on that field, if there's somebody with a different color jersey, we just want to kill them. We just want to come out with the victory."
Twenty years later, the more things change, the more they stay the same. The depleted, undermanned Jets now sit at 0-3 after a brutal loss to familiar foes in New England. These two squads even share the common line of getting walloped in prime time. Back then, it was a 17-3 loss to the Buffalo, while last Monday provided a 23-3 defeat to the Cleveland Browns.
The modern Jets are mercifully offered a reprieve, a recharge, in the form of a Week 4 bye. It's during this period, which will be anything but inactive, that the Jets decide whether they want to cringe and make excuses or buckle down for the long run, prove doubters and improbabilities wrong.
It's obvious which choice the 1999 squad made. Parcells would go on to call that year his greatest coaching accomplishment, even if it came with the traditional Tuna bite he was famous for.
"(1999) wasn't any monumental success or anything," Parcells told NJ.com in 2013. "But I think most coaches will tell you when you start 1-6, it's tough to maintain the things that you need to be successful."
While Parcells doesn't see as monumental, that's what a 1999-style run could be for Adam Gase. He's going to be the name associated with the formative years of the Darnold era. Gase and company need to get this right. Emulating that squad from the end of the old century could provide the spark that starts to burn New England's AFC East monopoly down.
If the lucrative remakes of Aladdin and The Lion King are any indication, the loveable 1990s are making a comeback. Should it happen in New York, playoffs are still no guarantee. But there would be no better first step, no better return to relevance, than channeling one of the most determined and resilient squads in team history.
Follow Geoff Magliocchetti on TWITTER