We are entering a new era of New York Giants football, and it brings a newfound feeling of confidence to the organization and their fans.
In some minds, last Tuesday didn't begin a new era of for New York Giants fans. That was the day head coach Pat Shurmur ultimately made the switch to Daniel Jones at quarterback.
Some weren't ready to believe it was the true beginning of the "Daniel Jones era." That includes me. I, along with some others, felt as if Eli Manning would start again at some point for the Giants. That, in some way, shape, or form, he would play again for Big Blue.
I called upon the notion that, hypothetically, what if Jones went in one game and threw three picks by, say, the third quarter? Do the coaches then turn around and say, "Hey, our backup is getting paid $23 million this year; why don't we see what he could do?"
Eli thus goes in, plays well (again, hypothetically), and wins the game for the Giants. Then what? Does Manning or Jones start the following game after that?
For some, the Jones era wasn't set in stone to begin. There were still so many questions to answer about this team.
However, that was Tuesday of last week. Now, it's Tuesday of this week, two days removed from the Giants' 32-31 win over the Tampa Bay Buccanneers. Two days removed from Jones' 23-for-36 performance for 336 yards and two touchdowns. Not to mention, Jones had four carries for an additional 28 rushing yards and two touchdowns. The last of his rushing scores happened to be the game-winner with over a minute to go in regulation.
Now, one week removed from the quarterback switch, a lot of minds have changed about this new era of Giants football. It's now starting to feel like this is actually Jones' team.
It's not just because of the win. Nor because the Giants have finally won a game since Week 14 of 2018 when they defeated the Redskins 40-16. For the first time in what feels like a few years, there's finally some excitement around this team. There's finally confidence within the organization and fanbase that seems like it could completely flip the narrative of this season around.
This was the first time in a while where New York sports radio hosts were excited to talk about the Giants coming into the studio on Monday morning. The first time in a while that kids who are Giants fans were excited to go to school and talk smack to the New York Jets fans of their classes.
This wasn't just some regular old win. Not just a "hey you beat a Jameis Winston-led Bucs team, big whoop." I'll go as far to say that this was the most important win for the Giants organization since defeating the Cowboys 10-7 on Week 14 of the 2016 season.
The 18-point comeback in the second half was the most impressive thing this organization has accomplished since the 2016 playoff season. Think about that. Since that seasons, the Giants have put together two whole seasons with eight wins and 24 losses.
If the Giants lose that game in Tampa Bay, it's back to the drawing board. It's back to trying to assess whether or not Manning was the problem. Back to the depressed fans and writers every Monday morning, with the impending "here we go again" mentalities.
However, that's not what happened. The Giants had a quarterback that showed how much he could do on the field, and how much inspiration he could give to this organization even as a rookie. He showed he was the right pick at No. 6 overall. And now, newfound confidence has established itself within this team heading into Week 4 against Washington.
People are actually talking about the Giants having a string of winnable games and how it's not a "checkmark" win for other teams when they face Big Blue. All because of one rookie quarterback who did it all on Sunday.
Ladies and gentlemen, I'm finally going to say it. Welcome to a new era of Giants football. I'm excited, as everyone should be.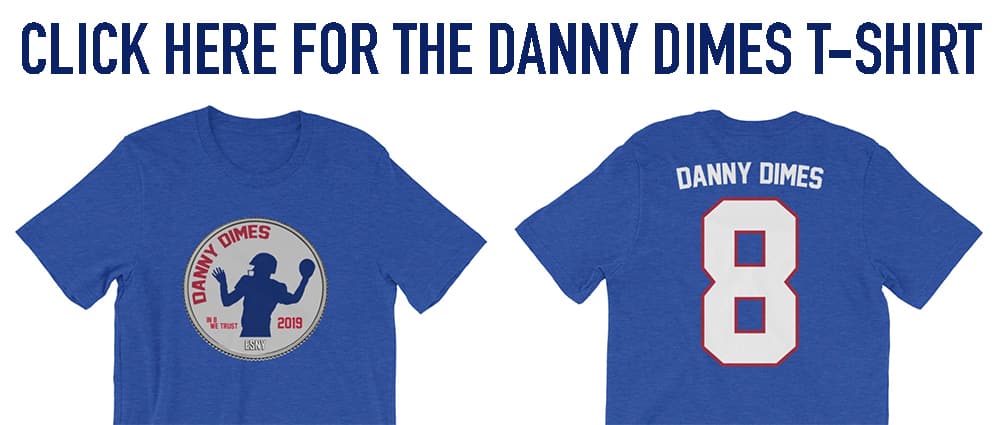 Follow Ryan on TWITTER