The next man up in the wake of tough quarterback news, New York Jets thrower Trevor Siemian has had his share of football heroics.
Sans Sam, the New York Jets are setting their sights on Siemian.
In the wake of Sam Darnold's mononucleosis diagnosis, Trevor Siemian will start at quarterback for the foreseeable future. His green debut will come on Monday night against the Cleveland Browns (8:15 p.m. ET, ESPN).
Not too long ago, Siemian was the present and future for the Denver Broncos. A seventh-round pick (250th overall) in 2015, Siemian was the first man to take snaps at Mile High since Peyton Manning's retirement. A strong start wound up giving way to inconsistency, but Siemian still managed to shape a respectable statline considering his final round status. He would earn a 13-11 tally over two seasons as a starter, throwing 30 touchdown passes.
Obviously, Siemian isn't the perfect quarterback the Jets want and need in this crucial season, but the 27-year-old has had his moments that should put Jets fans at ease, if only by a mere octave.
9/8/16: Super Siemian
Denver's follow-up to their Super Bowl 50 victory began with a familiar outcome: a win over the Carolina Panthers. Making his first career start, Siemian mostly struggled against a revenge-seeking visitor. Late in the third quarter, Denver trailed 17-7 and Siemian only tallied 111 yards. Two fateful drives allowed him to seal his questionable grasp on the starting job.
The first one ended the third and extended into the fourth. He would go 6-for-6 for 57 yards on the trek, which also included an 11-yard dash for the first down. The drive ended with his first career touchdown pass, a 25-yard hookup with CJ Anderson. He had some help on the eventual winning trek, mostly in the form of a Chris Harris interception, but eventually led Denver to the end zone to secure a 21-20 win.
9/25/16: Taming the Bengals
Siemian's first two starts came with mostly pedestrian numbers (444 yards, 1 touchdown). But a visit to the defending AFC North champions was the first sign he could create a sizable NFL career.
Early in the fourth quarter, Siemian was once again dealing with a late deficit at 17-16. He would go on to lead a 13-play, 83-yard drive that gave the Broncos the lead for good. All but two of the yards came from the hand of Siemian, capped off by a one-yard touchdown pass to John Phillips. The attempted two-pointer went for naught, but Siemian helped put the game away with a 55-yard touchdown pass to fellow current Jet Demaryius Thomas. It was his fourth score of the afternoon, one of two times in his Denver career he'd reach a quartet.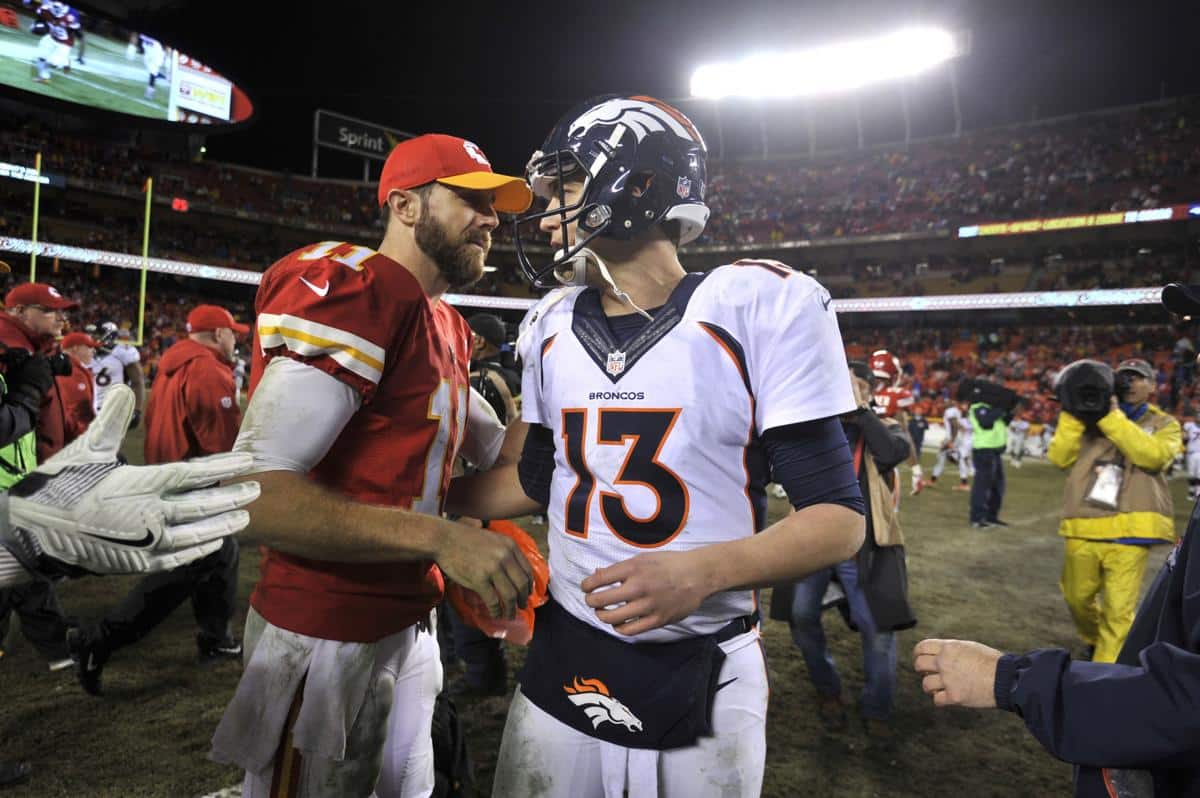 11/27/16: Missed It By THAT Much
The Denver Super Bowl defense eventually fell, as they wound up missing out on the 2016 playoffs. It wasn't for lack of trying of Siemian's part.
Siemian's top two passing efforts, if ranked solely by passing yardage, have come in Sunday Night Football showdowns. The runner-up in that list was a back-and-forth thriller against the Kansas City Chiefs, one that indirectly decided the AFC West. Siemian did his part with 368 and three touchdowns, including a 76-yard hookup with Bennie Fowler that gave Denver a 24-16 lead with three minutes to go. Unfortunately, the vaunted Denver defense failed to make further stops, and the Chiefs prevailed in a 27-24 overtime final. The Broncos nearly escaped with a tie, but Cairo Santos' clanked a field goal across the posts as time expired.
9/17/17: Dallas Destruction
If Darnold is truly out for an extended period, it's possible Siemian will play the Jets' October 13 showdown against the Dallas Cowboys. A matchup against Dak Prescott and Ezekiel Elliott may sound dangerous, but Siemian made easy work of American's Team in a 2017 showdown.
Siemian would reach four touchdowns for the second time in his career, helping the Broncos build a lead that inflated to as high as 25. With the game knotted at 7-7 in the latter stages of the first half, two quick Siemian scores helped Denver build a two-possession lead going into the locker room. The Broncos would eventually triumph by a 42-17 margin.