Carli Lloyd's football excursion has reached a fever pitch. Stepping in as the New York Jets' kicker could be the ending her story deserves.

To interrupt Hollywood's regurgitation of sequels and reboots, one could do far worse than commissioning a Carli Lloyd biopic. They better hurry, though, because reality may be ready to write the perfect ending.
If Lloyd suddenly retired from professional sports tomorrow, her status and legacy as one of the most accomplished American athletes of the 21st century would be well secure. Lloyd, 37, has been a part of the country's victorious women's soccer team, one that has earned a pair of FIFA World Cups and Olympic golds each under her watch. Before most 2015 World Cup Final viewing parties brought out their wings, Lloyd was making soccer history. A hat trick earned just 16 minutes into the game built the impenetrable foundation of a 5-2 victory over Japan. Lloyd's trio marked just the second time a World Cup's championship decider featured a hat trick.
In other words, we know Lloyd can kick in the clutch. It's what makes her budding football endeavor all the more interesting.
Rather than reveling in the Americans' latest international title, Lloyd has turned into the most talked-about casualty of the NFL's cut down to 54 players, despite never appearing on any of the 32 squads' listings. Lloyd has, however, impressed through a video during her appearance at a joint practice between the Baltimore Ravens and Philadelphia Eagles. With assistance from Ravens punter/holder Sam Koch, Lloyd perfectly struck a 55-yard field goal with apparent room to spare.
Set aside the argument about a woman competing in a professional football setting. If Lloyd wants to open herself to the risks that come with football, that choice is up to her. With several teams reportedly engaging in "pretty serious" discussions with her, Lloyd seems more than willing to subject herself to an NFL workload.
"I know that there are some challenges involved with this and I know that there's probably some players and people and everybody around the globe thinking this is the craziest thing," Lloyd said to Lindsay Rhodes on a Wednesday episode of NFL Total Access. "But then I also see it from the one perspective of maybe this is kind of something that's going to break down some barriers and give people, women especially, the confidence to know that maybe they can be a part of any NFL team as a kicker."
"I mean, I'm not trying to be a running back or a quarterback, that would be an epic fail," she continued. "But I do know that I could kick a ball pretty well and I pride myself in my technique and really it's all about getting it up and over. I know that there are loads of people that are saying, you know, big men coming at you. I don't know. I'd have to seriously go out to the field. Helmet, pads, two-step, really get the technique down, really practice it and then kind of see from there if it's possible."
All that's really left is a true chance for her to prove she can do it on a consistent basis. It's a shame the preseason has ended, denying Lloyd a chance to showcase her talents in an in-game setting. Scheduling was a villain in more ways than one. Lloyd was indeed on-site at an NFL stadium, but partaking in her more traditional brand of football. Ironically, she scored the third goal at Philadelphia's Lincoln Financial Field in the United States' 4-0 win over Portugal in a friendly.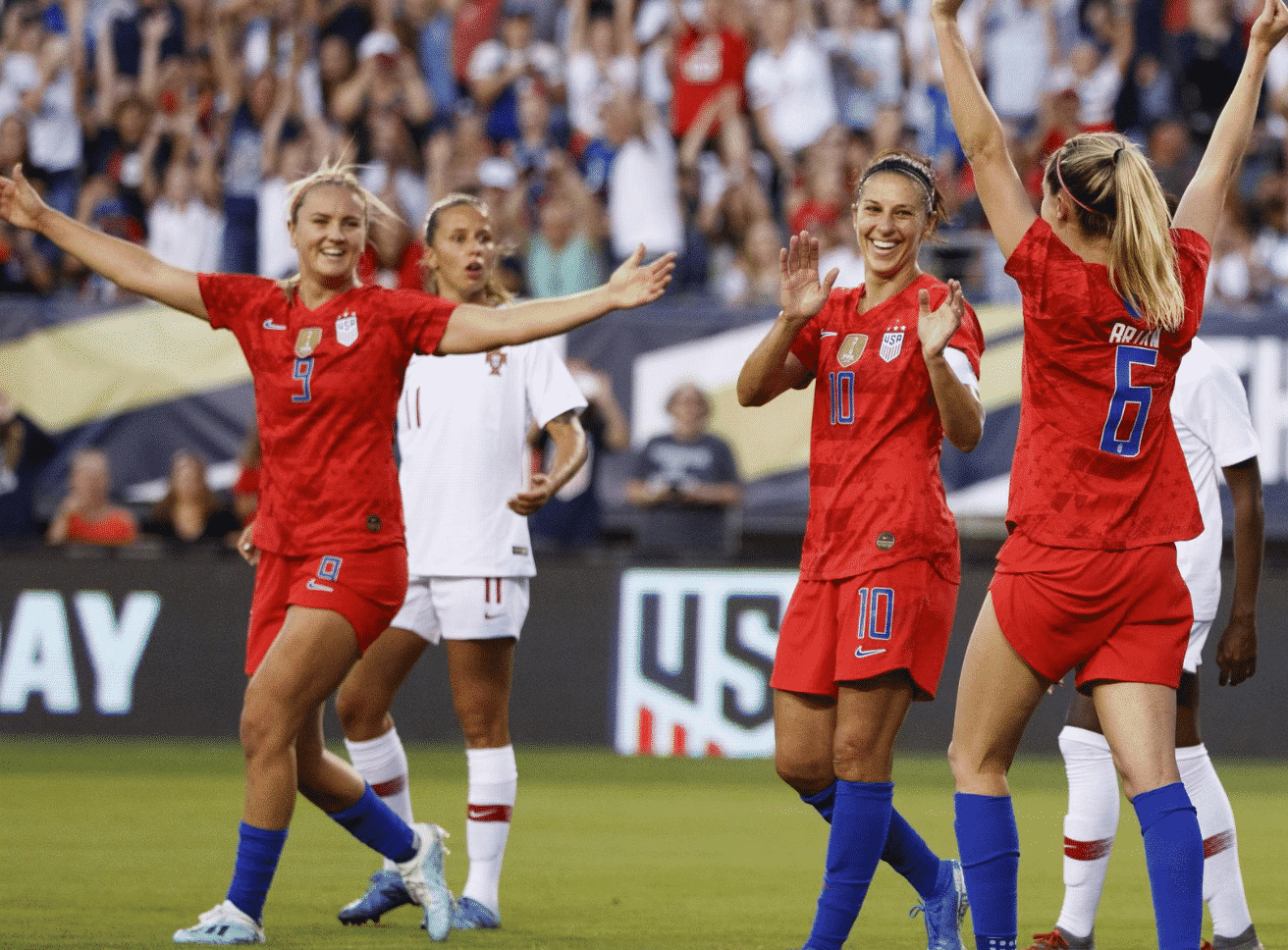 What this exhibition slate did prove is that there's room for her in this league. The current state of affairs of kicking also shows that Lloyd and her talents at least deserve a chance.
Lloyd's 55-yard boot would match or top the season-long of 18 kickers with at least 20 attempts last year. Numerous teams suffered issues with their kicking over the summer. For example, "double-doink" has rivaled "Super Bowl Shuffle" in terms of essentialness to the Chicago Bears glossary. Chicago wound up turning to the services of first-year man Eddy Pineiro for their Thursday opener. Who knows what sort of podiatry diety the Minnesota Vikings angered, but kicking calamities have defined their cursed history. Gary Anderson and Blair Walsh are forever remembered for their memorable misses. Even the god of accuracy, Dan Bailey, has struggled in the North Star State.
Even the surefire tradition of the extra point has become a bit of an adventure. The single tally was moved back to the 15-yard-line in 2015. Each of the four subsequent seasons has ranked in the bottom quartet of conversion percentage in the Super Bowl era.
That brings us to the New York Jets.
The Jets are at a potential turning point on their franchise timeline. A team that has endured so many false prophets at quarterback finally has a young thrower that has the skillset and potential to be a long-lasting force in this league. No individual has ever won the Super Bowl, only teams. Thus, the Jets have gotten to work in providing Sam Darnold with the necessary assistance.
Forward steps have been made in that quest with the arrivals of elite talents like Le'Veon Bell and Ryan Kalil. Visible progress, however, doesn't mean the process is complete. The Jets' offense still has the makings of a group that's going to sputter at times. Having a good field goal kicker is more crucial than ever for this team.
Last season was an early indication of that reliance on special teams. 2018 kicker Jason Myers' 36 attempts were good for a fourth-place tie with Brett Maher of Dallas. Thirty-three extra-point attempts were further down the rankings, trapped in a tie for 12th.
In other words, the Jets need a reliable kicker. They're an ideal,  attractive, and viable option for the confident Lloyd.
Familiar faces Chandler Catanzaro and Taylor Bertolet failed to fill the void this preseason, forcing the Jets to turn to the waiver wire. Kaare Vedvik is the latest to try and fill the void. A Norweigan-born second-year man, Vedvik did well in two seasons as Justin Tucker's summer stand-in with the Baltimore Ravens. The Vikings were so impressed they dealt a fifth-round pick to bring him in.
Specialist magic failed to follow him from Baltimore. Vedvik was perfect on five extra points, but made just one of four attempts for three. The lone conversion came from 27 yards out.
Doesn't Lloyd deserve at least an opportunity to prove she can match or better those ranks?
Put the perfection of a New Jersey-based ending for the Rutgers alumna aside for the moment. Lloyd fills a need the Jets desperately need. Myers made the best of the Jets' situation by converting 33 of the aforementioned attempts. He was rewarded with a Pro Bowl nomination for his efforts, but the Jets let him walk to Seattle this offseason. The Jets' offense is poised to be a group capable of great things yet suspect to growing pains. Having the safety net of reliable kicker would relieve a lot of tension in a season full of stress. It could be the difference between playing meaningful games in December and a lost holiday season.
The preseason's conclusion perhaps nixes any chance of a formal tryout, Lloyd's necessity would help the Jets avoid accusations of her addition being a gimmick. Such claims, likely coming from legions of Neanderthal washouts who'd struggle to kick the ball 55 centimeters, would probably be made anyway, but it's a situation the Jets have been in before and would like to avoid.
It was a gimmick addition that partially landed the Jets in their current postseason-free predicament. Two months after the Jets played what became their most recent playoff game, the team added polarizing quarterback Tim Tebow. The addition of Tebow, relatively effective yet undoubtedly unconventional in Denver, immediately opened a quarterback controversy that no one needed. Mark Sanchez, more of a traditional passer, was on thin ice despite a pair of AFC Championship Game visits in his first two years.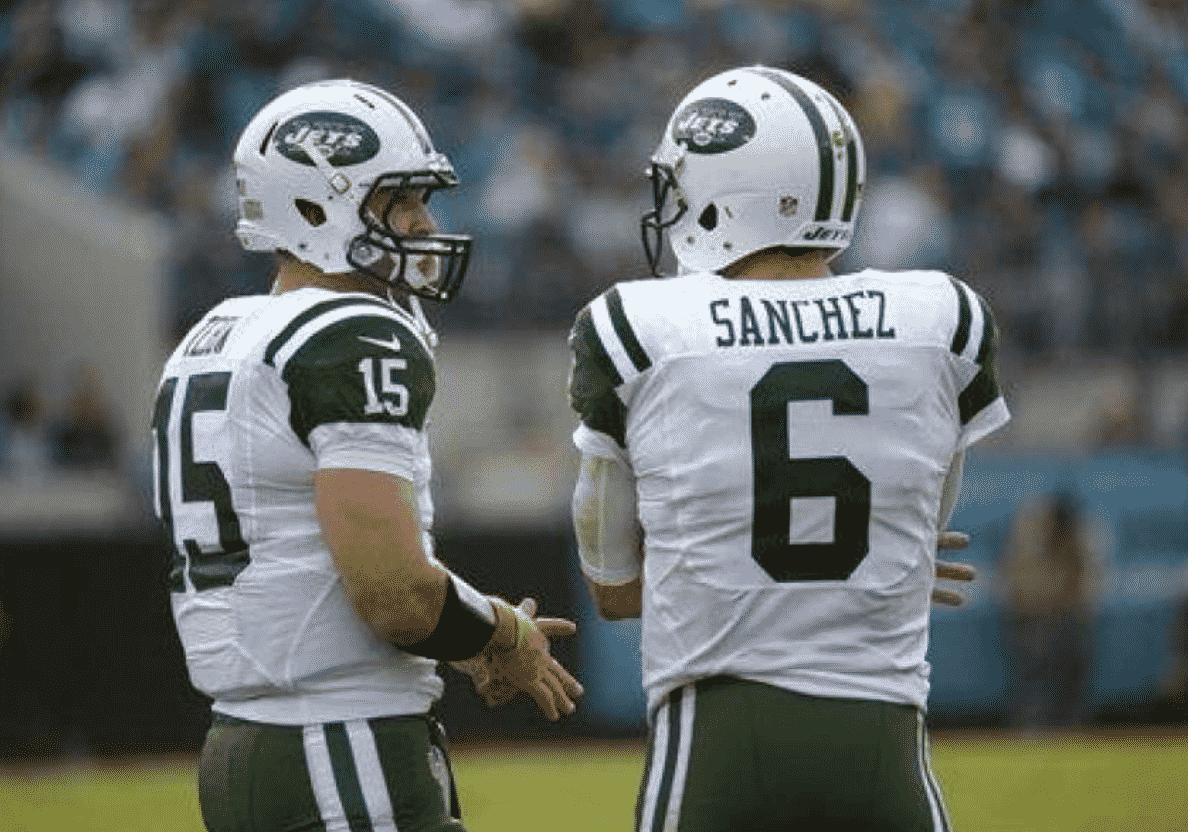 Criticisms of Sanchez weren't completely unjustified after a 70.2 passer rating over his first two seasons. But the arrival of Tebow and the media frenzy he inadvertently brought with him also gave rise to constant, unnecessary questions over whether he could take over the starting job. Further consternation came from a management group, both in the front office and on the field, on how to use Tebow turned the experiment into a fiasco. The Jets haven't sniffed the playoffs since it ended. Tebow has yet to play another NFL regular-season down. The Lloyd necessity provides the perfect chance for the Jets to prove they've learned their lesson.
The lack of in-game pressure opportunities will probably delay a potential Lloyd arrival to 2020 at the earliest. But the fact we're even talking about this just shows how great and impactful of an athlete she is. Lloyd has made her name on countless New Jersey football teams: Rutgers, the South Jersey Banshees, Sky Blue FC.
A trip with the Jets would be a perfect cinematic ending. Lloyd and the Jets, however, would be more than happy to benefit from the real-life impact. Lloyd would continue her role of athletic trailblazing. The Jets can take realistic close steps to a goal five decades in the making.
If and when an opportunity presents itself…one that Lloyd and her talents have done nothing to dissuade…there's no telling how high this unlikely Jersey pair could fly.
Follow Geoff Magliocchetti on TWITTER