Granted an extended opportunity on Friday, New York Liberty rookie Han Xu was grateful and determined to do more in postgame reflection.

By remaining on the New York Liberty's active roster in September, Han Xu has already enjoyed a longer WNBA journey than so many other second-round picks. But the New York rookie knows there's so much more to check off her American basketball checklist.
The 19-year-old Han has struggled to find a consistent spot in the New York lineup, but finally found some traction in the unit during Friday's tilt against the Connecticut Sun. New York's young unit is eliminated from WNBA playoff contention, but the group put up a valiant effort against the postseason-bound Sun. Han's first extended minutes provided one of the brightest silver linings.
Han set several new career-highs in the 94-84 defeat. In 18 minutes. she reached 12 points, half of which came from a pair of three-pointers. Normally inserted when the game is out of hand, Han would play the entire fourth quarter in a contest where the victory was in reach.
New York head coach Katie Smith was pleased with the China-born rookie's showing.
"Overall, she knows how to play, I've always said it. She knows the game. She's smart on both ends," Smith said. "Just boxing out, certain physicality on some players. But I thought, overall, (she was) very comfortable defensive and offensively."
The 6-foot-9 teenage transplant was the WNBA's first Chinese draft selection since 1997's inaugural edition (Zheng Haixia) and first player from the country overall since 2009 (Chen Nan). She's taken this season in stride with humility and passion.
A strong supporting cast has been on hand to help her out. Smith remarked earlier last week that "I think our team, in general, has a nice job of making sure we include her off the floor". For example, Han has formed a strong relationship with fellow interior woman Amanda Zahui B. The pair often partakes in an end-of-practice tradition labeled "#ThankYouByeBye" in which they bounce pass a ball into the rack to wrap their workout up.
With reporters surrounding her locker after her big night, Han's translator wasn't available, but she showcased her improved grasp of English on her own. Fellow rookie and locker neighbor Asia Durr provided assistance through simplifying questions.
"I'm feeling excited. I haven't calmed down yet," Han said with a smile. "I think I played good today, but I played bad today (as well)."
To her latter point, Han wasn't willing to call her night perfect. She shot 5-of-14 from the field and earned only one rebound. Putting rookie adrenaline and ego aside, Han flat out admitted she was displeased with the game's flaws.
"(My) rebounding is super bad. I need to be smart to get a rebound," she admitted. "And, you know, I shoot a lot, but miss a lot of times. I need to make it."
Han's flaws were of no matter to an adoring public at Westchester County Center.
She has been a fan favorite since she took the floor in Brooklyn back in May. Against her former comrades from the Chinese national team, Han matched Kia Nurse with 19 points at Barclays Center. The Liberty rolled to an 89-71 at Barclays Center, unofficially opening a new era of New York basketball.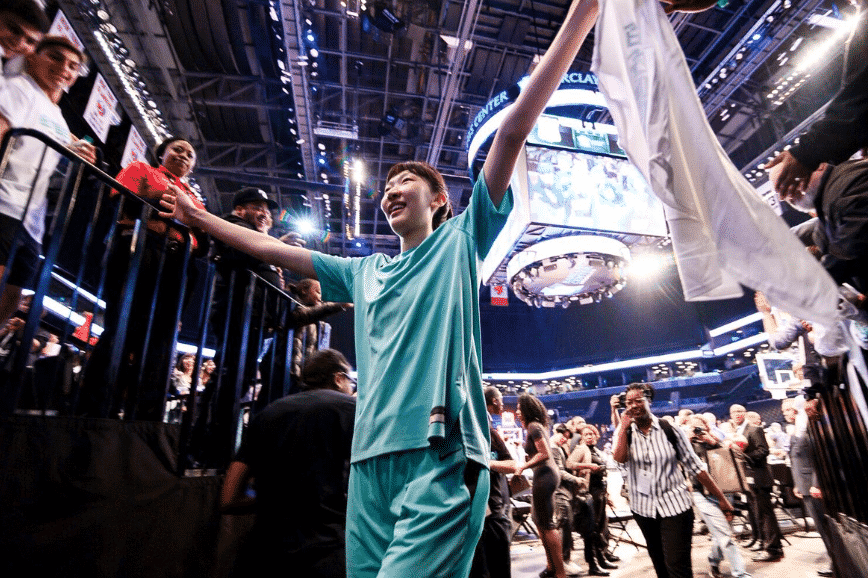 Han mentioned earlier this summer that she was surprised at the crowd's adoration. Her incredulousness was gone by Friday night, as she was grateful for the kind words from the White Plains ensemble.
"Thank you. Thanks, everybody," she said. "I keep learning. I won't give up so I can play better."
Two special fans were on hand behind the basket. Han's parents,  mainstays for the month in the WCC seats, took in their final game of an August visit to America. Han mentioned they were departing for home the next day, but she was very pleased to have a strong effort in front of them.
The Liberty may be eliminated, but there's plenty to play for in the form of 2020 momentum. New York could well re-establish their city status, as there is a real possibility they could make Barclays Center their new full-time home.
Either way, Han won't be backing down from a challenge.
The rookie's resiliency was perhaps best on display after a tough New York loss to the mighty Las Vegas Aces. Superstar prescience Liz Cambage worked her magic in building a massive Las Vegas lead, earning a double-double by the time Han entered the game in the third quarter.
Cambage had 21 points in the game. None came in the three minutes she was shadowed by Han.
"As a rookie, I'm not afraid of anything. Doesn't matter how big Cambage is."
"I'm tall, too."
Follow Geoff Magliocchetti on TWITTER