Whether you're a fan, coach or teammate, it'll be patience that ultimately makes or breaks the career of New York Giants quarterback Daniel Jones.
"Eli's our starter and we're getting Daniel Jones ready to play."
Many New York Giants fans have trouble fathoming this recent quote from head coach Pat Shurmur. They've seen Jones in three preseason games and want him to be the Week 1 starter vs the Dallas Cowboys.
One perfect 5-for-5 drive in his first NFL action, going 67 yards vs. the rival Jets, ending with a touchdown pass before the rain ended his debut at MetLife Stadium, and "let's give him the keys to the franchise" narrative has taken hold.
Two months ago, he was the no-name quarterback from Duke you never saw play, and it was a national disgrace that he was picked No. 6 overall. Ohio State quarterback Dwayne Haskins was still on the board. The Giants took Saquon Barkley over Sam Darnold last year, too.
Skeptics and question marks popped up in rapid fashion.
Suddenly, just three preseason games later, everybody wants him to start? To be the franchise QB in New York as a rookie? For a team that has made the playoffs just once in the last seven years. A record of 8-24 over the last two years? Taking over for the greatest Giants gunslinger of all-time?
It's absurd. It's laughable. But it's not surprising. It's the society we live in today.
Nobody wants to wait for anything. We consume news on a second by second basis. Anything you want to watch, you can get it right on your phone instantaneously, whether it happened right next to you or 10,000 miles away.
Franchise QBs don't grow on trees. They also don't develop overnight. Patrick Mahomes is the exception to the rule. He isn't the standard. Fifty bleeping touchdowns and 5,000 passing yards in his first season as a starter? The kid is unreal.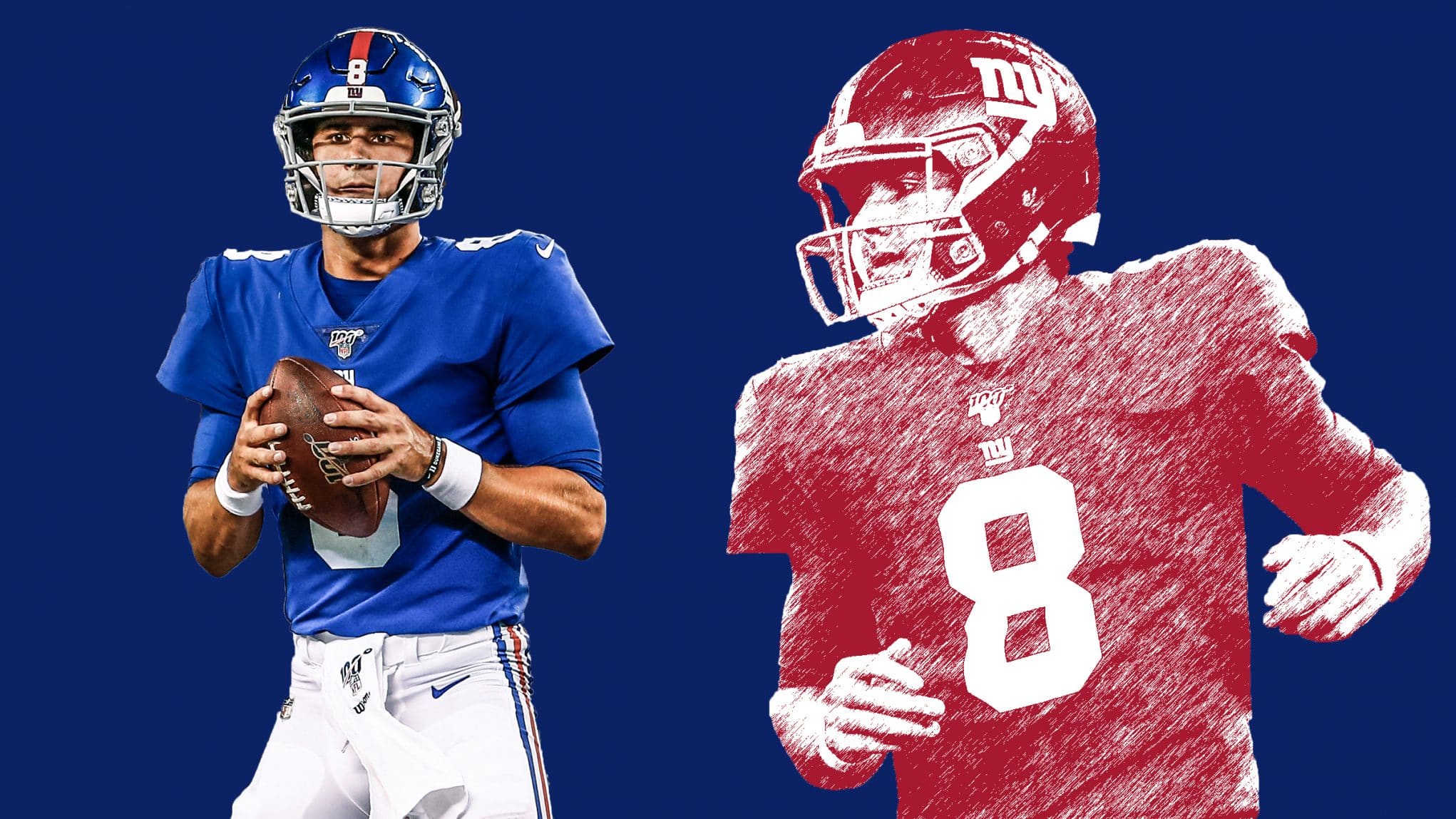 Ask Aaron Rodgers, Steve Young and Tom Brady about waiting. Patience worked out just fine for them. Oh yeah, ask Mahomes about sitting out a sole campaign as well.
Jones's stat line through the first three preseason games is impressive: 25/30, 369 yards, two touchdowns and no interceptions with a passer rating of 140.1.
He'll start the final preseason game versus the Patriots Thursday.
He's looked great. Confident. Calm. As cool as the other side of the pillow (shoutout Stuart Scott, R.I.P.). Composed. But that means nothing about his future in this league.
Preseason football defenses aren't just basic, they are vanilla. Really vanilla. Real football is a different animal. It's consistency over 10-15 years. Reading zone coverages and blitz packages. Throws in tight windows. Down by four. Two minutes to go. Ball at your own 20. Go win me this football game. The whole nine yards.
Plus, the sample size isn't enough. I don't want the doctor who graduated from medical school two weeks ago to perform my open heart surgery. I'm putting my life in the hands of the guy who's done it for decades and has been honored for his work.
Daniel Jones has played in three preseason games. I'm taking the two-time Super Bowl MVP who's beat Tom Brady twice and done it for 15 years.
Jones, right now, is Bitcoin and Cryptocurrency. A whole lot of hype and semi-delusional excitement but what about the long term future? Neither is a sure thing. Jones's potential is through the roof. I'm just not rushing and throwing him into the fire. Yet.
Relax. Have some patience. Let Jones be ready. Then take the throne from Eli.
Manning is a two-time Super Bowl champion. The Giants all-time franchise leader in touchdowns, passing yards, completions, completion percentage, etc. He deserves one final run with Big Blue, especially to prove he's got something left. Fans have every right to think he doesn't. He hasn't proven otherwise.
If he hadn't won those rings, he'd be doing ESPN+ specials with Peyton rather than still playing.
If the Giants are 1-5 and it's the same ole inconsistent Eli we've seen since the Giants held up the trophy once Super Bowl 46 concluded, pull the plug and see what Jones is. Then, and only then, should we all find out if Pat Shurmur and Dave Gettleman were right.
But to do it in September does no good for anyone. If Jones struggles, the team risks ruining his confidence altogether. They'd risk media and fans destroying him even further (if it's even possible), just as they did on draft night. It's not worth it.
We order our food on an iPhone app so we don't have to talk to anyone and can pick it up right now. Amazon is developing droids to deliver your packages to your backyard. Sports highlights get posted to Twitter the second they happen.
I understand no one wants to wait for anything. Giants fans wanting to see what Daniel Jones can do is no exception. But please, there's a time and place for this. "Good things come to those who wait" is the old saying.
Week 1 versus the Cowboys at Jerry's World on Sept. 8 is not it. Trust me. My DMs will be open for your thank you's later.