With Week 1 of the 2019 NFL season nearing, this New York Jets team is coming into focus, and Sam Darnold is rising up the rankings.

FLORHAM PARK, NJ—Sam Darnold looks good. The kid has been nearly flawless. The sophomore franchise quarterback has taken his rightful place atop the New York Jets foodchain during the Summer of 2019.
This is the exact narrative so loosely and carelessly thrown around the football world for the last month-and-change as young Darnold impresses the beat in Florham Park.
Be careful.
While it's self-evident the righty gunslinger is the right man to assume face-of-the-franchise duties, incredible questions still remain. For that, No. 14 still has work to do via the Jets player power rankings.
1. Jamal Adams, SS
It's not even close; Jamal Adams is the best Jet by a mile. In fact, he's the best safety in the NFL.
From robber to edge, deep-half to linebacker, the man can do it all. Gregg Williams will enjoy playing with this man's role over the course of 17 weeks. Look for Adams to increase his sack total from a year ago, helping a unit that's dreadfully weak on the outside as it pertains to pinning its ears back and capturing the quarterback.
2. Le'Veon Bell, RB
Who needs a stinking preseason? Not Le'Veon Bell.
It's as clear as day that Bell is the second-most talented player on the football field. Whether that translates into production remains to be seen. A running back's production in this big-boy land of football is greatly dependent on the five-man unit in front of him.
The entire month of September will serve as a "getting to know you" process between the O-line and the All-Pro back, especially when Adam Gase dials up the longer-developing stuff Bell prefers (draws, counters, misdirections, etc.)
3. C.J. Mosley, ILB
C.J. Mosley is the last man standing. With Avery Williamson shelved for the season, Mosley is the definite horse on the second level and boasts the skills to get it done.
4. Leonard Williams, DL
It oftentimes gets lost just how good Leonard Williams is. It's not his fault Mike Maccagnan was allergic to quality edge players. Even an Aaron Donald needs some semblance of an outside threat to dominate the way he does.
Leo tallied an incredible 51 non-sack pressures a season ago. For comparison, Houston Texans stud edge man Jadeveon Clowney finished with 36. Williams's dual-threat abilities (against the run and rushing the passer) are completely obvious.
5. Ryan Kalil, C
Sure, we have yet to see much of Ryan Kalil this summer. But man, this guy makes all the difference in the world.
To employ a true leader of a five-man unit that's protecting the future of the franchise is worth its weight in gold. Joe Douglas understands how football teams are built: it always starts in the trenches.
6. Sam Darnold, QB
Perhaps Sam Darnold shouldn't already find himself in the No. 6 hole, but it is what it is.
It's more a referendum on the Jets roster as a whole, quite honestly. On a definite playoff squad, he'd fit in around the 8-12 mark.
Fans from young to old should remain excited about the kid, yet tame expectations at least a little bit. Beat reporters drooling over the kid in team sessions without a live pass rush and cornerbacks who are incredibly banged up and questionable have served as a "getting ahead of ourselves" narrative.
He's good. He's on the upswing. He can be everything Jets fans want him to be. But he still has a long way to go. We'll find out in Week 1 when he reads his progressions from the pocket (if the offensive line holds up).
7. Kelechi Osemele, G
As long as Kelechi Osemele remains healthy, he and Kalil will make for one nasty duo this coming season. On top of raw talent and physical ability, he brings a nastiness to the offense that hasn't been seen since Willie Colon.
8. Robby Anderson, WR
Robby Anderson can run the 9-route. We already knew this. Now that he looks improved in the short-to-intermediate route-running game, the sky's the limit for the lanky kid who's as fast as anybody on the field.
9. Quinnen Williams, DL
This one's tricky. Quinnen Williams might be a little high on the list here.
Is he too small to handle every-down nose tackle duties? Perhaps. Has he yet truly flashed the potential that made him the No. 3 overall pick? No.
As of now, his pass-rushing game is ions ahead of his run-stuffing talent at this level. It'll be interesting to see how Gregg Williams handles the defensive front on all three downs. But hey, the very real potential is what skyrockets him to No. 9.
10. Jamison Crowder, WR
That's right, slot man Jamison Crowder rounds out the top 10. Like many of these current Jets, health is this man's greatest question mark.
Should he stay healthy, he'll rack up serious targets and receptions in this Adam Gase offense.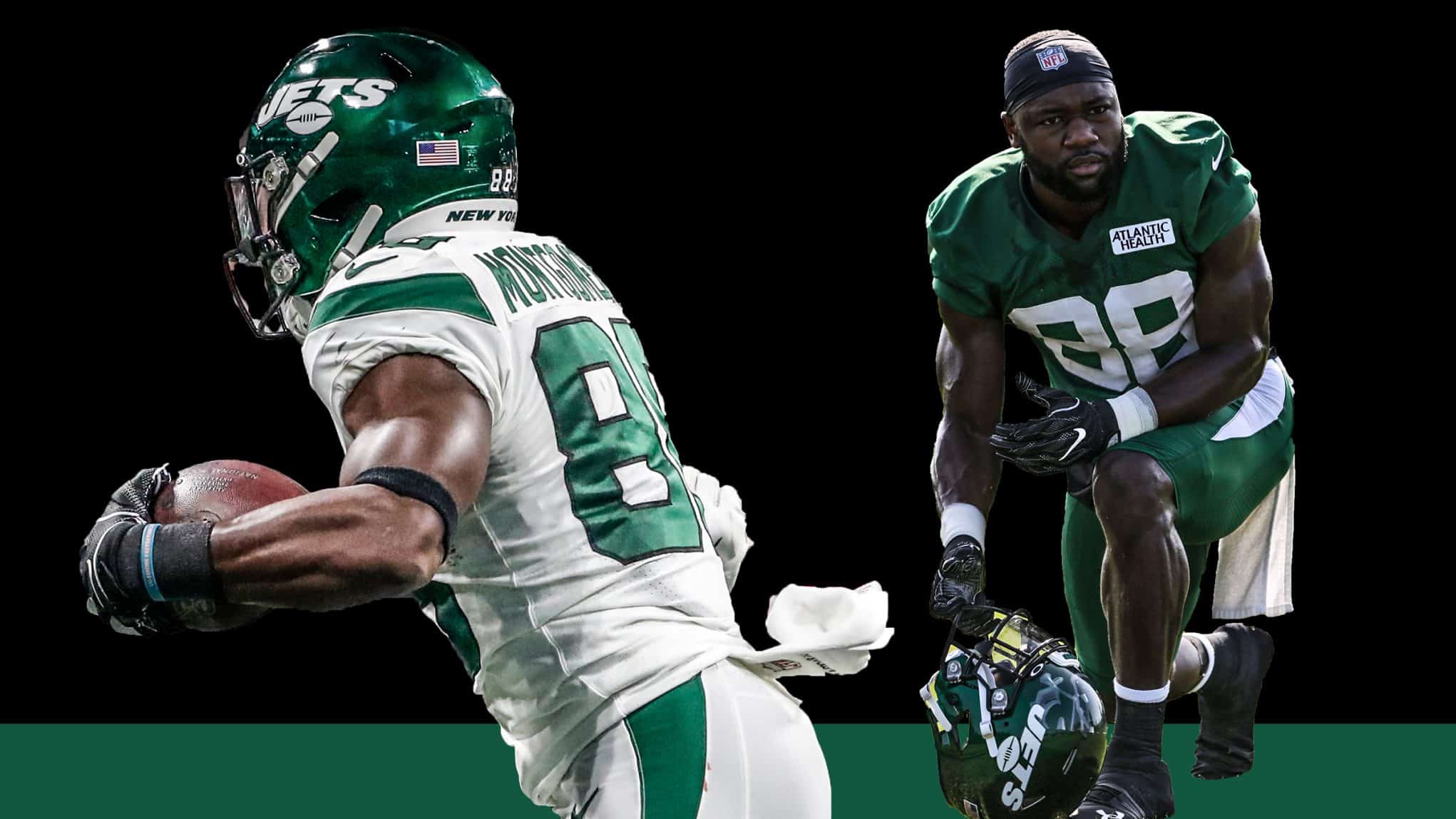 The Next Grouping
11. Marcus Maye
12. Henry Anderson
13. Chris Herndon
14. Quincy Enunwa
15. Brian Poole
16. Ty Montgomery
17. Trumaine Johnson
18. Jordan Jenkins
19. Trenton Cannon
20. Brian Winters
21. Darryl Roberts
22. Kelvin Beachum
23. Greg Dortch
24. Ryan Griffin
25. Rontez Miles
The snubs consist of Frankie Luvu, Steve McLendon, Deontay Burnett, Brandon Shell, Foley Fatukasi (who's enjoyed a nice camp), Neville Hewitt and Josh Bellamy (who's special teams' prowess is always noteworthy).
Luvu and Fatukasi are the two greatest snubs, as both are seeing a ton of reps with the first team. Trenton Cannon has been one of the best stories of camp, while Brian Poole ranks as the top corner due to the idea his play at nickel outranks both outside guys when compared to the rest of the situations around the league.
Notice the four young names missing from the list: Blake Cashman, Chuma Edoga, Trevon Wesco and Jachai Polite. Cashman and Wesco just haven't separated themselves from the rest of the pack, despite opportunity just waiting to be snatched out of the air. Meanwhile, Edoga is strictly a second-teamer and Polite is buried down on the depth chart for several reasons.
There's one final chance to impress the coaching staff. When the Philadelphia Eagles come into MetLife Stadium on Thursday night for the final preseason game of the summer, livelihoods will be firmly on the line and these New York Jets player power rankings can shift in an instant.