And that's a wrap on @WNBA All-Star weekend! Shoutout to @KayNurse11 and @tinacharles31 for representing us so well and thank you to our entire Libs fam who voted and traveled to Vegas to support the home team! #LibertyLoud🗽 pic.twitter.com/uIeK3gIdDt

— New York Liberty (@nyliberty) July 27, 2019
A win was not to be, but the New York Liberty's All-Star duo wrapped up a successful weekend in Las Vegas.
The New York Liberty were well-represented in Las Vegas as the WNBA celebrated their annual All-Star festivities.
Kia Nurse and Tina Charles were each on hand to partake in the exhibition, representing a team run by Washington Mystics forward Elena Delle Donne. The squad fell to an opponent run by local star A'ja Wilson, but it was an unforgettable trip nonetheless.
It was particularly memorable for the first-time All-Star Nurse. The 2018 first-round pick was named a starter in the league's fantasy draft format that eschewed the traditional conference vs. conference setting. She earned the honor as one of the top ten receivers of fan votes and backed up the nomination with 15 points on 6-of-12 shooting.
.@brittneygriner & @KayNurse11 go for 10 PTS each in the first half for Team Delle Donne! 👏 @ATT #WNBAAllStar

📺: ABC pic.twitter.com/wKqje7qr3M

— WNBA (@WNBA) July 27, 2019
Nurse's tally was good for second among Team Delle Donne starters (behind only Brittney Griner's 16). Meanwhile, Charles would assist with four points and five rebounds in her seventh All-Star Game.
https://www.instagram.com/p/B0cSBPEFsBh/?utm_source=ig_web_copy_link
The New York pair had a strong contingent supporting them at Mandalay Bay Events Center. Liberty teammates Brittany Boyd, Reshanda Gray, and Bria Hartley were all in attendance. Nurse reported last week that her family would likewise be joining her. Her first nomination adds to the Nurse family's illustrious sports resume. Also on the tree is her sister Sarah, an Olympic medalist with Canda's national hockey team. Brother Darnell plays for the NHL's Edmonton Oilers.
If this season is any indication, Nurse will catch up to the six Pro Bowl invites her uncle Donovan McNabb earned in no time.
"I'm very fortunate and grateful for everyone who voted for me to have this opportunity," Nurse said after the game. "It was so much fun to be able to represent New York and Canada. My family was here so it was fun to have them cheering me on as well."
The Hamilton native also partook in the league's 3-Point Contest on Friday night. She came in fourth with 14 points in her long-distance debut. Connecticut's Shekinna Stricklen won the title.
"I'm very fortunate and grateful for everyone who voted for me to have this opportunity," Nurse said. "It's been amazing. All the legends, to be around them, because without them we wouldn't have a league like this. It was absolutely amazing."
"(The experience was exciting and nerve-wracking at the same time. But it was so much fun to be able to represent New York and Canada."
Nurse also co-hosted a league-run youth clinic. She would go on to praise the job Las Vegas did with their first All-Star game.
"The fans were great, the atmosphere was great. I'm very fortunate to have my first one here," she said. "They do a really good job marketing their team, so their fanbase is awesome. It's a fun place with lots of things to do so you can't get bored here. That was the best part about it, people the entire weekend whether we were walking around the casino or at the hotel, people knew we were here and that was the great part of the marketing they did here."
Las Vegas has had the Aces for just two seasons, but they have already built a strong following. Three members of an Aces squad tied for the league's best record (13-6) were on hand for the game. An injury kept captain Wilson out, but teammates Elizabeth Cambage and Kayla McBride scored a combined 21 points for the squad bearing her name.
Nneka Ogwumike of Los Angeles came off the bench to lead Delle Donne's squad with 22 in what became a 129-126 win for Team Wilson.
Liberty members from the past and present were on hand for the celebration of women's basketball. Former player and Rutgers alumna Erica Wheeler, who played for the team in 2015, earned MVP honors with 25 points. The current member of the Indiana Fever sank a late triple that snuffed out a Team Delle Donne rally that nearly erased a deficit that summitted at 23. Original Liberty member Rebecca Lobo called the game for ABC and fellow alumna Teresa Weatherspoon likewise partook in Nurse's clinic.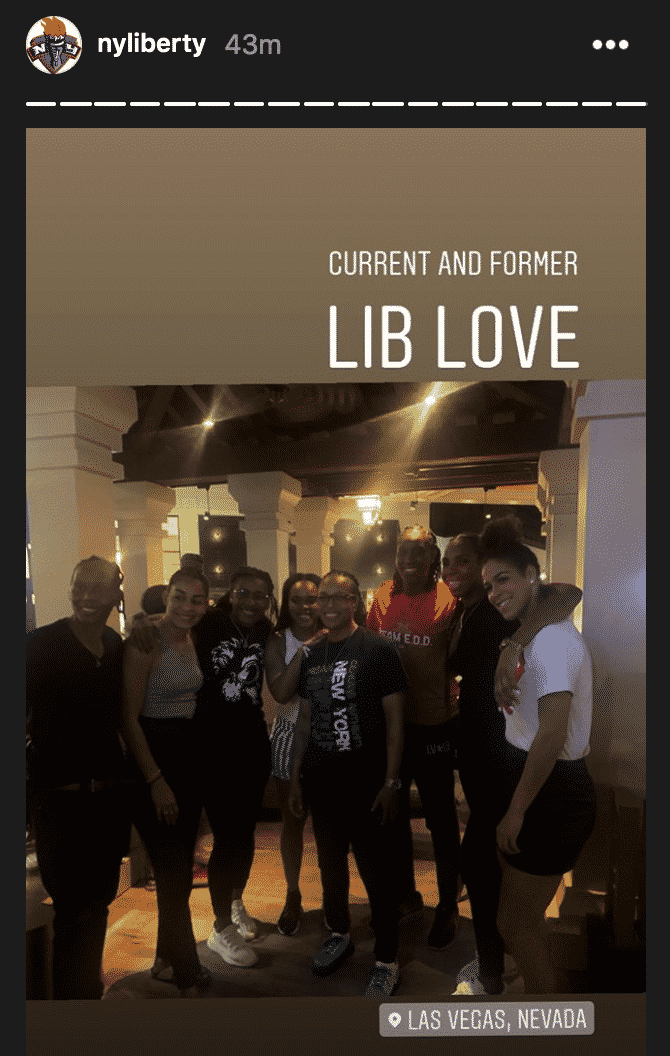 Nurse, Charles, and the modern Liberty will return to action on August 1, as they hit the road to battle the Dallas Wings (8:00 p.m. ET, NBA TV). The team currently sits
Follow Geoff Magliocchetti on TWITTER