Joe Douglas has replaced Mike Maccagnan as the New York Jets general manager, but he isn't the only major change in their front office.
The New York Jets stunned some fans when they suddenly parted ways with former general manager Mike Maccagnan. They then signed Joe Douglas to lead their front office. However, Douglas is just one of a bunch of new faces in the Jets front office.
Joe Douglas - General Manager
Twenty years ago, Joe Douglas went on his first NFL job interview. He came to Florham Park to interview with the Jets for an entry-level scouting position. Douglas, at the time, a student at Richmond University, knew he wasn't going to play in the NFL. The former offensive lineman knew he wanted to continue his career in football, so he sought out a scouting position. In 1999, the Jets were run by Bill Parcels, who turned Douglas away.
Douglas would interview for one other team, the Baltimore Ravens. The Ravens too turned Douglas away, but with a caveat. They were interested in him but said he needed more experience. In response, Douglas joined the coaching staff at Richmond. One year later, Ozzie Newsome gave Douglas his first NFL job.
Douglas worked in Baltimore for 14 years. He held every manner of college scouting jobs the Ravens had. He worked hand-in-hand with now-Ravens general manager Eric DeCosta for years. Douglas famously pushed the Ravens hard to draft Marshall Yanda, a move that worked out tremendously. However, Douglas never got the opportunity to run the college scouting department in Baltimore. In 2015, he finally received that opportunity.
The Chicago Bears came calling for Douglas that year. Their new general manager Ryan Pace wanted to name Douglas their Director of College Scouting. Douglas decided that the opportunity to run his own department was too good for him to turn down. He left Baltimore for Chicago. It was there that Douglas met Adam Gase and the two developed a good working relationship. Douglas's time in Chicago was short-lived.
In 2016, the Philadelphia Eagles experienced massive turnover in the front office. Chip Kelly had been fired and Howie Roseman was reinstated as the general manager. Roseman needed a trusty right-hand man to ensure that he never lost that job again. He turned to Chicago and came calling for Douglas. Thus, Douglas left Chicago and joined Roseman in Philly to become his assistant general manager. While there, Douglas was instrumental in the Eagles building their 2017 Super Bowl team.
After just two years in Philly, Douglas became one of the hottest general manager candidates in football. After the draft, the Jets came calling. They wanted Douglas to replace Mike Maccagnan. It took 20 years, but Douglas now finally leads the Jets front office.
Rex Hogan - Assistant General Manager
Rex Hogan got his first job in the NFL in 2003 with the Bears working under longtime Bears general manager Jerry Angelo. He would work as an entry-level scout with them until Angelo was fired in 2012. When Phil Emery replaced Angelo, he promoted Hogan to national scout. That means he went from scouting specific schools or regions to scouting players all across the country. He would stay in that position until Emery was fired in 2015.
At that time, the Bears hired Ryan Pace, and he wanted to put his own guys in those high-level scouting jobs. Mike Maccagnan and the Jets capitalized giving Hogan a promotion to Director of College Scouting. He would be with the Jets for only one draft before leaving for another promotion. This time, it was in Indianapolis with new general manager Chris Ballard.
Chris Ballard named Hogan his VP of Player Personnel, making him the third man in charge in Indy. While there, Hogan joined Ed Dodds to form the best college scouting front office in football. In just two drafts since Hogan went to Indy, the team had drafted five starters, two All-Pros and two other key role players. Hogan played a major role in the Colts quick turn around.
When Joe Douglas took over the Jets job he knew he was going to need to surround himself with the best people. Rumors were that he wanted to follow Ballard's model of creating a scouting powerhouse in his front office. He targeted Hogan early on in his search and offered him his third promotion in five years. This time, naming him assistant general manager. Hogan is a name on the rise, and it's possible he's only here for a short while before he gets a general manager call of his own.
Phil Savage - Senior Advisor
Phil Savage began his NFL career in 1993 with the Cleveland Browns. He was hired as an entry-level scout by then-Browns head coach and general manager Bill Belichick. After only two years, Savage had earned a promotion to national scout. In 1996, Browns owner Art Modell moved the team to Baltimore and renamed them the Ravens.
At that time, Belichick was fired and was replaced as general manager by Ozzie Newsome. One of the first things Newsome did as the Ravens general manager was to promote the quick-rising Savage to Director of College Scouting. It was there that Savage interviewed a young Joe Douglas and recommended him to Newsome.
Douglas worked directly under Savage until 2002 when Savage earned yet another promotion to Director of Player Personnel. At that point, Savage was considered one of the most respected scouts in all the NFL and a rising star in front offices around the league. He would remain with the Ravens until 2005.
In 2005, the Browns fired head coach/general manager Butch Davis after a failed three years. They turned their eyes to their former scout Savage to take over. Savage jumped at the chance to be a general manager and took over the downtrodden franchise.
Like many before him, Savage failed to turn the Browns into a winner. However, he did two impressive things during his tenure there. First, Savage drafted one of the greatest offensive linemen in the history of the NFL, Joe Thomas. The other thing he did was lead the Browns to a 10-6 record in 2007. The best record the team has had since the franchise was revived. Savage was fired after a disastrous 2008, which saw the team finish 4-12.
Savage stayed away from the league for a year before jumping back into the game in 2010. New Eagles general manager Howie Roseman brought Savage on as a player personnel consultant. He would stay on in that role until Andy Reid, who was President of Football Operations, was fired in 2012. Roseman was now in complete control over the Eagles front office, and he gave Savage a full-time role as a player personnel executive. Despite the promotion, Savage would leave after the 2012 season.
In 2012, Savage was named the Executive Director of the Senior Bowl. There is when Savage made the senior bowl one of the most must-see events of the scouting season. Savage would often comment on prospects he liked and talk to scouts and executives about the players. Even away from the NFL, he still played a major role in the draft process. He stayed in that role until 2018 when the AAF came into existence.
Savage became the general manager of the Arizona Hotshots. In their lone season, the Hotshots were tied for the best record in the western conference and the second-best record in the league. When Douglas took over the Jets job he made it a priority to seek out his former mentor.
Chad Alexander - Director of Player Personnel
Chad Alexander began his NFL career in 1999 with the Baltimore Ravens. He worked with Joe Douglas for over a decade in Baltimore. Alexander began his career as a personnel assistant and worked his way up to regional scout in 2003. He would hold that title until 2009 when he was named Assistant Director of Pro Personnel. In May of this year, the Ravens promoted Alexander to Assistant Director of Pro and College Personnel.
When Douglas came to the Jets, Alexander, along with Savage, was one of the first names to come up as a possible part of his front office. Alexander is going to oversee both the college and pro scouting departments with the Jets. He will be especially relied upon for his knowledge as a pro scout. That is the one spot that Joe Douglas doesn't have any personal experience with. Alexander will play an important part in scouting for free agents, trades, and waiver wire pickups for the upcoming season.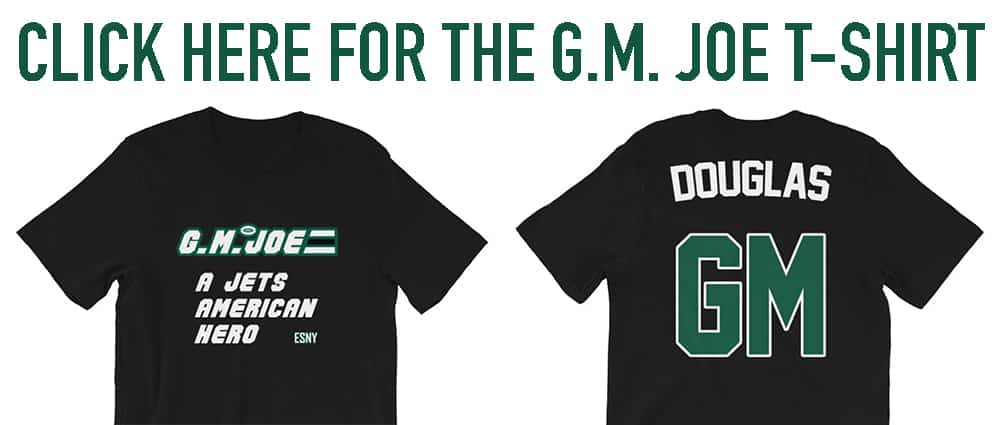 Greg Nejmeh - Director of Pro Personnel
Greg Nejmeh was hired by then-Jets general manager Mike Tannenbaum in 2009. He began his NFL career as a scouting intern, a position he held for two years. Tannenbaum promoted Nejmeh to Pro Personnel assistant in 2011, a position he held for three years.
In 2014, Jon Idzik promoted Nejmeh to pro scout. It took Nejmeh a bit of time, but he was finally an entry-level pro scout. He stayed in that position for another three years before Mike Maccagnan promoted him. In 2018, Nejmeh was named Coordinator of Pro Scouting. This meant that Nejmeh was in charge of assigning who to scout, which scouts to send, and when to send them. Douglas had to figure out how to fill this important position after Maccagnan failed to do so after Matt Barzigan left for the Texans in 2018.
Nejmeh has proven to be a capable worker, as he has been promoted from all of his previous position within three years. It's possible that Douglas views Nejmeh as a rising executive that he wanted to keep around in his new front office, so he offered him a promotion to ensure that happened. Nejmeh will work closely with Chad Alexander when putting together lists of players the Jets should go after in free agency, trades, and the waiver wire.
Dan Zbojovsky - Director of Personnel Operations
Dan Zbojovsky began his career in the NFL with the Jets in 2007. Then-Jets general manager Mike Tannenbaum hired Zbojovsky as part of the Jets video department. Zbojovsky impressed Tannenbaum enough to earn a major promotion and a departmental switch in 2009. Zbojovsky was named the Jets Coordinator of College Scouting by Tannenbaum and has held that job for the last decade. Douglas has promoted Zbojovsky, who will now be in charge of personnel operations.
This promotion is a little surprising, coming from Douglas. Zbojovsky has been passed over for promotion after promotion by three Jets general managers in the last decade. Mike Maccagnan even chose to hire from outside the team to replace Rex Hogan as Director of College Scouting rather than promote Zbojovsky. Even now, Zbojovsky isn't running the college scouting department, but rather personnel operations.
It's possible that Zbojovsky is a capable worker who can fill in wherever needed in the front office. Whatever the case may be, this is the only questionable hire that Douglas has made. That is a huge win for the Jets who had nothing but questionable hires coming from Idzik and Maccagnan, outside of Rex Hogan.