The case for the 2019 New York Jets capturing the AFC title while dethroning the New England Patriots is a tough and complex one.

The level matters not. Pee Wee, Pop Warner, middle school, freshman, JV, varsity high school, D3, D2, big-time collegiate football, Arena, CFL and the NFL all result in similar feeling this time of year.
Every football team enjoys its own case for success.
The moment every football player steps onto that summer field while picking up whiffs of the freshly-cut grass and feeling the scorching heat is the singular spot he feels it.
This is his year. This is his team's season.
It's at this moment that talent doesn't factor into the equation. That's better left for talking media heads to fret about. Within that locker room, faith rules the day. Every team deserves that summer hope, especially the 2019 New York Jets.
The New England Patriots are running on a decade's worth of AFC East titles. Ten straight for the evil operation up north whose dominance is mind-boggling. Add another six crowns prior to Chad Pennington's 2008 resurgence means Bill Belichick's empire has taken 16 AFC East division championships over the last 18 football seasons.
Did you click away yet? What sort of nonsense is "Jets AFC East hope" when these sort of numbers smack us in the face?
Well, it's the type of dominance that is true, yet never invincible. Bill Russell's Boston Celtics eventually faltered, the Bobby Cox-led Atlanta Braves' divisional dominance couldn't last forever, and Wayne Gretzky's eye-popping 1980s numbers had to end.
These Pats will also, one day, fall.
The case for the Jets dethroning the Pats in 2019 is a complex and tough one.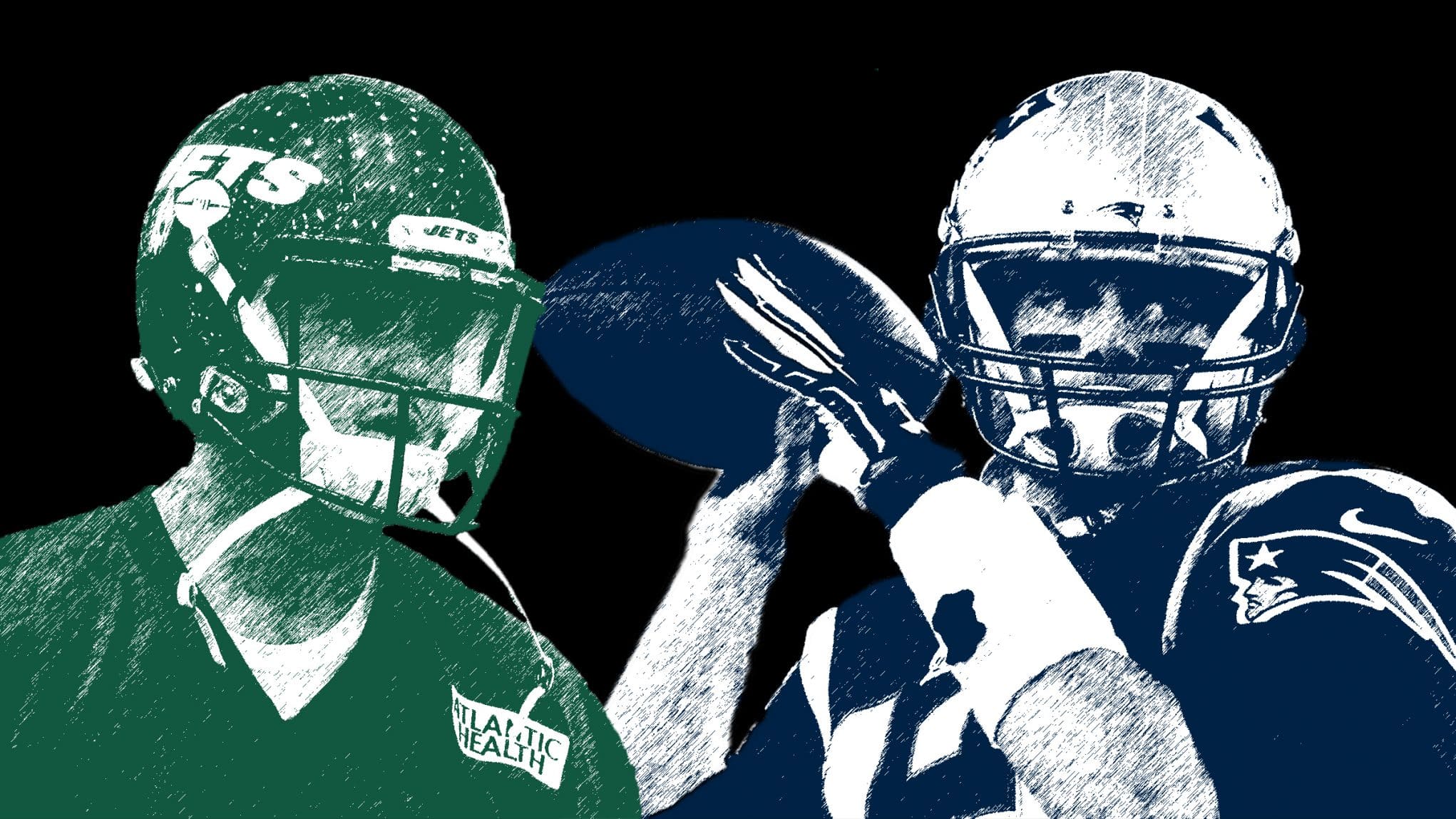 Tom Brady is 41 Years Old
Folks, Tom Brady is an old man. No, he's not old in the legitimate "humans walking around planet Earth" sense; but he is an ancient relic existing within the league that plays for pay.
Everybody's afraid to say it. It's no wonder … they've been burned too many times prior, but Brady has lost a step. The problem lies in the fact Brady's loss of a step from where he plays still puts him in an elite category.
A year ago, the man who's not Tom Terrific tossed 29 touchdowns to 11 interceptions while accumulating 4,355 yards through the air. He threw the AFC Championship Game ending interception (if not for Dee Ford's bonehead pre-snap alignment).
The scary thing about January's Pats was everything else surrounding Brady. Dante Scarnecchia's offensive line was a machine, allowing young Sony Michel to run wild. Belichick's defense was in every correct spot, especially against the Rams on the last Sunday.
Granted, it's much more difficult to suddenly fall off a cliff these days. NFL rules that coddle the quarterback to such a ridiculous degree has Johnny Unitas rolling his eyes. Eventually, though, it will happen to Brady. Peyton Manning fell off that cliff during his age-39 season during the same era.
Don't hold your breath, but it can happen to Brady in 2019. The greatest factor in it actually transpiring is if Scarnecchia's overlooked and overall O-line package greatness upfront declines.
Knowing Brady, we'll be here in the year 2028 at this very time of the year, examining it all over again.
Sam Darnold
Sam Darnold is the real deal. Just one glance at the film will fill you in on that semi-secret (with Baker Mayfield stealing the headlines with his running mouth).
Darnold, 22, enters his sophomore NFL campaign with a new coach whose immense attention to quarterback detail is worthy of highlighting.
Stats aren't important when analyzing young throwers. It's the uncoachable stuff that needs to be picked apart. The kid constantly shows a knack for the stuff that separates the legitimate studs from the pretenders.
His throw-on-the-run ability is god-like, he feels pocket pressure as if eyes are in the back of his head, the kid anticipates downfield movement unlike 90 percent of the youngsters who enter the big-boy professional league.
Darnold still needs an offensive line. Until that happens, he truly won't reach full potential. In the meantime, however, he'll have fun honing his skills and improving in year two.
The Talent Level is Closer Than You Think
Remember one important factor about the NFL: talent levels across 32 franchises are frighteningly similar. This is not the NBA. It's the NFL, a value league in which certain positions and areas of a franchise make all the difference in the world.
It's Brady, the offensive line, the four-man conventional pass rush, the coaching staff and the shrewd front office working under the rigors of the unforgiving salary cap that put the Pats over the top so often.
Look at the depth charts. Quarterback is what it is, we know this; but finally, New York feels as though it has its guy. At running back, it's either a draw or advantage Jets (at least for one season). At wideout, is Julian Edelman, N'Keal Harry and Phillip Dorsett that much better than Quincy Enunwa, Robby Anderson and Jamison Crowder? Without Rob Gronkowski, the Jets take the tight end spot with young Chris Herndon.
The offensive line, which is one the greatest factors for team success, is a giant mismatch.
Defensively, Jamal Adams and Marcus Maye hold their own if not beat out a talented aging duo in Devin McCourty and Patrick Chung. At corner, Stephon Gilmore, a rare big-time free agent money grab for the Pats, presents another mismatch in favor of the northern squad. But then within the front seven, talent levels are, again, comparable. C.J. Mosley and Dont'a Hightower, Kyle Van Noy and Avery Williamson, and Quinnen Williams and Leonard Williams matched up against guys like Michael Bennett, Lawrence Guy and Danny Shelton.
It's the coaching staff and front office brilliance mixed with Tom Brady's brilliance and excellent offensive line play that makes the current difference.
With such a similar talent level across the depth chart, the coming of age of Darnold and brilliance from a brand new coaching staff and front office would put the Jets right in the thick of the AFC East race.
It'll Happen When You Least Expect It
Does everybody expect the Pats dominance to end only when Brady and/or Belichick decides to call it a career? Possibly. Based on how things have gone over two decades, it makes sense.
Just remember sports history when thinking about such fascinating dreams. The Boston Red Sox needed to get it done in grand style. They couldn't waltz their way to a four-game sweep over the New York Yankees. For that curse to be broken, shock-value extraordinaire needed to hit the baseball world (and it did when they became the first to overcome a 3-0 playoff series deficit).
Now that the Pats have proved the world wrong time and again, it feels as though they'll fall when we least expect it.
For it to happen, the Jets need to do their part. Protect Sam Darnold, somehow, someway (prior to improving the O-line for real in 2020, which Joe Douglas will do). Allow him to mature while not getting him killed. Throw emotions out of the front office window. Allow Douglas to make the same Pat-like calculated decisions necessary to dominate the cap. And bring in the right guys with the intangibles necessary to enjoy a winning culture that thrives on the right personalities.
It is these areas that Belichick and the Pats have used in order to get that edge every Sunday for the last 18 years. The 2020 season remains the Jets more realistic year for an eventual return to prominence; but hey, with a new regime, legitimate talent and a young quarterback in the building, everything's possible for the Jets in 2019, including a 2019 AFC East crown.
A changing of the guard in the AFC East isn't bound to happen. At the very least, it's unlikely. There are too many holes in critical spots. But discussing it is as legitimate as anything in football. It's July, training camp is nearly here, and every team, including the New York Jets, feel it's their season to shine.