A surprising contributor for the Brooklyn Nets last season, Rodions Kurucs will be looking to build on an impressive rookie campaign.
After being drafted 40th overall, Rodions Kurucs was supposed to spend most of his rookie season in the G League. Instead, the Latvian forced his way into the Brooklyn Nets' rotation, landing a starting spot and playing a key role in the team's midseason run that eventually led to the playoffs.
This year, even though the Nets have added more two-way wings to potentially take his minutes, Kurucs is ready to build off a strong rookie campaign, where he averaged 8.5 points and 3.9 boards while slashing .450/.315/.783, and cemented his spot in the Brooklyn rotation.
Things weren't looking nearly as bright for Kurucs just 18 months earlier, though. In fact, after being shunned to the reserve team and shackled to the bench during his tenure at FC Barcelona, Rodi was just happy to be out on the court last season for the Nets.
"I'm just enjoying playing basketball. Finally, after three years not playing, I'm enjoying playing basketball," said Kurucs, a native of Cēsis, Latvia, to YES Network reporter Michael Grady following a game in December.
Despite spending the 2017 season in the Spanish second division playing for F.C. Barcelona's B Team in Spain, Kurucs was expected to be a first-round pick in the 2017 NBA Draft. Bleacher Report's Jonathan Wasserman projecting Kurucs to go 26th to the Portland Trail Blazers.
Basketball Insiders even speculated that Kurucs could possibly have gone as high as 15 to the Blazers. But the Latvian withdrew from the 2017 Draft, electing instead to bet on himself and take the next step into becoming a surefire lottery pick following a campaign playing for Barcelona's senior team.
The Spanish giants, though, had other ideas. They were sick of constantly losing their talented players to the NBA and rather than letting the Latvian flourish on their A team and test himself against the top competition in the EuroLeague like Luka Doncic did with Real Madrid, Barcelona tried to devalue Kurucs by keeping him on the B team for the majority of the year. He played a grand total of 43 minutes in the Spanish first division in 2017-18 and didn't even touch the court in EuroLeague play.
Just as Barcelona anticipated, Kurucs' draft stock plummeted, but he elected to go the NBA anyways, where, he tumbled out of the first-round and into Brooklyn's hands at No. 40.
After beginning the year buried behind DeMarre Carroll, Jared Dudley, Rondae-Hollis Jefferson, Allen Crabbe, and even fellow rookie Dzanan Musa, on the Nets' depth chart, Kurucs made an impression on the Brooklyn staff during training camp and the early season practices and even played sparingly during the start of the season before really getting his chance after Caris LeVert's devastating leg injury.
He played 13 minutes in that, now famous, post players-only film session game against the Toronto Raptors in December, which kickstarted the Nets midseason run that would eventually lead them to the playoffs. And Kurucs didn't look back from there. He kept his spot in the rotation from then on and eventually even took over the starting gig at the four position.
The Nets finished 28-18 in the 46 games Kurucs started this season compared to the 18-22 mark when he wasn't in the opening five, and while it would be wrong to credit that turnaround entirely to his presence, Kurucs was able to carve out a role for himself as a gritty defender, an active cutter, and a decent spot-up shooter.
On a Nets team that featured ball-dominant guards in Spencer Dinwiddie and D'Angelo Russell, Kurucs was the perfect option at the four. He allowed Brooklyn to space the floor while maintaining size and length on the defensive end.
The lanky Latvian thrived off backdoor cuts last season and always seemed to be active on the offensive glass with his high motor. Defensively, Kurucs has impressed with his versatility and has the potential to be able to guard one through four with ease. The Nets weren't afraid to let him switch on to smaller guards and, for the most part, he held his own. Many around the league have compared him to Andrei Kirilenko, the former Jazz star—and ex-Net. Kurucs' highlights from his best game this season, against Blake Griffin and the Detroit Pistons, were eerily reminiscent of AK-47.
All of Kurucs' best qualities were on display against a Detroit team who, at the time, had won 12 out of their last 14 behind Blake Griffin's resurgence. Kurucs showed his defensive IQ and toughness against the much bigger Griffin and finished with three steals leading to dunks in the open court—and even got under Griffin's skin a little, coaxing him into a technical foul.
While Rodions was able to carve out a spot for himself in the rotation last year, the Nets did have a clear dearth of options to play the four spot. That position will be Kevin Durant's when he returns from injury, but in the meantime, Kurucs and new addition Taurean Prince look likely to fight it out for the starting job.
Prince, entering his fourth season in the league, is more experienced and likely the more polished player at the moment, but Kurucs has the potential to fly past the former Hawk and has shown flashes of that during Summer League.
For one, Kurucs has the prototypical body for a modern power forward. At 6-foot-9, and now up to 226 pounds, Kurucs is in the Pascal Siakam-mold of an athletic four who can run the floor. Like Siakam, Rodi is long with a 7-foot-2 wingspan compared to Siakam's 7-foot-3. Two seasons ago, Siakam averaged just 7.3 points and 4.5 rebounds before breaking out last year, en route to Most Improved Player, with 16.9 points and 6.9 rebounds a night.
Siakam was able to make that big leap by improving on his isolation play—his percentage of field goal attempts that were assisted dropped from 72.3% all the way down to 56.6% last season as he learned how to create for himself off the dribble both in the halfcourt and in transition. Rodions has the physical stature to become a similar force when he runs downhill. Last season, 68.3% of Kurucs' attempts were assisted. The next step for Rodi would be to improve his game off the dribble.
And who better to help him develop an off the dribble jump shot than Durant, a man possessing one of the most devastating jumpers in the history of the game. Kurucs, for his part, is ready to learn from the two-time champ.
"KD is my favorite player. What do you want? Of course I'm excited. KD is my favorite player," Kurucs told Brian Lewis of the New York Post. "How do you think I feel? Of course I feel great. He is my teammate, and I will have a lot of things to learn from him."
If Rodi can pick up even a small part of Durant's off-the-dribble pull-up game, the Nets will become a much more dangerous team.
While he was never exactly shy about taking on defenders last season, Kurucs finished the year with 1.2 turnovers compared to 0.8 assists, a ratio that must improve in the future. He has shown flashes of his passing potential during Summer League, as he and Jarrett Allen formed a nice combination, with Kurucs often finding the big man in the dunker spot off drives with some clever wrap-around passes.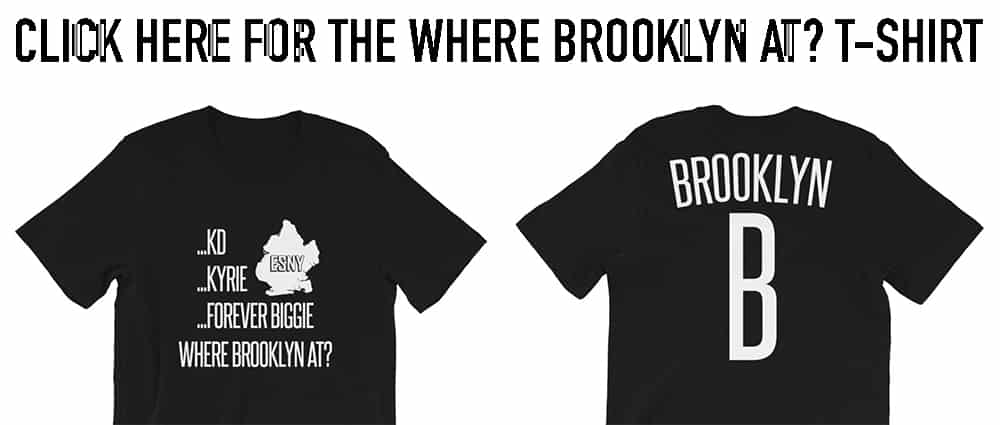 Last season, opposing teams often placed smaller guards on Kurucs and dared him to post up, with Second Spectrum data identifying players like Kemba Walker and D.J. Augustin as the ones who guarded Kurucs most often.
He wasn't able to take advantage, for the most part, and finished the year shooting just 19-for-64 (.297) on shots from 3-to-10 feet. Improving his post-up game to the point where opposing teams can't afford to hide point guards on Kurucs would allow the Nets' guards to attack less skilled defenders and would open the floor up for the rest of the team.
Defensively, Kurucs is an absolute pest and measures well in most metrics. He's above average in rebound rate, block percentage, and steal percentage, and even finished with a positive rating in FiveThirtyEight's new DRAYMOND shot-contesting metric. Rodi is athletic enough to switch onto guards for the most part and can really bother them with his length and lateral quickness.
But in Games 2 and 3 of the playoff series last season, Ben Simmons essentially bullied Kurucs off the court with his athleticism and raw strength. To improve his defense, the most important thing Kurucs needs to do this offseason is simply to add more bulk.
And he's already started that process, telling reporters at the Summer League that he already was "a little bigger… [I was] 210. Now I'm 220-something." If he can add a few more pounds and get to the Siakam-level 230, while maintaining his athleticism, Kurucs will be a force on the defensive end truly capable of guarding one through four.
During his rookie season, the 20-year-old Kurucs showed an ability to carve out a role for himself as a gritty, athletic three-and-D guy who plays hard on both ends of the floor, but he is still nowhere near his ceiling. With the help of Durant and the highly vaunted Brooklyn player development staff, the Menace from Cēsis could very well be the next gem to come out of the Nets system.