The New York Knicks enter the 2019-20 season a far more talented team than last year's. All eyes will be on David Fizdale to make it work.

Evaluating a team's offseason on social media is an exercise in futility. We do it anyway and I'm certainly guilty of it, yet it takes a special type of fan to sift through the various overreactions that are often associated with moves made by the New York Knicks.
Yes, it is true that the Knicks missed out on both Kevin Durant and Kyrie Irving in free agency. It is also true the Knicks signed a bunch of productive players, albeit most of them at the forward position, to team-friendly deals.
As a result of these statements, Knicks fans have largely fallen on either side of the following bridge: the Knicks are completely foolish for creating a logjam at the forward positions, which possibly limits playing time for some of their young guns, or they're creating a utopia of competition and depth that may push the team towards a playoff berth. As usual, the truth lies somewhere in between.
This upcoming season will hopefully provide answers about the development of the Knicks' young prospects as they will certainly be put to the test. However, besides the players, head coach David Fizdale will also be under pressure to distribute minutes amongst his players, most of which were not with the team last season.
Struggling to find your best rotation on a 17-win team, where the average age is 25 and under is understandable. Yet Fiz's ability to get the most production and development out of players like RJ Barrett, Kevin Knox, Mitchell Robinson, and Dennis Smith Jr. while also keeping vets like Marcus Morris, Bobby Portis Jr., Taj Gibson, and Elfrid Payton happy will be on display almost immediately.
I didn't mention Julius Randle, as I believe he stands to get the lion's share of minutes as the team's prized free-agent acquisition.
Speaking of Randle, Fiz's distribution of minutes may also be influenced by a different philosophy, one that prioritizes the long-term health of their young players given recent trends regarding injuries. Baxter Holmes of ESPN wrote extensively about the effects of youth basketball on injuries at the professional level. Holmes' opener should give all Knicks fans' pause when thinking about playing young players big minutes early on in their careers.
"Midway through the fourth quarter, the 19-year-old had driven to the hoop, leaped … and collapsed. Now, seconds stretch into eternity before his right leg is stabilized in an air cast and teammates load him onto a stretcher, which disappears into a tunnel. Randle's leg is broken. His rookie season is over, 14 NBA minutes after it began."
Of course, Holmes is talking about Randle. But the anecdote reaches a far broader scale when he references team doctors calling players "ticking time-bombs" due to their wear and tear on their bodies.
With that said you can see why the Knicks brass decided to add versatile forwards to their squad. Yet the question still remains, how do you find minutes for all of them?
Last season, three teams that featured a great amount of depth were the Toronto Raptors, Milwaukee Bucks, and Denver Nuggets. Rotations differed throughout the year, but generally, looking at their minute distributions, all three teams settled on nine-man rotation. If you average out the minutes of the nine players, it (approximately) looked something like this:
33.1
32.1
29.9
28.0
27.9
23.7
22.8
19.9
18.8
Of the returning players on the team, Knox and Smith both played a team-high 28 minutes per game last season. With a multitude of forwards, as well as Payton,  added to the squad, that number will most likely dip. First-year phenom Robinson played 20 minutes per game, but with his history of ankle injuries and foul trouble, as well as the added insurance of a quality vet like Gibson, I would guess that his minutes don't increase too far north of 25 minutes per game.
Yet the problem with this comparison is that all three of the aforementioned teams were very competitive and in the playoffs last year. Let's take a look at how the Atlanta Hawks distributed their minutes this past season. The Hawks won 32 games last season, a mark that the Knicks will probably target this season.
Hawks 2018-2019 minutes distribution
30.9
30.0
28.2
27.3
25.1
24.5
23.7
20.1
19.7
17.5
This 10-man rotation is probably similar to what the Knicks will feature, at least during the beginning of the season. However, there is one glaring issue. Each of the newly added Knicks averaged at least 25 minutes per game over the last three seasons.
New Knicks additions avg. min per game last three seasons
Randle – 28.7
Mc. Morris – 29.0
Portis Jr. – 25.8
Gibson – 26.1 (33 min in 2016/2017)
Payton – 29.1
Ellington – 25.0
When you get to spots in the rotation such as six through ten, you can see where this poses a problem. This also doesn't include Reggie Bullock, who just recently re-worked his initial two-year $21 million deal and signed with the Knicks. However, as per Ian Begley of SNY, Bullock will miss the first month of the season due to injury. At least for now, the current 10-man rotation might look something like this:
Dennis Smith Jr.
Elfrid Payton
RJ Barrett
Allonzo Trier
Marcus Morris
Kevin Knox
Julius Randle
Bobby Portis Jr.
Mitchell Robinson
Taj Gibson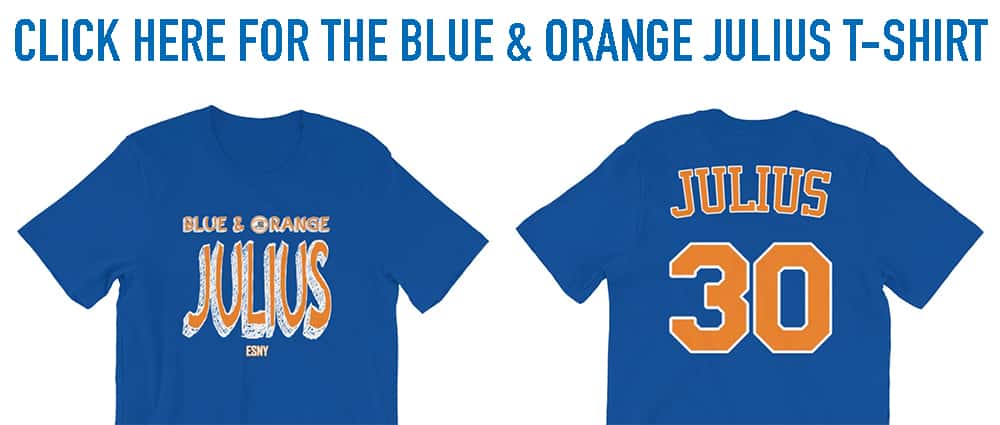 As presently constructed this would leave out Wayne Ellington, Damyean Dotson, Iggy Brazdeikis and Frank Ntilikina. Would the Knicks go to an 11-man rotation? Would they leave out Ellington and/or Bullock? These were both players the Knicks targeted to improve shooting. Dotson was one of the most improved players and a leader on the team last season. If Ellington is in the rotation, who do you take out? Trier? One of the most dynamic and gifted scorers on the team, the questions become really difficult to answer.
Obviously, Fizdale has been a fan of the phrase "you keep what you kill". And while I love his philosophy of letting players fight it out in training camp, there still are not enough minutes to go around.
Yet the beauty of signing productive players is that they can become great trade assets prior to, or at the trade deadline. Both Ellington and Bullock were targeted by the Detroit Pistons and Los Angeles Lakers, respectively, last season. And it's certainly plausible to think that teams will call the Knicks about Morris and Portis because forwards that can stretch the floor will always be in demand.
But unfortunately, my fear is that this roster, as presently constructed, has a higher potential for combustion as opposed to this seamless creation of positionless basketball.
On the surface, there is more talent and the Knicks should win more games. Yet it remains to be seen whether the added veteran presence will provide the backbone to a culture that is visible to the rest of the league, or create a fight or flight response that is often associated with players on one-year deals.
Only time will tell.