Kevin Knox and Mitchell Robinson are two promising youngsters for the New York Knicks and their development is on full display right now.

For better or worse, much of the New York Knicks' future rests on the shoulders of Kevin Knox and Mitchell Robinson. Knox was selected with the ninth pick in the draft last year. Robinson had to wait until the second round to hear his name called, but once upon a time, he was a McDonald's All-American and a projected lottery pick.
Long story short: both players entered their NBA careers with some level of expectation. Of course, Robinson is generally considered more of a project with his raw skill set. But generally speaking, most people knew these two rookies would have their ups and downs.
"They're going to be together for a long time. I want to keep building good chemistry with them," head coach David Fizdale told reporters after the team's stunning come-from-behind victory over the Orlando Magic on Tuesday.
Knox is struggling and Robinson is shining. But both players are sure to be long-term fixtures in Madison Square Garden. How they play alongside one another is going to be one of the most interesting storylines to watch in the final 20 games.
Numbers Never Lie
The raw data will tell you that the Knicks are much worse when Knox and Robinson share the floor together. That two-man combination is being outscored by their opponent by 18.4 points per 100 possessions according to Basketball Reference. It's Robinson's worst net rating in a two-man combination and Knox's second worst only to former teammate Enes Kanter.
I know I said numbers never lie, but let's try to provide some context. First off, Knox and Robinson have only played 40 games together. That's not even half of a season for two kids who aren't even old enough to buy beer.
Second, Knox has a negative net rating per 100 possessions with every two-man combination (minimum 275 minutes). That might sound like a bad thing, but again, let's add some context. Knox is playing big minutes on a team that's been dreadful for a vast majority of the season. It's no surprise that most Knicks playing significant minutes have bad plus-minus numbers.
It's important to remember Knox is only 19 and sometimes taking a beating is a decent way to cut your teeth in the league. The experience outweighs the crooked stats in the long run.
The numbers don't look great, but it's OK to toss them out the window. Anyone with a pair of eye's and a basic understanding of basketball can see why it's important for the Knicks to force Knox and Robinson to learn how to play together.
Knox's Struggles
The Knicks and Fizdale are looking to put Knox and Robinson on the floor together much more in the future.
But Knox is mired in a slump marked by horrid shooting. He's only shooting 36 percent from the floor and 33 percent from beyond the arc. For the most part, he's taking good shots, but he's not converting on those open looks. Prior to Thursday's game against the Cleveland Cavaliers, Fizdale reiterated his belief in Knox and his shot selection.
"I think a majority of his shots were good shots," Fizdale told reporters. "I want him to stay aggressive. I like that shot total and as long as he's staying aggressive I'm OK with it."
Knox was 3-for-16 against the Orlando Magic. He was lost on the floor, but again, Fizdale doesn't want anyone to think he's concerned about the poor percentages.
"It's going to come. I don't think it's anywhere near a panic time," Fizdale said. "I want him to stay aggressive. We're not going to get caught up in the percentages right now. If those are good shots and he's taking shots he can make, keep taking them."
Knox had another rough night on Thursday. He finished 3-for-12 from the floor and 0-for-4 from deep. Despite the slump, the 19-year-old is staying positive.
"I've been getting some open looks," Knox told reporters late on Thursday night. "Trying to get in the lane a bit. Just need to be better at finishing through contact. I've been getting shots that I like."
But through all the rough nights, there's one thing that is undeniable about Knox. He has the potential to become a dynamic scorer in this league. We saw it when he dropped 31 points against Philadelphia earlier this year. We've seen it in flashes, but it's all about developing consistency.
Ironically enough, as Knox struggles through the longest slump of his NBA career, Robinson is playing the best basketball of his young career.
Robinson's Ascension
Robinson's recent surge hasn't been completely surprising. Earlier in the year, the lanky center turned in a few jaw-dropping performances. In a November game against the Magic, Robinson had nine blocks in just over 22 minutes. We all knew a ridiculous talent was somewhere inside that 7-foot-1 frame.
Over his last 10 games, Robinson is averaging 11.3 points, 8.8 rebounds, and an outstanding 3.4 blocks per game. Those numbers are brought down by a forgettable performance against the Minnesota Timberwolves where Robinson didn't score a point.
Robinson is upping his scoring of late and he only needs a handful of shots to reach double figures regularly. The 20-year-old from Louisiana is shooting a ridiculous 69.6 percent from the field.
Obviously, it's ridiculous to compare the shooting percentages of Knox and Robinson. One player is being asked to create his own shot and forced into contested shots. The other is being asked to rim run and track down offensive boards.
But let's not underrate Robinson's efficiency and clear improvements to his offensive game. Yes, he can touch the rafters when he jumps in Madison Square Garden, but it's the little things that have his coach excited.
"He really applies what you teach him," Fizdale told reporters. "He takes it to heart and tries to do it in the game exactly as you say it. His free throws is a perfect example of that."
Robinson is only shooting 56.8 percent from the line this season, but he is making noticeable improvements in that area. He's shooting 73.5 percent from the line over his last 11 games. For reference, Knox is only shooting 72.5 percent from the line for the season.
The highlight dunks and dumbfounding blocks were always there with Robinson. Little improvements like free throws and talking more on defense are perfect examples of why fans should be excited about Robinson's future. The young center feels like he's growing more comfortable on the court too.
"I'm starting to make more free throws and block more shots," Robinson told reporters. "I'm just playing hard and going out there to fight every game."
Robinson's recent success is juxtaposed with Knox's recent futility. But make no mistake, both players are huge keys to the future of the organization. It's important that the coaching staff put them in situations to succeed.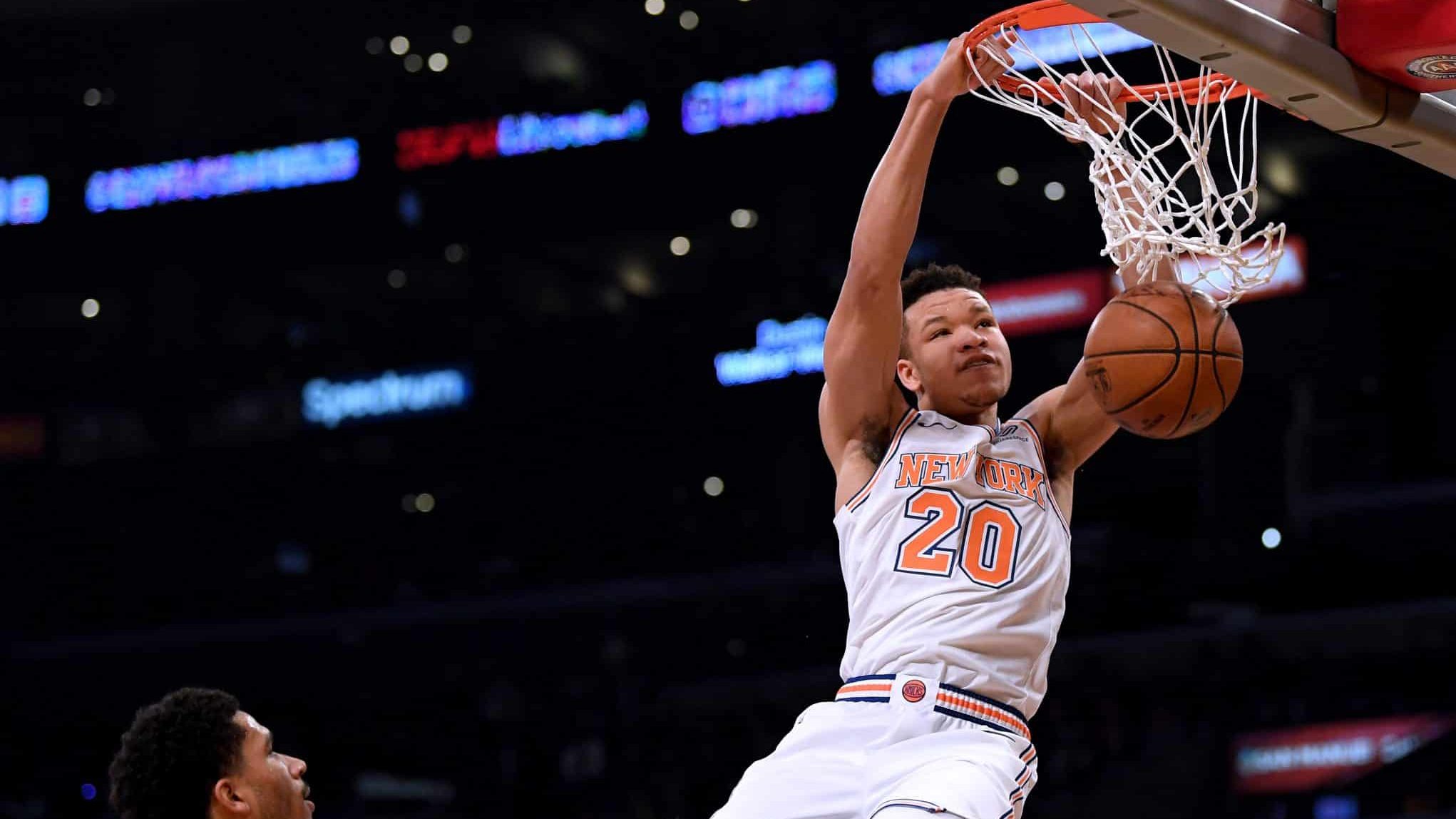 Developing The Chemistry
Fizdale has talked about the need to develop chemistry between the two. Knox and Robinson might be the two most exciting pieces of the puzzle, but they're not alone.
"They both have a lot of room to grow together along with Dennis [Smith Jr.] and the rest of these kids," Fizdale said on Thursday.
Incorporating Knox and Robinson into some young lineups that will foster growth is crucial for Fizdale and the coaching staff. One lineup, in particular, would include Frank Ntilikina, Damyean Dotson, and Dennis Smith Jr. This grouping would feature Knox as a stretch four—a role the Knicks hope Knox can develop into.
Frank Ntilikina (whenever he's finally healthy) brings top-notch defense despite the fact that he is still a work-in-progress on offense. Fortunately, Dennis Smith Jr. is a shot creator who thrives with the ball in his hands. Perhaps those two can form a cohesive pairing in the backcourt much like the Knicks hope Knox and Robinson can do in the frontcourt.
That leaves one more spot open for Damyean Dotson. The wing is starting to come around, but he still struggles through his own inconsistencies. That being said, he's a reliable three-point shooter, dogged on-ball defender, and rugged enough to add some rebounding. He's not a perfect player, but he has the potential to become a dependable 3-and-D wing.
Putting Smith, Ntilikina, and Dotson on the floor with Knox and Robinson would allow the rookies to do what they do best. Robinson can rim-run in the pick-and-roll with Smith and sometimes even Knox too. Fizdale mentioned that he plans to use them in the pick-and-roll more together.
Knox seems open to the idea of running pick-and-roll with his frontcourt counterpart. He says he's becoming more comfortable with his fellow rookie.
"He does a great job of setting picks and rolling to the basket. We all know he can catch lobs so it's just about getting more comfortable in those pick-and-roll tandems," Knox said after Thursday's loss.
But Knox is keeping things in perspective. He knows that this is a development year and he is dealing with the peaks and valleys.
"I knew I was gonna struggle," Knox told reporters in the locker room after Thursday's loss. "I knew I was gonna have some times where I played really well, sometimes I played bad. I just gotta be able to stay up, keep working hard. I'm never going to get down on myself."
Knox is projecting confidence during his low points. However, Robinson is projecting confidence as well.
"I want to get more blocked shots and one day be Defensive Player of the Year. That's one of my dreams," Robinson confessed.
That's a lofty goal for the young center, but it's one that feels like a possibility down the road. Knox and Robinson are two of the biggest reasons to watch the Knicks finish up a whirlwind of a season. How they develop alongside one another is the most important storyline to monitor in the final 20 games.