The Brooklyn Nets are the team to beat in the Eastern Conference. In fact, there's only room for improvement on the roster.

With the Kevin Durant and Kyrie Irving acquisitions made official, the Brooklyn Nets have cemented themselves as the team to beat in the Eastern Conference. These powerful words feel so strange to write; I can only assume they're even weirder to read.
Just four seasons ago, Brooklyn was a basement dweller with no picks, no star players of note, and no hope whatsoever. The team's dysfunction made the crosstown New York Knicks look like the damn New England Patriots. Then, Sean Marks took over as GM and the story of this underdog franchise changed.
Last week, the Nets added two top-12 players to an already bright young core of Caris LeVert, Spencer Dinwiddie, Joe Harris, Taurean Prince and the suddenly buff frontcourt duo of Jarrett Allen and Rodions Kurucs (playing great in Summer League, by the way). Marks continued to fill out the roster with some solid veterans, including Garrett Temple, Wilson Chandler and DeAndre Jordan. All-in-all, the Nets found a way to retain their league-leading depth while adding two All-NBA level talents.
To be fair, this move certainly comes with its fair share of risks. Kevin Durant is coming off the worst injury in sports and won't step on the floor until age 32. Optimists project he returns at 90% of his old self — still a damn good Dirk Nowitzki-like player. However, there's a world in which the Achilles rupture saps his ability to move around the floor with trademarked grace.
And then there's Kyrie. Mr. Irving's me-first attitude could detonate Brooklyn's sculpted culture from within. After the season of finger-pointing in Boston, Kyrie built an unsavory image around the league — one that, perhaps, outweighed his undeniable talents on the floor.
That said, there's a good chance that history fails to repeat itself. As a Celtic, Kyrie was surrounded by a duo of pedigreed top-3 picks (Jayson Tatum and Jaylen Brown) who demanded touches after spearheading an Eastern Conference Finals birth. Things should be different in Brooklyn. Irving will be enveloped by a rare group of youngins that are comfortable within understudy playoff roles. In a sense, Kyrie Irving will simply take over D'Angelo Russell's spot; the Nets have already done the hard work last season by figuring out how to initiate offense around a high usage guard. Jarrett Allen and Rodions Kurucs will continue to provide energy, Spencer Dinwiddie will kill backups off the dribble, Joe Harris will space the floor, and Caris LeVert will insulate Irving with his stellar defense and crafty floaters.
Brooklyn was nothing more than the other team in New York prior to these moves. Marks had the once in a lifetime opportunity to grab multiple Hall of Famers and he pounced. You don't pass this moment up, regardless of the surrounding stigma.
Oh, and by the way, the Eastern Conference is wide-open for the taking. Although we won't see the full propensity of Marks' master plan until the 2020-2021 season, Brooklyn's 1-2 punch is more appetizing than any other east core. Speaking of that …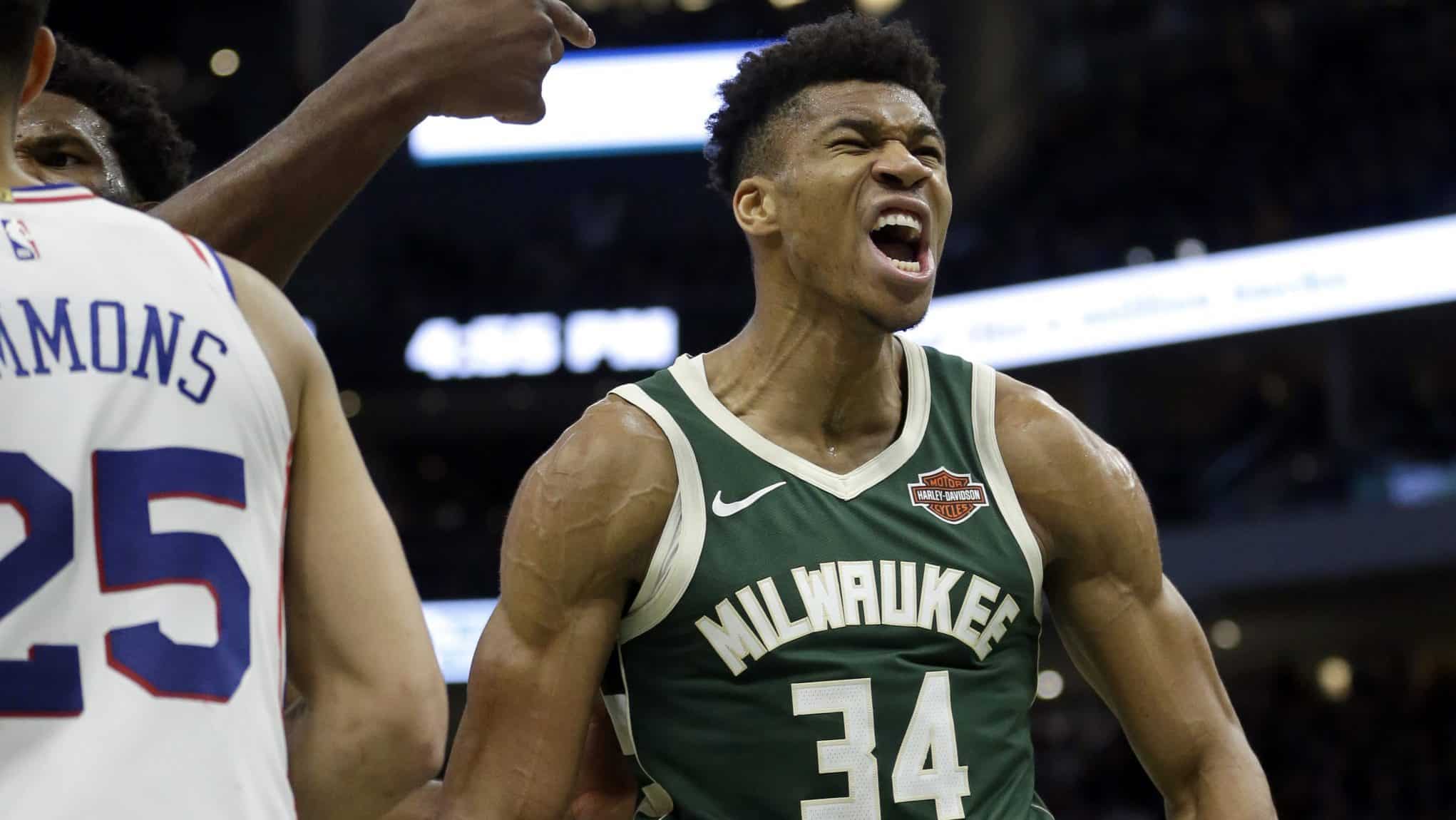 A look at Brooklyn's foes.
Let's start at the top with the 60-win Milwaukee Bucks. As it stands, Milwaukee has the best player in the conference: 24-year-old MVP Giannis Antetokounmpo. What's even scarier is that Giannis still has room to grow.
It remains to be seen if his next step of improvement can be as giant as his Eurostep stride. But even if he progresses ever so slightly, the Freak's presence alone thrusts Milwaukee into the upper threshold of the east's elite.
It should be mentioned that Milwaukee chose to cut costs this offseason for fear of the dreaded repeater tax. Although they brought Khris Middleton back for an absurd 5-year, $178 million price tag and retained Brook Lopez, Milwaukee let Malcolm Brogdon flee to a conference rival. Sure, $21 million per season is a hefty price to pay for a role player. But 3-and-D wings who put up 50/40/90 stat lines don't exactly grow on trees. If Milwaukee falls short during the next two seasons, Antetokounmpo — a 2021 unrestricted free agent — won't forget the front office's apprehension.
2/5ths of Toronto's starting lineup moved across country lines and now resides in Los Angeles: Kawhi Leonard is a Clipper while Danny Green will play for the Los Angeles Lakers. The Raptors may be forced to cut bait with its remaining veteran talents. With championship mettle, Kyle Lowry, Marc Gasol, and Serge Ibaka could provide immense value to an on-the-bubble ballclub. At best, the Raptors are a feisty 7-to-8 seed.
Philadelphia was certainly splashy this offseason. After flipping Jimmy Butler for Josh Richardson, signing Al Horford to a four-year, $109 million deal, and retaining Tobias Harris for 5-years, $180 million, Philadelphia became the league's most curious experiment. Going all-in on size is a fairly untested theology; Harris and Horford come equipt with the required amount of shooting to make this mega-sized lab test work.
However, a few questions arise. Namely, who is the go-to scorer for Philadelphia? Jimmy Butler repeatedly dragged the Sixers from the depths of hell in 2019. Who will be that guy this season? More than ever, the Sixers need Joel Embiid to stay healthy and carry the City of Brotherly Love on his shoulders. As it stands, Embiid can barely stay upright through four quarters of a playoff game. Asking for four postseason rounds from the man in the middle seems downright implausible. Unlike others, I'm pretty dubious of what Philly is building. It's not the size of the team that I have an issue with, it's the duplicative nature of auxiliary talents.
Boston and Indiana bring a similar case forward. Both are under-the-radar ballclubs who could catch opponents by surprise next season. In fact, I wouldn't be surprised if one of the two advances to the Eastern Conference Finals.
For Boston, a couple of things need to go right. First and foremost, Jayson Tatum has to take the huge next step. As time goes on, Kemba Walker's four-year commitment will appear less and less sexy. At just 6-foot-1, Kemba Walker is already 29 years old. His decline will be rapid and unforgiving — just look at what happened to undersized Chris Paul this season. If Tatum can break the threshold of top-tier wings, Boston's ceiling will rise sustainably. Until then, the Celts will remain an easy knockout within the Eastern Conference.
Indiana's makeup is a bit different. By snagging Malcolm Brogdon from Milwaukee on a 4-year, $85 million deal, the Pacers are hoping the Virginia alum can grow into Hoosier Kyle Lowry. With an immensely high IQ, above-average playmaking, and shooting efficiency that makes stat-nerds salivate, the pieces are there for Brogdon to dominate as a co-star.
Ultimately, things in Indiana will come down to Victor Oladipo's progress. It's not just a question of whether Dipo can return to his former greatness. The All-Star shooting guard needs to become a top-10 player in this star-driven league. There are other questions on this roster — does the Myles Turner/Domantas Sabonis pairing work? Was T.J. Warren's plus shooting from deep an aberration? Can the Pacers survive without Bojan Bogdanovic's shot-creation? — but the biggest query of all pertains to Oladipo's star power.
The rest of the conference is a bit of a wash. Miami secured Jimmy Butler but is still fairly barren (and, no, Russell Westbrook doesn't make them a contender). Detroit is bucking all trends by acquiring as many non-shooters as possible. Atlanta (and possibly Chicago) are stealth postseason contenders, but both ballclubs are years away from making serious dents.
Altogether, the east has returned to its old ways and is fairly devoid of talent. Things could get even hairier if Giannis flees the Midwest and Philadelphia's jumbo lineup shrinks in the limelight. Meanwhile, the Nets have Kyrie Irving and Kevin Durant under contract until 2023. Brooklyn is here to stay.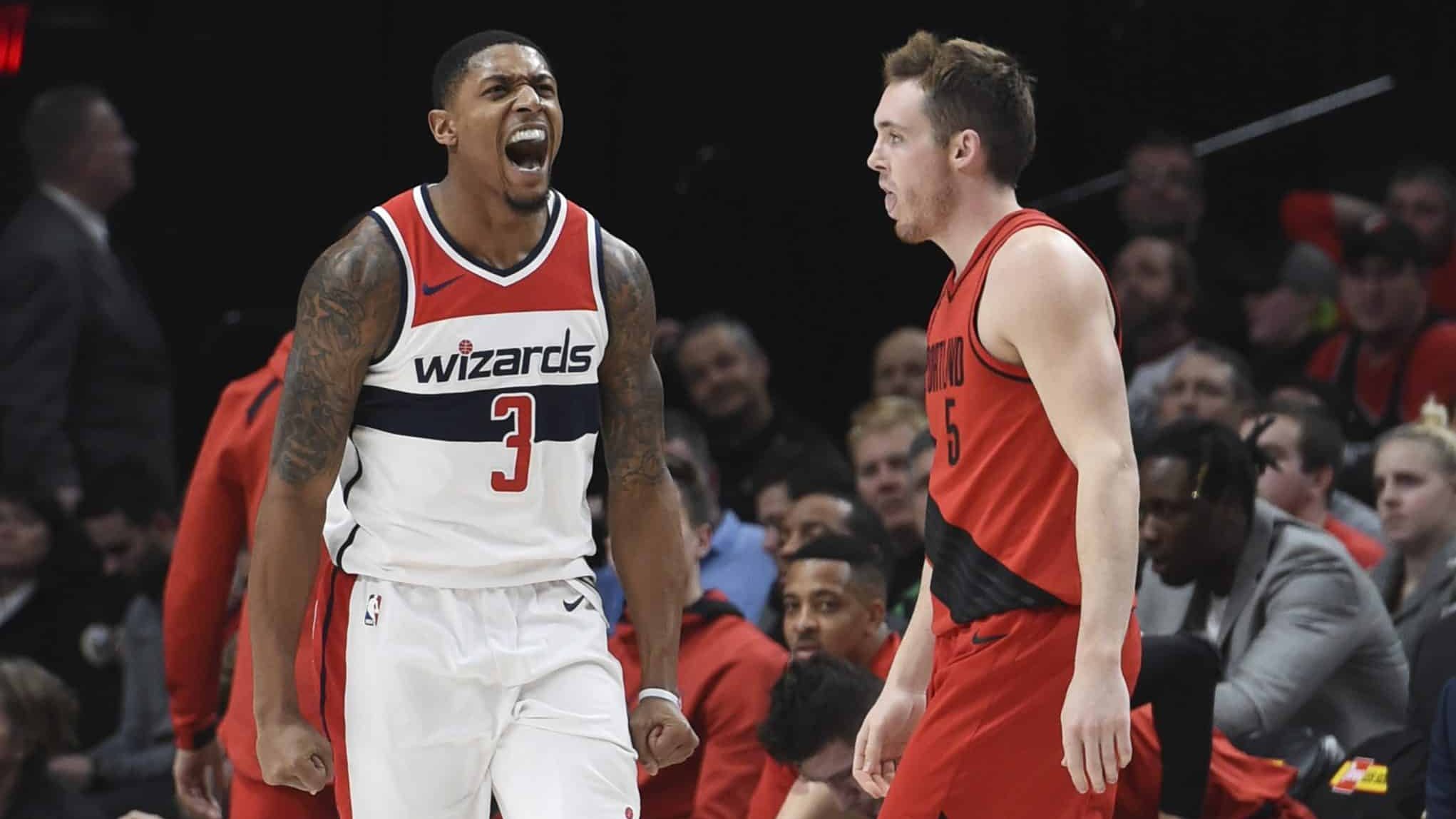 Brooklyn is the premier destination for stars on the move.
There is a world in which Sean Marks isn't finished dealing his massive deck of cards. That's right, this roster could actually continue to improve. Let's say that Brooklyn's backcourt trio of Kyrie Irving, Caris LeVert, and Spencer Dinwiddie fits incongruently. The Nets could use LeVert and/or Dinwiddie (and his attractive contract) as trade fodder to bring in the next superstar malcontent.
Brooklyn holds its own 1st-round draft rights in 2021 and beyond. Even after dealing their own pick during the Allen Crabbe salary dump, there's a small chance that Brooklyn could still have two firsts next summer. Golden State would have to finish within the top-10 next season, as the 2020 Warriors pick from the D'Angelo Russell trade is top-20 protected. The other — a lottery-protected pick from the LA Clippers — is unlikely to convey. Still, one can hope.
Together, Brooklyn has the pieces to compile a killer swing-for-the-fences package (think: the Anthony Davis blockbuster). Perhaps Bradley Beal will finally give his notice to Washington. Maybe James Harden decides he's sick and tired of Chris Paul's BS and yearns for a younger, sustainable roster. Karl-Anthony Towns could become the second Kentucky alum to force the hand of a small-market team. As mentioned before, Giannis may be in search of greener pastures after Milwaukee's cheapskate summer.
With two existing stars, top-notch ownership, a well-renowned medical staff, and established culture, Brooklyn could credibly house the league's unhappy stars. The Nets already have the Eastern Conference championship on a silver platter for years to come. Imagine if the east's aristocracy became one superstar richer.