Kyrie Irving and Kevin Durant shocked the world by joining the Brooklyn Nets as free agents. In a way, we all should have seen it coming.

"I just want to hoop."
This was what Kevin Durant told Marc Stein, formerly of ESPN. At that time, Kevin Durant was harmlessly discussing his decision to play for Team USA in the Rio Olympic Games. Still a member of the Oklahoma City Thunder, most expected Durant to run it back with former teammate Russell Westbrook to avenge their failed 2016 title pursuit.
In reality, no one truly understood the true power of Durant's words.
Two weeks later, Durant would spurn Oklahoma City—the team who drafted him—to join forces with the 73-win Golden State Warriors in hopes of finding basketball salvation. In KD's eyes, things in OKC were not up to standard. Durant left the city he had called home for 9 seasons in search of a better basketball fit.
Fast-forward three years and Kevin Durant echoed that same message.
"I just want to play ball."
While the syntax of Durant's statement was eerily similar, the context couldn't have been more different. No longer was Durant a wide-eyed 27-year-old with romanticized title hopes. Instead, this was the new resolve of "Warriors KD"—the back-to-back Finals MVP who had accomplished every goal he could ever ask for; only to feel more disgruntled than ever.
From the second KD inked a contract with the Golden State Warriors, he became a martyr across the NBA. For every Instagram post, tweet, and even Facebook status, Durant's comment section was littered with furious remarks. The snake emoji took a new life. Like many of us, it wasn't so easy for Durant to "tune to the haters out." The burner account debacle only fueled the fire for Durant's detractors.
Once one of the league's most beloved players—a guy who heartfeltly dedicated his solo regular-season MVP to his mother—Durant had become the ultimate super-villain.
The quotation above was pulled from a Feb. 7 postgame presser (per Mercury News' Mark Medina). At that time, Durant was coming off a 23-point, nine-assist, and eight-rebound night against San Antonio. His team walloped the poor Spurs, 141-102.
Instead of being asked about his elite performance, Durant was instead peppered with questions regarding his upcoming free agency. KD certainly didn't appreciate the general topic of the presser and retaliated:
"Every time I say something it's getting twisted up and thrown out in so many different publications, try to tear me down with my words that I say." Durant continued, "So when I don't say nothing, it's a problem. I just want to play ball. I want to go to the gym and go home, that's all. Is that a problem?"
One month later, a similar statement was aggressively hurled towards reporters in yet another postgame interview.
"I just want to play basketball at a very high level."
I know what you're thinking: Wow, Durant really hammered home this damn message.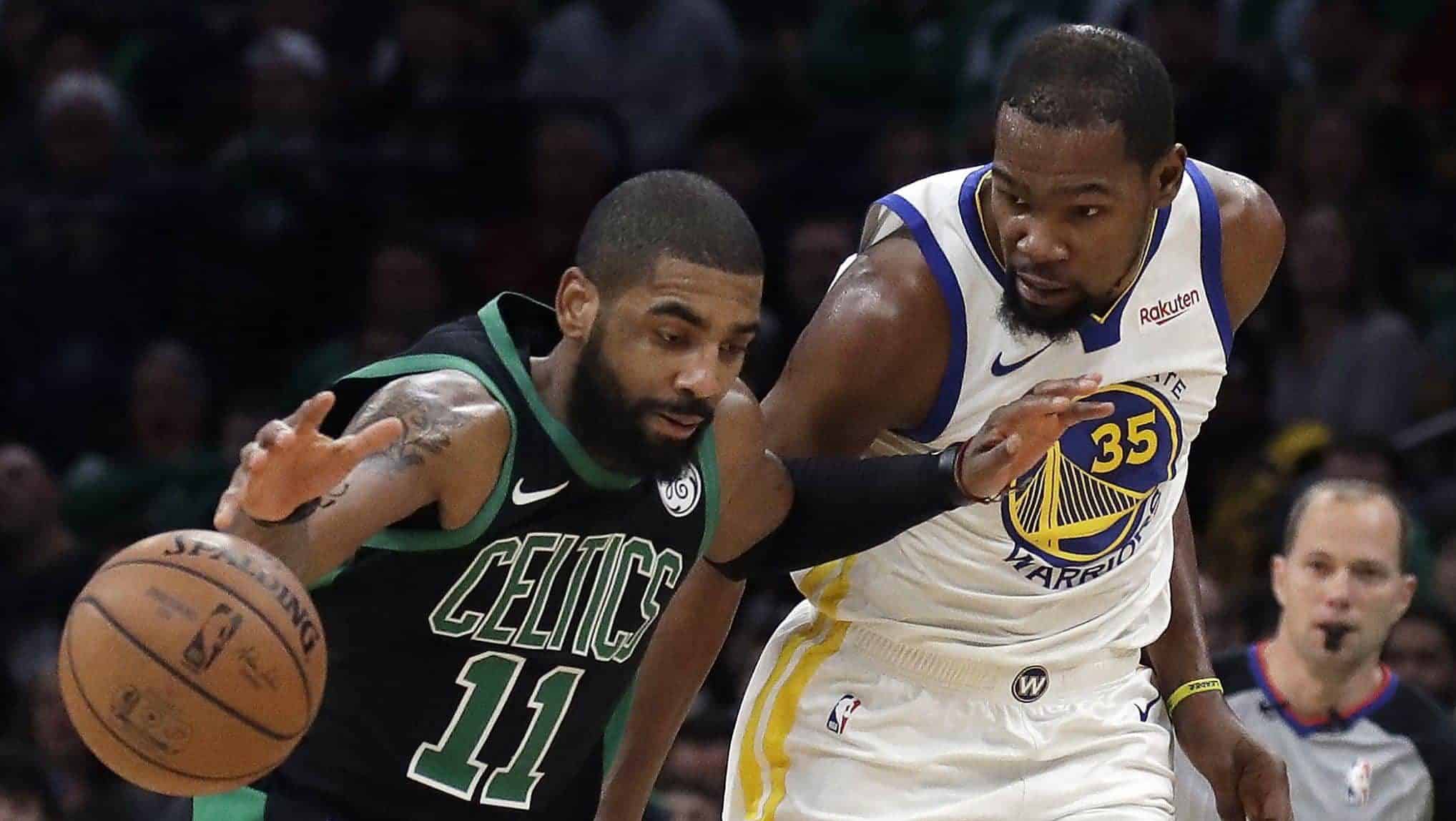 But alas, this powerful assertion did not come from our friend KD. Instead, it came from his newly crowned Brooklyn teammate, Kyrie Irving.
Here's the full quotation, courtesy of Kyle Draper of NBC Sports Boston:
"I didn't really come into this game to be cameras in my face, be famous, be a celebrity, whatever embodies that," Irving said. "It's a little hard for me. I wanted those things when I was younger, but now … I just want to play basketball at a very high level."
Even on opposite sides of the country, Kyrie Irving and Kevin Durant's experiences this season paralleled each other an almost ominous amount. Their similarities go much deeper than just a shared hatred of the media.
Kyrie Irving was looked at as the clubhouse leader of the Boston Celtics—a team that was just one quarter away from advancing to the 2018 NBA Finals. However, the 2018 Celtics were missing two key pieces: former All-Star Gordon Hayward and, most importantly, Mr. Irving himself (as he missed the 2018 postseason with a knee injury). With Irving and Hayward joining to the bright core of Jaylen Brown, Jayson Tatum, Al Horford, and Marcus Smart, many expected the 2019 Celts to cruise through the Eastern Conference.
Durant, on the other hand, entered 2019 as the reigning two-time champ. In pursuit of that illustrious three-peat honor, Durant geared up for another grinding season next to his All-Star teammates Stephen Curry, Klay Thompson, and Draymond Green. Much like Kyrie's Celtics, Durant and his Warriors seemed destined to decimate the weakened Western Conference.
Irving and Durant were supposed to meet in the 2019 Finals. Irving would carry the torch for one of The Association's most storied teams, while Durant would spearhead the Silicon Valley dynasty that had defined the 2010s.
But, obviously, some things went awry. Neither Durant nor Kyrie walked away with the 2019 title. Instead, both exited from what many considered to be "perfect scenarios" the second free agency moratorium began.
KD and Kyrie bristled with teammates this year. In Durant's case, this dispute occurred during a November loss versus the Clippers. In the final seconds of the game, former teammate Draymond Green ripped down a rebound, carelessly pushed the ball full-court, before ultimately losing the ball off his leg. The play was every bit as ugly as it sounds. Durant, who called for the ball throughout the entire possession, was pretty unhappy with the result and began yapping at Green as they headed towards the bench. Durant's anger came from a place of basketball purism. He knew Green had made the wrong play.
Green, never being the coolest of heads, retaliated aggressively. According to Chris Haynes of Yahoo Sports, Green screamed "We don't need you. We won without you. Leave" in Durant's direction.
Kyrie, well, he's on record for plenty of disputes with his young Celtic teammates. Unlike Durant, Irving wasn't as cordial to the folks on his former team. However, in a recent piece by ESPN's Jackie MacMullan, the senior writer detailed the source of Irving's frustrations; similar to Durant, it came from a sacred place of basketball sanctity.
As told by MacMullan, Kyrie's erratic behavior towards his teammates grew exponentially following a January game against the Miami Heat. At that time, Irving's Celtics were on the back-end of a back-to-back. The night before the big game, some of Irving's young teammates "head(ed) to South Beach, where the clubs stay open well past 5 a.m." According to MacMullan, "Irving was irked teammates decided to (go out) in the middle of back-to-back games."
The very next night, Boston lost to Miami—convincingly—115-99.
Irving, feeling disappointed by the embarrassing result, "was found shooting baskets on Miami's practice court, hoping some of his teammates who had played so poorly might join him. None of them did."
Things began to really spiral from there. Two nights later, Irving famously castigated his former coach, Brad Stevens, for failing to give him the ball in the clutch. You know the rest: The Celtics drudged through the rest of the regular season before eventually bowing out of the second-round in five ugly games.
Durant's season didn't end much better. Although he advanced to the promised land, KD suffered the worst sports tragedy imaginable—a ruptured Achilles tendon in Game 5 of the NBA Finals. This, of course, occurred because Durant willed himself onto the court earlier than expected to help his Warriors overcome a 3-1 deficit against the eventual champion Toronto Raptors.
Durant and Irving ultimately destroyed their bodies—and images—in pursuit of greatness. All they wanted to do was go hoop at the highest level. In Brooklyn, they'll get the chance to do that and more. The Nets ranked within the bottom three in attendance during the previous three seasons. Irving and Durant should change how this franchise is looked at in the eyes of opposing players, agents, and even teams. The Nets are now a premier free agent destination because of top-notch culture—similar to Golden State just five years ago.
All season long, Durant and Kyrie were rumored as possible members of the New York Knicks. Looking at it now, it makes sense why the tandem chose to avoid the team across the bridge. In Brooklyn, the owner is never in the headlines for the wrong reasons and the media isn't as overbearing on the Nets beat.
The Brooklyn Nets' medical staff is regarded by many as the league's best. This speaks volumes to KD and his ruptured Achilles, and to Kyrie and his somewhat troublesome knees. All signs point to Brooklyn handling the duo appropriately, resting them when needed and keeping minute totals under control.
On top of this, Brooklyn has become the league's center for damage control. The Nets' incubating culture completely reshaped the career of D'Angelo Russell. Perhaps Brooklyn can sculpt the perception around Kyrie Irving into "a good-hearted teammate and reliable co-worker."
In KD's case, Brooklyn will give him the validation he's always sought after yet never achieved while playing in the shadow of Stephen Curry. If Durant wins a title in Brooklyn, the city is his. Hell, even if he doesn't win, Brooklyn will forever be grateful to him. Should he win his third chip, there's no asterisk on this Finals victory—no questions asked. He's changing the fate of a perennial loser. Even better, he's providing hope to the underdog in New York. Talk about a narrative changer.
But perhaps best of all for the Nets' new duo is the patient Brooklyn fans. Although a title is the ultimate goal, there's general excitement within Brooklyn's community to watch the most star-laden team in franchise history cook. Just seeing these two step on the floor together will be a treat in itself. Kyrie Irving and Kevin Durant will have the freedom to suit up, be themselves, and do what they do best:
Play basketball at a very high level.