The New York Liberty's 2018 first-round pick and Ontario native is rising to WNBA stardom as she becomes one of the team's prominent scorers.

If the 2019 NBA Finals proved anything, it's that the basketball-loving public adores showstopping, fundamental, high-scoring hoops with a Canadian twist.
That being said, they're going to love Kia Nurse.
Contrary to the endless stream of social media posts lamenting the end of the year in hardwood, basketball didn't end with Stephen Curry's memorable miss. Each of the WNBA's dozen squads has yet to play 10 games, but heroines have emerged from all sides. Nurse, a guard for the New York Liberty, is one such emergence, going through anything but a sophomore slump.
Her story is one even the casual basketball fan has heard before. Nurse entered the WNBA hauling hardware from Storrs, CT. She was part of the most recent national champion squads the University of Connecticut produced (2015, 2016). Stored next to those two rings were accolades such as the American Athletic Conference's 2015 Freshman of the Year Award and the conference's top defensive honor from 2018.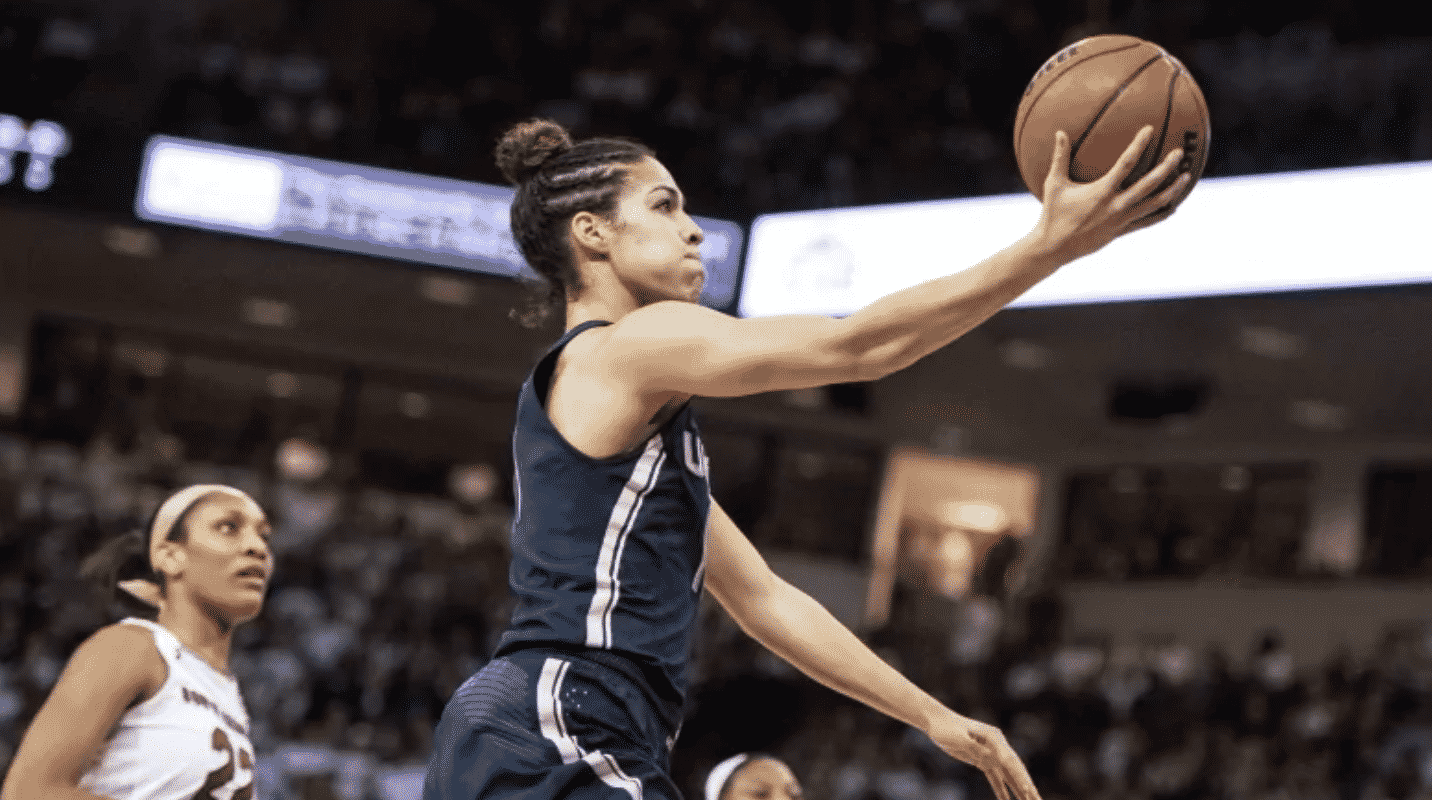 Unlike the lion's share of the WNBA alumnae who graduate from Gampel Pavilion, Nurse wasn't known for her scoring. Her career-best average was a 13.5 tally in her senior year.
Nurse instead developed a fearsome reputation as a shutdown defender. It's a trait that runs in the family, as her older brother Darnell is a blue-liner for the Edmonton Oilers. One of Nurse's newest teammates in New York was one of many who were frustrated by her pesky antics.
Asia Durr was the second overall pick of the 2019 WNBA Draft. The Louisville product gained a reputation an offensive playmaker and reliable scorer. Those skills disappeared during a 2018 non-conference venture to the Constitution State when her fourth-ranked Cardinals sought an upset over the top-ranked Huskies.
Durr did reach her customary tally of 20 points, but it took literally the entire game to get there. In 40 minutes, Durr shot 7-of-19 from the floor, including 3-of-12 from three-point range. With the opposition's primary threat neutralized, the Huskies took a 69-58 decision with relative ease. Nurse had just four points but made her mark on her future sister in both Liberty and Jordan Brand unity. Upon her drafting, Durr instantly recalled the matchup from her junior year.
"She's very strong, she's quick, very aggressive," Durr said at April's draft proceedings. With a nervous laugh, she added: "I remember all of that!"
Durr wasn't the only prominent scorer stifled by the prowess of Nurse that season. Fellow 2018 first-round pick Jordin Canada shot 5-of-16 and lost four turnovers when her UCLA Bruins fell 78-60 to Nurse and the Huskies. South Carolina guards shot a combined 6-of-20 in a one-sided Elite Eight matchup.
As Nurse plays her role in the redemption of the Liberty, a transformation has occurred. Suddenly, New York has called upon her to make contributions to the scoring efforts.
When forced into such a challenge, most players would perhaps cringe and make excuses. The energetic Nurse instead ties her hair up, does a little dance, and smiles.
"Whatever the team's going to ask me to do, that's what I'm going to do," Nurse said recently. "For me, this year, (a scorer's) been more of a role for me. We run plays where the first option is a shot off the stagger … I've learned how to step into that."
The process began almost immediately after Nurse made the move to New York. She reached double figures in six of her first seven professional games, a milestone she didn't reach once in over the final three months of her college career. She officially introduced herself to WNBA basketball with a 34-point performance in an overtime win at Indiana.
The return of healthy veterans to the lineup caused Nurse's minutes to become limited, but further ailments increased her workload as the season went on. As the Liberty slogged through a franchise-worst 7-27 record, Nurse remained a silver lining. In the season finale, she played all 40 minutes and scored 28 points (9-of-16 shooting) in a loss in Phoenix.
This season, Nurse has taken on an even bigger role while retaining her newfound scoring abilities: the face of the franchise in waiting.
Liberty highlights will be dictated by the antics of superstar and Queens native Tina Charles until further notice. But Nurse's fun-loving personality, international fanbase, and all-around strong skillset make her an ideal candidate to take over, especially with the team establishing a new local identity with new ownership. Brooklyn Nets minority owner Joseph Tsai purchased the team from James Dolan and the Madison Square Garden Company earlier this year. The team is slated for one regular season game at the Barclays Center this year, and discussions are ongoing about more.
"It's great because our program is changing directions a little bit. There will be a lot of new this year. Barclays is new, new ownership, new people around the team…that'll be really fun to get through that," Nurse said during training camp at St. Joseph's College in Brooklyn. "From the moment we got here, we can feel how invested this team is in us. When someone is extremely invested in you, you want to give them everything you have on the flip side and thank them for that investment."
"It's all about the team and trying to find a way to win some games this year."
In the early going, Nurse is doing her part to accomplish that goal.
Like most of the WNBA, the league offseason was anything but a time of leisure for Nurse. She went over to Australia to partake in the WNBL, the Land Down Under's premier women's league. What began in New York continued in Canberra. She averaged 18.4 points, good for fourth in the league, and helped her Capitals earn their eighth championship.
"I ran off a lot of screens," Nurse said, reflecting on her experience overseas. "I think the way they used me in that offense is going to help me be a lot more consistent this year."
The improvements were on display in the Liberty's Brooklyn arrival. In an exhibition match against the Chinese national team, Nurse put up a game-high 19 points (tied with teammate Han Xu) in an 89-71 victory. 15 of her tallies came in the third quarter alone, helping the Liberty make up a halftime deficit.
Chosen to take on further responsibilities in the New York lineup, Nurse struggled in the early going. She struggled to find consistency as the Liberty extended a losing streak begun last season, shooting 14-for-34 as the team started 0-4.
Lost in the opening defeat was yet another new skill Nurse was keen to show off: a bold interior prescience. The numbers weren't there when it came to rebounds. However, Nurse's willingness to insert herself in the paint afforded the Liberty second-chance opportunities and opened up physical battles.
"She doesn't mind the contact, she's able to get in there and finish," head coach Katie Smith observed after opening night on May 24. "She wants to be a consistent scorer and defender."
The Liberty have since recovered to win three of their last five games. By no coincidence, Nurse has put her scoring plan into action and claimed the paint as her own on both sides of the ball.
Thanks in part to the efforts of Nurse, the Liberty were able to end two of the most dubious streaks in franchise history. Despite a modest 15 points on June 9, her energy flowed throughout the Westchester County Center as she became a vital spark plug to give the Liberty an 88-78 win over Las Vegas. The victory ended an 18-game losing streak. Three days later, Nurse again played the entire slate, putting up 26 points in a 75-69 win over the Minnesota Lynx.
Smith didn't hesitate for a second when it came to Nurse and her participation.
"Nurse is somebody who can handle that, still push through," the head coach said. "She's able to function even when she's a little tired. I thought she had a monster game and really came up big."
To show that the old Nurse was still alive and well, she held touted Lynx rookie and fellow former Husky Napheesa Collier to two points on 1-of-7 shooting.
A win streak ended prematurely with a blowout defeat at the hands of vengeful Las Vegas. However, Nurse came up big when the time required it. On Saturday in Los Angeles, Nurse was wide awake and focused while most of the east coast slept. Her interior tenacity netted her not just seven rebounds but also got her to the line a whopping 16 times. In the ensuing opportunities, Nurse missed a single free throw to set a new Liberty record. The free throws wound up being part of the difference in a 98-92 Liberty victory. The win ended a duplicate 18-game losing streak on the road.
In one final newfound skill, Nurse has also had to take on a bit of a leadership role as the Liberty underwent a bit of an awkward transitional period at the guard spot. Bria Hartley has left to represent France in the EuroBasket Women competition, while Rebecca Allen is out for the foreseeable future with a hand injury.
Nurse says her leadership skills can be helped through delegation.
"When someone is hurt or not here, it's a matter of how we produce what were missing from them," Nurse said after Wednesday's game against the Chicago Sky. "Durr and I won't be what Bria is, but Durr can bring a little bit of what Bria does."
The new leader's humor has also been a welcome source of New York levity. After leaving the Chicago game with an apparent ankle injury in the second quarter, Nurse returned to play the remainder of the game. Asked about the ailment, she only quipped "it's still on". When further questioned about the chemistry with Durr, she cheekily replied "I don't like her. Unsalvageable." She was unable to keep her laughter in before continuing to speak highly of her de facto protege.
"It's great to be teammates with someone who's a great player and a great person at the same time"
Thus far, to no one's surprise, it's business as usual for Nurse despite the changing landscape. Longtime WNBA veteran Tanisha Wright said the Liberty of the present and future "is in good hands" with Nurse. Durr, grateful not to see Nurse on defense in a game-setting anymore, sang praises of her new, young mentor.
"She plays hard all the time. Players who play hard the whole game, good things are bound to happen. She's that one."
Follow Geoff Magliocchetti on TWITTER