Before leading his young Brooklyn Nets to the playoffs and finishing as a Coach of the Year finalist, Kenny Atkinson's barometer for success was membership to a 60-win Atlanta Hawks team. From 2012-to-2016, Atkinson played a pivotal role as the lead assistant to Head Coach Mike Budenholzer.
Led by its All-Star frontcourt of Al Horford and Paul Millsap, the Hawks bulldozed their way to the 2015 Eastern Conference Finals before eventually losing to LeBron James and the Cleveland Cavaliers.
Some time has passed and all four of Atkinson, Budenholzer, Millsap, and Horford have fled to greener pastures. Atkinson has birthed a new era in Brooklyn; Budenholzer has continued to spearhead 60-win teams in Milwaukee; Millsap and Horford play pivotal roles on young playoff teams.
Al Horford is in year four of a $113.3 million contract with a player option worth around $30 million in 2019-2020.
At first glance, accepting a $30 million player option seems like a no brainer. Horford is on the older side. Rolling the dice and hoping for continued health and success in 2020 is certainly dicey. So rather than risking it all, perhaps settling for a restructured contract with less money annually is the best move going forward.
Paul Millsap is entering year three of $90 million deal with a club option of $30 million; meaning that his current team, the Denver Nuggets, have the discretion to offer Paul that final year of big money. However, if both sides fail to come to an agreement and Denver feels he isn't worth his asking price, Millsap could flee to a different team in desperate need of star talent (i.e. the Los Angeles Lakers). For a Denver team who was one game away from advancing to the Western Conference Finals, this could be detrimental to future team success. The attainable talent for a small market team may not get better than Millsap — regardless of his age.
On a surface level, Millsap and Horford are two defensive-minded bigs who can guard multiple positions.
Al Horford is a 6-foot-10 center who entered the league as a power forward. Since then, he has transitioned into becoming a modern day stretch five. Paul Millsap is a bruising 6-foot-8 power forward who has been undersized his whole career. What he doesn't have in height, he makes up for with quick hands, defensive integrity, and tremendous speed for his position.
Given their experience with Kenny Atkinson, they'd fit rather well into his system. The rotation options are certainly intriguing.
As it stands, Brooklyn's frontcourt needs a touch-up. Jarrett Allen is an excellent lob threat but his jumper is TBD. Last season, Paul Millsap made 36.5 percent of 2.3 attempted threes, so he slots in beautifully next to The Fro. It would be in Brooklyn's best interest to keep Millsap exclusively at the four; the Denver Nuggets rarely utilized Millsap at the five. When they did, it, um, didn't go well. Playoff net ratings were even more disastrous. If Brooklyn were to bring Millsap aboard, they would either need to …
a) re-sign Ed Davis
or b) scope out a shot-blocking backup.
Looking at lineup projections, Al Horford offers more versatility. Last year, he canned 36 percent of 3 three-point attempts per game. In the postseason, he was even more lethal from behind the arc, scorching the nets at a 40.9 percent clip on 4.9 attempts.
That shooting stroke makes him a viable candidate to start next to Jarrett Allen at the 4. You could also play him as a center with the reserves or as a 5 in small-ball units. If 21-year-old Jarrett Allen was unplayable at the end of certain games (like he was against the Philadelphia 76ers during round-one), Atkinson could even run Horford as his go-to center down the stretch.
Both players present interesting options for Brooklyn. Let's see which player is a better fit.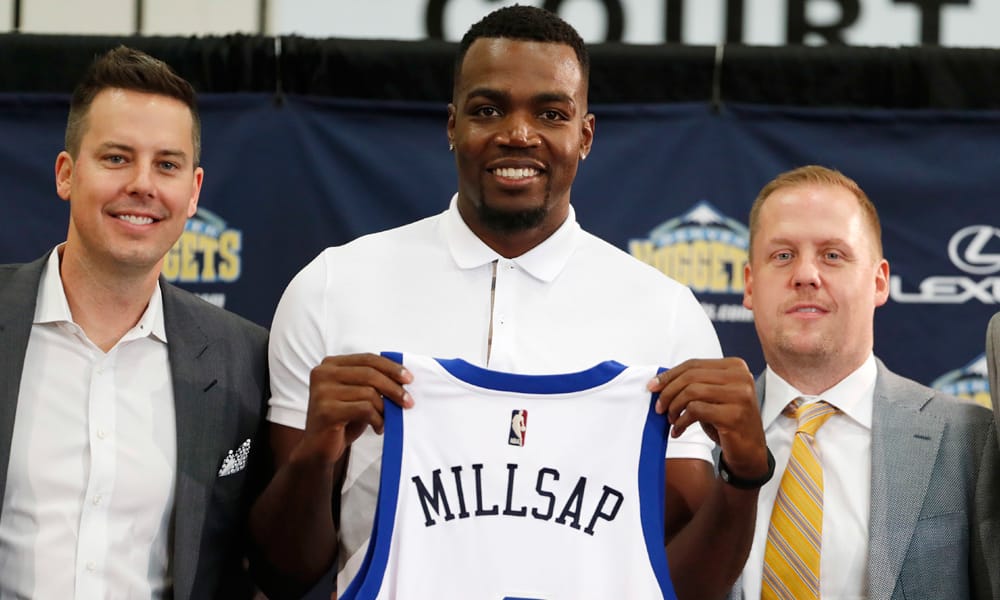 Paul Millsap
As a power forward, Paul Millsap is about as unconventional as they come. Offensively speaking, he's a throwback frontcourt player. His best form of attack is the good ole' fashioned post-up.
Over the course of the regular season, Paul scored 1.01 points per possession from the post and ranked within the 72nd percentile. Those numbers only improved during the postseason. Millsap was elite with his back to the basket, producing 1.05 points per possession while ranking within the 93rd percentile.
Take a look at this pair of post-ups from the Portland-Denver series. Look closely at Millsap's footwork, timing, and shot variety.
Talk about veteran savviness. Contrary to popular belief, post-ups are still valuable in this league — especially during tight playoff settings. When the offense slows to a crawl, many times it's best to dump the ball to a guy like Millsap and let him go to work.
Defensively, Paul Millsap is about as cutting edge as it gets.
As mentioned before, Millsap is 6-foot-8; the nominal size of most small forwards. Given that he's undersized, he's never been much of a shot blocker. His defensive brilliance occurs away from the basket.
Paul brings a unique package to the table in terms of build. While his muscular 248-pound frame suggests he should be more of a clumsy bruiser, Millsap has been blessed with light feet and excellent hand-eye coordination.
His physical gifts lead well into defending the pick-and-roll.
Normally, teams run the pick-and-roll to switch an opposing big man onto their guards. From there, the guard can: scamper by the big and score at the basket, rise up and pop a three in the big man's grill, or even draw contact and place the big in foul trouble.
However, with Millsap standing in the way, those options are basically eradicated. Again, Millsap is fast for his position, and he can realistically stay step-for-step with most guards following a switch. Take a look at how Paul shadows Portland's Damian Lillard into an ugly long two-pointer.
Millsap's quickness can also buy time for his teammates. Notice his brilliance as he "hedges" this pick-and-roll against Portland.
At the beginning of the possession, Portland's Al Farouq Aminu sets a high ball-screen near midcourt. It's a damn good screen too, and it levels Denver's Gary Harris.
With Harris out of the way, Damian Lillard readies his rim attack. Unfortunately for "Logo Lizard," Paul Millsap steps into the picture and stymies Dame by shading him towards the sideline. With Lillard feeling skittish, Gary Harris is able to sprint back into the play and double-team the Pacific Northwest star. Lillard is now completely pinned to the boundary line, and Millsap reaches in for the easy steal.
Given that he can shoot well from outside, post-up, and pick up guards via switches or hedges while defending the pick-and-roll, Paul Millsap seems perfect for the Nets. However, he comes with some complications: namely, health and age.
If the Nuggets were to turn down Millsap's $30 million team option but still wanted to retain his services, you best believe that the former All-Star would negotiate himself some serious money. If Brooklyn wanted to compete, they may be looking at a two-year, $20 million contract. Perhaps even three years, $28 million.
Let's assume he takes the team-friendly three-year deal worth less money annually. Paul is currently 34 years old and that contract will run until he's 37. While his scoring numbers dipped slightly last season (to 12.6 points per game), his advanced numbers (2.9 defensive win shares; 3.2 offensive win shares) suggest he's still got something left in the tank.
But here's the hold up: I worry that, if he loses even a quarter of a step, his efficiency will plummet dramatically. Eventually, Father Time will catch up with Paul. It's just a matter of when.
To get a clearer picture of Millsap's trajectory, I went ahead and used Basketball Reference's "Player Season Finder" to compile a list of similar athletes (6-foot-6 to 6-foot-9; forwards; ages 34 and older). To account for Paul's three-and-D skillset, I included the qualifiers of 1 total three-point attempt and 1 defensive win-share. The list of players who qualified wasn't particularly lengthy.
Those who landed on the list fell off the face of the earth shortly after. Shane Battier retired at 35, Shawn Marion flamed out in Cleveland at 36, and Antawn Jamison dragged his feet to the finish before eventually bowing out of the association at age 37.
With this in mind, Paul Millsap will likely enjoy only 1-to-2 more effective seasons. From there, he may transition into the "veteran leadership" stage of his career and make his contributions from the bench. Paying $10 million to a 37-year-old cheerleader is a pretty daunting thought, and Millsap could greatly complicate Brooklyn's cap space going forward.
I've been banging the Paul Millsap drum since the season ended. But my tone has changed since doing a historical deep-dive. While Paul Millsap is a seamless basketball fit, his age is unflappable and concerning. With that said …
Brooklyn should stay clear of Paul Millsap.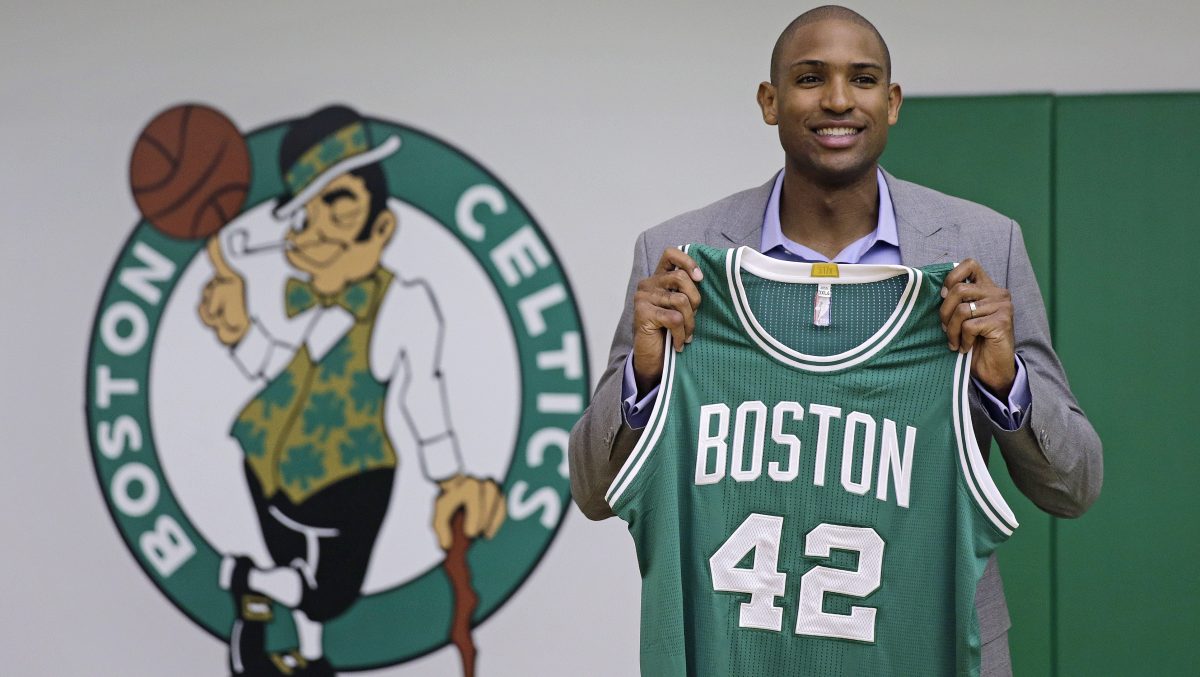 Al Horford
Al Horford could best be described as an outside-in player. I've already mentioned his 40 percent three-point proficiency, but the dude is also prolific from the midrange. Of players who attempted 70 total midrange shots or more, Al's 54.7 field goal percentage ranked second behind a man by the name of Kevin Durant. Elite company.
For a team like Brooklyn who runs a ton of pick-and-roll, Al Horford is the ideal big man. He's arguably the best pick-and-pop center in the league. Horford puts opposing big men in brutally tough situations when defending the pick-and-roll. They can either stay home in the paint and hope Al Horford misses from long range …
Or, they can pick up Average Al at the arc. Unfortunately, this produces wide-open driving lanes.
Things get ugly for a defense when Horford sets a screen. Points will be scored. It's just a matter of how and when.
Defensively, Al Horford is a verticality expert. He doesn't rack up a ton of blocks, but Al is excellent at moving his feet laterally while keeping his hands raised. In fact, Horford is one of the few equalizers to Giannis Antetekounmpo and Joel Embiid — two of the league's most freakish 7-foot talents. Most bigs get left in the dust following a Giannis (or Embiid) pump-fake and drive to the basket. Al Horford is a different story.
For all of the chatter about his decline on defense, Horford sure refuted that claim during the 2019 postseason. On a per game basis, Horford accounted for .168 defensive win shares; fourth-best among players who qualified. (Other players atop this list include Joel Embiid, Giannis Antetekounmpo, Eric Bledsoe, and Royce O'Neale.)
To partially borrow from John Karalis of MassLive, Horford may be looking for a deal along the lines of 3 years, $64 million. While $21 million per season may seem like a heavy price for an older player, Horford just turned 33 on June 3rd. He'll be 35 by the end of his contract. Even better, players with his build and skillset tend to age on a friendlier curve. Oh yeah, I've got the receipts to support this bold claim (courtesy of Basketball-Reference.com).
One last thing. Did I mention that Al Horford is maddeningly consistent? Since 2014, Al has played an average of 73 games per season.
Al Horford is one year removed from being the second-best player of the 2018 Eastern Conference playoffs (behind LeBron James). With pick-and-pop abilities, he'd make the perfect compliment to D'Angelo Russell, Kyrie Irving, or both. Defensively, he can credibly guard multiple positions and is still capable of putting up hallmark performances against the league's stars. With the strength to play center and the speed to play power forward, Horford would fit seamlessly into Brooklyn's rotations — possibly next to budding Jarrett Allen. It goes without saying but …
While he certainly shouldn't be Brookyn's Plan A, Al Horford is a reasonable target for the Nets.