The New York Jets potential offensive personnel packages in 2019 feature a solid base and additional versatile variations.

Tecmo Super Bowl. 1991. NES. So amazing it'll explode the mind of any young football fan.
The gameplay was tremendous. The graphics cuts and video presentations were mind-boggling. The settings that actually allowed for season play were too much to handle.
Perhaps most crazy was the fact offensive substitutions were in the game. It wasn't perfect, but it worked. Those familiar with the cartridge necessary to blow in (at times) understand how it worked. Most teams ran the standard 21 pro personnel (1 HB, 1 FB, 1 TE, 2 WR). Other teams actually showcased an 11 personnel base (1 HB, 1 TE, 3 WR). And only a few teams (the Houston Oilers, Atlanta Falcons and Detroit Lions) fielded a run-and-shoot personnel set (1 HB, 4 WR).
No matter the substitutions made or formation of plays called, those offensive sets didn't change.
That was then. This is now.
NFL offenses in 2019 run everything. Though the 11 personnel has taken hold as the base, versatility is the goal when additional packages are considered.
At the release of Tecmo Super Bowl, December 1991, Adam Gase was probably a 13-year-old child eager to get his football in. Whether or not he played the game, the 2019 New York Jets would have featured an 11 personnel look in Tecmo.
Thanks to versatile additions this past offseason, the Jets complements to their base are extremely interesting. Today, we breakdown the potential offensive looks coming in 2019.
11 Personnel
Here it is; 11 personnel, the bread and butter that is the National Football League right now.
For the Jets, the grouping takes on a deeper meaning considering Gase doesn't even mess around with one fullback on the roster. He simply doesn't carry fullbacks.
It's the package that'll be prominently shown on your TV sets on Sundays. Le'Veon Bell as the lone running back, Chris Herndon as the Y, Quincy Enunwa and Robby Anderson out wide, and Jamison Crowder in the slot.
12 Personnel
RB: Le'Veon Bell
TE: Chris Herndon
TE: Trevon Wesco
WR: Quincy Enunwa
WR: Robby Anderson
Gase's second-most used personnel package after 11 is the 12. He'll use the one back, two tight end, two-wideout look frequently.
Enter rookie Trevon Wesco, who, with Jordan Leggett gone, will assume a major role in the offense this season. His competition from a balanced area is Neal Sterling, while Eric Tomlinson's run-blocking ability is Wesco's target to beat this August.
21 Personnel
RB: Le'Veon Bell
H-B: Trevon Wesco
TE: Chris Herndon
WR: Quincy Enunwa
WR: Robby Anderson
Technically, this look is still 12 personnel. We'll call it 21 based purely on Wesco's usage.
The Jets de facto fullback will either be Wesco or Tomlinson. Whoever wins the job will take on the H-back role. In Gase's offense, it's best to deploy a balanced No. 2 tight end who can serve as a pass-catching threat while dominating in the run-blocking game.
That's Wesco.
Whether he's lined up as an H-back in the backfield or as the No. 2 tight end inline or on the wing, he'll run a ton of split-zone blocking schemes and be asked to do all the dirty work.
13 Personnel
RB: Le'Veon Bell
TE: Chris Herndon
TE: Trevon Wesco
TE: Neal Sterling
WR: Quincy Enunwa
It won't be a staple, but the 13 personnel will be used.
One step away from the traditional goalline look, three tight ends with a back and outside weapon brings the beef.
10 Personnel
RB: Le'Veon Bell
WR: Quincy Enunwa
WR: Robby Anderson
WR: Jamison Crowder
WR: Deontay Burnett
Now we're getting a little too cute. Would Gase ever want a fourth wide receiver on the field in exchange for Herndon?
Probably not. At least probably not often.
It's an available look when speed is necessary to stretch the field. Bell can even join the outside fray with five weapons in play and an empty backfield.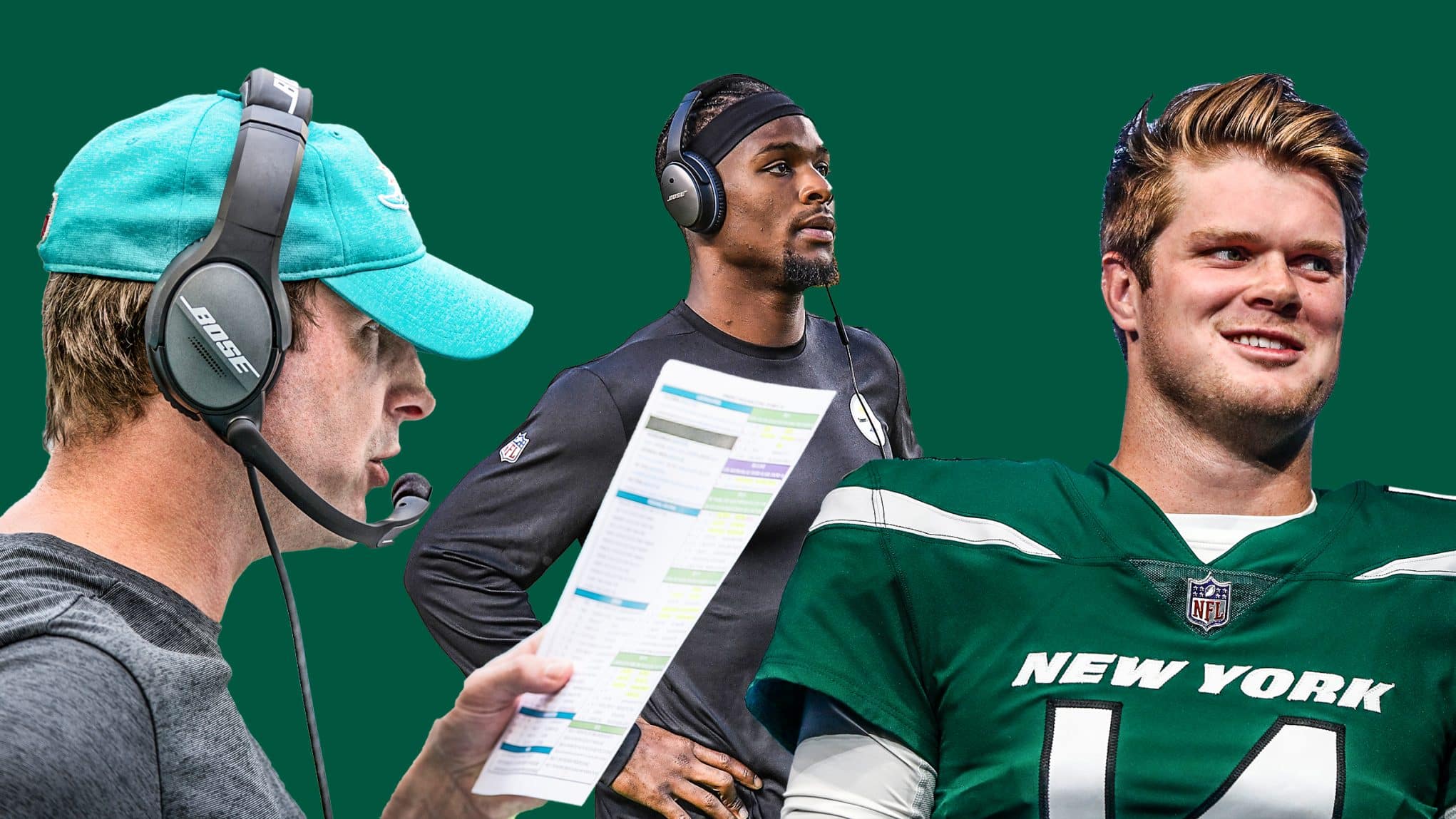 01 Personnel
TE: Chris Herndon
WR: Quincy Enunwa
WR: Robby Anderson
WR: Jamison Crowder
WR: Deontay Burnett
The 01 is similar to 10, only this version will showcase an empty backfield unless Crowder's over-the-top motion allows him to line up in the backfield (which he can and will do from time to time).
11 Personnel (Empty)
RB: Le'Veon Bell
TE: Chris Herndon
WR: Robby Anderson
WR: Jamison Crowder
WR: Deontay Burnett
Wait, the 11 was already discussed … but not like this.
Gase enjoys the empty-backfield game. Similarly to Josh McDaniels up north, the base 11 will be thrown out into an empty-backfield formation that forces the defense to spread out and tip its hand.
The look caters to pre-snap dominance, especially if the running back can line up and run routes like an outside weapon (hello, Le'Veon).
21 Personnel (Dual HB)
RB: Le'Veon Bell
TE: Chris Herndon
WR: Quincy Enunwa
WR: Robby Anderson
Finally, the backup running back gets thrown into the mix. Whether it's Ty Montgomery or Elijah McGuire, who are both versatile players, the dual-back look out of the old-school 22 base can feature a myriad of options.
Both backs can, of course, line up in the backfield. More importantly, it allows Bell to line up out wide or the second back to serve as the jet-sweep motion (as a secondary option to Crowder).
Bell, Montgomery and McGuire are all basically made of the same stuff. All three can rush the ball in a one-cut fashion and take to the air. The personnel at the position smashes the idea of a traditional thunder and lightning (big boy and third-down back) setup.
Thanks to the total versatility of the backs and a couple of the wideouts (Enunwa and Crowder, especially), New York Jets head coach Adam Gase is equipped with incredible personnel possibilities moving forward.