Grant Williams is far from the perfect prospect, but the Brooklyn Nets should pounce if he's available at No. 17.
Both the Tennessee Volunteers and Brooklyn Nets are coming off their best seasons in quite awhile. Brooklyn finished the 2018-19 campaign at 42-40, good enough to secure the sixth seed in the East. Tennessee, led by Grant Williams and Admiral Schofield, went 31-6, their most wins since 2010. During the season, Williams made a solid impression on NBA scouts. If all goes well, he'll be on the board when Brooklyn drafts.
With the 17th overall pick, the Nets are in the position to grab a terrific player. The likes of Zion Williamson and Ja Morant will be long gone. But securing Williams as a consolation prize wouldn't be terrible.
Grant Williams joined the Volunteers as a freshman back in 2016-17. Age is a prime factor in why some prospects fall on draft night; the inclination is that their game is less malleable. Contrarily, older players tend to be more polished with impressive leadership skills. Williams, 20, was the driving force behind Tennessee's fantastic season. He played the best basketball of his career. His scoring (18.8), rebounding (7.5) and assists (3.2) were all career-highs, and he shot a blistering 56.4% from the floor. Additionally, he converted 81.9% of his free throws and was a monster on defense, posting 1.5 blocks and 1.1 steals.
The combination of Williams' statistical output and team success drew much acknowledgment. He was a finalist for the both the Naismith and Wooden Awards, finishing alongside the likes Williamson, Morant, Jarrett Culver, and Rui Hachimura. Williams also captured his second-straight SEC Player of the Year award. On top of that, he landed on several All-America teams.
Tennessee's dominance began on offense. Williams was the catalyst. He and Schofield formed a formidable inside-outside duo. The junior spent a significant amount of time in the paint. Most of Williams' shots came in the post, and he was remarkably proficient. According to Synergy, he averaged 1.173 points per possession on post-ups, placing him in the 97th percentile. Those play types occurred nearly 30.0% of the time.
Williams isn't the biggest or most explosive player in the draft. At the combine, he measured 6-foot-7.5 in shoes with a 31.5-inch max vertical. Williams is a bully, and he excels as a post player because of it. Although being undersized isn't ideal, it provides him leverage against most defenders. A couple of hard dribbles puts him near the rim; hoop-math.com estimated that 37.5% of his attempts came from that zone, and he converted 72.3% of the time. There's more to Williams' game than brute strength, though.
For someone with such a robust build, Grant Williams has a soft touch. He's developed a penchant for turnaround jumpers, and his floater is lethal as well. He utilized those moves regularly, especially the jumper.
When Williams faced a defender with strength to match his, he seldom forced his way to the basket, and those decisions helped maintain his astronomical efficiency. If that approach failed, Williams sought out contact, another part of his game that improved drastically. He led the SEC with 260 free throw attempts. Brooklyn would benefit tremendously from his interior presence.
The Volunteers coaching staff made sure to put Williams in positions where he'd be the deadliest. It was rare to see him create on the perimeter. Instead, Rick Barnes used him as a passer in both the low- and high-post. He dished out 117 assists this year. Over his first two seasons, he accumulated 102. Williams handed out more dimes while also keeping his turnovers relatively low. On average, he gave the ball away 2.2 times a night, almost identical to the 2.1 he posted as a sophomore. The ratio isn't breathtaking, but it shows an increased basketball IQ, which helped foster better execution.
When a defense managed to push Williams out of the post, Barnes adapted. He shuttled his forward around the court, having him slip through openings and fill whatever spot needed filling. That part of his game will be particularly useful at the next level. NBA defenders are far more intimidating than collegiate ones, even for those who played in an elite conference. Becoming more efficient at reading defenses will serve Williams well, but there are still some limitations that the Nets' player development staff would have to break.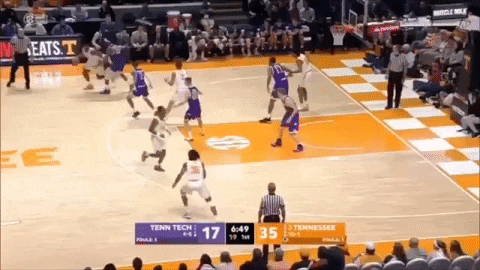 At some point, Grant Williams must abandon his reluctance from three. He launched 46 this season, barely more than one per night. His 32.6% clip isn't flattering. There is, however, hope that he'll become capable from the three-point line. As a freshman, he shot 12-of-32. The optimism is enhanced by his free throw clip.
A lousy free throw shooter has one of two things—a broken motion or low confidence. The latter isn't easily identifiable, but the former is. There is a noticeable difference between how Stephen Curry and Tristan Thompson shoot free throws. One is smooth. The other is herky-jerky. A player who's a great foul shooter will have an easier time extending their range because they understand shot mechanics and only have to worry about repetitions.
It's vital for Williams to become comfortable from three sooner than later. Without supreme athleticism, smaller forwards have difficulty spending all of their time with their backs to the basket regardless of how crafty they are. Also, versatility is becoming more and more invaluable. Williams will have a lengthy career by diversifying his game.
Grant Williams has the potential to be the Brooklyn Nets' small-ball center. He wouldn't play extensive minutes at that spot, but he could occupy the paint on offense and is a skilled enough passer not to get overwhelmed when facing pressure. He'd also thrive defensively, which is where some other concerns lie.
Williams is an excellent defender. He forces turnovers, blocks shots and is an all-around disruptor. His motor never shuts off, and his hands are perpetually active, the constant motion similar to a toddler who had one too many pixie stix. On the interior, his shot blocking skills are rooted in timing. Williams, though, can be a bit overaggressive, evidenced by him picking up 3.0 fouls a night.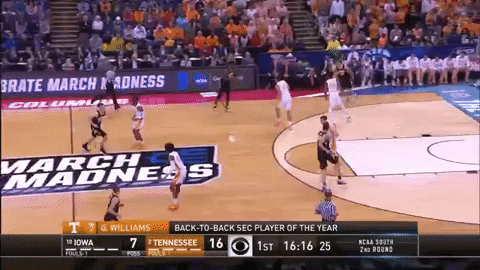 As exceptional as Williams is on defense, it's where his physical limitations become a liability. In addition to being on the shorter side, he doesn't have much length and boasts a wingspan of 6-foot-9.75, which ranked last among power forwards at the NBA combine. His lack of explosiveness is glaring when matched up against guards. With average foot speed, switching on the perimeter becomes a gamble. The closer Williams gets to the basket, however, the more effective he becomes.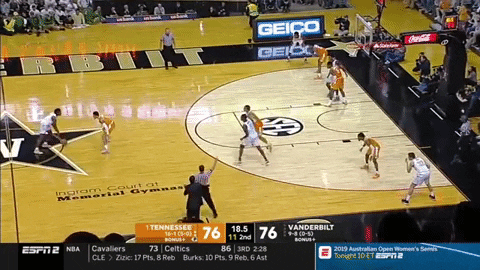 Because of his size, Williams is a stalwart post defender. He's physical and boasts stellar instincts, both of which offset his bodily shortcomings. More importantly, he's not afraid of doing the dirty work. Imagine Williams as a shorter, thicker Ed Davis—a defender whose efficacy is rooted in intangibles.
The Brooklyn Nets have a thin frontline. At the time of this writing, Jarrett Allen is the only big under contract for next season. Ed Davis and Jared Dudley are hitting free agency. Although Kenny Atkinson loves to deploy a fleet of similarly-sized wings, someone like Williams brings a different dynamic. He's a multi-dimensional offensive player who's only going to improve. There's also his potential impact on defense, which is something the team needs desperately.
General manager Sean Marks could look to deal the 17th pick to offload Allen Crabbe's contract. Hopefully, if that manifests, that deal nets a solid return. If not, Grant Williams is a medium-risk, high-reward selection, especially given the track record of the organization's player development staff.