The New York Rangers have a bad habit of picking up players at the end of their prime. They can not do that again with Evgeni Malkin. 
Last week, the New York Post's Larry Brooks made the claim that the New York Rangers can speed up their rebuild by either acquiring Artemi Panarin via free agency or trading with the Pittsburgh Penguins for Evgeni Malkin.
In the case of Geno, Brooks went into detail about how the Pens are looking to shed salary and that the Blueshirts can entice them with a draft pick and some youth in exchange for the three-time Stanley Cup champion. The names Brooks listed were Ryan Strome, Jimmy Vesey, Yegor Rykov and Pavel Buchnevich.
A week prior to that, my colleague and fellow Rangers writer, Frank Curto, wrote his own piece on why Malkin is a bad idea. Curto talked about how the Rangers are deep at the forward position and that they don't need to add a veteran forward with a huge cap hit, especially since they are not in win-now mode.
It's time to break the tie; I side with Curto.
Getting involved in the Geno rumors is a bad idea. Firstly, acquiring an aging Malkin in the middle of a rebuild does not make sense. Secondly, what makes even less sense is helping a division rival dump salary while giving them pieces of your future.
If the Rangers jump into the Malkin sweepstakes, it means they have learned nothing from their past mistakes. I'm referring to mistakes that span over several decades. The Rangers have a terrible habit of bringing on superstar players that are at the end of their primes.
More often than not, whenever the Rangers acquired a superstar via free agency or via trade, it is usually at the point where the player is up there in age and their best playing days are well in the rearview mirror. Now, to be fair, many of these guys still put up solid numbers, but for the most part, they were unable to duplicate the stats that made them stars in the first place.
For the sake of the rebuild, for the sake of the future, the Rangers need to break this habit of acquiring great players whose glory days are almost over.
Malkin, who is going to turn 33 in July, is a Hall of Famer, no doubt about it. At the same time, he is getting up there in age and it can catch up to him at any moment, as it did with many of the players on this list. Here are some examples of the Rangers acquiring aging superstars that were nearing the end of their prime or up there in age.
"Those who fail to learn from history are doomed to repeat it." -Winston Churchill
The earliest example I can think of dates back to 1975. In November of that year, the Blueshirts traded with the Boston Bruins for Phil Esposito. He was 33-years-old, and this trade cost the Rangers fan favorites Jean Ratelle and Brad Park. This might not be the greatest example because Esposito's stint with the Rangers is viewed as a success.
Esposito put up 404 points (184 goals, 220 assists) in 422 games. He even helped the Rangers to a Stanley Cup run in 1979. He even earned himself a spot on my list of top 15 Ranger forwards post 1972. That was a tough list to make, I might have to revisit that one day.
Okay, back on topic. As good as those numbers are, they are nowhere near up to par with his numbers as a Bruin. Along with two Stanley Cup wins, Esposito put up 1,012 points (459 goals, 553 assists) in 625 games with Boston. Numbers like that are unattainable in today's NHL.
It might not be the best example of a career going downhill, but since Esposito did not put up the incredible numbers he did with Boston, he finds himself on this list by default. Esposito retired in 1981.
Marcel Dionne is another hockey Hall of Famer. After 12 years with the Los Angeles Kings when he put up 1,307 points (550 goals, 757 assists) in 921 games, Marcel Dionne was sent to Broadway in 1987. Dionne was 35-years-old and way beyond his prime.
In 118 games, Dionne posted 98 points (42 goals, 56 assists). Not bad numbers, but hardly comparable to the numbers that Dionne put up in Los Angeles, or even hardly comparable to his numbers as a Detroit Red Wing. Dionne posted 336 points (139 goals, and 227 assists) in 309 games to start his NHL career in the Motor City.
Broadway was the final stop for Dionne in his legendary career. He played two and a half seasons for the Blueshirts before retiring in 1988-89.
Another example of the Rangers getting a top 100 all-time player comes in the form of Guy Lafleur. "The Flower," as he was called, was already elected to the Hockey Hall of Fame when the Rangers signed him in 1988. Lafleur retired in the 1984-85 season and returned at the age of 36.
Lafleur put up 1,246 points (518 goals, 728 assists) in 961 games with the Habs. He even has his name etched on the Stanley Cup five times, four times in-a-row from 1976 to 1979. Those 14 years alone were enough to get him into the Hall of Fame.
Now let's look at Lafleur when he came to the Rangers. Lafleur put up 45 points (18 goals, 27 assists) in 67 games as a Ranger. Productive? Yes. Anything like he once was? Absolutely not. If the player you are signing is coming out of retirement, you're probably not getting the guy he once was. Not to throw shade at the legendary right winger, but the Rangers essentially signed a dinosaur.
After one year in New York, Lafleur went to play two more seasons with the Quebec Nordiques before retiring from the game for good in 1991.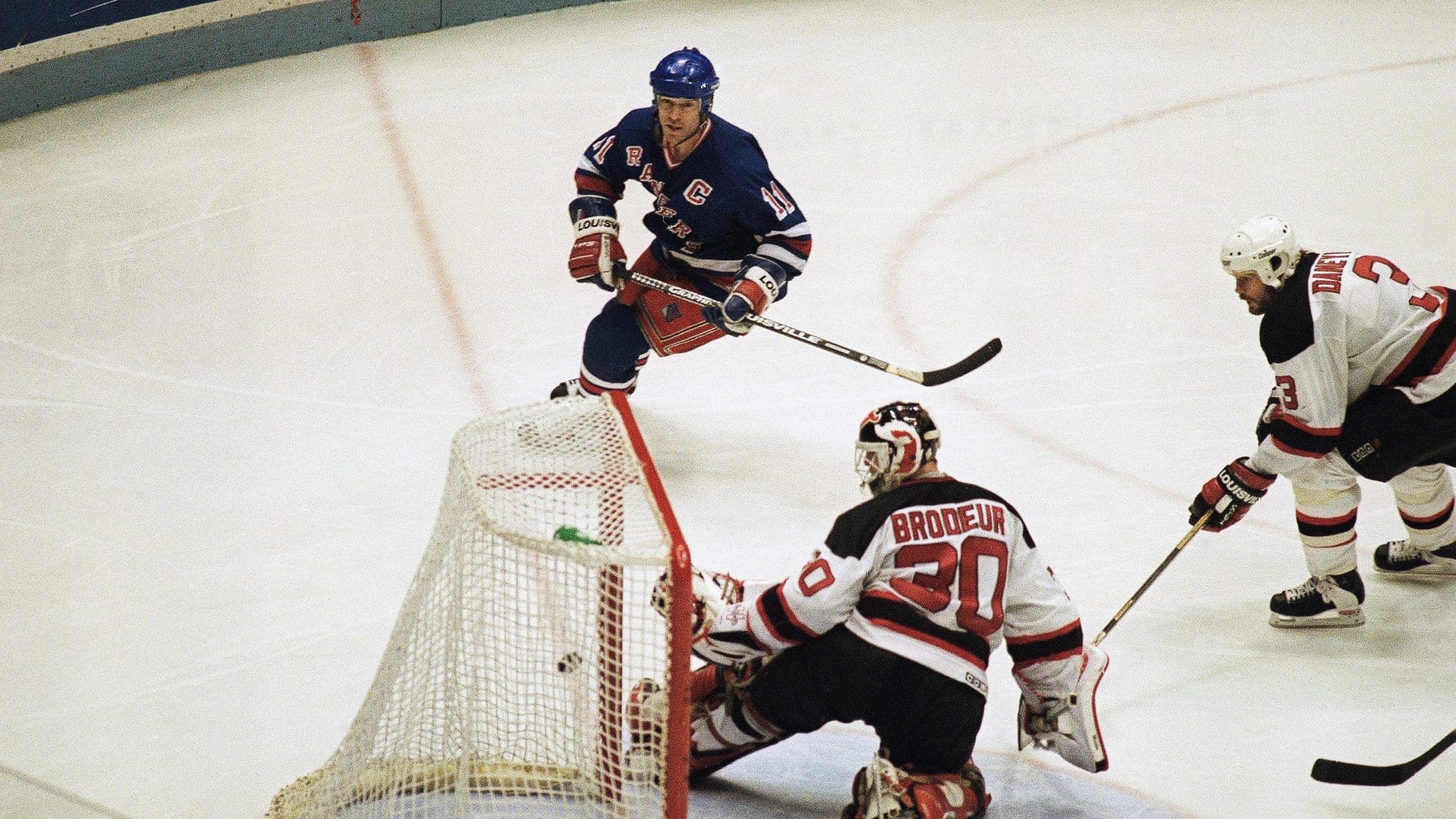 Okay, calm down, relax, start breathing. Don't throw a chair through your monitor, laptop or whatever device you are reading this on. This is a positive example. Mark Messier is the Rangers best forward since 1972, without question. I just want to point out that when the Rangers brought him back in 1991, Moose was 30-years-old.
The feeling around the trade was that the Rangers were too late on getting him at his best. Even MSG Network announcer Sam Rosen, former New York Daily News hockey writer John Dellapina and former Rangers radio play-by-play announcer Howie Rose, at one point, thought the Rangers were getting a player that was over the hill. They had almost exact same concerns I have over Malkin.
Thankfully, in his first stint with the Rangers, Messier put up 518 points (183 goals, 335 assists) in 421 games. Oh, and don't forget captaining the Blueshirts to the Stanley Cup in 1994, the first time in 54 years. That was kind of a big deal.
After a contract dispute, Messier left the Rangers for the Vancouver Canucks in 1997. At that point, Messier was 39-years-old. He put up 173 points (67 goals, 106 assists) in 277 games to close out his career in New York. Maybe it was the second time the Rangers got Messier that this old habit got the best of them. However, Moose has done more for this organization than almost any other player in its history. So I'm going to let it slide. However, just because it worked here doesn't mean the Rangers should keep doing it.
After winning two Cups with the Bruins, 32-year-old Ken Hodge was traded to New York in 1976. Hodge averaged over a point a game as a Bruin with 674 in 652 games. However, he finished his career with the Blueshirts after he posted just 68 points (23 goals, 45 assists) in 96 games.
Hodge is not a Hall of Famer. Good player for the Bruins, but not enough to warrant a spot at 30 Younge St., Toronto, ON, Canada. However, the reason he is on this list is because of who the Rangers sent packing for him.
Who did the Rangers give up in the trade? A 22-year-old player named Rick "Nifty" Middleton. As a Bruin, Middleton posted 898 points (402 goals, 496 assists) in 881 games and even had his number 16 retired by Boston this past season.
My sports marketing teacher from high school was growing up at the time of this trade and he is still furious about it to this day. (Hi, Mr. Falk.) Moral of the story: don't trade youth away for someone over the hill.
Like Messier, this is going to be a mostly positive example. Keyword: mostly.
After a legendary career in which he won a Cup with the Tampa Bay Lightning, Martin St. Louis came to Rangers via trade in 2014 at 38-years-old. That year, St. Louis put up 61 points (29 goals, 32 assists) in 62 games in Tampa only to close with one goal and seven assists in the final 19 games of the regular season with the Blueshirts. It seemed as if age caught up with St. Louis.
However, it was in the playoffs where St. Louis got himself back on track. In the Rangers Stanley Cup run of that season, St. Louis posted eight goals and seven assists in 25 games to help the Rangers win the Eastern Conference.
Down 3-1 to the Penguins in the Conference semifinal, the team rallied around St. Louis following the death of his mother to come back and win the series in seven games. St. Louis even had a crucial goal in game six, on Mother's Day, no less. St. Louis had another big goal in the Conference Finals when he scored in overtime of game four to give the Blueshirts a 3-1 series lead over the Habs.
Unfortunately, the Rangers lost to the Kings in five games in the Stanley Cup Final. St. Louis went on to play one more year with the Rangers, helping them to win the President's Trophy. However, in the 2015 postseason, age began to really catch up with St. Louis as he put up only one goal and six assists in the 19 games before falling to his former team in seven games in the Conference Final. St. Louis retired shortly after the postseason and was inducted into the Hockey Hall of Fame this past season.
Though St. Louis did have a decline, he did have his moments in that magical spring of 2014.
This is a name that is sure to anger many Ranger fans. Wade Redden had an impressive career with the Ottawa Senators. The defenseman posted 410 points (101 goals and 309 assists) in 838 games with the Sens. Redden even had a +/- rating of 159.
So on the first day of free agency in 2008, Glen Sather inked Redden to a six-year $39-million contract. Then it was all downhill from there.
Redden was 31-years-old when signing with the Blueshirts. His play declined heavily. In 156 games with New York, Redden only posted 40 points (five goals, 35 assists). His +/- as a Ranger was just a measly three. Redden was placed on waivers in 2010, which he cleared and was assigned to the Hartford Wolfpack.
The Rangers bought out Redden's albatross of a contract in 2013. Brooks even went on to call this contract the worst in NHL history.
Other Notables
Other players that I thought about including on here were Eric Lindros, Pat LaFontaine and Pavel Bure. However, those players' declines were not so much due to age as it was injuries that held them back.
I even thought about including the Great One, Wayne Gretzky. The Rangers signed Gretzky when he was 35-years-old. However, it's tough to pass up on the greatest player of all-time, regardless of age. In fact, when taking Jaromir Jagr into consideration, the Rangers acquired the NHL's top three all-time point leaders in their thirties. Still, Gretzky, Jagr and Messier were all very productive on Broadway. Just goes to show, for every rule, there is an exception.
Last notable, Eric Staal, who came to the Rangers at the age 31 in 2016. After putting up just six points in 20 games with New York, Staal walked in free agency where he got his game back with the Minnesota Wild. It is too early to tell, but if the Hurricanes turn the pieces they got in that trade into something special, it's Hodge for Middleton all over again.
There are plenty of other examples that can be argued for, Marian Gaborik, Rick Nash, etc., but to make a case for every last one will take forever.
Conclusion
With the exception of Messier (and Gretzky and Jagr if you count notables), each player listed experienced some sort of decline upon becoming a Ranger. Most of these guys put up good numbers, but were hardly the players the Rangers thought they were getting. If they go for Malkin, then they are making the same mistake again and refusing to learn from it.
Though Malkin may still have a few good seasons left in him, it's only a matter of time before he is unable to be the guy he once was. Even if Malkin were to continue to put up decent numbers, the Rangers are not going to get the same guy who won the Art Ross Trophy twice, the Hart Trophy in 2011-12 and the Conn Smythe Trophy in 2009.
Jeff Gorton, I doubt you're reading this, but in the off chance that you are, you need to break this cycle. To get Malkin will continue a cycle of getting "your guy" when it is too late. Even worse, to get Malkin goes against everything you and Sather said you were going to do in the letter to the fans you wrote last spring.
"We will be focused on adding young, competitive players that combine speed, skill, and character."
Your words, not mine.
Essentially, if Gorton does not stick to his word and continues this trend, he's the Rangers equivalent of Daenerys Targaryen. (Game of Thrones Spoiler Alert.) She was all about breaking this string of tyranny that her predecessors in her family are responsible for, but no, she just hops on a dragon and burns down King's Landing, killing thousands of innocent people in the process. Okay, maybe I am the one who needs to break his habit of referencing comics, movies and TV shows, but I hope you get the point of what I am trying to say here.
Forget trying to win now, build the team for the future. As tempting as it may be, stay committed to youth. Getting Malkin will continue a vicious cycle of the Rangers either just coming up short or not getting anywhere near where they want to be.
Build a team, maybe even a dynasty that is going to be competing in the future for many years to come.
Yeah, I know I said dynasty. I can dream, right?