Mark Messier, Adam Graves, Walt Tzackuk, and Jaromir Jagr—just four of the 15 greatest New York Rangers forwards since 1972. 
We are in day two of the New York Rangers bye week leading into the All-Star Break. It's a good thing the Blueshirts won their game Saturday night against the Boston Bruins. Having to look at a loss for nine days is not exactly a pleasant thought for fans.
Speaking of that, let's talk about another painful break after a loss to Boston when the Blueshirts fell to the Bruins in six games in the 1972 Stanley Cup.
That Ranger team, coached by Emile Francis, is considered by many to be one of the best teams to not win the Cup. Finishing second overall in the standings with Eddie Giacomin in goal and a historic season by Vic Hadfield where he became the Rangers first 50-goal scorer, the Blueshirts were considered one of the top contenders.
Unfortunately, they faced the number one team in Boston. The Rangers provided a valiant effort, but were left to wonder what would have happened had Jean Ratelle not suffered a leg injury late in the season.
That was year 32 in the Cup-drought and it would not end for another 22 years after. So in that time, and even until now, who are the best Rangers forwards since that run?
This article will be counting down the best Rangers forwards since 1972. For this countdown, I will look at four things. One, did they play (or at least most of their Ranger career) after 1972? Two, what do the numbers look like? Three, how loved are they by fans? Finally, did they play three years or more?
Now, before I begin this countdown, let me make something perfectly clear before I get a ton of hate mail. Hadfield, Ratelle, and Rod Gilbert (otherwise known as the GAG line) have been left off this list due to the fact they played most of their careers prior to 1972. I know these three kept playing after the Cup run, but they got the party started as Rangers way before that.
These guys are three of the best Rangers of all-time, some of the best players to ever play hockey, and if there was not a cutoff, they would be here.
Let's begin.
Notables
Ron Duguay
I was debating on whether or not to put Duguay on this list over Nedved, but I figured it needed at least one guy from that dreadful era in the early 2000s. A fan favorite of the '80s, Mr. "Oh La-La" put up 340 points in 499 games as a Ranger. He was a regular on MSG Network until this season.
Ryan Callahan
Ryan Callahan is another guy who wore his heart on his sleeve. Callahan was not a guy who would beat you with skill but on pure determination. That effort earned him the captaincy in 2011 and he held on to it until he was traded for Martin St. Louis. Ironically, if Callahan took Sather's original offer, he would be making more money now than in Tampa.
Martin St. Louis
Marty was an established veteran and a future Hall of Famer when he came to the Blueshirts in that trade. His most iconic moment as a Ranger came during Game 6 of the 2014 Eastern Conference Semifinals. After the Rangers went down 3-1 in the series to the Penguins, St. Louis's mom passed away. The Rangers forced a Game 6 on Mother's Day when he scored a goal by honoring his mother on the way to a Ranger win. The team rallied around St. Louis all the way to the Stanley Cup Final that year.
Ulf Nilsson
After spending four seasons in the WHA in Winnipeg, Nilsson came to the Rangers and burst on to the scene. He put up 66 points in 59 games in his first season. Unfortunately, during that first season, he took a hit to the boards where he broke his ankle and his career became marred with injury since then. Thanks a lot, Denis.
Wayne Gretzky
The Great One. Without a doubt, Wayne Gretzky is the greatest hockey player of all-time. With the exception of Jagr, Gretzky has more assists than anyone else has points.
Gretzky came to New York for one last playoff run in 1996-97. With 249 points in 234 games as a Blueshirt, I would have loved to include Gretzky on this list. But being at the tail end of his career he still wasn't able to make a mark here as he did in Edmonton and Los Angeles. Not that I think he minds considering all the success he's enjoyed throughout his career.
John Ogrodnick
Two-hundred-and-fifty-four points in 338 games as a Blueshirt, John Ogrodnick spent five years in New York after eight seasons in Detroit. His best season came in 1989-90 when he put up 43 goals. Ogrodnick spent five years in New York before heading back to the Red Wings to close out his career.
Derek Stepan
I remember watching his first game, scoring a hat trick against the Buffalo Sabres. Derek Stepan gave the Rangers seven quality years, nothing amazing, but was a solid forward in his time.
Who could forget one of the most iconic moments in Blueshirts history, when he scored an OT-winner in game seven of the 2015 Eastern Conference Semi-Finals versus the Capitals. Stepan was eventually dealt to the Coyotes in the 2017 offseason for Tony DeAngelo and the pick used to get Lias Andersson.
Bill Fairbairn
Yeah, it feels a little unfair to leave Bill Fairbairn out when his other Bulldog linemates are present. Fairbairn had 362 points as a Ranger in 536 games. Alongside Tkazcuk and Vickers, he played in the shadow of the GAG line. He spent nine seasons as a Blueshirt before being dealt to Minnesota in the 1976-77 season.
Don Murdoch
Another guy whose linemates received love on the list but got snubbed. Alongside Esposito and Maloney, Don Murdoch was a member of the Mafia line. One-hundred and ninety-one points in 221 career games as a Ranger. Unfortunately, he didn't last as long on the Blueshirts as his linemates.
Sean Avery
The guy was an absolute pest—no other way to describe it. Sean Avery is a guy you loved when he was your teammate but hated as an opponent. Without a doubt, his most iconic Blueshirts moment came in game three of the 2008 quarterfinals against the Devils when he had his back to the play with the express purpose of keeping Martin Brodeur from seeing the puck. This lead to the NHL making a new rule the next day known as "the Avery Rule." You know you're good when they make a new rule to stop you, right?
15. Mats Zuccarello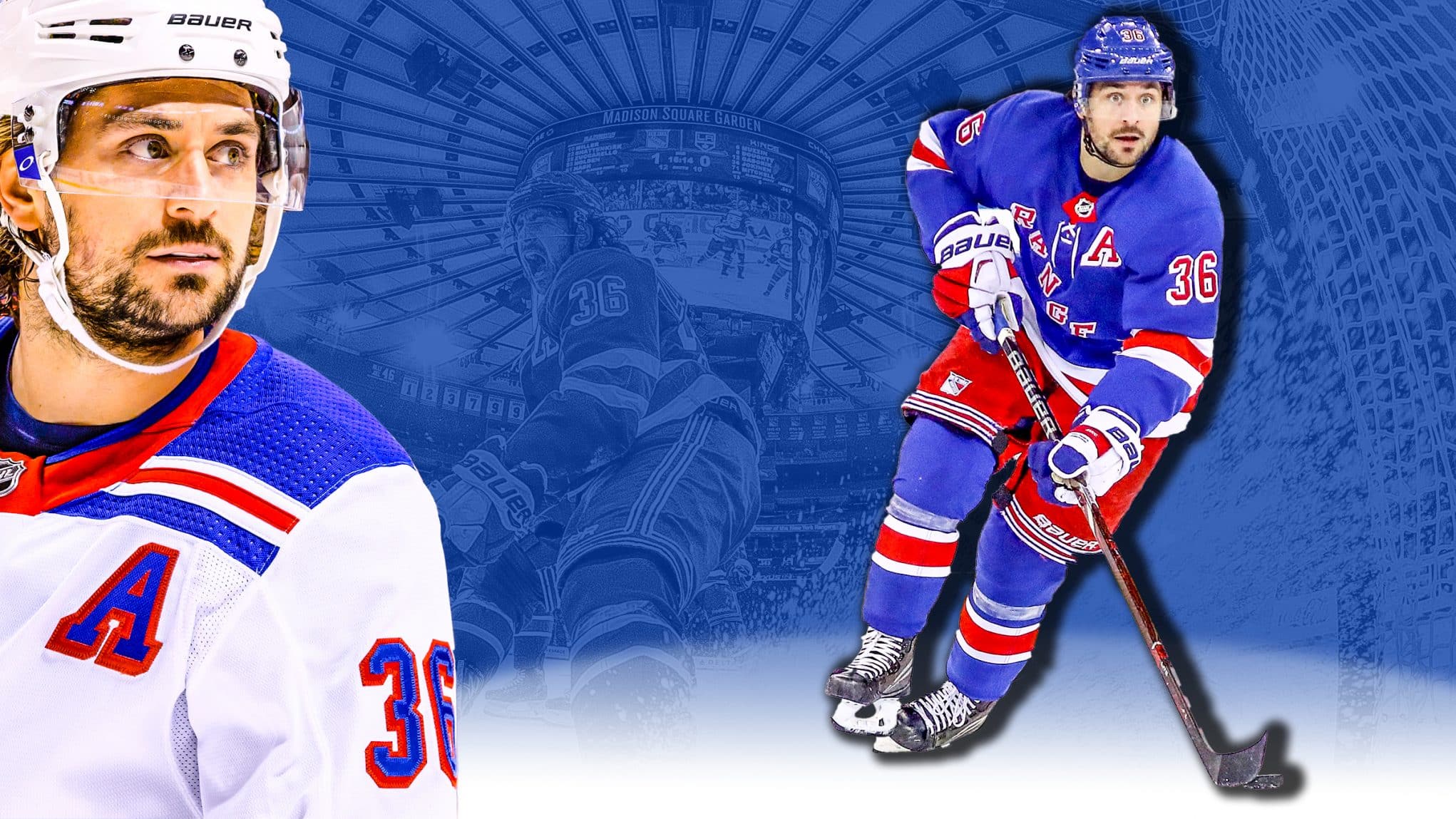 I remember watching his first career goal in 2011, an OT winner against Carolina and thinking, "How did he get that into the net?" A current fan-favorite hailing from Norway, Mats Zuccarello is being placed very high on this list. I was not sure if he should be placed on this list at first. One, his career as a Ranger is not over (yet), two, his numbers while good, are not exactly all-star caliber.
But even so, Zuccarello is a guy who wears his heart on his sleeve—a two-way forward who hustles on both ends of the ice. Approaching his 500th NHL game, Zucc has compiled 337 points including 117 goals in nine seasons. Zuccarello's numbers are good, not amazing, but he still brings intangibles to this team that are not always present on the scoresheet.
Similar to Ratelle in '72, fans were left to wonder what would have happened in the 2015 Eastern Conference Finals if Zucc had not had a head injury in the first round of the postseason. Losing that presence might have cost the Rangers another bid in the Cup Final. The following season, Zuccarello had a career year with 26 goals, including his first and only career hat trick against the Toronto Maple Leafs on Oct. 30, 2015.
Nowadays, Zucc is getting back on track after a slow start to this season. Zuccarello is in the middle of a contract year and has made it known that he is fully prepared to get dealt should the Rangers decide to trade him. It's all part of the business, but when the Rangers do deal Zuccarello or let him walk in free agency, it will be sad to see him go.
14. Petr Nedved
Petr Nedved was an NHL journeyman, playing for six teams in his career. But he spent most of his career as a Ranger. He played some great hockey as a Ranger, but unfortunately for him, most of the time, the Rangers were struggling to get back on track.
Nedved played seven seasons in two separate stints with the Blueshirts. He played one year with the Rangers in the lockout-shortened 1995 season, before playing two seasons in Pittsburgh. When Nedved returned to the Blueshirts in 1998, he was a bright spot in a dark era of Blueshirts hockey.
Nedved posted 351 points in 478 games with the Rangers, including 32 goals in the 2000-01 season. Pretty good numbers in a time where the Rangers were tough to watch. Nedved played with the Rangers until 2004 when he was traded to the Edmonton Oilers.
13. Tomas Sandstrom
Tomas Sandstrom enjoyed a 15-year career in the NHL and spent five and a half in New York. He had a reputation as being one of the most hated players in the league, known to toe the line and/or step over it trying to get his opponents to retaliate. But that did not stop him from putting up good numbers.
Not just a pain on the ice, Sandstrom was also a pain for opponents on the scoresheet. In 407 games as a Ranger, he put up 380 points (173 goals and 207 assists). Sandstrom was a total package of speed, strength, size and skill. In 1986-87, Sandstrom had his best season as a Blueshirt with 40 goals and 74 assists in 64 games.
Sandstrom was a guy who loved to compete. He was similar to players like Esa Tikkanen and Claude Lemieux, someone who possessed a terrific all-around game yet drove opponents insane with their antics. But no opponent overstepped the boundary quite like Flyers forward Dave Brown in 1987 when he crosschecked Sandstrom in the head, leading to a 15-game suspension for Brown. Sadly, that might be the most iconic image of Sandstrom as a Ranger.
Sandstrom was traded to the Los Angeles Kings in 1990. He spent five years with the Kings before heading to Pittsburgh, Anaheim, and wrapping his career up in Detroit. He finished his career with 1,193 penalty minutes, 563 as a Ranger. Yikes.
12. Marian Gaborik
Before coming to New York, Ranger fans knew Marian Gaborik as the guy who scored five goals against them as a member of the Minnesota Wild. When he signed with the Rangers 2009, he brought them some much-needed scoring power.
In three and a half years, Gaborik brought the Rangers two forty-plus goal seasons, with 42 in 2009-10 and 41 in 2011-12. Gaborik was named to the NHL all-star game in 2012 where he was named MVP after scoring a hat-trick (two goals against Henrik Lundqvist) and recording an assist in his team's 12-9 win.
But the most important goal in Gaborik's tenure with the Rangers came in Game 3 of the 2012 conference semifinals vs. Washington when he netted the game-winner in triple overtime. Unfortunately, Gaborik lost some of his scoring touch while those playoffs went on. When the Rangers were eliminated by the New Jersey Devils in the Conference Finals, it was revealed that Gaborik had been playing with a torn rotator cuff.
The following season, Gaborik was traded to the Columbus Blue Jackets for Derick Brassard and John Moore. The following season, he would be traded to Los Angeles where he and the Kings would hand the Rangers a loss in the Stanley Cup Final in five games. Now in his 17th season, Gaborik plays for the Ottawa Senators. Though age caught up to him, I would not rule out a trip to the Hall of Fame for the Slovakian.
11. Rick Nash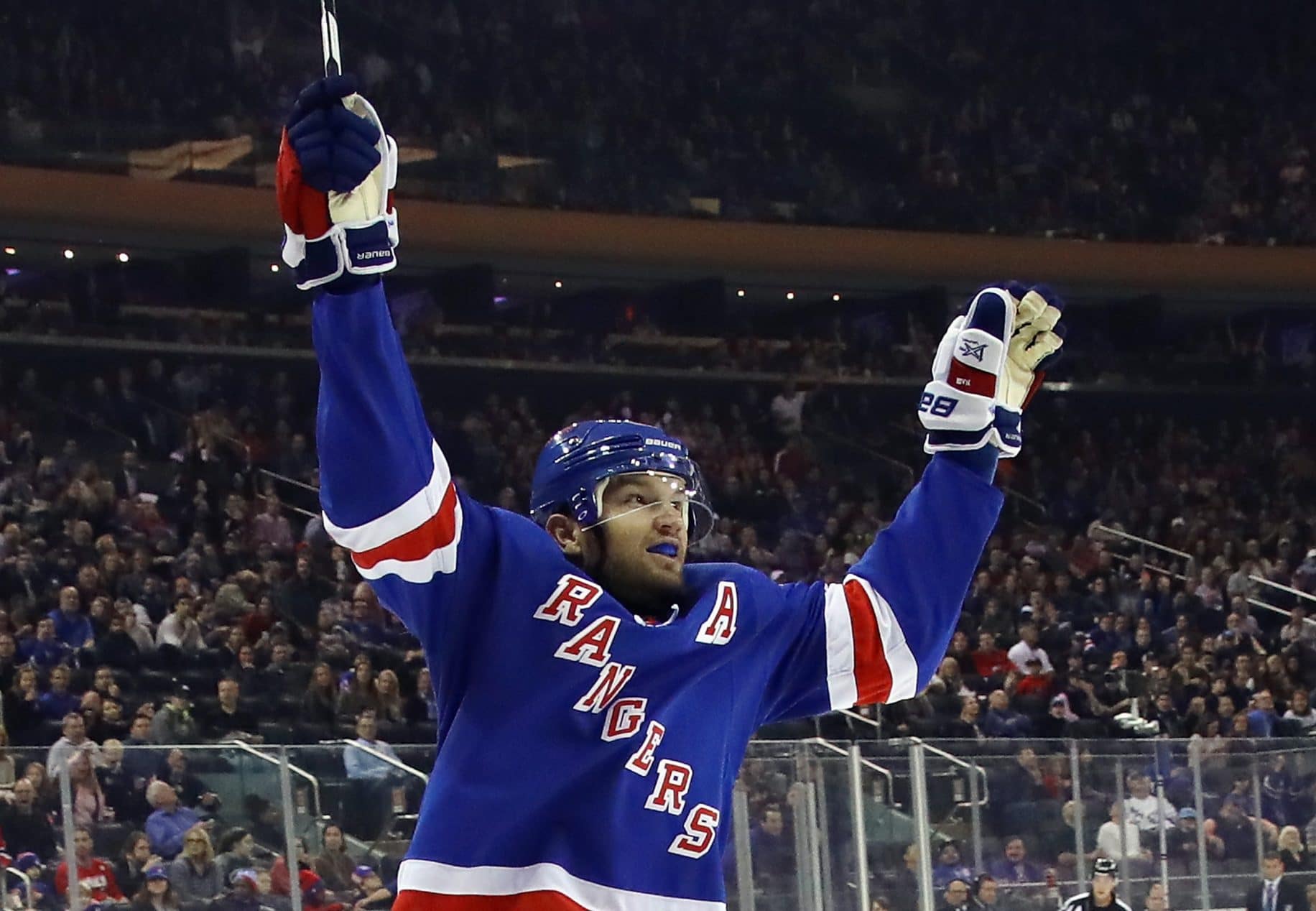 Rick Nash came to the Blueshirts in a trade before the lockout-shortened 2012-13 season. Rumors that Nash would come to the Rangers circulated the previous year but did not come into fruition until the offseason.
The sole reason for the Rangers snagging Nash was to boost the offense and power en route to a Stanley Cup. While he was not quite the force he was in Columbus, Nash still provided the Rangers six-quality seasons.
Nash scored 20 goals or more in four of his six seasons as a Ranger alongside a plus/minus rating of 64. His two-way presence was a big part of the Rangers success in their playoff runs of 2014 and 2015. But his best season as a Ranger (and arguably best as a pro) came in 2014-15 when he scored 42 goals and 69 points. With these numbers, Nash was able to help the Rangers win the Presidents' Trophy.
Last season, the Rangers traded Nash to the Bruins to start the rebuild. He announced his retirement from professional hockey a week and a half ago. He was not quite a fan-favorite like Zuccarello or Henrik Lundqvist (with an albatross of a contract, it's easy to expect more), but even so, Nash brought this team some much-needed depth.
10. Don Maloney
One of the most beloved Rangers of the '80s. Don Maloney hailed from a small town in Ontario but had no trouble adjusting to the Big Apple thanks to his older brother and Rangers defenseman, Dave Maloney.
Upon arriving in the 1978-79 season, Don made a great first impression on "the Mafia Line," alongside Don Murdoch and Phil Esposito. Though Maloney only played 28 games that season, he put up very impressive numbers, with nine goals and 26 points. He continued to be a big presence in the playoffs that year by notching seven goals and 20 points in 18 games helping the Rangers reach the Stanley Cup Final. Maloney tied for the team lead in points that postseason alongside Esposito, who also had 20. Though the Rangers fell in five games to the Montreal Canadiens, it was still a great run to end the decade.
Maloney played for the Blueshirts for 10-plus seasons. He tallied 195 goals and 502 points in 653 games before heading to the Hartford Whalers. Maloney wrapped up his NHL career on Long Island. Maloney served as the Islanders GM from 1992 to 1995 before coming back to the Rangers organization in 1996 as an assistant GM to Glen Sather. Maloney left that position to become GM of the Phoenix Coyotes in 2007.
These days, Don Maloney serves as the VP of hockey operations for the Calgary Flames. His brother Dave can still be heard in Ranger broadcasts on MSG Networks and color commentator on the radio.
9. Kelly Kisio
Here's a trivia question for you: Who was the Rangers captain before Mark Messier? The answer, Kelly Kisio. Not only was Kisio captain like Messier, but he also wore number 11 before Moose's arrival.
Before coming to the Rangers in '86, Kisio played for the Detroit Red Wings for four seasons as an undrafted free agent. In five years as a Ranger from 1986 to 1991, Kisio posted 305 points in 336 games. In that span, he showcased five straight 20-plus goal seasons, the highest being 26 in his 1988-89 campaign.
In 1987, Kisio was named the 21st captain in Blueshirts history. His best year came in 1987-88 when he posted a career high in assists with 55 and points with 78. The next season, Kisio then reached a career-high in goals with 26. In the 1989-90 season, Kisio, alongside goalie John Vanbiesbrouck, became the first and only duo in Ranger history to share the Steven McDonald Extra Effort Award.
Kisio left the Rangers in 1991 when he was selected in the Expansion draft. In 1995, the Alberta native wrapped up his NHL career in his home province as a member of the Calgary Flames. Kisio now works for the Vegas Golden Knights as a scout.
8. Mike Gartner
Acquired in a trade with the Minnesota North Stars, Mike Gartner was already a proven goal scorer. The Ottawa native scored over 30 goals in his previous 10 seasons. With great speed, and outstanding puck handling skills, Gartner brought that offensive power to the Rangers in their quest for a Stanley Cup.
In five seasons on Broadway, Gartner racked up 173 goals and 113 assists for a total of 286 points. One of Gartner's most notable games in New York came in game seven of the Patrick Division Semi-Finals, where he scored a hat trick on the way to an 8-5 Ranger victory over the Devils. The Blueshirts won the series in seven games.
Unfortunately, Gartner's time in New York had a bittersweet ending. In the 1994 season, Gartner was traded to the Toronto Maple Leafs for Glenn Anderson. The sacrifice was worth it in June, but it was painful to let go of a guy who did a lot for this team. But fortunately for Gartner, there was plenty of room for him in the Hall of Fame in 2001.
7. Alexei Kovalev
Coming out of the USSR, Alexei Kovalev was selected 15th overall in the 1991 NHL entry draft. He was everything the Rangers hoped he would be.
His second full season as a pro, Kovalev played a key role in the Rangers run to winning the Stanley Cup in '94. Kovalev put up 21 points in 23 games during that Stanley Cup final. But his most important goal as a Ranger came in game six of the Eastern Conference Finals. Down 2-0 in the game and 3-2 in the series, Kovalev ripped a shot past Martin Brodeur to get the Rangers within striking distance. Following that goal, came Messier's natural hat trick to force a game seven where the Rangers advanced.
Kovy played six-plus seasons with the Rangers before being dealt to the Pittsburgh Penguins in the 1998-99 season. Kovalev would return to the Rangers in the 2002-03 season, only to go to the Montreal Canadiens the next year. As a Ranger, Kovalev played 492 games, scoring 142 goals and 188 assists. And who can forget that five-minute shift? Hey, you're down 5-1, might as well try something crazy.
Kovalev retired from the NHL in 2013 as a member of the Florida Panthers. He was the last player from the 1994 team to retire.
6. Phil Esposito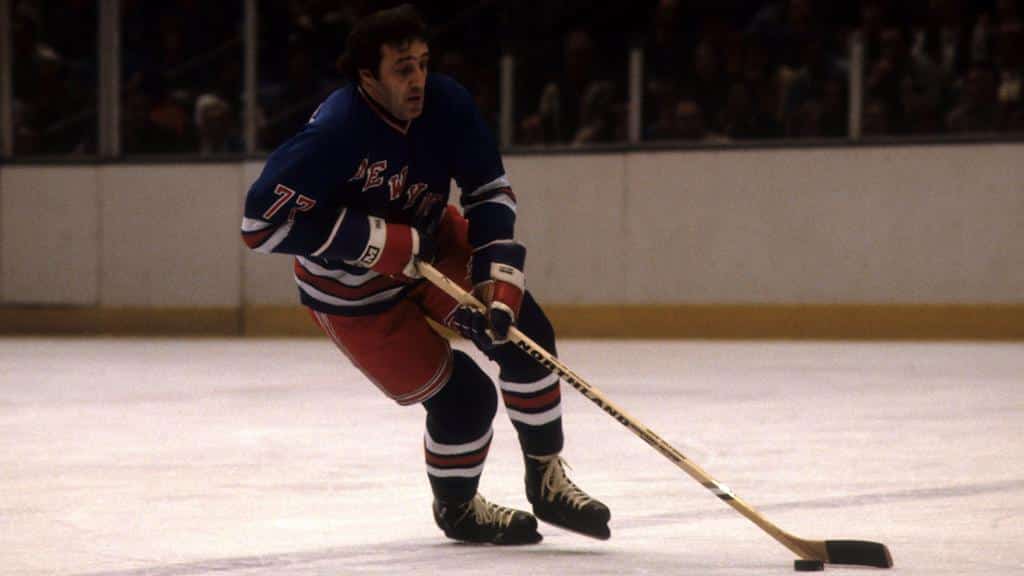 It was actually inconceivable for a time that Phil Esposito would be a Ranger. He was a foe of the Rangers when his Bruins defeated them in the Cup final in 1972. When the Rangers traded for him in 1975, well, to put it bluntly, he was not happy.
He did not quite have the success he had in Boston. You can only score 60 or 70 goals a season for so long. But Esposito adapted from Beantown to Broadway and was still able to put up impressive numbers. In six seasons, Espo put up 404 points in 422 games, including four 30-plus goal seasons.
In 1979 the Rangers only finished 40-29-11, but it was enough for a postseason spot. The Blueshirts were able to make an underdog run to the Stanley Cup final where they lost to Montreal. In that playoff run, Esposito, with Dave Maloney, led the team in points with 20.
Esposito was inducted into the hockey hall of fame in 1984. He also briefly served the Rangers as a general manager and coach. Nowadays, Espo is a color commentator for Tampa Bay Lightning radio broadcasts.
5. Steve Vickers
When Steve Vickers came up to the Rangers, he was not expecting to make the team. But after putting in a lot of hard work, coach Francis loved the 21-year-old's mix of maturity and toughness and gave him a spot on the team. Soon he formed the bulldog line with Walt Tkaczuk and Bill Fairbairn, and the rest was history.
A lifelong Blueshirt for 10 years. Vickers arrived in the 1972-73 season and made a statement when he scored 30 goals and 53 points on his way to a Calder Trophy. Vickers scored 30 goals or more in each of his first four seasons with the Rangers, including 41 in 1974-75.
In his rookie season, Vickers made NHL history as the first player to score a hat trick in consecutive games. First on Nov. 12, 1972, vs the Kings, then on Nov. 15 against the Flyers.
Vickers played on seven different playoff teams as a Ranger. He scored 24 goals and a total of 49 points in 68 career postseason games. Vickers currently sits eighth all-time in Rangers history with 246 goals. Not bad for someone who was not expected to make the team.
4. Walt Tkaczuk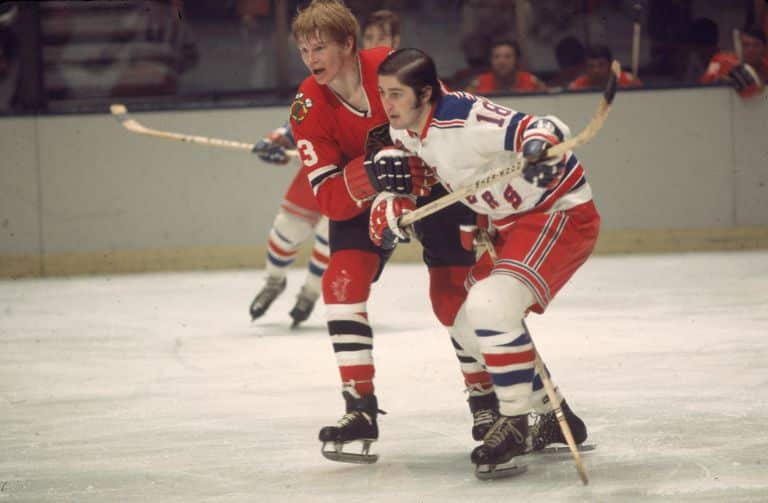 Another member of the Bulldog line and a lifelong Ranger. I was debating whether or not Walt Tkaczuk made the cutoff for this list. After all, he played five years prior to the '72 team. But most of Tkaczuk's career was played after 1972 and he still put up very impressive numbers.
In the nine seasons after 1972, Tkaczuck put up 424 points (138 goals and 286 assists) and had an outstanding plus/minus rating of 116. When looking at Tkaczuk's entire career, he had a plus/minus rating of 184, a Ranger record to this day.
Tkaczuk brought value on both ends of the ice. He was the Rangers best defensive forward and an extremely important player on the penalty kill. Tkaczuk may very well be one of the most underrated players in Rangers history considering he was playing in the shadow of the GAG line.
Being 6-foot and 185 pounds, Tkaczuk was not a big body on the ice. But his tenacity and determination made up for it as he did all the dirty work it took to win. Tkaczuk's toughness even earned him some praise from Esposito, who played with him as an opponent and a teammate. "I've never run into anyone tougher. Ever," Esposito said.
3. Adam Graves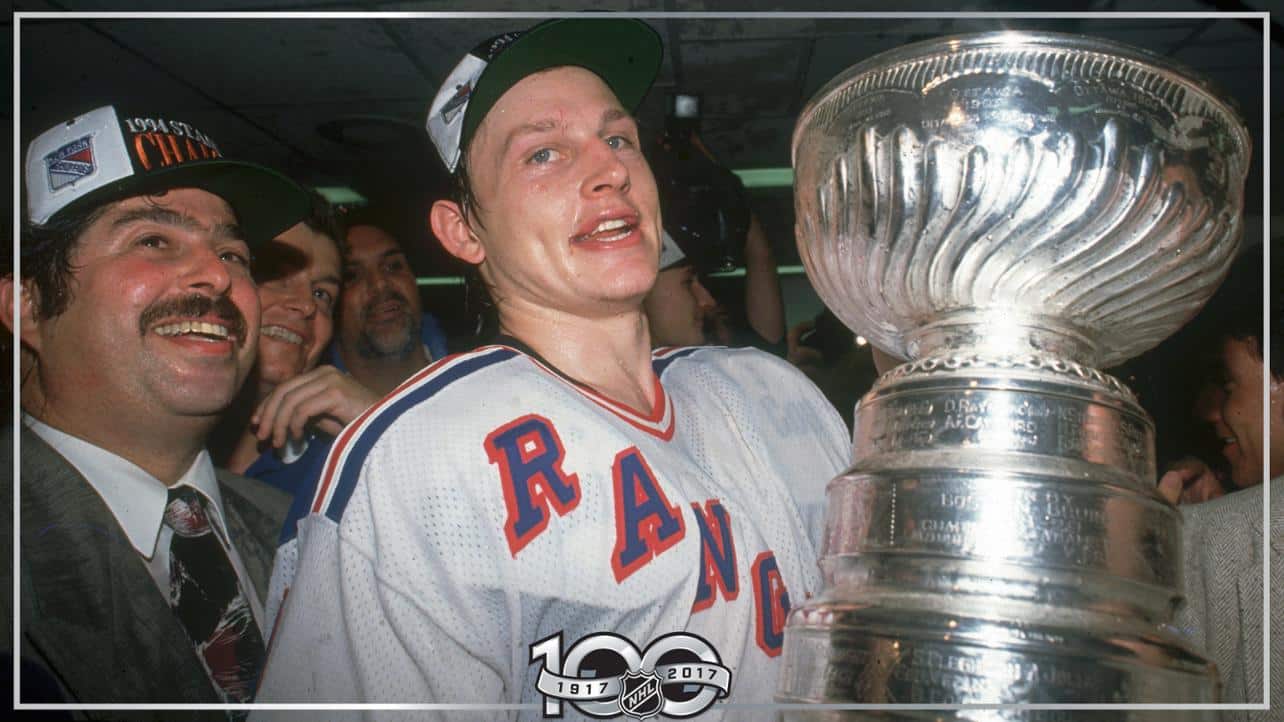 One of the most beloved Rangers of all-time. Adam Graves was a guy who did everything it took to win. His heart was always on display when he took the ice, as he left nothing on the table. Graves was a very physical player who was willing to bleed for his team if they needed him to. The effort night in and night out made him an easy fan favorite for the Garden Faithful.
The Rangers signed Graves to a five-year deal in 1991 after a season and a half with the Edmonton Oilers. Graves won a Stanley Cup in 1990 with Edmonton, but it was with the Rangers where he put up the best numbers of his career.
In 10 years on Broadway, Graves tallied 280 goals and 227 assists for a total of 507 points. Graves' best season was in the Cup run of 1994 when he scored 52 goals for the single-season franchise record, which stood for 12 years.
Alongside Messier, Brian Leetch and Mike Richter, Graves is part of the core four of that Stanley Cup team. Maybe the most important goal of his career came in game seven when he scored to give the Rangers a two-goal lead over Vancouver. Though it was not the game-winner, it was still an important tally for the Rangers as they ended their drought.
On Feb. 3, 2009, Graves took his place in the rafters of Madison Square Garden.
2. Jaromir Jagr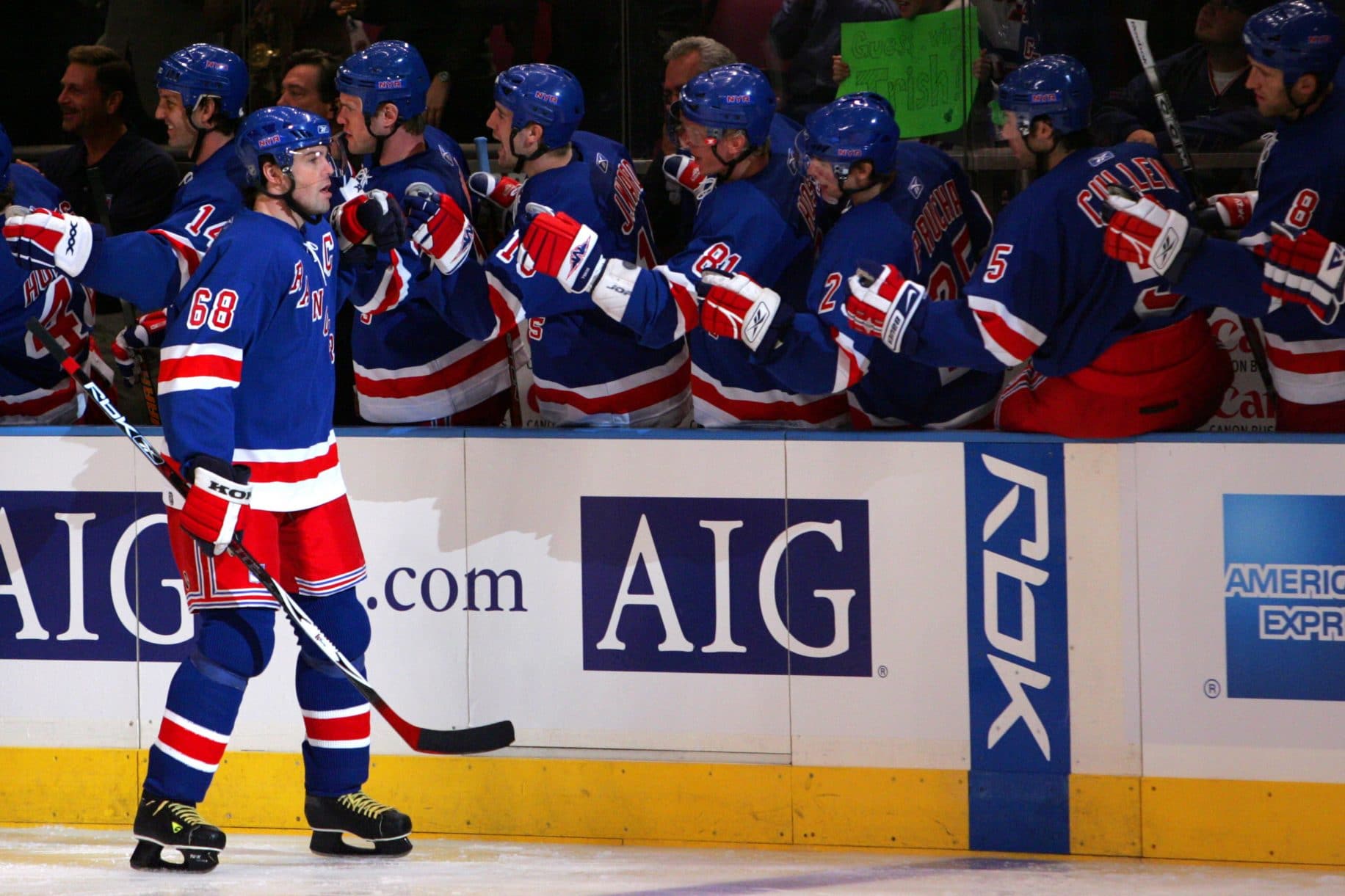 The second-all time point getter in NHL history with 1,921 (only 937 to go). Jaromir Jagr made plenty of stops in his NHL career, and the Rangers were his longest tenure outside of Pittsburgh. Though he only spent three and a half years as a Blueshirt, Jagr played some of the best hockey of his career as a Ranger.
After three seasons in Washington, Jagr was traded to the Rangers in the 2003-04 season. The Rangers were in a playoff drought when they got the Czechoslovakian star, but that changed the following season.
The Blueshirts were playoffs teams in each of Jagr's next three seasons with them, which included an upset over the Atlanta Thrashers and a win over the rival New Jersey Devils. But Jagr's greatest accomplishments as a Ranger came in the 2005-06 season when he scored 54 goals, and 69 assists for a total of 123 points, all Rangers records to this day. Jagr was named captain the next season.
Jagr left the Rangers for Europe after the 2008 season. He returned to the NHL in 2011 where he played for seven different teams before leaving for Europe again in 2018. At 46-years-old, Jagr is still playing professional hockey, he will be 47 in February. It's a wonder if he will ever retire. But one thing is for sure, the guy is a guaranteed first-ballot Hall of Famer, assuming he actually does hang it up.
1. Mark Messier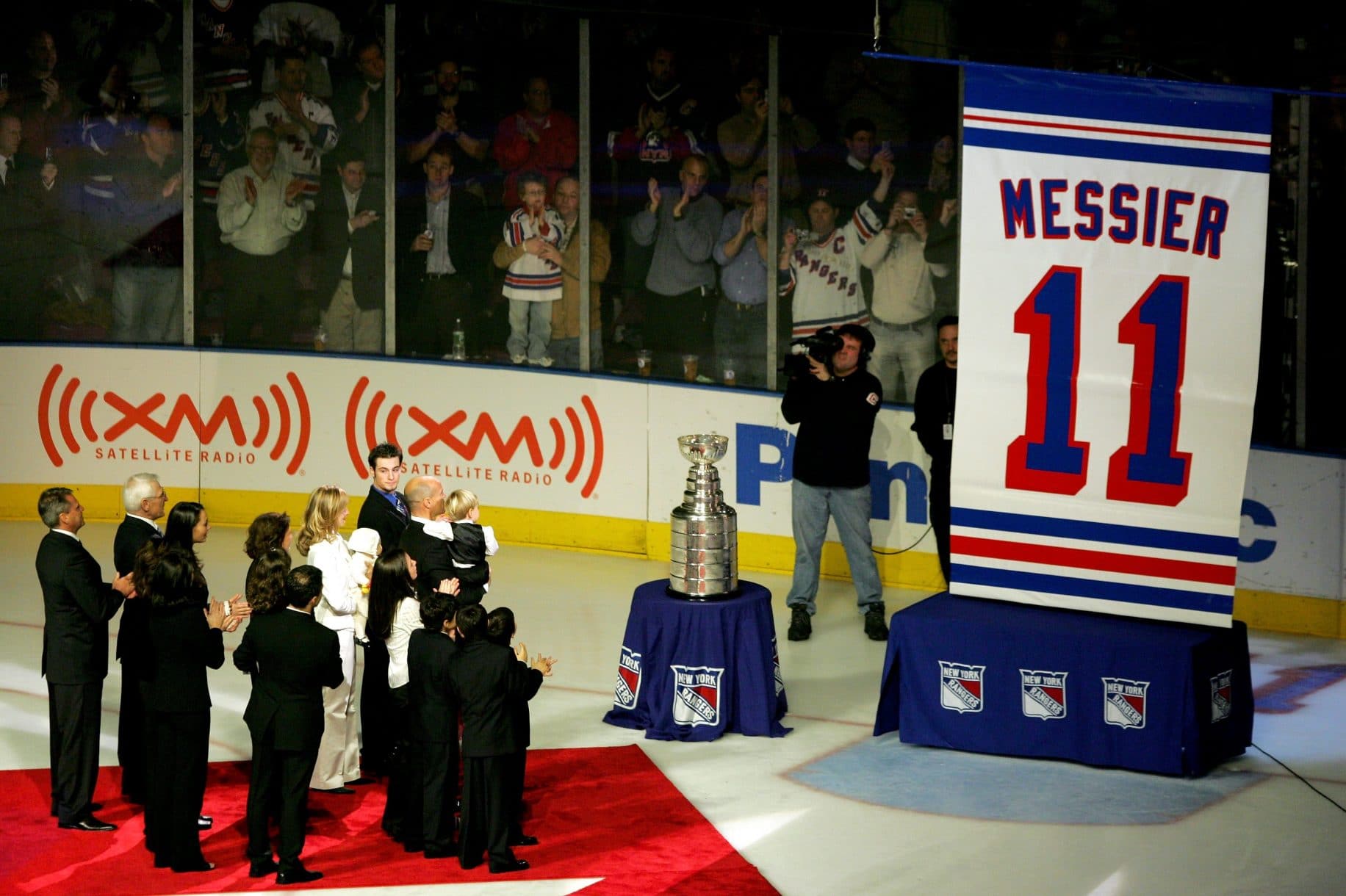 Let's be honest, who else was it going to be? Does this man need an introduction? Who has done more for the Rangers organization than Mark Messier?
After 12 years while winning five Stanley Cups in Edmonton, Messier came to the Rangers in a trade in 1991 and was named 22nd captain in team history. Thirty-years-old at the time, it was like Messier was beginning his second career, and boy did he make the most of it.
The sole reason for the Rangers getting Messier was to win the Stanley Cup, in 1994 the dream was realized. In the fateful game 7, Messier scored what would be the game-winning goal in the second period, giving the Rangers just what they needed to end their 54-year drought. This was definitely an iconic moment for Messier and the Rangers, but perhaps Messier's most iconic moment came in the previous series.
Down 3-2 in the Eastern Conference Finals to the New Jersey Devils, Messier made his famous guarantee that the Rangers would win in East Rutherford and force a game five at the Garden. The Devils grabbed a quick two-goal lead, and it appeared Messier's attempt to rejuvenate his team fell flat. After Moose assisted Kovalev on a goal to bring the Rangers within one, he would make history in the third period. Messier scored a natural hat trick to give the Rangers the 4-2 win, setting them up for that fateful game seven where they won in double overtime to go to the Stanley Cup Finals and end their curse.
Messier played for the Rangers until 1997 when he was traded to Vancouver. After three controversial years in B.C., Messier returned to the Rangers in 2000 where he played for the remainder of his career until 2004. In 698 games, Moose scored 250 goals, and 441 assists for a total of 691 points as a Ranger.
Messier is third all-time in NHL history in points, with 1,887. On Jan. 12, 2006, Mark Messier's 11 was retired to the Garden rafters, and there was not a dry eye in the building. Moose took his place among the hockey gods in 2007 when he was selected to the Hall of Fame.