The deep dive on the numbers that prove New York Jets wide receiver Robby Anderson is in for a big season in 2019. 
New York Jets wide receiver Robby Anderson recently signed his restricted free agent tender, locking him in for 2019.
The Jets slapped a second-round tender on their young deep threat, keeping him around in hopes that he could continue to provide support for Sam Darnold. The two finished 2018 on a tear and the team is obviously praying they can continue to build off of that momentum.
As for Anderson, he is now set up for a one-year showcase as he prepares to hit unrestricted free agency. He has the chance to make himself a lot of money if he can show out this year.
In 2018, Anderson's numbers dipped a little bit on a total scale. He dipped from 63 catches, 941 yards, and 7 touchdowns in 2017 to 50 catches, 752 yards, and six touchdowns in 2017.
However, on a per-game basis, Anderson's production was very similar. He did play only 14 games this past season after playing in all 16 games in 2017. Anderson averaged 53.7 yards per game in 2018 versus 58.8 in 2017, and 0.43 touchdowns per game in 2018 versus a nearly identical 0.44 per game in 2017. From an efficiency perspective, Anderson dropped from 8.25 yards per target to a mark of 8.00 in 2018, a small drop.
Across the board, the dips were slight. Anderson was more-or-less the same speedy threat he was in his breakout sophomore season.
There was an adjustment period as Anderson was still developing chemistry with the 21-year old Sam Darnold. However, once the dust settled, Anderson was able to finish the season strongly enough to nearly match his production from the season prior.
Now that Anderson and Darnold have a year of camaraderie under their belts, what can the tandem accomplish in 2019? Let's take a look at some numbers that suggest Anderson might have some more untapped potential left in him.
Anderson finished 2018 on a tear. Over the last four games of the season, which coincided with Sam Darnold's return from injury, Anderson accumulated 23 catches for 336 yards and three touchdowns, averaging a sterling 8.62 yards per target. 17 of those catches resulted in first downs, the fourth-highest total of receiving first downs in the league over that span.
Anderson was also one of only seven wide receivers to collect 300+ yards and three-plus touchdowns over the final four weeks of the season, along with Julian Edelman, Julio Jones, Mike Evans, DeAndre Hopkins, JuJu Smith-Schuster and Amari Cooper.
What Anderson and Darnold were accomplishing as a duo over the final stretch of the year was also outstanding. From Weeks 14-17, Darnold threw for a robust 8.05 adjusted yards per attempt, while Anderson caught for 84.0 receiving yards per game.
Darnold and Anderson were one of only five QB/WR duos over that span featuring a quarterback averaging 8.00+ adjusted yards per attempt and a wide receiver averaging 80.0+ yards per game. The others:
Safe to say that's some star-studded company.
When his starting quarterbacks have been healthy, Anderson has produced like a star
Anderson has played in 30 games over the past two seasons. Unfortunately for him and his numbers, a backup quarterback has played significant time in seven of those contests.
When Anderson's starter has been healthy for the majority of the game, whether it was Josh McCown in 2017 or Sam Darnold in 2018, he has put up some big numbers.
In 23 games over the last two seasons with his starting QB healthy and playing all or the majority of the game, Anderson has posted 89 catches, 1471 yards, and 13 touchdowns, while averaging a sparkling 9.14 yards per target.
Those totals would put him on pace for 62 catches, 1023 yards, and nine touchdowns over 16 games. How good is that stat line? Only six wide receivers hit each of those marks last season — Antonio Brown, Adam Thielen, Davante Adams, Michael Thomas, Tyreek Hill and DeAndre Hopkins.
If Anderson registered those totals in a season, he would become only the sixth player of the decade to register 1000+ yards and 9+ touchdowns on fewer than 65 receptions, joining Marvin Jones (2017), Sammy Watkins (2015), Allen Hurns (2015), Mike Wallace (2011), and Vincent Jackson (2010).
Few convert opportunities into big plays like Anderson
Anderson isn't the most talented all-around receiver in the game, so he doesn't free himself open as much as the league's elite receivers do. In the intermediate and short games, he doesn't have the short-area quickness and technique to frequently beat defenders. Because of these shortcomings, he will probably never be an Antonio Brown or Julio Jones-esque catch machine.
We know what Anderson does best: take the top off of a defense. Few wide receivers have done a better job than Anderson at converting their chances into explosive plays.
Over the last two seasons, 11.5% of Anderson's receptions have been touchdowns, the sixth highest rate among the 23 wide receivers with at least 200 targets over that span.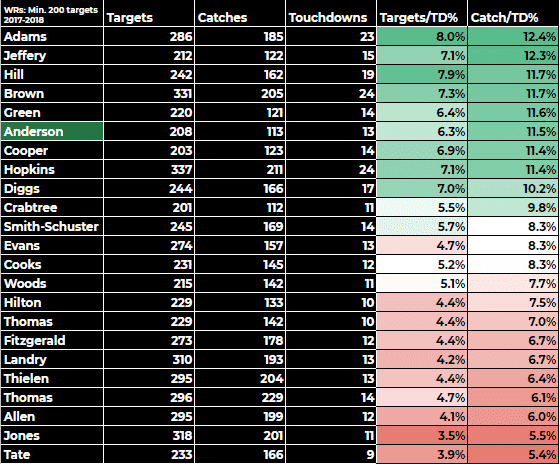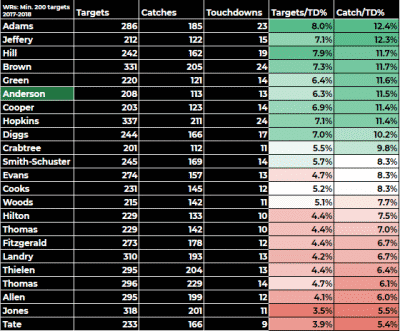 Among the same group, Anderson owns the second-highest rate of catches for 20+ yards, behind only Michael Thomas.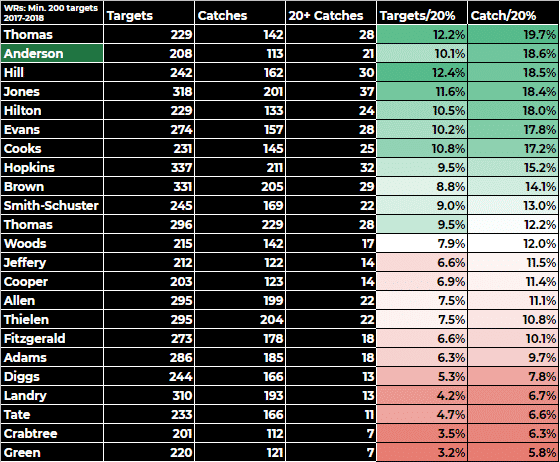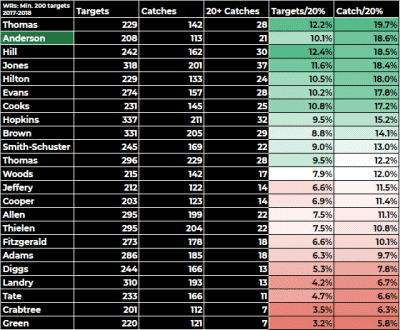 Anderson came out of nowhere as an undrafted free agent out of Temple and has become the leading receiver for the New York Jets over his first three seasons in the NFL. The ride has been bumpy, on and off the field, but he has frequently shown flashes of greatness.
What Anderson does well, he does at an elite level. When he gets going, he's capable of stringing together splash plays at a level few others can match. Now, for the first time, Anderson is poised to enter a season with the same starting quarterback he worked with the year before.
Still only 26 years old, the best could be yet to come for the New Jersey native.