Various New York Red Bulls supporters and head coach Chris Armas have different perspectives on how the season is going.
Are there two different New York Red Bulls teams in the MLS this season? When you ask the fans and the club's head coach, Chris Armas, how the team is doing, you will get two different answers.
Armas thinks the team is performing well but lost games because of a few mistakes. Most RBNY supporters would say the club has been inconsistent and below-par this year.
"We look at the week differently from the outside of the world, I think," Armas said in an interview On The Record. "We see it very positively.
"The things that has determined some these losses were like one play here and there. Chicago [Fire] it's a one-play game. Minnesota [United] we have many chances, they make a couple of plays."
And about their last loss against Montreal Impact: "And then against Montreal, we felt like in many ways it's right there for us. We didn't only score first but we think we're okay and then it's a strange one because we give up a corner kick goal and we give them a penalty."
Some RBNY supporters don't think their team lost to the Impact because of a couple of mistakes. For example, Twitter user @Justwatchyastep doesn't agree that the Red Bulls played well at all against Montreal and went as far as saying that the club will not make the playoffs this season. New York has participated in the playoffs in the past nine seasons.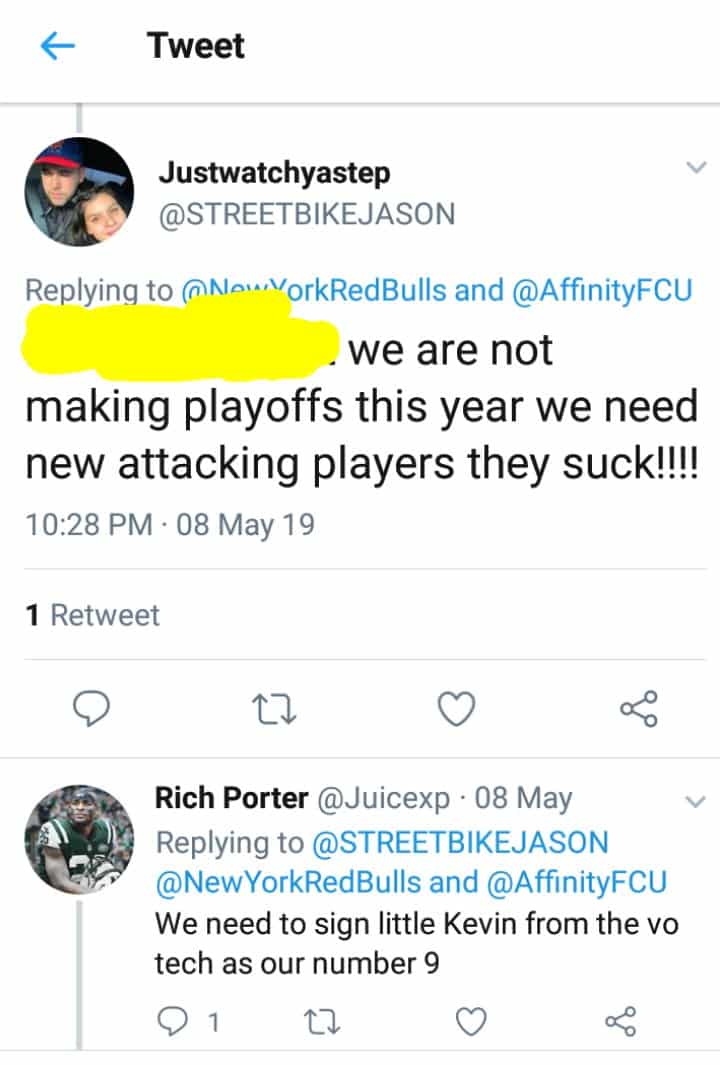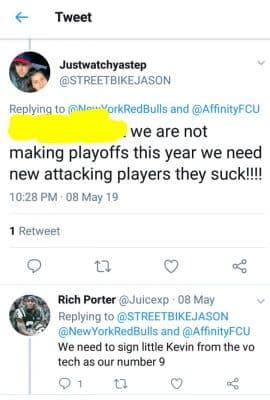 The Metros are currently two spots below the last playoff position with a 4W-2D-5L record. However, they still have 23 games left in the regular season.
Going back inside the Red Bulls' locker room, Armas isn't the only one who thinks his side is not playing bad this season but also some of his players.
"You can see it's just little slip-ups," left back Kemar Lawrence said about the team's defense. "It's not any big things so I feel like those things we're going to correct them."
Another thing the Red Bulls supporters and Armas are on a different page on is the club's consistency.
Red Bulls fan and New York Sports Nation writer Michael Battista highlighted that RBNY has been "inconsistent and unpredictable this season," in his preview of the team's match against Atlanta United this Sunday.
Armas could write a 16-page essay to argue with Battista.
"We see very consistent performances in the last four [games]," the 46-year-old coach said. "In that, tough games, teams still try to make it hard for us."
Armas used stats to back up his statement.
"So yeah, on the inside we feel one way and it's accurate how we're looking at it," he said.
"We have three out of four wins in the last four matches."
The Bronx native is right, it doesn't quite feel like it but New York won three of their last four outings. Nevertheless looking at all the MLS rounds so far, the Supporters Shield champions have been one of the most inconsistent teams in the MLS.
Here's a graph on how many points the Red Bulls tallied in all of their MLS matches this season: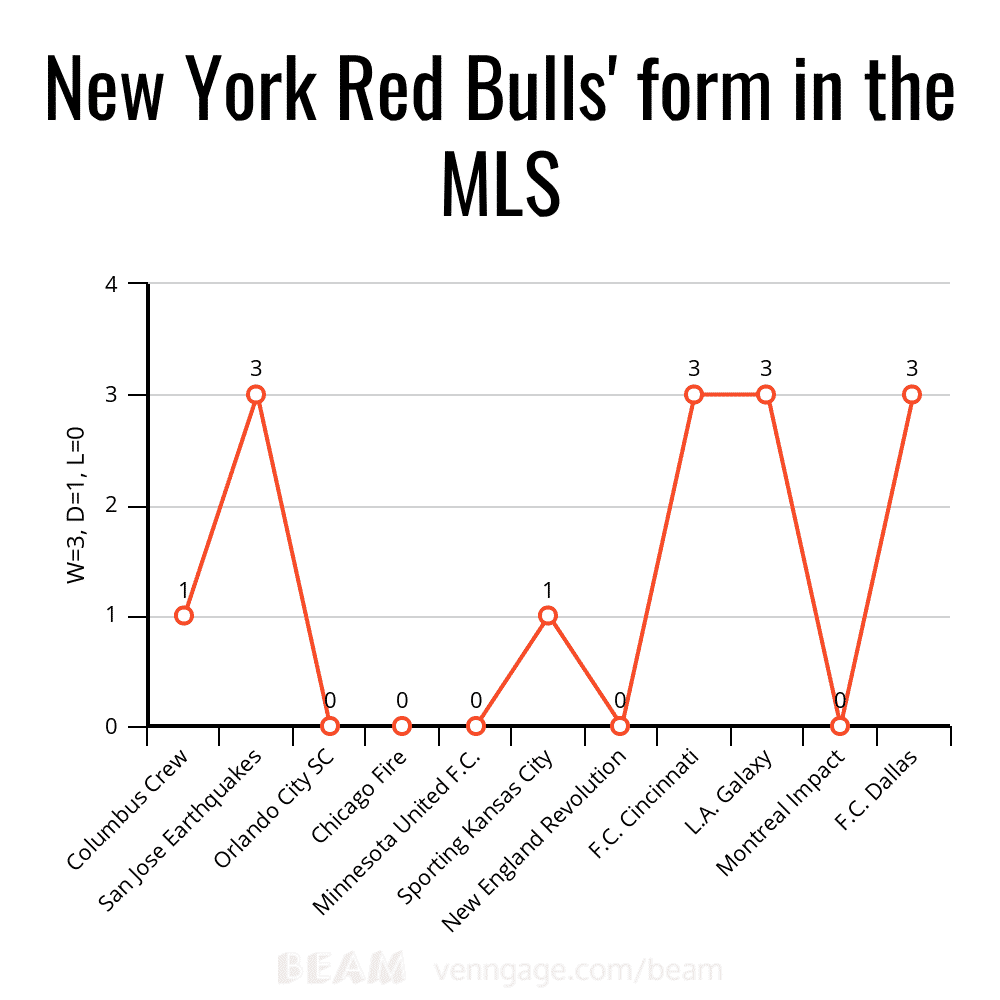 Unfortunately, the only time Armas's men were consistent in three consecutive games was from March 23 to April 6 when they lost three straight encounters.
The former Chicago defender admitted that his side didn't start the season on a good note because of their opponents' tenacity.
"We just didn't get off to the start that we wanted. But in that, a lot of teams were making it very difficult for us," Armas said.
New York did improve from their poor start, winning three of their last four encounters. However, there's still a feeling amongst the fans that RBNY is still not back to their normal ways.
The fans aren't too assured that their club will defeat an in-form Atlanta team at home on Sunday. Some fans would even argue that the recent victories Armas led the Red Bulls to were by luck.
Armas' luck can only get him so much time get him out

— R (@R28438311) May 9, 2019
Moreover, tweets with #armasout are still flying around even though the team appears to be improving. They recently defeated the fifth and the third-placed team of the Western Conference.
One reason why New York fans could make it seem that the season is going worse than it actually is is because of how last year went. Last campaign, RBNY notched the most points ever in a single MLS season.
Anything below that could make it seems like the team is underperforming even three wins in their last four matches.
On the flip side, last year's dominating campaign could push Armas to think that the season is going better than it really is. Certain mistakes can be overlooked because inside RBNY's locker room there is a feeling that last year went so well that they will eventually return to their normal ways this season.
New York's next match against Atlanta is critical. A win will prove Armas's point that New York is back in form. While a loss will push things toward the fans' side of the argument: the team is inconsistent and not back to their level yet.