Lou Lamoriello will have to decide which pending UFAs will comprise the New York Islanders core for years to come.

T
he
New York Islanders
are going to look very different at the start of next season.
Barry Trotz successfully reinvented the Isles' identity to a hard-checking, defense-first, tight-knit hockey club. Entering the season, it was clear that philosophically the Isles' front-office wanted to retain and build around the core in place for many more playoff runs to come. After all, one thing Trotz learned after winning the Stanley Cup is that growth as a group is the X-factor in taking it all home.
There will be plenty of cap space to go around next season with the Islanders projected to have a bit over $30 million to spend (according to CapFriendly and before the likely NHL cap hike). Of that salary, Lamoriello has to determine which of the nine total UFA's to retain, including re-signing two RFAs in both Michael Dal Colle and Anthony Beauvillier.
Now with a full season's sample under their belts, come the tough questions. Is Anders Lee really worth the likely seven-year, $7 million deal he'll be looking for? Can Brock Nelson keep up the consistency he established this season at a cost closer to $6 million? Will Robin Lehner be willing to stick around for a short-term deal with Ilya Sorokin's arrival on the horizon?
This isn't even acknowledging that Mat Barzal will need a new contract after next season and will rightfully ask for "Auston Matthews" money.
Inevitably, there will be some exclusions in next season's roster. In order of priority, here's an idea of what the Isles Brass may be thinking this offseason.
Brock Nelson
Love him, hate him, or anything in-between, the fact remains that the New York Islanders need Brock Nelson.
His 2018-19 53-point career-season may be masked in the guise of an expiring contract, but it doesn't change the fact that Nelson has been a 20-goal, 40-plus point player in four of his last five seasons.
Prior to Trotz's arrival, it seemed Nelson was as gone as Columbus' slew of deadline acquisitions. Signed on to a one-year, $4.25 million deal, Nelson netted another 25 goals and 53 points. On paper, his best season to date. Intangibly, his most consistent season ever and a glimpse of what he can do under the leadership of Trotz.
There will be a fair selection of Centre's to choose from this summer, headlined by Matt Duchene, and Nelson's services will be in high demand. What Duchene ends up agreeing to (and if by chance it's with the Islanders) will undoubtedly affect Nelson's ask, but a safe guess would be closer to the $6-7 million range and for at least five years.
Unless an upgrade is planned for their 1C/2C slot, keeping Nelson is a must.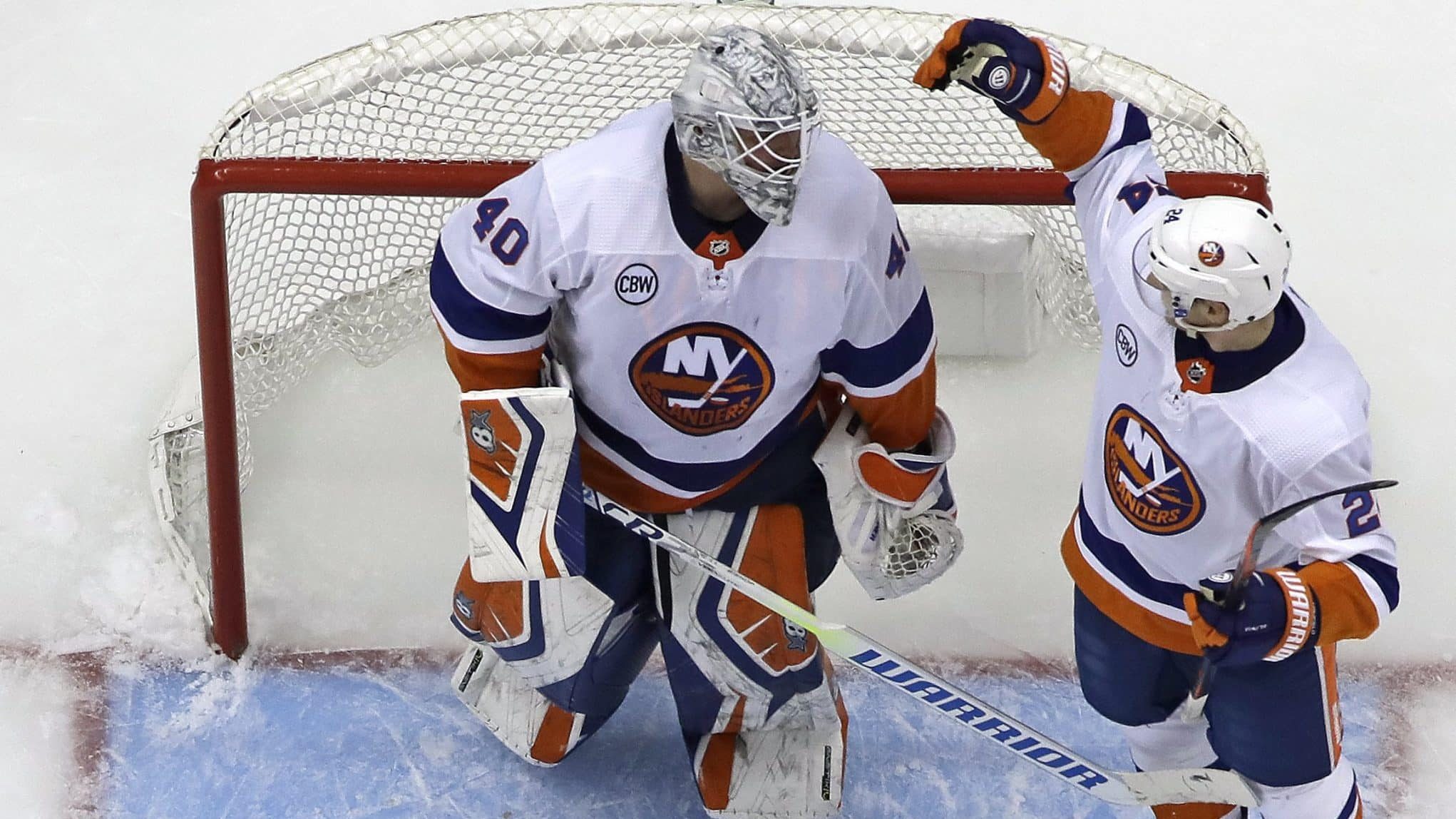 Robin Lehner
If the Islanders do not re-sign Robin Lehner, it will not be from lack of trying.
Under the guidance of goalie-guru Mitch Korn and Piero Greco, Lehner set new career-highs in wins, save percentage, goals-against average, and shutouts. Both him and Thomas Greiss shared the franchise's first William M. Jennings since 1984 and combined for the league's best goaltending duo.
Last season, only one other team was interested in Lehner's services after coming clean with his struggles. This summer, he would be wise to invest in two new cellphones.
There isn't much that can be said about Lehner's elite play that hasn't already been established. Lehner resurrected his career on Long Island and had a season that landed him as a Vezina candidate after his career-worst.
The issue that lies within retaining Lehner is one Ilya Sorokin. Prior to the introduction of Lamoriello, Sorokin wanted no part of a venture overseas, and thankfully a successful season may sway the Isles' goaltender of the future.
Unfortunately, that also dampens the chances of keeping Lehner if he is seeking longer term and a more stable future in net. If there is an agreement for a deal no longer than three years, there's a feasible future for Lehner on the Island.
Regardless, the Islanders have to do what they can to keep Lehner around for the immediate future.
Anders Lee
The first-year captain had big shoes to fill this season, being given the "C" just before the start of the regular season. For the first time in over five years, true leadership graced Long Island's NHL team.
While a dip in goal production was to be expected, Lee cracked the 50-point mark for the third-straight season and reached the 25-plus goal mark for the fourth time in his last five years. Coming off of a $3.75 million contract, the captain is due for a significant raise and there's little doubt a deal will be made well before July 1.
The question that will likely be nagging Lamoriello is, "Will a $7 million investment for the next eight years come back to haunt the team in the future?"
As previously mentioned, Barzal will be seeking a $10 million-plus contract when his time comes and Beauvillier is already in need of a new contract with long-term investment.
Lee will turn 29 this offseason, and statistically, his goal production is likely at its peak. As good of a leader as he has proved to be, there must be a consideration for what Lou started building through last season's draft and beyond.
Still, 28-goal scorers don't just come and go every year and for a team that struggled offensively keeping their top producer and a new leader is a must.
Jordan Eberle
The New York Islanders will probably not retain Jordan Eberle, but to let their top-playoff performer walk without even a shared conversation would be a mistake.
Doug Weight's run-and-gun Islanders suited Eberle just fine in his first season with the team and he was a lethal complement to Barzal's Calder Trophy win and Beauvillier's resurgence when he was recalled from the minors.
This year was Eberle's worst in a full season sample. If not for his late-season resurgence and monster playoff performance, he may not be looking at the raise he'll be asking for.
Aside from his first sub-20 goal season since the 2012-13 lockout year, Eberle proved his first 13-game playoff stint with Edmonton was just a fluke. He scored in each of the Islanders' first four playoff games and added three assists in the last three games against Carolina (5g, 4a).
Coming off a $6 million deal Eberle will likely set his sights in the $8 million range. Even with a likely bump in cap space, he's likely priced himself off the Isles' radar especially considering there are free agents within his price ranger that may be more attractive options.
Should talks with any of the above players falter to a point that repeats last year's free agency start, Eberle must return.
Honorable Mentions
Tom Kuhnhackl played a career-low 36 games with the Islanders after being a mainstay in the Penguins' bottom-six since entering the league in 2015-16.
In fact, in each of his three seasons with the Penguins, he gradually played more games despite seeing his average ice time decrease from roughly 10 to 12 minutes.
Though he played infrequently, Kuhnhackl's presence was felt every night and was a huge cog in the Isles' 91.7 percent penalty-kill in the post-season.
Signed at just $700,000 this past season, it would be silly to not bring him back as a reliable stand-in for an injured player. Kuhnhackl essentially was a Nikolay Kulemin-equivalent at less than a quarter of Kuli's previous $4.5-million salary.
All things considered, Valtteri Filppula had a surprisingly productive season with the Isles and was a reliable part of the penalty-kill and bottom-six.
When injury hit him late in the season, his absence was felt and the idea of Leo Komarov playing another game at Centre is scarier than giving Flipper another year at just shy of $3 million.
If the Isles intend to upgrade their forward corps, Filppula played his last game as an Islander. In the worst-case scenario if the Islanders are unable to upgrade in free agency, the veteran center's play this season can easily land him another one-year deal to reinforce the bottom-six.