New York Red Bulls head coach Chris Armas has made some questionable decisions this season, but it seems as if they will work with time.
Here's one of the hardest questions to answer in the MLS: What formation is New York Red Bulls head coach Chris Armas going to use in his next match on Wednesday night versus the Montreal Impact?
Here's another one of the hardest questions in the MLS: Who's going to come off the bench this time?
As if two questions weren't enough, "Why is the club not counter-attacking so much as they're used to?"
Armas is tweaking the Red Bulls' playing style and changing formations more than a model changes clothes. One day this player comes off the bench, the next game he starts, then another day he's on the second team. It seems as if the former U.S. international has no clue what he's doing in his first full season in charge of the Red Bulls.
But he would bet his U.S. Soccer Athlete of the Year Award that he knows exactly what he's doing.
"Yes, we have a clear, very clear identity and clear direction of which way we want to go," Armas said in an interview via the team's Twitter account.
The former Adelphi University standout obviously knows what he's doing. He's a professional coach; you just have to dig under the surface to see the why behind his decisions. But the $10,000 question is, "Is Armas' way of coaching right for the Red Bulls?"
Looking at the team's record, 3W-4L-2D, one might be quick to say no. But before we quickly jump to the conclusion, let's analyze Armas's controversial decisions. We'll start with his tweaks on the Red Bulls' playing style.
Since the preseason, the 46-year-old expressed that he was going to change RBNY's style a bit.
"We've introduced some different ideas but for the most part, we've been trying to get better and cleaner and faster at what we do and how we do things. The general principles of how we play haven't changed," the American told Franco Panizo of SBI in February.
One of the "different ideas" Armas was trying to instill to the team was to possess the ball a little more. New York has been playing a mixture of possession with their signature pressing/counter-attacking system.
It did not look pretty at all at first. In fact, one of the main reasons why New York was struggling so much at the beginning of the season was because it looked like they didn't know how they were supposed to play. The team had no identity and the players weren't connecting; at times, it looked as if they never played together.
Fast-forwarding to New York's last game against L.A. Galaxy on Saturday: their winning goal was an example of possessing/pressing counter-attacking goal. The Red Bulls had three players on top of the Galaxy's defense. Derrick Etienne passed the ball forward to Omir Fernandez, who pushed a though pass to Daniel Royer. Royer crossed the ball to Etienne. The Haitian international scored.
This might be a type of goal we see from the Red Bulls week in and week out this year: quick forward passes from midfield with players charging at their opponent's defense. As mentioned, it didn't look good at first; RBNY lost the ball countless amount of times while trying to push it forward from midfield. Tweaking a team's playing style takes time.
Was the tweak even needed? Yes. Teams figured out how to beat their system. Orlando City S.C. blanked RBNY 1-0 mainly because they knew how New York was going to play.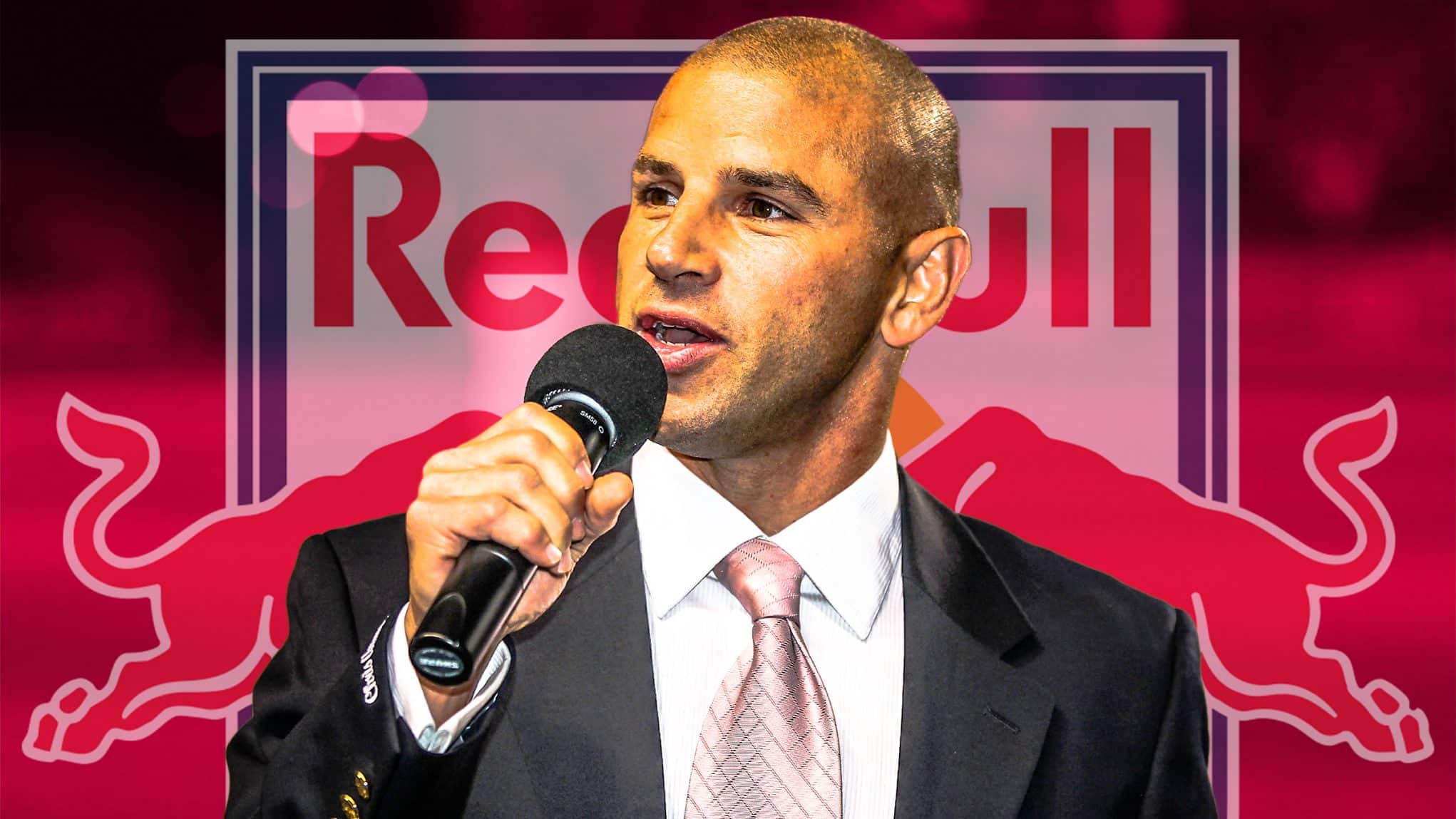 Now let's jump Armas's formation hopping, which obviously correlates to tweaking the team's style of play. He used six different formations this season, five in the first five games.
"We had to adjust this year to different things and different personnel not here," Armas said. "Kemar Lawrence being out or Alex Muyl getting hurt. There have been reasons to shift things."
He later added, "So then you either choose to say alright, we're going to keep doing things exactly the same or mix it up here and there. Maybe you try two strikers. We're all about trying different things without changing our identity and who we are."
The 4-2-3-1 appears to be the Red Bulls' main formation, but they played 5-4-1 in their last two matches.
The Bronx native obviously chose to play 5-4-1 because the team wasn't at its best defensively. In the last three games, before the Metros started to play with five defenders, they conceded five goals and lost all three matches.
Since playing with five at the back, New York blanked F.C. Cincinnati, 1-0, and edged the Galaxy, 3-2. Good move from Armas. However, even when you're tweaking the team's system and don't have all your players available, starting the season with five different formations isn't the best idea.
Now let's jump onto Armas's tendency to bounce players from being a substitute to a second-team player to a starter. The ex-Chicago Fire man used 24 players this season. It feels like Armas had no other option really because of the amount of matches the team had to play, the number of injuries and suspensions, six in total, and how the players have performed.
For example, Amir Murillo doesn't look like the All-Star he is this season.
Murillo was a starter against New England Revolution; he underperformed. Consequently, the Panamanian came off the bench against F.C. Cincinnati the following match, still didn't quite look like himself so Armas didn't play him at all versus L.A. Galaxy. Understandable. Understandable, but harsh.
Elsewhere, Jorgensen didn't look too spectacular in his first appearances when Brian White scored in his first MLS game of the season. Armas dropped Jorgensen to the second team but kept White in the first team in the club's match against New England. Totally understandable, especially taking into consideration that Jorgensen scored for the second team.
Andreas Ivan netted in his first MLS game of the season, too, so Armas subbed Ivan up top in the game against New England instead of White. Yet again, understandable.
Etienne is another player Armas has been flipping from the first team to the second team. Etienne netted for RBNY II against Birmingham Legion on May 3, then scored the winning goal of the first team's match against the Galaxy three days later.
By the way, in New York's last four games, two of the substitutes Armas used found the net. Etienne scored a winner versus L.A. three minutes after being subbed in the match and White netted a game-tying goal against SKC three minutes after walking on the pitch.
Back on Armas's throwing players in and out of the first team tactic, he doesn't only do it because of how the players have performed but also based on who his opponent is.
For example, he didn't call on Muyl in the second leg of the Scotiabank CONCACAF Champions League quarterfinal against Club Santos Laguna because the team was down 2-0 in the series and Muyl is not much of an attacking minded player.
Armas's choices to change the team's playing style alongside their formation and the fact that he doesn't have a set gameday roster might seems strange but it could work with time, New York is already on a two-match winning run.
"We want to shake it up too, we want to spark it, we want to just jolter it a little bit and watch this thing starts flying. Cause it's coming, it's coming," the young coach said.