From 90 to 53, projecting a team's final depth chart after the NFL Draft is an impossible task, yet here's the New York Jets version.

From 90 to 53, livelihoods are on the line. NFL rosters can't simply boil down to "Madden NFL" shuffling or bar talk of the laziest degree; it represents the careers of so many individuals looking to jumpstart a professional career.
Worse than the odds of making the final 53-man cut is the idea of non-guaranteed contracts. Every day is a battle in the league that plays for pay.
Post-NFL Draft, rosters are immense. Not only are the employed numbers large in collection, but the minicamp crowd is as well. This, of course, includes the New York Jets, fresh off a six-pick draft featuring Alabama beast Quinnen Williams.
The very nature of predicting a 53-man depth chart in May is nonsensical. Injuries, transactions, suspensions and unexplained events of the highest degree get in the way of the straightforward path; but, hey, let's take a look.
Quarterback (2)
The quarterback position is as simple as anything imaginable. Unless Brandon Silvers or Luke Falk amazes the senses beyond belief, there will only be two.
Sam Darnold's right arm brings the fate of the organization with it while Peyton Manning's boy, Trevor Siemian, will serve as the backup.
Running Back (4)
Oftentimes, thunder and lightning will rule the running back position at one and two. Thunder by way of a power workhorse and lightning as the change-of-pace third-down guy. For the Jets, all four backs come to the party with extraordinary versatility.
I'm not yet convinced of Ty Montgomery's backup role. He'll first have to strangle it away from young Elijah McGuire whose one-cut vision works beautifully within the Adam Gase zone-rushing scheme.
Wide Receiver (7)
The only question with the wide receivers is the final number; will it be six or seven?
We're currently projecting seven with undrafted free agent Greg Dortch making a push as an extra slot man. Quadree Henderson is the other kid to watch. Both Dortch and Henderson can return kicks. If neither makes the final cut, it's up to Jamison Crowder, Elijah McGuire and Trenton Cannon to hold down the fort.
It's possible Charone Peake could lose his job to one of the young, shifty return men.
Tight End (4)
Five tight ends? It's possible. They could just as easily keep four, as is our projection; but remember, Adam Gase doesn't carry a fullback. Look at tight end as two separate positions: vertical-threat tight end and blocking tight end.
H-back is a position Gase uses frequently. Chris Herndon is the unquestioned starter while Trevon Wesco and Eric Tomlinson will battle for the top blocking role this summer. The No. 2 pass-catching role will come down to Jordan Leggett (who's definitely battling for a job), Neal Sterling and the rook. Eric Tomlinson's time might be up if Trevon Wesco proves capable as the top blocking tight end. Sterling is also solid in that area.
The final offensive spots may come down to choosing two of the following (at least one tight end): Quadree Henderson, Greg Dortch, Jordan Leggett and Eric Tomlinson.
Offensive Line (8)
Once again, the starters are etched in stone heading into the summer which is not a great sign. Third-rounder Chuma Edoga must push both tackles to keep up with the tried and tested truth that offensive lines are more productive when competitive in July and August.
If they keep nine, Brent Qvale would be the guy.
Undrafted rookies Wyatt Miller and Toa Lobendahn should be followed throughout the process.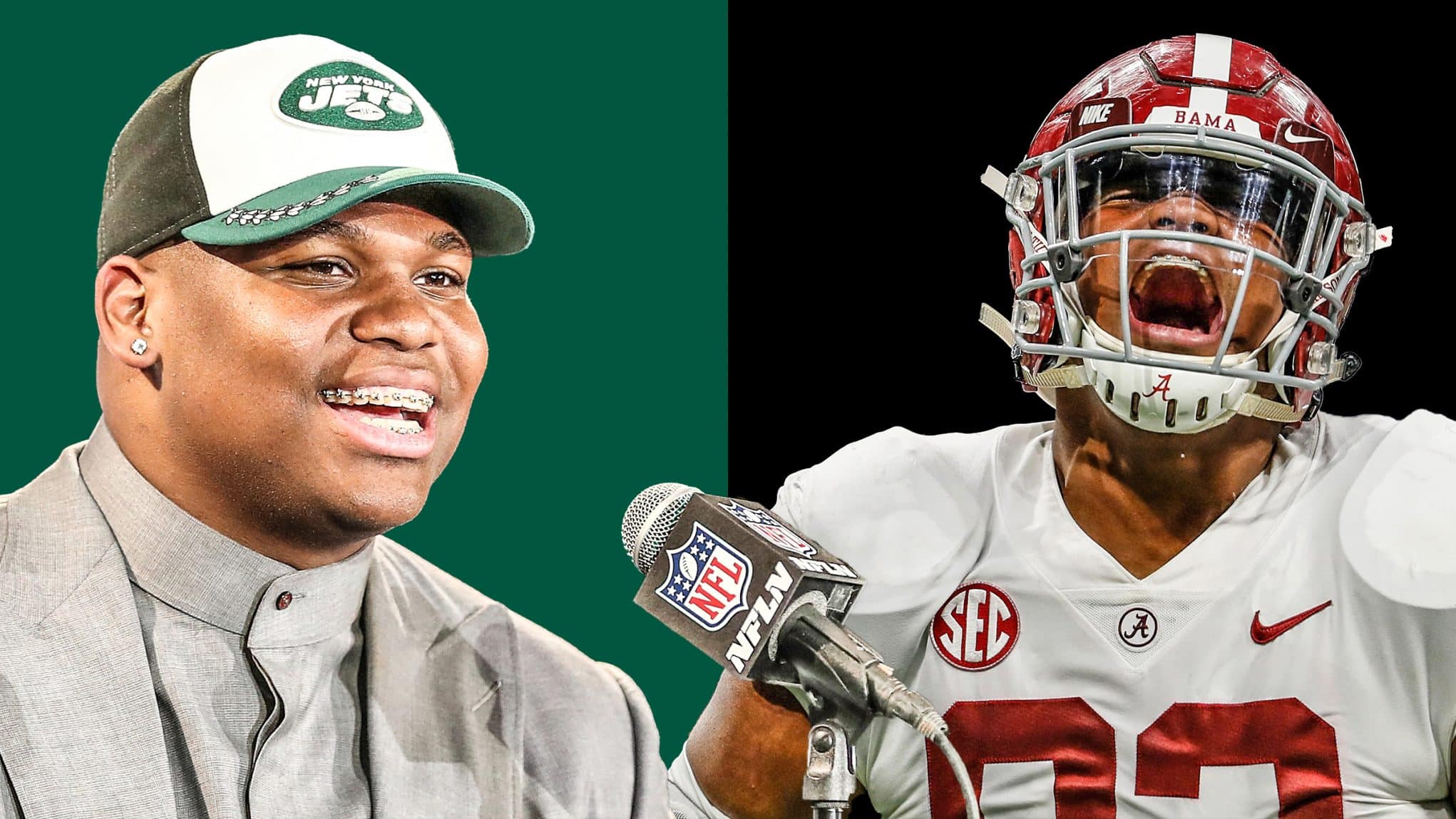 Defensive Line (6)
Quinnen Williams (NT)
Leonard Williams (3-5 TECH)
Henry Anderson (3-5 TECH)
Nathan Shepherd (3-5 TECH)
Steve McLendon (NT)
Folorunso Fatukasi (3-5 TECH, NT)
The defensive line, yet again, might be the Jets strongest area. Quinnen Williams, Leonard Williams and Henry Anderson make for a tremendous trio.
The only spot not secure is at No. 6 with Folorunso Fatukasi currently manning it down.
EDGE (4)
The Jets could keep four or five outside linebackers. Here, we have five with a shocker in undrafted free agent Jabril Frazier making the squad.
Frazier's an excellent talent who was once thought of as a fifth or sixth-round selection. Injuries derailed that idea. Much of the defense depends on Jachai Polite, the Jets other third rounder. Polite projects as a situational pass rusher at the moment, but if he can show up against the run and slot in opposite Jordan Jenkins, something special can unfold.
Inside Linebacker (4)
The inside linebacker spot is pretty straightforward. Darron Lee is gone. It's not a certainty that he'll be gone, as he could be a useful third guy and WILL within 4-3 schemes, but the presence of Blake Cashman and the rumors of his Jets demise make it likely.
Cornerback (6)
Morris Claiborne isn't on the team … yet, and even if he's signed, there's no guarantee he'll snatch the No. 2 spot away from Darryl Roberts. But with the former Dallas Cowboys corner still dangling in free agency, we'll hedge our bets on a return.
The surprise here is the cutting of Rashard Robinson.
Safety (4)
Carrying only 10 defensive backs isn't ideal (as 11 is sometimes preferred). For New York, there's an ace in the hole with rookie corner Blessuan Austin most likely starting the year on the PUP list.
Brandon Bryant is currently the odd-safety out.
Special Team (3)
No surprises here with not an ounce of competition at any of the three spots.
Scout Team (10)
Greg Dortch (WR)
Jordan Morgan (G)
Brandon Bryant (SS)
Toa Lobendahn (C)
Wyatt Miller (T)
Harvey Langi (ILB)
Brandon Silvers (QB)
Trevon Sanders (NT)
Jeremy Clark (CB)
Malik Reed (EDGE)
Remember the scout team rules. No player can be on the scout team for more than three years. It's mainly built by youngsters looking to move on up.
PUP List
Blessuan Austin (CB)
In all likelihood, the Rutgers product will begin the year on the PUP list.