It's hard not to be pleased with the names of the 2019 New York Jets draft class. But missing out on key moves can stifle this new rebuild.

The 24-hour news cycle is an insatiable beast. Thus, springtime brings about one of the most pointless exercises in sports journalism: the post-NFL draft grading process.
It's understandable why we in sports journalism continue to churn out the immediate reviews. The NFL's desire to rule every month on the calendar creates a fanbase that thrives on instant gratification. Prompt reviews of the draft do work when analyzing how needs were filled. But passing judgment on players who have yet to play a single NFL down is playing a dangerous game. With journalistic and technological advances (i.e. social media), the game has countless players.
Looking through the New York Jets' draft from the latter lens, it's hard to find qualms in their on-field potential. The early selections saw the Jets solidify their SEC defensive bloodline with the choices of Alabama lineman Quinnen Williams (third overall) and Florida linebacker Jachai Polite in their first two slots. Latter picks, like blocker Chuma Edoga, tight end Trevon Wesco, and linebacker Blake Cashman, respectively bring all-conference and bowl MVP accolades to Florham Park. Local talent joined the sixth-round fold in cornerback Blessuan Austin, a Queens native and Rutgers alum.
Each has his own series of issues. Polite, Edoga and Austin all dealt with injuries. Edoga had a suspension for violating team rules. But, based on collegiate production, it's hard not to carry over the optimism brought upon by a productive free agency session.
But the draft was also a chance to check the final boxes on the offseason to-do list. In most of the major aspects, the Jets failed to do that. As a result, this recent draft session could be eventually judged not by the names called, but the names that never were.
One of the biggest issues left over from the veteran addition period was a failure to truly bolster the offensive line. With great offensive power comes great responsibility. If the supposed fun players, like Sam Darnold and Le'Veon Bell, are to light up the box score, there has to be a gritty group up front to clear the way and make their jobs easier.
Drafting offensive linemen isn't glamorous. In the live look-ins at team draft parties across the nation, fans react to hearing a lineman's name like they're getting school supplies for their birthday: sure, you need it and it's useful, but you could've had an exciting toy instead.
It appeared the Jets had gotten the so-called boring portions off their list early. A trade for Oakland interior man Kelechi Osemele seemed to open things on the right note. But fans and observers soon discovered that note notable moves on the line would beings and (mostly) end with Osemele's arrival. Ideally, the Jets should've entered relative desperation when they were unable to land All-Pro guard Matt Paradis. The urgency should've only increased in getting back in the second round. That asset had been lost in the quest from Darnold. A reemergence in the round could've yielded the Jets some decent value had they persisted.
An attempt to get back into round two would obviously come at a price, namely a third pick sacrifice that would've sent the Jets on a relative plummet down the board. Need fulfillment was there, though. ACC protection ruled the first day when it came to interior help. Boston College guard Chris Lindstrom went from an Eagle to an Atlanta Falcon at 14th. North Carolina State center Garrett Bradbury went to Minnesota four picks later. The Jets could only watch the help fly off the board. Two more centers (Elgton Jenkins and Erik McCoy) would be taken in Friday's second round, a round that saw the Jets partake only as spectators.
With the relative failure solidified, Maccagnan has been adamant that there was no comfortable way to pull it off.
"I think when we were sitting there with our situation, I think we looked at the possibility of trading back or trading out of the spot," Maccagnan explained on the "Rap Sheet and Friends" podcast this week. "But when we were on the clock and talking to teams, there was never really a trade offer that we felt was strong enough to make us move basically when it was all said and done. That being said, we were very happy to take what we felt was one of the top players in the draft at that spot and went forward with it."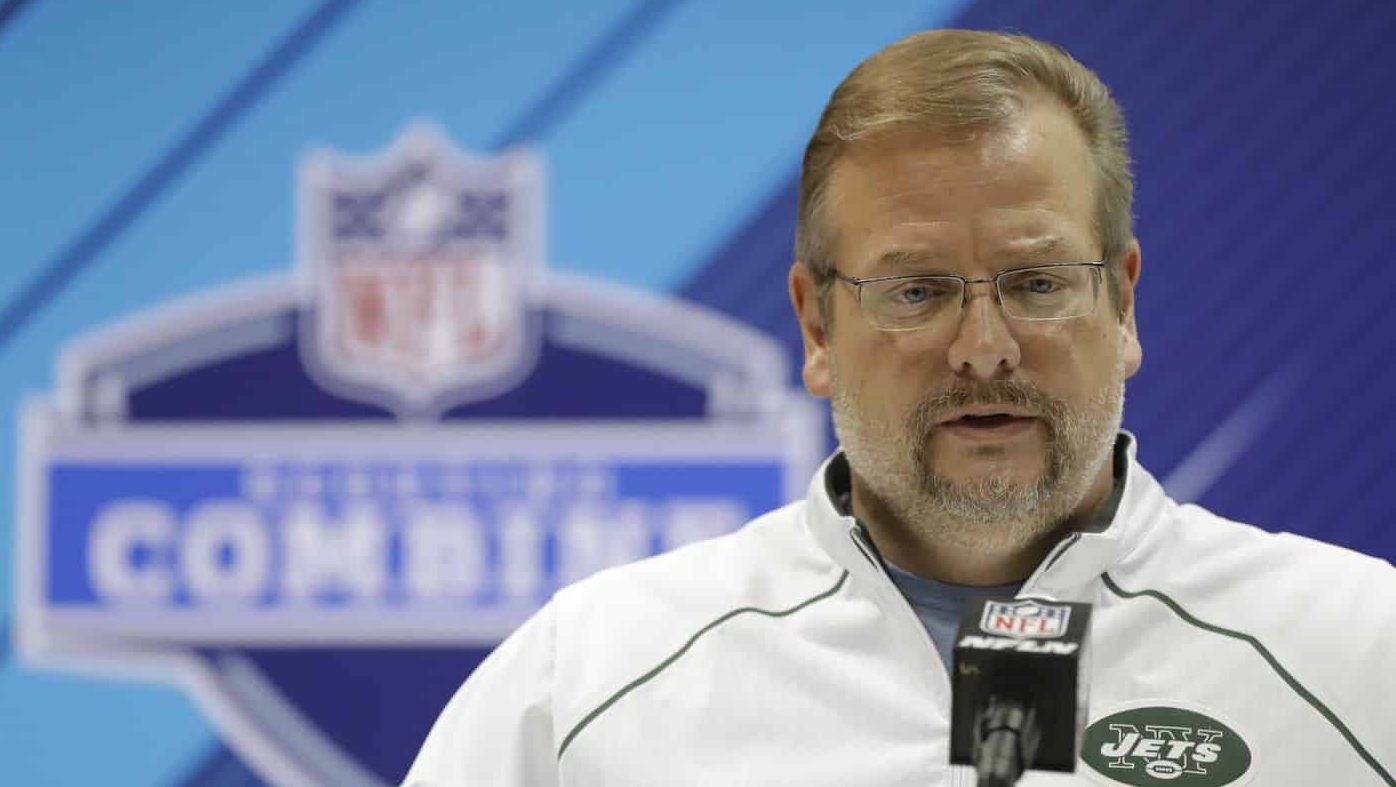 Friday proved to be an eventful day with trades across the board. Skill players were like snatched up, A team desperately looking for weapons to fuse with their new quarterback, the Jets saw talent like Deebo Samuel, A.J. Brown, Mecole Hardman and Miles Boykin disappear. Additions of Bell and other skill talents will make this season easier to bear. It doesn't make the draft weekend awkwardness any easier to bear.
The inactivity has the Jets living with their fate on the offensive frontline. A left side pairing of Osemele and tackle Kelvin Beachum is decent enough, but question marks are peppered elsewhere. Jonotthan Harrison, 27, is expected to take the center's role. He had a taste of the role in eight starts to close out 2018, taking over for an ineffective Spencer Long. The turn was encouraging, but he has yet to start a full season in the spot. To his immediate right, Brian Winters has been inconsistent. Brandon Shell is expected to return at right tackle, but no is sure what lies for him after a devastating knee injury suffered last December.
Williams will make a great asset and project, but his selection replenished an area in which the Jets have relative stability. The Jets' frontline is strong on paper to the tune of names like Leonard Williams (no relation to Quinnen), Henry Anderson, and Steve McLendon. The latter pair was retained in free agency talks.
The Jets went the "best player available" route in the selection of Quinnen Williams. That's a luxury rarely afforded to teams that go 4-12, but that's how confident the Jets are in their veteran additions. The process would repeat itself with the Wesco pick. After plenty of maneuvering throughout the early stages of day three, the Jets passed on cornerback help like Julian Love of Notre Dame and Ohio State's Kendall Sheffield. Two trades down landed them Wesco.
His college box scores were mostly quiet, but he made a name for himself as a blocker. The pick was nonetheless puzzling with the Jets set up nicely thanks to Chris Herndon, last season's fourth rounder. Reserves Neal Sterling and Eric Tomlinson were part of the free agency retainers. The Jets did eventually land secondary assistance two rounds later. Austin was a rare bright spot on a woebegone Rutgers squad, but injuries limited him to five games over the past two seasons. The Jets even lost their seventh-round pick in the trade for Edoga.
At least the selection of the versatile of Edoga is a partial change of pace. The ex-Trojan is capable of working in multiple spots, and recent Jets draft history has shown an inexplicable fear of linemen. Their last selection of an interior man was guard Jarvis Harrison in 2015's fifth round. Their last center was an effective choice in Nick Mangold. Alas, it came back in 2006.
From a wider lens, the inactivity is questionable. But the Jets are confident they made the right decisions while acknowledging there's still work to be done.
"There are definitely areas I still think we can improve upon, but I do think we've added some pieces," Maccagnan said, per Eric Allen of the Jets official website. "We are kind of excited to see some of our young players come back too and how they do, but like everything else, you're never really done building the roster. You're constantly doing that, but we felt at this point of time, we feel like we've made some good strides and we have some good pieces in place."
It's going to take a few years to fully analyze the Jets' 2019 draft. These selections are the first of the Adam Gase era and potentially the last of the Maccagnan tenure.
In the draft's biggest twist, though, the most important picks might well be the ones that will never suit up for the Jets. Their absences are ones the New York Jets chose to have. Their final grade could be determined by how much they regret making it happen.
Follow Geoff Magliocchetti on TWITTER